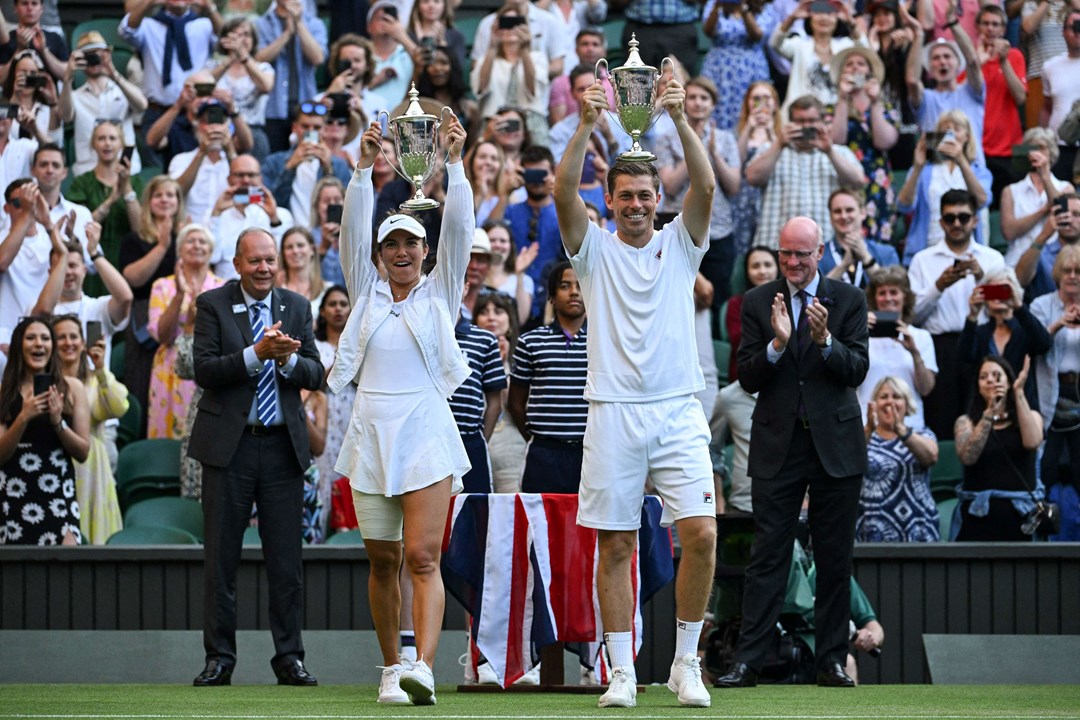 Players News
100 and counting – British tennis stars reach new milestone for the 2022 season
• 5 MINUTE READ
The 2022 season just gets better and better for Britain's tennis stars.
Just eight months into the year and the Brits have surpassed 100 professional titles across the ATP, WTA and ITF Tours - reaching 115 unique titles.
The Brits brilliant 2022 season so far has seen them break the 100 title mark two months ahead of last year.
Here's a recap of the 60 British champions and the biggest highlights of the season so far...
Grand Slam champions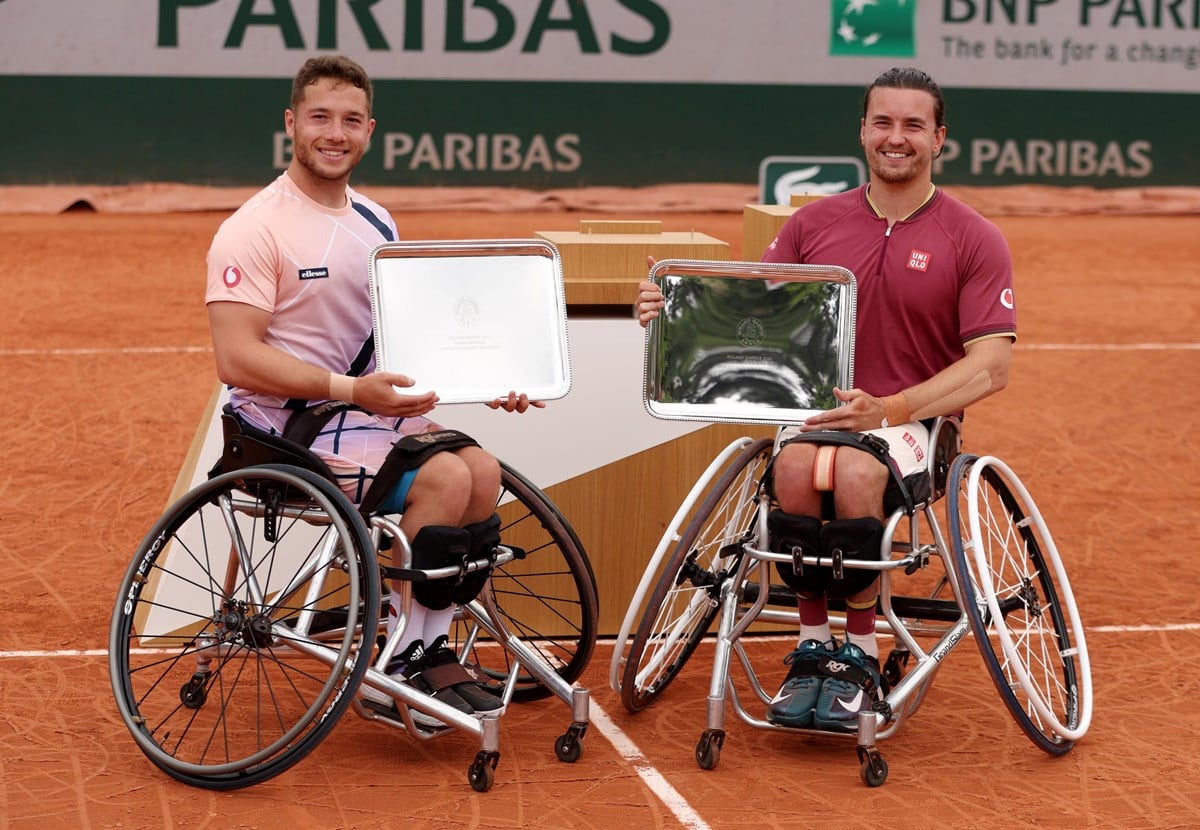 There's been Grand Slam glory aplenty for our British wheelchair stars this season. The world's top ranked doubles duo Alfie Hewett and Gordon Reid extended their record to 10 consecutive major titles as they capture the Australian Open and French Open crowns once again this year – winning both finals against Shingo Kunieda and Gustavo Fernandez in match tie-breaks.
It was also a stunning start to the season for Andy Lapthorne, who captured his sixth Australian Open doubles crown alongside American, David Wagner.
As the tennis world turned their attention to London and The Championships, Wimbledon this summer, Neal Skupski rose to the occasion to retain his mixed doubles title with Desirae Krawczyk. They defeated Australian duo Matthew Ebden and Samantha Stosur 6-4, 6-3 to become the first team to defend the title since 1997.
Brits continue to rise on the ATP Tour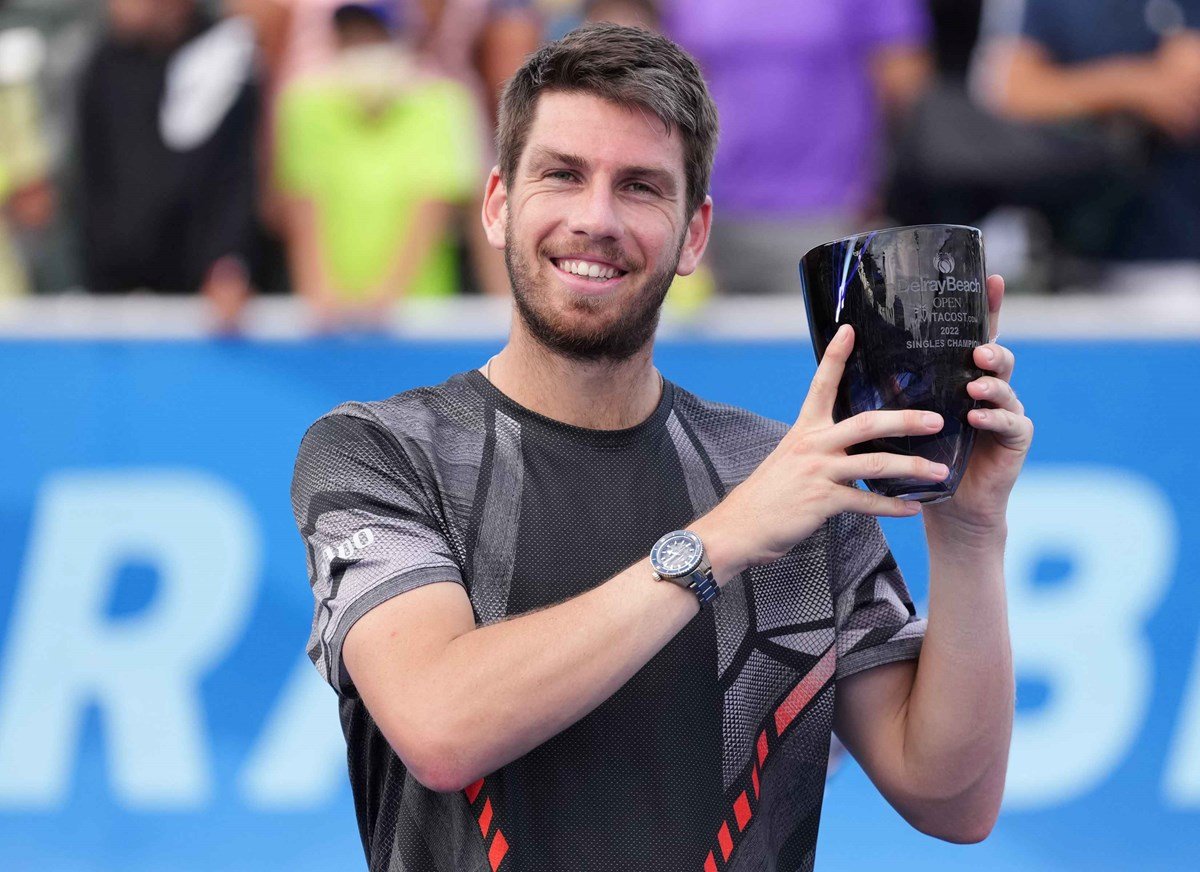 British No.1 Cam Norrie has been a standout on the ATP Tour this season. Norrie has doubled his trophy tally this year to four ATP crowns, having lifted titles at the Delray Beach Open and the Lyon Open. The Brit took down the big serving Reilly Opelka 7-6(1), 7-6(4) in the final of Delray Beach and followed it up by winning his first title on clay just a few months later – defeating Alex Molcan 6-3, 6-7(3), 6-1 in France.
His impressive performances have seen Norrie reach the top 10 for the first time in his career, becoming only the fourth Brit to do so in the Open Era.
World No.1 Joe Salisbury has been firmly in the spotlight this season having strung together several strong performances at major tournaments this year. His best result of the season so far came at the Monte-Carlo Masters, where he and Rajeev Ram beat Juan Sebastian Cabal and Robert Farah in a tense match tie-break to seal their second ATP 1000 title.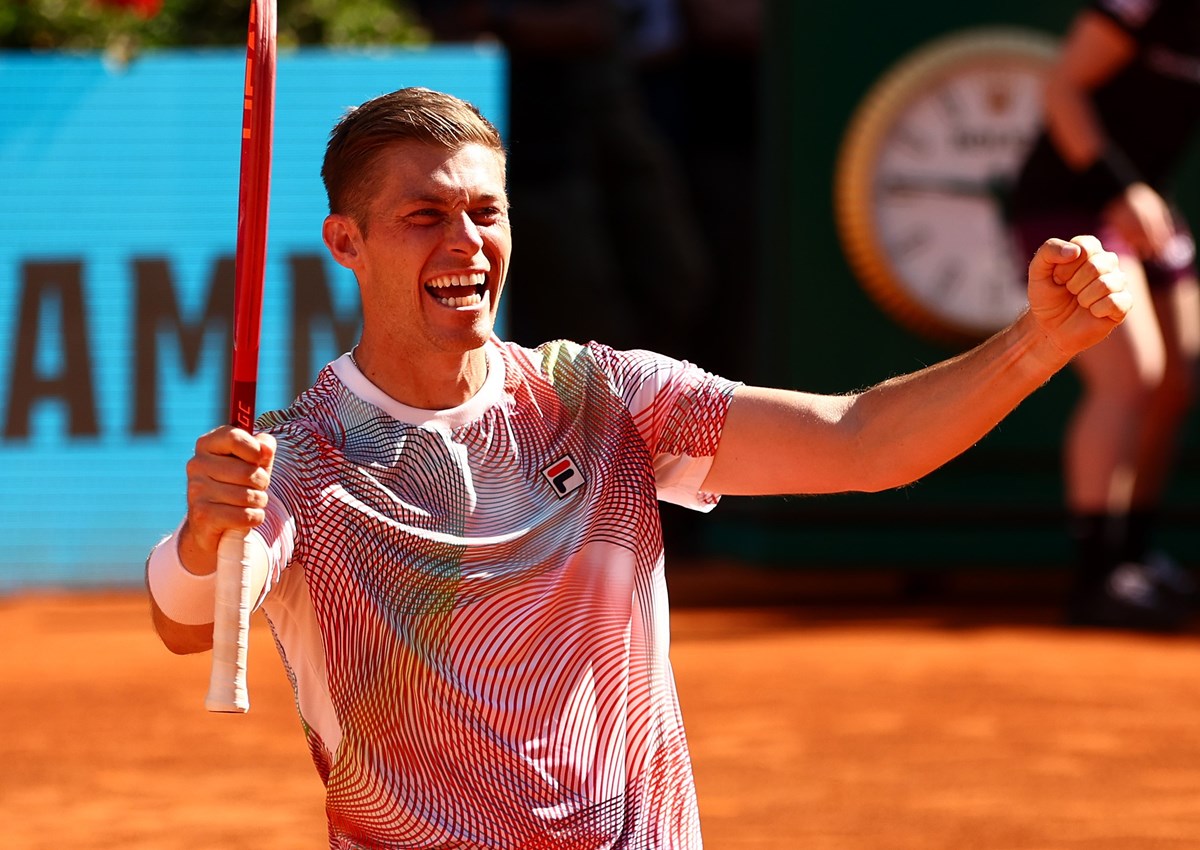 Skupski's Wimbledon title followed an unbelievable vein of form on the ATP Tour that has seen him rise into the top five in the rankings, becoming one half of the most in-form team on the circuit. Skupski and Dutch partner Wesley Koolhof have won an incredible five titles this season, including Melbourne, Adelaide, Doha, s'Hertogenbosch and their crown jewel, the ATP Masters in Madrid.
Another success story of the ATP doubles season so far has been Lloyd Glasspool, who recently teamed up with regular partner Harri Heliovaara to beat Rohan Bopanna and Matwe Middelkoop in Hamburg to claim their second career title together.
Over to the ATP Challenger Tour and the Brits have won 11 combined singles and doubles titles so far this year. Leading the way is 20-year-old Jack Draper, who has risen into the world's top 100 with four Challenger titles to start the year – the most of any player on tour. Draper – who is supported by the LTA Pro-Scholarship Programme – won three back-to-back titles in Forli before claiming victory in Saint-Beiruc.
Draper is joined by Dan Evans, Jay Clarke, Paul Jubb, Ken Skupski, Jonny O'Mara, Julian Cash, Henry Patten and Billy Harris as champions on the tour this year.
Women's stars bring home ITF crowns
British stars Katie Boulter and Katie Swan have reaped the biggest success in the ITF singles events in 2022. Boulter - also supported by the Pro-Scholarship Programme - claimed her first title in four years earlier this season at the W60 Grenoble, while Swan recently beat fellow Brit Jodie Burrage in the W60 Lexington.
The Brits doubles dominance extends to the women's game as well, with four Brits now featuring inside the world's top 90. Alicia Barnett and Olivia Nicholls have been the highest risers this season, having won titles at the W100 Grodzisk Mazowiecki, W60 Bellinzona and reaching their first WTA final.
British No.1 Sam Murray Sharan has won two W60 titles this year with Xenia Knoll and Mariam Bolkvadze, while Tara Moore was victorious at the W60+H Traralgon.
Titles on home soil
This year has seen more ITF events taking place in Britain as part of the LTA's Performance Competitions Calendar providing enhanced opportunities for British players at each age and stage of the performance player pathway. So far this year the British stars winning a combined 30 unique titles at home ITF events.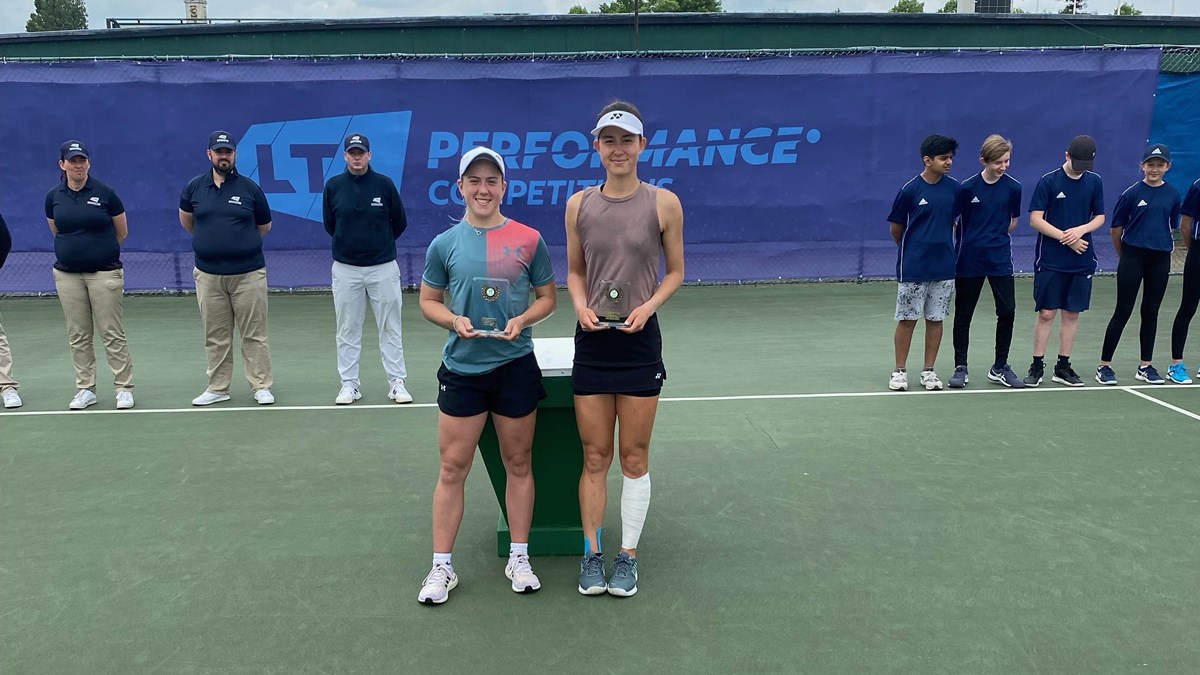 One of the stars of the season has been 20-year-old Sonay Kartal, who has won four singles trophies in Britain in 2022. Kartal started the season by winning the W25 Birmingham in February and just went from strength to strength – securing the title in Glasgow and then back-to-back trophies in Nottingham.
24-year-old Alastair Gray – who is supported by the Men's & Women's Programme has been another standout this season, tying up three singles crowns of his own in Shrewsbury, Glasgow and Nottingham.
Meanwhile, Greg Slade took his first ITF Wheelchair Tour title in the quad doubles event in Bolton earlier this year alongside Lapthorne, with Lucy Shuker winning the women's singles crowns at the ITF2 and ITF3 events.
British wheelchair success continues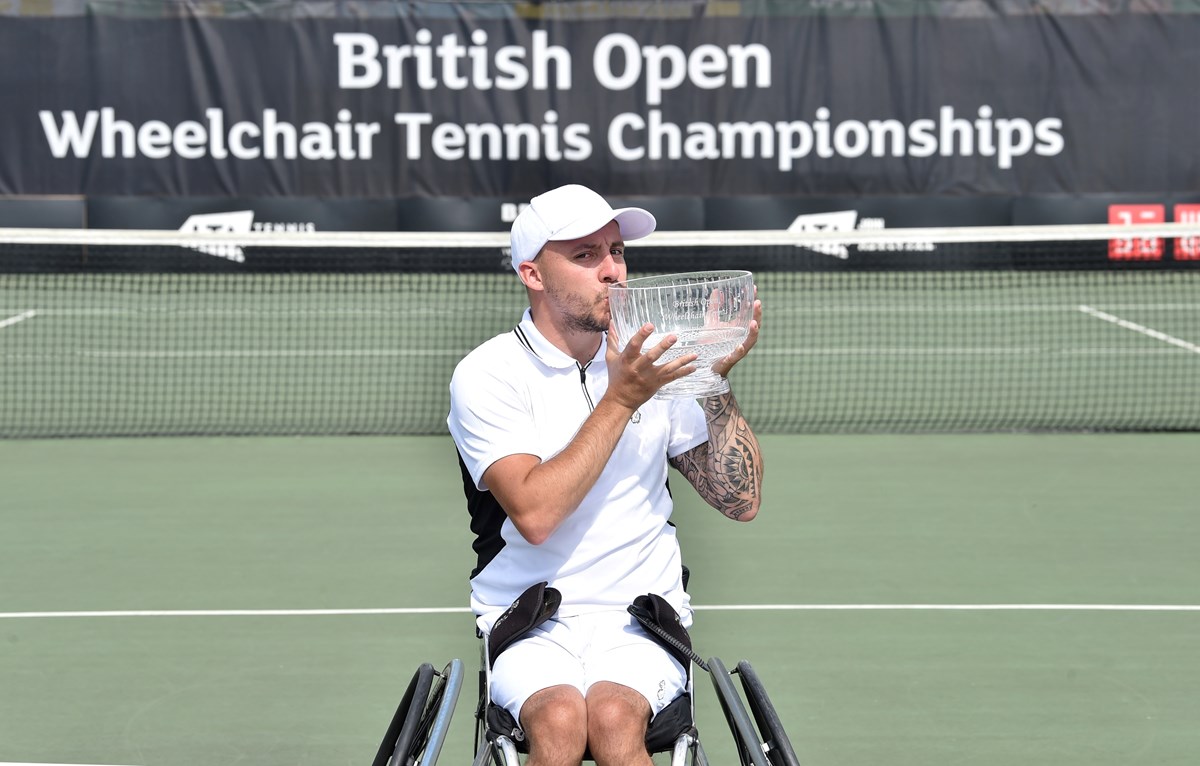 Following on from his Australian Open doubles title earlier in the year, Lapthorne broke new ground at the British Open this year, winning the quad singles title in his sixth final appearance.
Britain's young stars have also been making headlines this season. Ben Bartram claimed the Nottingham Futures singles title before going on to win the biggest trophy of his career at the Flanders ITF3 event to complete a sequence of four ITF Futures men's singles titles. Meanwhile Dahnon Ward and Andrew Penney recently won their first ITF2 doubles event at the Austrian Open.
Abbie Breakwell secured the Nottingham Futures double this summer – her maiden Futures singles title – and fellow Brit Ruby Bishop got her first pro title at the Lithuanian Open.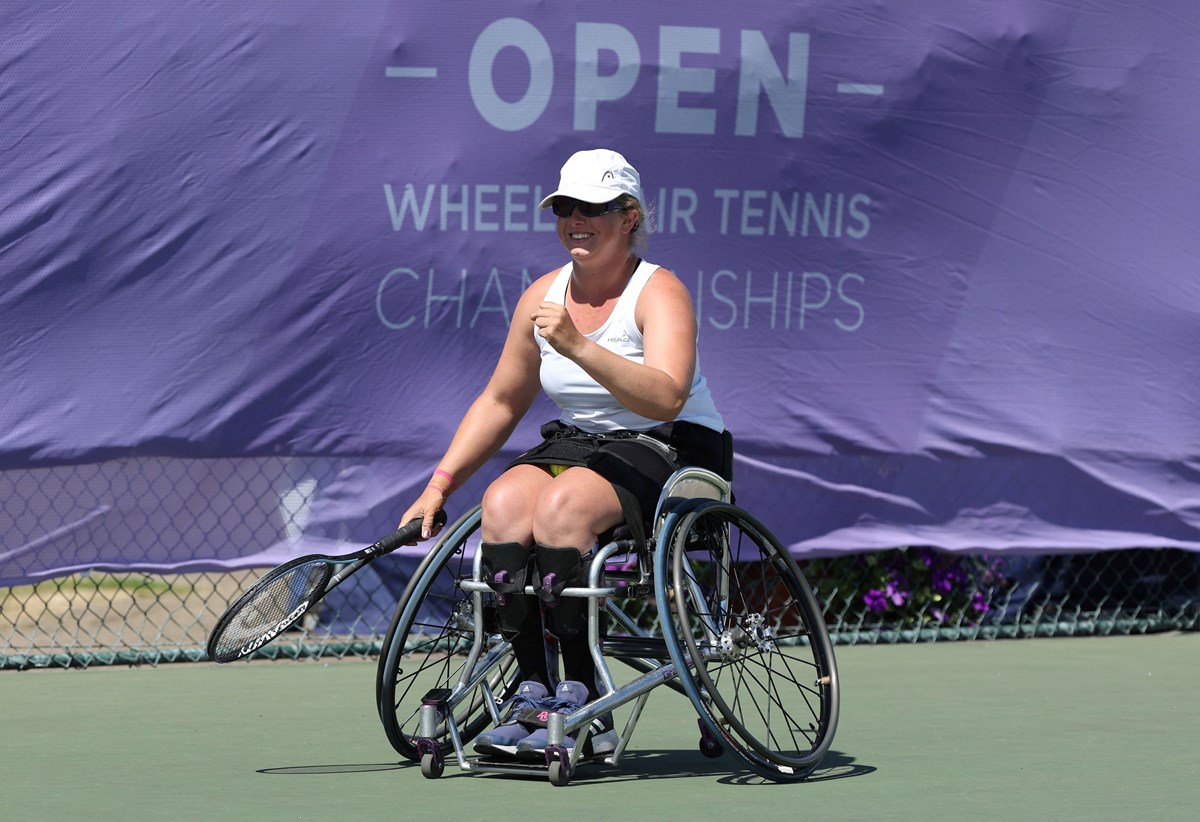 Reaction
Michael Bourne, Head of Performance at the LTA, said: "It is great to see so many players from our Tennis and Wheelchair Tennis Player Pathways having international tournament success. The LTA aims to support players throughout their journey to the elite levels of the game, so we are particularly encouraged to see a mix of established players continuing to win tournaments alongside new players having breakthrough wins."
Full list of British tennis champions
| | | |
| --- | --- | --- |
| Player | Partner | Title |
| Neal Skupski | Wesley Koolhof (NED) | Melbourne Summer Set |
| Tara Moore | Emina Bektas (USA) | W60+H Traralgon |
| Neal Skupski | Wesley Koolhof (NED) | Adelaide International 2 |
| Jack Draper | | Citta' Di Forli' 2 Challenger 80 |
| Daniel Cox | | M25 Bath |
| Charles Broom | Alastair Gray | M25 Bath |
| Alastair Gray | Charles Broom | M25 Bath |
| Alfie Hewett | | Melbourne Wheelchair Open |
| Alfie Hewett | Gordon Reid | Australian Open |
| Gordon Reid | Alfie Hewett | Australian Open |
| Andy Lapthorne | David Wagner (USA) | Australian Open |
| Julian Cash | Lucas Gerch (GER) | M25 Loughborough |
| Alfie Hewett | | ABN AMRO World Wheelchair Tennis Tournament |
| Alastair Gray | | M25 Shrewsbury |
| Anton Matusevich | Joshua Paris | M25 Shrewsbury |
| Joshua Paris | Anton Matusevich | M25 Shrewsbury |
| Katie Boulter | | W60 Grenoble |
| Lucy Shuker | Dana Matthewson (USA) | Bolton Indoor ITF3 Wheelchair Tennis Tournament |
| Lucy Shuker | | Bolton Indoor ITF3 Wheelchair Tennis Tournament |
| Sonay Kartal | | W25 Birmingham |
| Eliz Maloney | Andre Lukosiute (LTU) | W25 Birmingham |
| Lucy Shuker | | Bolton Indoor ITF2 Wheelchair Tennis Tournament |
| Andy Lapthorne | Gregory Slade | Bolton Indoor ITF2 Wheelchair Tennis Tournament |
| Gregory Slade | Andy Lapthorne | Bolton Indoor ITF2 Wheelchair Tennis Tournament |
| Samantha Murray Sharan | Mariam Bolkvadze (GEO) | W60 Altenkirchen |
| Sonay Kartal | | W25 Glasgow |
| Alastair Gray | | M25 Glasgow |
| Aidan McHugh | Gijs Brouwer (NED) | M25 Glasgow |
| Blu Baker | Jesse Witten (USA) | M15 Naples, FL |
| Neal Skupski | Wesley Koolhof (NED) | Qatar ExxonMobil Open |
| Cameron Norrie | | Delray Beach Open by VITACOST.com |
| Jack Draper | | Citta' Di Forli' 4 |
| Jack Draper | | Citta' Di Forli' 5 |
| Henry Patten | Rinky Hijikata (AUS) | M25 Santo Domingo |
| Katie Swan | | W25 Santo Domingo |
| Henry Patten | Mark Whitehouse | M25 Santo Domingo |
| Mark Whitehouse | Henry Patten | M25 Santo Domingo |
| Felix Gill | Roman Andres Burruchaga (ARG) | M15 Antalya |
| Emily Appleton | Ali Collins | W25 Joue les Tours |
| Ali Collins | Emily Appleton | W25 Joue les Tours |
| Lucy Shuker | Dana Mathewson (USA) | ITF Georgia Open |
| Alfie Hewett | | Cajun Classic |
| Andy Lapthorne | David Wagner (USA) | Cajun Classic |
| Greg Slade | Myung-Je Kim (KOR) | Megasaray Open |
| Julian Cash | Arjun Kadhe (IND) | M15 Bengaluru |
| Paul Jubb | | Dove Men+Care Challenger Bolivia 2 |
| Eliz Maloney | Andre Lukosiute (LTU) | W15 Monastir |
| Ben Jones | Daniel Little | M25 Toulouse-Balma |
| Daniel Little | Ben Jones | M25 Toulouse-Balma |
| Oscar Weightman | | M15 Monastir |
| Jack Draper | | Open Saint-Brieuc Harmonie Mutuelle |
| Charles Broom | Constantin Frantzen (GER) | M15 Monastir |
| Joe Salisbury | Rajeev Ram (USA) | Rolex Monte Carlo Masters |
| Alicia Barnett | Olivia Nicholls | W60 Bellinzona |
| Olivia Nicholls | Alicia Barnett | W60 Bellinzona |
| Eden Silva | | W25 Nottingham |
| Henry Patten | Joshua Paris | M25 Nottingham |
| Joshua Paris | Henry Patten | M25 Nottingham |
| Gregory Slade | | 3 Trofeo Citta'Di Cantu |
| Abbie Breakwell | Britta Wend (GER) | 3 Trofeo Citta'Di Cantu |
| Jay Clarke | | Morelos Open |
| Julian Cash | Henry Patten | M25 Nottingham |
| Henry Patten | Julian Cash | M25 Nottingham |
| Sonay Kartal | | W25 Nottingham |
| Samantha Murray Sharan | Xenia Knoll (SUI) | W60 Koper |
| Neal Skupski | Wesley Koolhof (NED) | ATP Masters 1000 Madrid |
| Jack Pinnington Jones | | M25 Santa Margherita di Pula |
| Billy Harris | | M25 Nottingham |
| Joshua Paris | Henry Patten | M25 Nottingham |
| Henry Patten | Joshua Paris | M25 Nottingham |
| Sonay Kartal | | W25 Nottingham |
| Naiktha Bains | Maia Lumsden | W25 Nottingham |
| Maia Lumsden | Naiktha Bains | W25 Nottingham |
| Kristina Paskauskas | Sijia Wei (CHN) | W15 Monastir |
| Charles Broom | Julian Cash | M15 Heraklion |
| Julian Cash | Charles Broom | M15 Heraklion |
| Alfie Hewett | Joachim Gerard (BEL) | TRAM Barcelona Open |
| Cameron Norrie | | Open Parc Auvergne-Rhone-Alpes Lyon |
| Anna Brogan | | W25 Tblisi |
| Gregory Slade | | Sirius Open 2022 |
| Ben Bartram | Anto Joskic (CRO) | Sirius Open 2022 |
| Abbie Breakwell | Lola Ochoa (ESP) | Arcadi Manchon Tournament |
| Kristina Paskauskas | Sijia Wei (CHN) | W15 Monastir |
| Luke Johnson | Skander Mansouri (TUN) | M15 Monastir |
| Alfie Hewett | Gordon Reid | Roland Garros |
| Gordon Reid | Alfie Hewett | Roland Garros |
| Ruby Bishop | Louise Charlotte Willerslev-Olsen (DEN) | Lithuanian Open 2022 |
| Julian Cash | Henry Patten | Surbiton Trophy |
| Henry Patten | Julian Cash | Surbiton Trophy |
| Dan Evans | | Rothesay Open Nottingham |
| Jonny O'Mara | Ken Skupski | Rothesay Open Nottingham |
| Ken Skupski | Jonny O'Mara | Rothesay Open Nottingham |
| Neal Skupski | Wesley Koolhof (NED) | Libema Open |
| Abbie Breakwell | Angela Grosswiler (SUI) | Camozzi Open 2022 |
| Julian Cash | Henry Patten | Ilkley Trophy |
| Henry Patten | Julian Cash | Ilkley Trophy |
| Johannus Monday | | M15 South Bend |
| Giles Hussey | Ben Jones | M15 Raanana |
| Ben Jones | Giles Hussey | M15 Raanana |
| Alfie Hewett | Stephane Houdet (FRA) | British Grass Court Cinch Champs |
| Ben Bartram | | Alghero Open 1 |
| Ben Bartram | Shogo Takano (JPN) | Alghero Open 1 |
| Andy Lapthorne | | British Grass Court Birmingham |
| Ben Bartram | | Alghero Open Futures |
| Ben Bartram | Shogo Takano (JPN) | Alghero Open Futures |
| Greg Slade | Ymanitu Silva (BRA) | Catalonia Open |
| Toby Samuel | | M25 Roehampton |
| Julian Cash | Henry Patten | M25 Roehampton |
| Henry Patten | Julian Cash | M25 Roehampton |
| Emilie Lindh | Valentina Ryser (SUI) | W15 Don Benito |
| Naiktha Bains | Maia Lumsden | W25 Roehampton |
| Maia Lumsden | Naiktha Bains | W25 Roehampton |
| Neal Skupski | Desirae Krawcyzk (USA) | Wimbledon |
| Andy Lapthorne | | British Open Wheelchair Tennis Championships |
| Ben Bartram | | Nottingham Futures |
| Ben Bartram | Dahnon Ward | Nottingham Futures |
| Dahnon Ward | Ben Bartram | Nottingham Futures |
| Abbie Breakwell | | Nottingham Futures |
| Abbie Breakwell | Zoe Maras (FRA) | Nottingham Futures |
| Luke Johnson | Skander Mansouri (TUN) | M25 Bakio |
| Lloyd Glasspool | Harri Heliovaara (FIN) | Hamburg European Open |
| Ben Bartram | | Flanders 25 |
| Johannus Monday | Stefan Dostanic (USA) | M25 Champaign, IL |
| Billy Harris | Kelsey Stevenson (CAN) | Winnipeg National Bank Challenger |
| Arthur Fery | | M25 Nottingham |
| Alastair Gray | Stuart Parker | M25 Nottingham |
| Stuart Parker | Alastair Gray | M25 Nottingham |
| Abbie Breakwell | | XIV Memorial Oliver Puras |
| Abbie Breakwell | Zoe Maras (FRA) | XIV Memorial Oliver Puras |
| Dahnon Ward | Giorgos Lazaridis (GRE) | Croatia Open UMAG by Hep |
| Dahnon Ward | Andrew Penney | S Versicherung Austrian Open 2022 |
| Andrew Penney | Dahnon Ward | S Versicherung Austrian Open 2022 |
| Charles Broom | Luke Johnson | M25 Nottingham |
| Luke Johnson | Charles Broom | M25 Nottingham |
| Alastair Gray | | M25 Nottingham |
| Johannus Monday | | M25 Decatur |
| Freya Christie | Ali Collins | W25 Foxhills |
| Ali Collins | Freya Christie | W25 Foxhills |
| Katie Swan | | W60 Lexington |
| Alicia Barnett | Olivia Nicholls | W100 Grodzisk Mazowiecki |
| Olivia Nicholls | Alicia Barnett | W100 Grodzisk Mazowiecki |