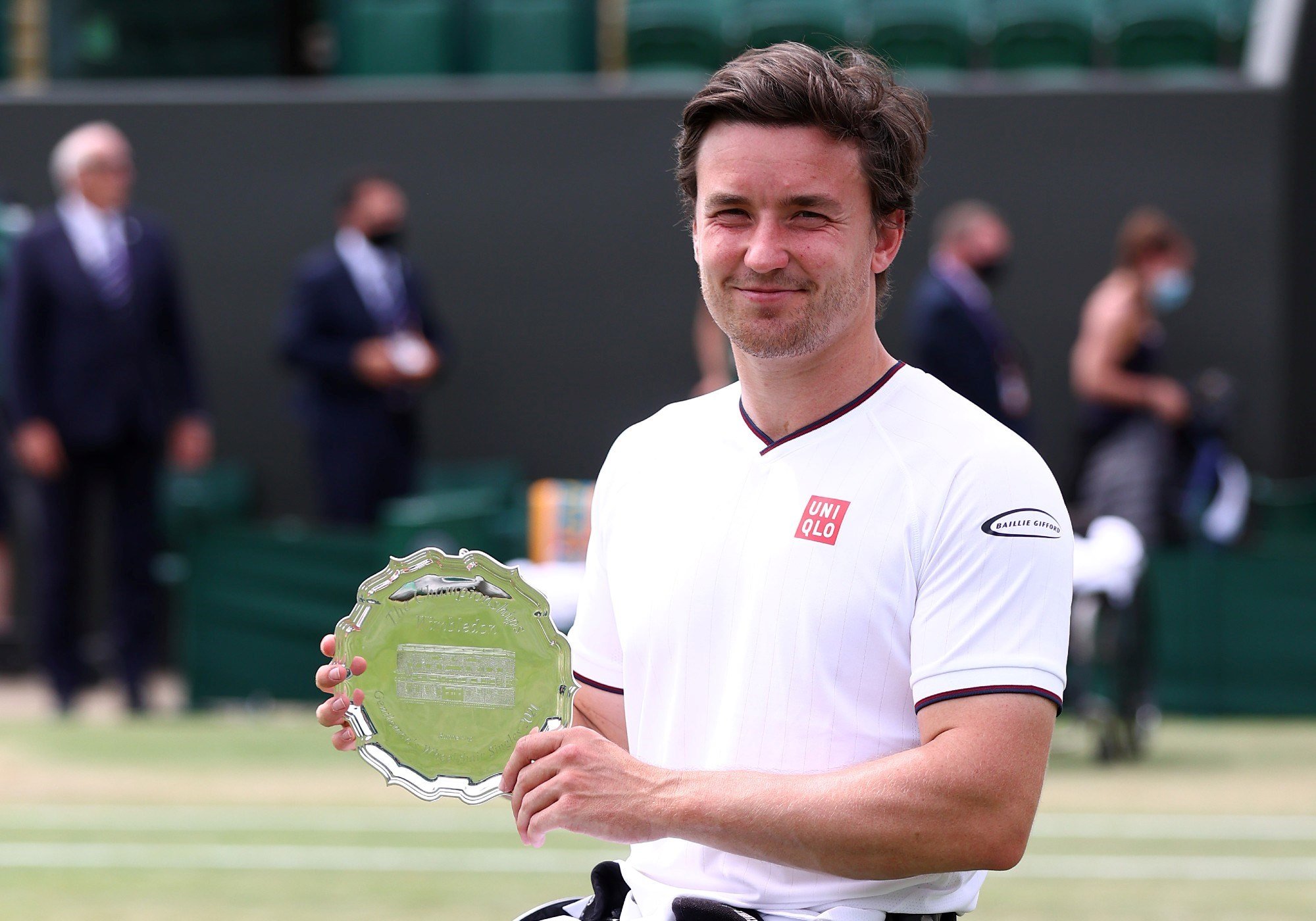 FAVOURITE
SURFACE: Hard
SHOT: Backhand
AGE32
PLAYSLeft-handed
BACKHANDOne-handed
LTA SUPPORT Wheelchair Tennis Performance Pathway
TURNED PRO2012
FAVOURITE
SURFACE:Hard
SHOT:Backhand
About
Quick-fire facts
Date of birth: 2 October 1991
Place of birth: Alexandria
Lives: Glasgow
Trains: Gannochy National Tennis Centre, Stirling/Emirates Arena, Glasgow
Family: Particularly keen on football and tennis as a child, he grew up in Helensburgh, where his family were all active members of Helensburgh Tennis Club. Has two brothers, David and Stephen and sister Emily. Reid's father is a distant relative of twins Charlie and Craig Reid, members of chart act The Proclaimers.
Likes: Rangers FC
Tennis Career
November
Reid concluded his year by being crowned Wheelchair Tennis Masters doubles champion alongside Hewett after the pair defeated Gustavo Fernandez and Martin de la Puente 3-6, 6-2, 10-6 in the final.
This victory meant Reid finished the 2023 season ranked doubles world No.2.
September
Reid finished runner-up in his first US Open singles final with a 6-4, 6-3 loss to doubles partner Hewett in the first all-British Grand Slam final in the Open Era.
However, the defending doubles champions Reid and Hewett were denied the calendar Grand Slam after losing out in the semi-finals to Takashi Sanada and Stephane Houdet 7-5, 7-6(8).
August
Reid moved on to the Lexus British Open Wheelchair Championships where he suffered quarter-final defeat to 2022 champion, Joachim Gerard in a 7-5, 3-6, 7-6(5) loss.
However, he went on to claim the men's doubles crown alongside partner Hewett after the pair beat Spain's Martin de la Puente and Argentina's Gustavo Fernandez 4-6 6-2 (11-9) in a two hour battle to claim their 43rd title as a duo.
July
Reid got his 2023 Wimbledon campaign off to a winning start with a 6-4, 6-4 victory over Argentina's Gustavo Fernandez to reach the men's wheelchair singles semi-final, where he lost out to eventual champion Tokito Oda 6-3, 6-4.
Reid also teamed up with fellow Brit Hewett to clinch a 18th Grand Slam title, and a fifth at Wimbledon after the duo beat Oda and Takuya Miki 3-6, 6-0, 6-3.
June
Reid and Hewett sealed an incredible 17th Grand Slam title together and fourth consecutive French Open trophy by defeating second seeds Martin De La Puente and Gustavo Fernandez 7-6(9), 7-5.
Reid also made it to the quarter-finals in Roland Garros where he faced an all-British clash against Hewett, losing out 6-1, 6-0.
Moving onto the grass and it was another doubles title for Reid and Hewett at the cinch Championships - their first together at Queen's Club. Reid was knocked out of the singles in the semi-finals by Hewett in straight sets.
May
Reid was a part of the Great Britain mens team that were crowned World Team Cup champions for the third time following a 2-0 victory over the Netherlands.
It was Reid who kicked off proceedings on the final day, clinching a 6-2, 6-4 against Tom Egberink to put his nation in the lead before world No.1 Hewett sealed the title.
Reid and Hewett continued their dominance at the top of the game at the Tram Barcelona Open.
The top seeds were made to work for their fifth title of the season but came back to defeat Stephane Houdet and Martin De La Puente 4-6, 7-6(3), 10-2.
March
Reid headed to the Georgia Open where he bowed out in the quarter-final to world No.1 Hewett in a 6-2, 6-3 defeat.
Reid then went on to join forces with Hewett for the doubles event. The British duo once again proved unbeatable after overcoming British No.3 Ben Bartram and Oda in the final 6-3, 6-0 to clinch their third men's doubles title in a row.
Reid and Hewett claimed their eighth Super Series title together and made it four titles from five tournaments in 2023 after sealing their first Cajun Classic men's doubles crown in Baton Rouge.The second seeds won the title after a 7-6(1), 6-2 victory over top seeds Martin de la Puente and Gustavo Fernandez, to extend their unbeaten run to 13 matches.
Reid also competed in the singles event, where he reached the semi-final before bowing out in a 6-3, 6-3 defeat to Tokito Oda.
February
Reid went on to compete at the ABN AMRO Open where he clinched his third men's doubles title in Rotterdam in four years alongside Hewett. The British duo overcame Martin de la Puente and Gustavo Fernandez 7-5, 6-4 in the final to lift their second title of the year together.
He also competed in the singles event in Rotterdam, but suffered a 6-0, 6-3 defeat against Hewett in the quarter-final.
Reid went on to seal the singles title at the Bolton ITF 2 event. The Brit won his third career singles title at the event having only dopped one set en route to the trophy. In the final, he outfoxed third seed Tom Egberink to close out an impressive run with a 6-2, 6-3 win.
Reid then teamed up with fellow Brit Bartram for the first time in their careers, to wrap up the men's doubles title in Bolton as well. The third seeds battled past Dutch duo Egberink and Maikel Scheffers 1-6, 6-4, 10-7 in the semi-finals, before eventually receiving a walkover in the final.
January
Reid made it to the semi-final of the singles event at the Melbourne Wheelchair Open, where he lost out to Tokito Oda 0-6, 6-2, 6-2. Reid also finished as a runner up in the doubles event alongside compatriot Alfie Hewett.
Reid and doubles partner Hewett equalled the record for most Grand Slam men's doubles titles won in the Open Era - 16 - after the British second seeds beat Dutch duo Maikel Scheffers and Ruben Spaargaren 6-1, 6-2 in the Australian Open final to clinch their fourth successive trophy in Melbourne.
May
Reid and Alfie Hewett continued to re-write the history books in the doubles after winning their 10th consecutive major and third French Open doubles title together. The Brits overcame 2021 Victorian Wheelchair Open champions, Gustavo Fernandez and Shingo Kunieda, winning 7-6(5), 7-6(5) to make them the most successful wheelchair doubles partnership in Roland Garros history.
July
Reid and Hewett's record-breaking sequence of 10 Grand Slam doubles titles in a row came to an end on Saturday at Wimbledon after second seeds Gustavo Fernandez and Shingo Kunieda secured a 6-3, 6-1 victory.
Reid then shifted his attention to the British Open, where he reached the semi-final of the men's singles - losing out in three sets to Martin de la Puente - and as runner-up in the doubles alongside Belgium's Joachim Gerard.
January
Reid made a great start to 2022, reaching the men's singles final at the Victorian Open, the first tournament of the year.
A singles quarter-finalist at the subsequent Melbourne Open and then the Australian Open, Reid partnered Alfie Hewett to the doubles final at the Melbourne Open before they won their third Australian Open title together. After claiming their ninth Grand Slam doubles title in a row, Reid and Hewett set a new record for the most consecutive Grand Slam doubles titles won by any partnership in the open era, having previously shared the record with Martina Navratilova and Pam Shriver.
After winning their eleventh Grand Slam title together at Roland Garros, Reid and Alfie Hewett became Great Britain's all-time most successful doubles pair. The Brits reclaimed the ABN AMRO World Tennis Tournament doubles title in March, with Reid losing to Hewett in the singles final. He then lifted both the singles and doubles titles at the inaugural Loughborough Indoor Wheelchair Tennis tournament before going on to claim the men's wheelchair singles title at the cinch Championships. In July, Reid and Hewett joined forces again to win their seventh consecutive Grand Slam doubles title and their fourth title at Wimbledon, where he also finished runner-up in the singles.
In August, Reid added to his already impressive Paralympics medal haul - winning silver with Hewett in the doubles and then defeating his fellow Brit in the bronze medal match in the singles.
At the US Open, Hewett and Reid became the first men's wheelchair doubles team to complete the calendar Grand Slam, beating Shingo Kunieda and Gustavo Fernandez to lift the title.
Reid and Hewett finished the year by winning the UNIQLO Doubles Masters - defeating Stephane Houdet and Nicolas Peifer in the final.
Finished the season unbeaten in doubles competition with Alfie Hewett after the Brits put together a sequence of seven tournament and 16 match victories together. These included their first titles together at the Australian Open and Roland Garros and their fourth US Open title as they completed the career Grand Slam together. Also reached his second Australian Open men's singles final since 2016 and the World Wheelchair Tennis Tournament final in Rotterdam.
Won his only singles title of 2019 at the ITF 1 French Riviera Open as well as his third successive US Open doubles title with Alfie Hewett and Super Series doubles titles in Bendigo, Australia and St. Louis in the USA.
Won four men's doubles titles and three men's singles titles including the Japan Open Super Series.
Rio 2016 Paralympic men's singles gold medallist and doubles silver medallist.
Tokyo 2020 Paralympics men's singles bronze medallist and doubles silver medallist.
Two-time Grand Slam singles champion (Australian Open 2016, Wimbledon 2016) and 18-time Grand Slam doubles champion (Australian Open 2017, 2020, 2021 & 2022, Roland Garros 2015, 2016, 2020 & 2021, Wimbledon 2016, 2017, 2018 & 2021, US Open 2015, 2017, 2018, 2019, 2020, 2021).
He's also a four-time Wheelchair Masters doubles champion (2013, 2015, 2017 & 2021). First Brit to be crowned ITF Wheelchair Tennis World Champion in 2016.
Awarded MBE in New Year's Honours List 2017.
After contracting the neurological condition transverse myelitis shortly before his 13th birthday he turned his aptitude for tennis to wheelchair tennis with immediate success. Six months after coming out of hospital and in his very first wheelchair tennis tournament in Glasgow in 2005 he won his first singles title. Shortlisted for BBC Young Sports Personality of the Year in 2006 after winning the junior singles and men's second draw titles at the British Open Super Series. Helped Great Britain to win a first World Team Cup junior title in 2007. Two-time Junior Masters singles and three-time Junior Masters doubles champion.