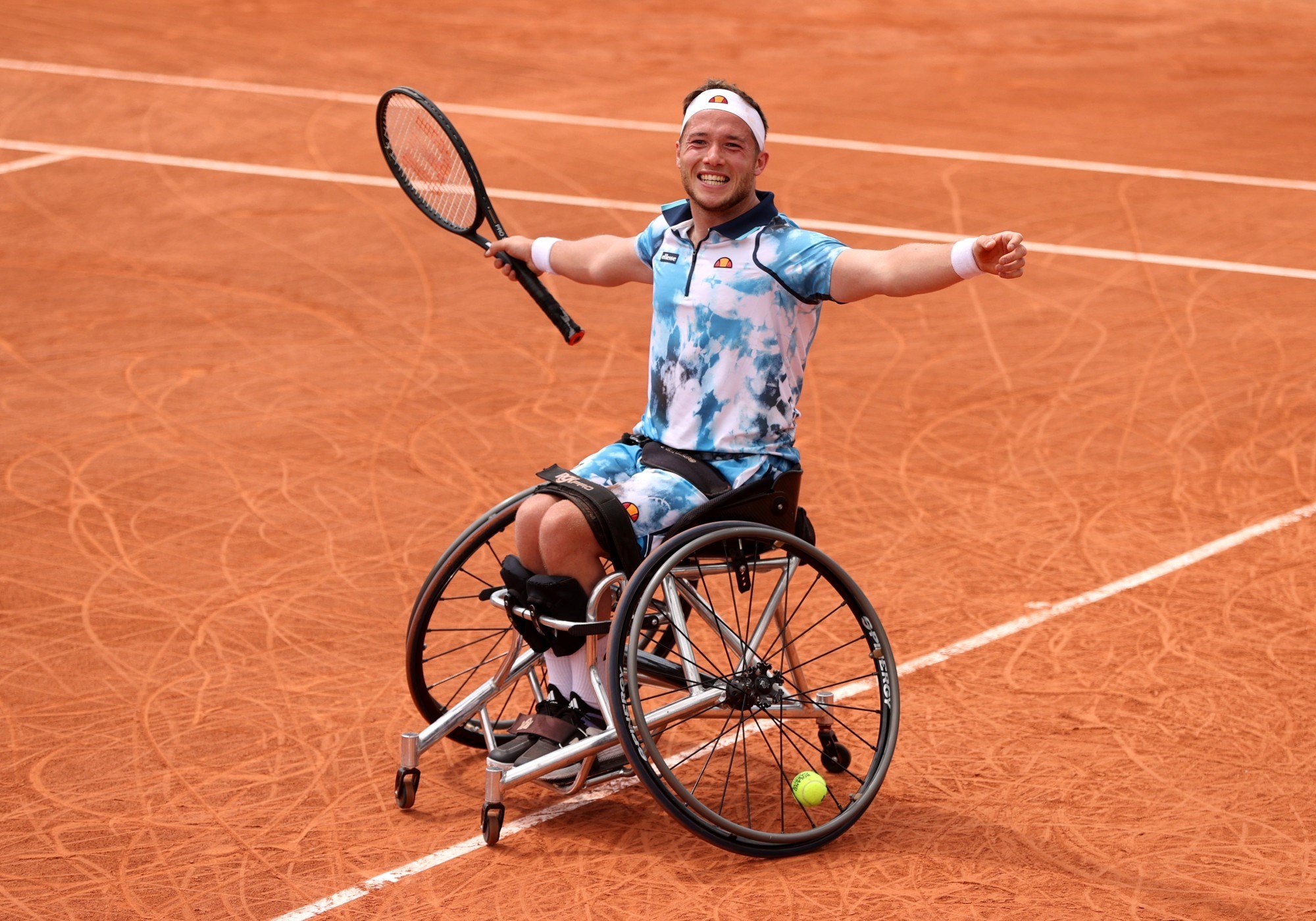 FAVOURITE
SURFACE: Hard
SHOT: Topspin backhand
COACH
Donna Andrews/Ben Collingwood
AGE24
PLAYSRight-handed
BACKHANDOne-handed
LTA SUPPORT Wheelchair Tennis Performance Pathway
TURNED PRO2015
FAVOURITE
SURFACE:Hard
SHOT:Topspin backhand
COACH
Donna Andrews/Ben Collingwood
About
QUICK-FIRE FACTS
Date of birth: 6 December 1997
Place of birth: Norwich
Lives: Cantley, Norfolk
Trains: David Lloyd Norwich and Easton College, Norwich
Family: Lives at home with his mother and twin sister in Cantley, Norfolk.
Likes: Norwich City FC
Tennis Career
January
Hewett started his 2022 season at the Melbourne Open, where he won the fifth Super Series singles title of his career and reached the final of the men's doubles with Gordon Reid.
Hewett went on to reach his second successive Australian Open singles final, finishing runner-up to world No.1 Shingo Kunieda, while also winning his third successive Australian Open doubles title with Gordon Reid. After claiming their ninth Grand Slam doubles title in a row, Hewett and Reid set a new record for the most consecutive Grand Slam doubles titles won by any partnership in the open era, having previously shared the record with Martina Navratilova and Pam Shriver.
February
Hewett then became the first three-time winner of the singles title at the ITF 1 ABN AMRO World Wheelchair Tennis Tournament in Rotterdam.
March
Hewett lifted the Cajun Classic singles title for a third time after defeating Argentina's Gustavo Fernandez 6-2, 6-0 in the final. The win took him to world No.1 for the first time since 2018.
He then joined Dermot Bailey, Ben Bartram and Dahnon Ward to seal qualification for Great Britain in the World Team Cup in Turkey.
After reaching the final of the Victorian Wheelchair Open in January, Hewett went on to beat World No.1 Shingo Kunieda on route to finishing as runner-up in singles at the Australian Open. He and Gordon Reid became Great Britain's joint most successful doubles pair as they claimed their tenth Grand Slam title Down Under.
In March he then defended both his singles and doubles titles at the ABN AMRO World Tennis Tournament and retain both singles and doubles titles, too, at Roland Garros, claiming his fifth Grand Slam singles title in June.
In early July, Hewett and Reid joined forces again to win their seventh consecutive Grand Slam doubles title at Wimbledon. They ended July by winning their second British Open doubles title since 2015 in Nottingham and Hewett became the first Brit to win the British Open men's singles title.
At the 2020 Tokyo Paralympics, Hewett won the silver medal in the men's doubles with Reid, but lost to the fellow Brit in the bronze medal match.
At the US Open, Hewett and Reid became the first men's wheelchair doubles team to complete the calendar Grand Slam, beating Shingo Kunieda and Gustavo Fernandez to lift the title.
To end the season, Hewett claimed his second NEC Wheelchair Singles Masters title and partnered Reid to win their second UNIQLO Wheelchair Doubles Masters at the end of season tour finals in Orlando, Florida.
Claimed three singles titles, including his fourth career Grand Slam singles title at Roland Garros, where he became a two-time champion. Finished the season unbeaten in doubles competition with Gordon Reid after the Brits put together a sequence of seven tournament victories and 16 matches together. This included their first titles together at the Australian Open and Roland Garros and their fourth US Open title as they completed the career Grand Slam together.
Won the inaugural Fever-Tree Wheelchair Tennis Championships title at The Queen's Club as well as the Korea Open men's singles title and his second straight US Open men's singles title.
Despite an early exit at the Australian Open, he ended January 2018 as men's singles world No.1 for the first time after the previous world No.1 lost more points than Hewett in Australia. Won his first US Open singles title and his second US Open men's doubles title with Gordon Reid.
Rio 2016 Paralympic men's singles and doubles silver medallist, Tokyo 2020 Paralympic men's doubles silver medallist, five-time Grand Slam men's singles champion (Roland Garros 2017, 2020 and 2021, US Open 2018 and 2019) and 14-time Grand Slam men's doubles champion (Australian Open 2020, 2021, 2022, Roland Garros 2020 and 2021, Wimbledon 2016, 2017, 2018 and 2021 and US Open 2017, 2018, 2019, 2020, 2021). Crowned Singles Masters champion in 2017 (youngest ever) and again in 2021, when he also won the doubles title. In 2015, two years after leading Great Britain to victory in the World Team Cup Junior event, he was instrumental in Great Britain's men's team winning their first ever World Team Cup title in Turkey.
Born with the congenital heart defect Tetralogy of Fallot, he underwent open heart surgery at six months old. Later diagnosed with Perthes Disease at the age of six, he started playing wheelchair tennis in 2005. Played his first tournament in 2008 and in 2012 won the first of his three singles and three doubles titles at the Junior Masters in Tarbes, France. Also in 2012, at the age of 14, he won his first international senior men's singles title in Belgium. In 2013 he led Great Britain to victory in the World Team Cup junior event.
French Open 2022: Britwatch - which British players are competing?
Find out which British players are competing at this year's French Open and track their results throughout the event.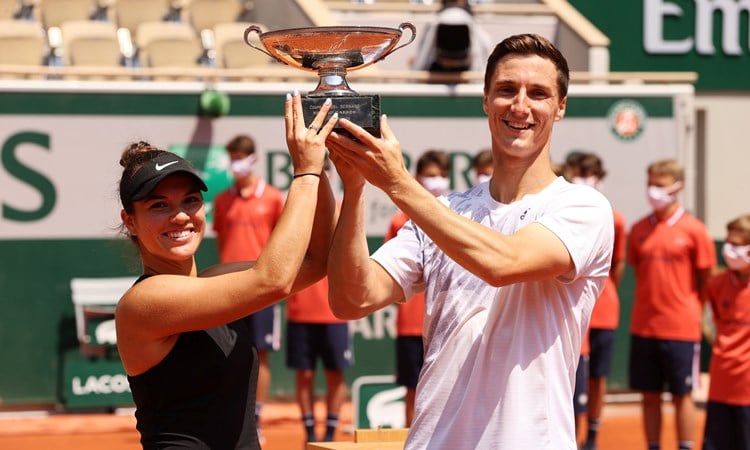 BNP Paribas World Team Cup 2022: Great Britain juniors win World Team Cup silver medal
Great Britain's junior wheelchair tennis team completed the 2022 BNP Paribas World Team Cup with a third successive silver medal - find out more.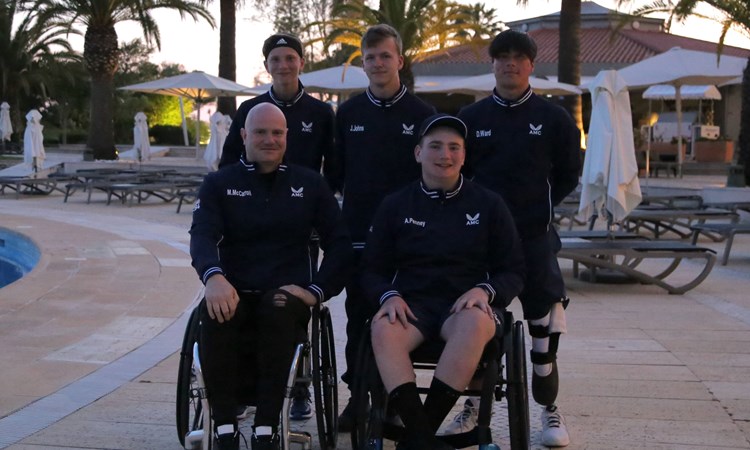 BNP Paribas World Team Cup 2022: Daily updates, results and live stream
Get the latest from the Brits in Portugal as they compete for the men's, women's quad and junior titles in the BNP Paribas World Team Cup.