5 MINUTE READ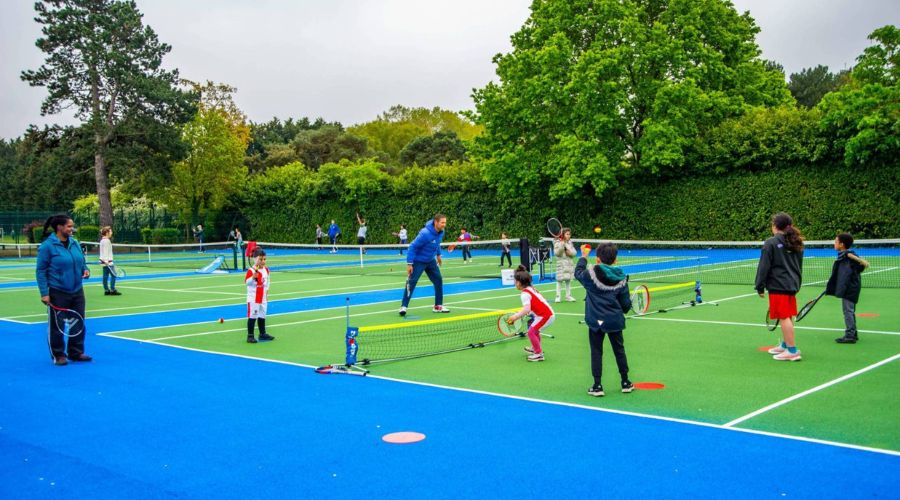 The Park Tennis Project is a nationwide investment by the UK Government and LTA Tennis Foundation, delivered by the LTA, to refurbish public tennis courts and open the sport to many more people.
It is a key part of how we are delivering our vision of 'Tennis opened up' and mission to grow tennis by making it relevant, accessible, welcoming, and enjoyable. Over 1,500 courts across Britain have been transformed and reopened to the public.
This £30million UK Government and LTA Tennis Foundation investment will bring thousands of existing park tennis courts in poor or unplayable condition back to life for the benefit of communities across the country, as well as making it easier to find, book and get on court.
This is so important because park tennis courts are vital for providing opportunities for people of all ages and abilities to pick up a racket, get active, and enjoy playing tennis.
Public tennis courts are key to tennis' long-term future as they are often where many people first play the game and are venues that have higher participation rates amongst women and girls and disadvantaged communities.
There are currently 1.7 million adults and many more children who play tennis in a local park every year, and park tennis courts are particularly important in providing affordable, engaging, and accessible opportunities to play. Through the project, our aim is to substantially increase annual participation in parks by over 500,000 players in the next few years.
This £30million project will have a transformational impact on recreational tennis right across Britain and to inspire many more people to pick up a tennis racket for the first time.
We're working with hundreds of local authorities to deliver a package of initiatives to support park tennis facilities in hundreds of parks.
The investment will be delivered across Britain, improving access to tennis across the nation, and providing greater opportunities for children and adults to be active.
We're working with local authorities across Britain to deliver sustainable facilities that will be readily available for future generations to come.
Across Britain, we have identified existing park tennis courts which are in a very poor or unplayable condition and are working with local authorities to renovate these facilities and bring them back to life for the benefit of local communities. Alongside renovating park tennis courts, investment is also being made into gate access technology, whilst all renovated courts will be available to book via our online booking service.
We're also working with local authorities and operators to ensure a range of activities are available across park courts, including weekly organised Free Park Tennis sessions delivered by volunteers for people of all ages where equipment is provided, and friendly, sociable opportunities to play competitive tennis through Local Tennis Leagues.
Local authorities are also being supported to guarantee a sustainable model is in place for operation of their facilities, to ensure courts will be maintained to a good standard for many years to come.
Works on park sites throughout Great Britain are now underway, with the first renovations set for completion in spring 2023.
We've been working with local authorities to identify existing courts in a very poor or unplayable condition, which will have the biggest impact on transforming participation, for renovation.
Alongside this, we're also targeting inequalities in participation by particularly focusing on parks courts in areas of high social deprivation, helping to ensure tennis is accessible for underserved communities.
One of the key barriers to participation in tennis, is finding and booking a court, someone to play with, or a tennis session. Therefore, we are investing into gate access technology and provision of online booking systems across parks, to help make the journey to court far easier for anyone who wants to play.
Our aim is to ensure that all courts will be available to book through our online booking system, which will be delivered at all venues receiving investment, helping to make it far easier to find and book a court, as well as tennis lessons or other activities, based on location, date and time.
This approach has been piloted successfully for the past three years, and the evidence from sites across the country is that installing gate access technology and a booking system increases participation. This is because it means people can book a court online in advance and know it will definitely be available when they arrive to play with friends and family, meaning it's easier to get on court.
It also means that free tennis sessions and coaching can be scheduled on the courts at specific times and helps reduce anti-social behaviour and vandalism which has been a problem on some courts in the past.
We do not require local authorities receiving investment through the Parks Tennis Project to charge for the use of their courts. It is a requirement of funding that there be a long-term sustainability plan in place to ensure that refurbished courts can be maintained for the benefit of local communities for many years to come. We're collaborating with local authorities to ensure that effective operating models are in place for facilities and sinking funds are generated to finance future renovation works.
We're also supporting local authorities and providers to ensure that all areas receiving investment deliver free weekly tennis sessions in their parks, for all ages, playing levels and experience. Equipment will be provided, meaning that people will not need to find someone to play with or their own racket.
Free Park Tennis sessions are free, social tennis events delivered by volunteers, on weekend mornings in park tennis courts. Each week you can sign up to a session at your local park court – no matter your age, background or ability – and play tennis for free.
All equipment needed to play Free Park Tennis will be provided free of charge and is a great way to meet new people to play with. Enjoy free exercise with a full-body workout and practice tennis related skills, all in a one-hour session every weekend at 10:00.
If you want to help more people discover tennis, you can become a Free Park Tennis Activator and help deliver sessions at a local park. Find out more about how to become an activator below.