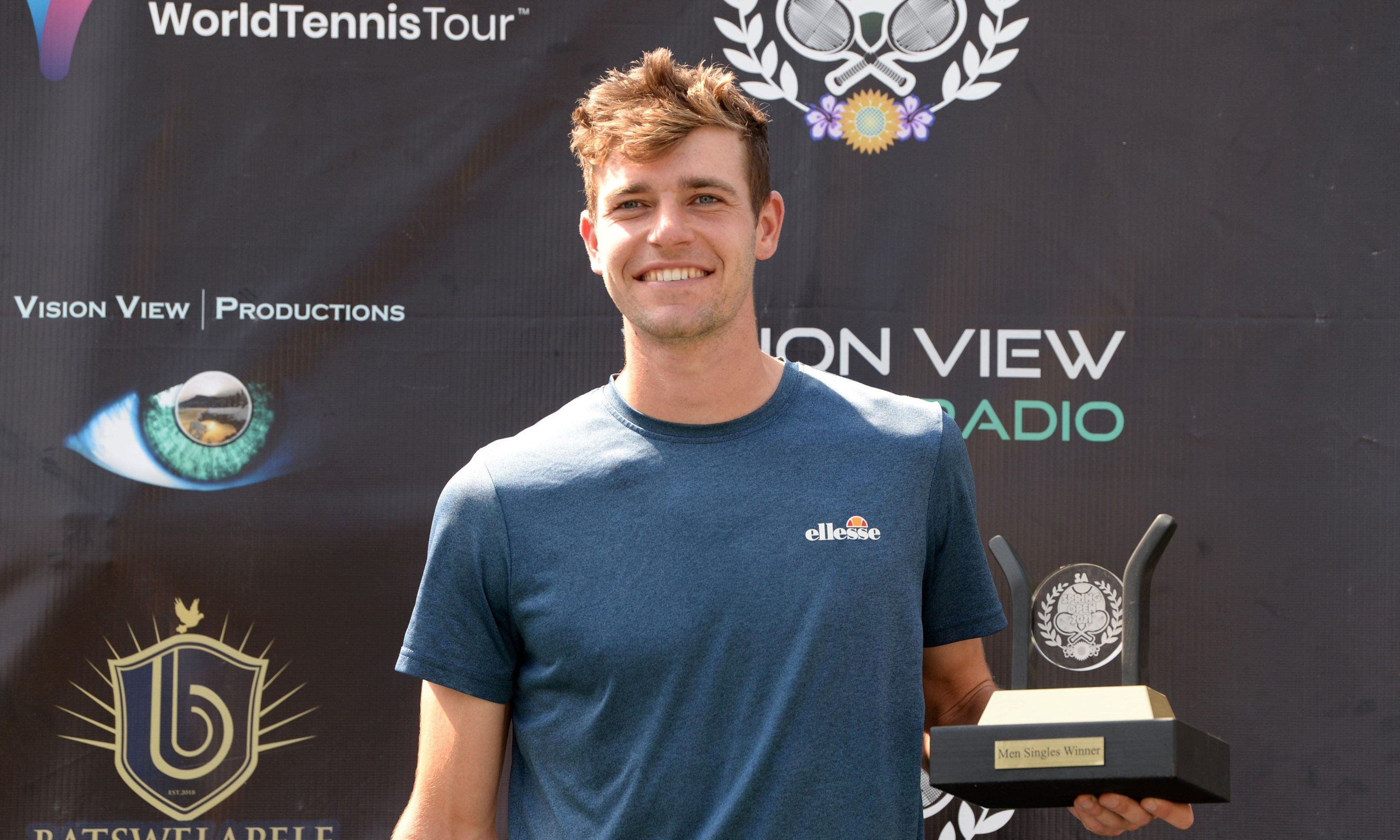 FAVOURITE
SURFACE: Hard / Grass court
SHOT: Serve
AGE25
HEIGHT193 cm
PLAYSRight-handed
BACKHANDOne-handed
LTA SUPPORT Men's & women's programme
TURNED PRO2021
FAVOURITE
SURFACE:Hard / Grass court
SHOT:Serve
Get to know Alastair Gray
About
Quick-fire facts
Place of Birth: London
Lives: London
Trains: JTC Academy
Favourite tournament: Wimbledon
Tennis idols: Roger Federer, Dan Evans, Tim Henman and Nicolas Mahut
Nickname: Ali G
Primary school: Shrewsbury House / Partiside
Secondary school: JTC schooling
Tennis beginnings
Gray started playing at the age of six and Lensbury Tennis Club with his family. His first tennis coach was Anna Britain and has fond memories of playing mini red ball tournaments from a young age.
Tennis Career
November
Having returned to the game following a long period of time out due to injury, Gray headed to the M15 Heraklion where he finished runner-up, losing out to France's Arthur Gea 7-6(2), 6-3 in the final.
October
Gray was selected as one of 10 British players to feature in our new tennis documentary series, Beyond the Baseline, presented by Lexus.
June
Gray was ruled out of the grass-court season after sustaining an ankle injury.
March
Gray then went on to compete at the M25 Trento event where he made it to the semi-finals. Here, he faced Switzerland's Jerome Kym and lost out on a place in the final in a 7-6(7), 6-2 defeat.
January
Gray made it to the semi-finals of the M25 Sheffield event before losing out to Charles Broom 7(6)-6, 6-7(6), 6-2.
January
Gray kick-started the season with a quarter-final appearance in the singles at the LTA's M25 Bath, before teaming up with Charles Broom to lift the doubles title. The British duo defeated Luke Johnson and Guy Den Ouden 6-2, 6-2 in the final.
February
February saw Gray claim back-to-back singles titles at M25 events in Shrewsbury and Glasow. In Shrewsbury he only dropped one set en route to defeating Harry Wendelken in the final, but had to come through a 6-3, 6-7(6), 7-6(4) battle with Germany's Henri Squire to lift the trophy in Glasgow.
March
After finishing runner-up to Leandro Riedi at the M25 Trimbach, Gray reached his first ATP Challenger quarter-final in Saint Beiruc - losing out to Quentin Halys.
May
Gray lost out to Riedi again in the semi-final at the M25 Nottingham at the beginning of May and progressed to the quarter-final at the same event a week later.
June
After getting a wild card into the main draw at the Rothesay Open Nottingham, Gray lost in the opening round to former Australian Open semi-finalist, Fernando Verdasco.
July
Upon his Wimbledon debut, Gray achieved one of his best wins to date after clinching a straight-sets victory over the world No.95, Chun-hsin Tseng, to reach the second round. Despite asking questions and calling for a tie-break in the second set of his second Championships clash, Gray missed out on a place in the third following his 6-3, 7-6(3), 6-3 defeat to the reigning Indian Wells Champion, and world No.13, Taylor Fritz.
August
Gray took home his third M25 title this season, and fifth overall, after defeating fellow Brit Daniel Cox 3-6, 6-4, 7-5 in the final of the M25 Nottingham singles draw.
October
Gray reached the quarter-finals at the Ismaning Challenger in Germany after posting wins against Slovakia's Filip Horansky and Bosnia and Herzegovina's Nerman Fatic, but just lost out on a place in the semi-finals after losing 6-4, 7-6(3), 7-6(4) to top seed, France's Quentin Halys.
November
Gray enjoyed a lengthy run at the M25 Sharm ElSheikh event, which saw him land a place in the finals against Poland's Kacper Zuk having only dropped one set along the way. Gray fought hard against the Pole, but eventually lost out on the title in a 4-6, 4-6 defeat.
December
Gray rounded his year off by making the quarter finals of the M25 Monastir event. There, the Brit faced Omni Kumar but unfortunately had to retire in the first set.
U18 Junior Nationals champion
Winning his first doubles match at Wimbledon in 2021 with Aidan McHugh
Beating Soonwoo Kwon (world No.70) at the Eastbourne International 2021
Singles
M25 Glasgow
M25 Shrewsbury
M25 Johannesburg
M25 Johannesburg
Doubles
M25 Bath (with Charles Broom)
M25 Johannesburg (with Daniel Cukierman)
M25 Bagneres-De-Bigorre (with Ryan James Storrie)
M25 Roehampton (with Ewan Moore)