CAREER HIGH
15/08/2022 32
CAREER HIGH
26/07/2022 26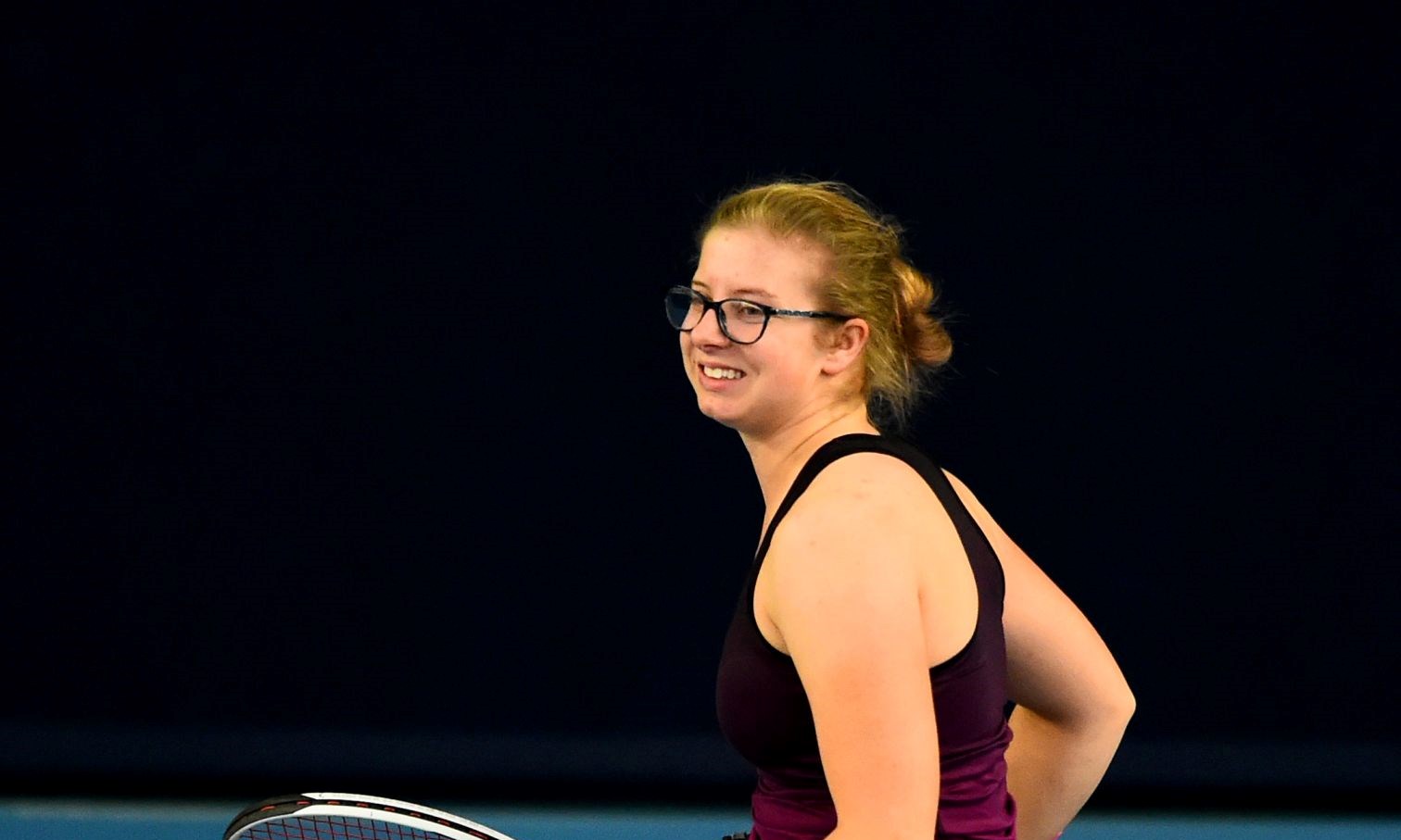 FAVOURITE
SURFACE: Acrylic
SHOT: Topspin forehand
AGE20
PLAYSRight-handed
BACKHANDOne-handed
LTA SUPPORT Pro Potential Programme
TURNED PRO2019
FAVOURITE
SURFACE:Acrylic
SHOT:Topspin forehand
Get to know Abbie Breakwell
About
Quick-fire facts
Place of birth: Nottingham
Lives: Sawley, Long Eaton
Trains: Loughborough Lawn Tennis Club and Loughborough University
Family: Abbie has one sister
Likes: Disney (favourite film 'Hercules'), carrots (food), chicken chow mein and black bean sauce, Shingo Kunieda, Esther Vergeer, Ed Sheeran (favourite song 'Visiting Hours')
Tennis beginnings
Abbie first played wheelchair tennis during a have-a-go day at the British Open in Nottingham in 2016, where she has also a member of the ball crew.
Tennis Career
November
November saw Breakwell lift four titles all-in at the Le Meridien Lav 1 and Le Meridien Lav 2 events in Croatia, where she clinched two singles trophies and two doubles trophies alongside Louise Charlotte Willerslev-Olsen.
October
Competing at the Abingdon Futures Wheelchair Tennis event, Breakwell enjoyed a standout week, where she finished runner-up to Ksenia Chasteau 6-1, 6-3.
August
She moved on to the Nottingham Futures event where Breakwell beat Yuma Takamuro 5-7, 6-1, 7-6(3) to clinch the women's singles title.
Breakwell then joined forces with Bishop to seal the doubles crown aswell against Lucy Folland and Takamuro, 6-4, 6-4.
July
Breakwell then went on to compete at the Trofeo Della Mole, where she earned her third senior women's singles title. The Brit took on top seed Marianna Lauro in the final - easing past the Italian in a 6-1, 6-2 victory to take the crown.
May
Breakwell was selected to represent her country at the World Team Cup, where Great Britain finished fourth overall. The Brit teamed up with British No.1 Lucy Shuker for the doubles rubber against Germany's Katharina Kruger and Britta Wend where they rallied to a 3-6, 7-6(4), 10-5 victory.
Breakwell teamed up with fellow Brit Ruby Bishop for the doubles event at the Plock Orlen. The all-British duo stormed to a 6-0, 6-0 victory in an emphatic performance against Critstina Deac and Iucyna Mietrkiewicz to lift the trophy.
October
Breakwell won her eighth doubles title of the season in Porto after partnering Spain's Lola Ochoa to outfox Italian duo Silvia Marotti and Vanessa Ricci 6-0, 6-1.
Breakwell finished runner-up in the Abingdon Wheelchair women's singles final after losing 6-1, 7-5 to Israel's Maayan Zikri. Meanwhile, in the doubles, Breakwell finished runners-up for a second time alongside Bishop after losing 6-3, 6-4 to Austria's Christina Pesendorfer and Israel's Maayan Zikri.
August
Breakwell earnt her sixth women's double victory of 2022, and first alongside Israeli partner Maayan Zikri, at the Arges Open after just one completed match. Breakwell and Zikri's opening 6-1, 6-0 win against Mariam Ayeni and Cristina Deac preceded a walkover against both Emmanuelle Morch and Saki Takamuro and Lizzy de Greef and Jinte Bos.
Breakwell claimed her second successive doubles title in a week partnering Zikri after going unbeaten in a three-way round-robin event, ending with a 6-3, 6-1 win over Bulgaria's Zoya Chadarova and Christina Pesendorfer of Austria. However, the British No.3's hopes of landing the singles title ended in a 6-3, 6-7(4), 6-0 semi-final loss to eventual champion Zikri.
July
Breakwell starred at the Nottingham Futures event as the young Brit took home both the singles and doubles titles. She claimed her first international singles trophy with a 6-3, 6-3 win over top seed Zoe Maras and then paired up with the French star to defeat British duo Ruby Bishop and Ellie Roberston.
June
The Brit joined Angela Grosswiler to win the women's doubles title at the Camozzi Open, defeating Italian duo Silvia Morotti and Vanessa Ricci 6-3, 6-2 in the final. She also finished runner-up in the singles to her doubles partner 7-6(3), 6-3.
May
Breakwell and Spaniard Lola Ochoa joined forces in the Arcadi Manchon Tournament, Spain as they battled for the title against Francesca Baldini and Elizabeth Williams. Putting on a dominant performance, Breakwell and Ochoa saw out the match with a 6-0, 6-2 victory.
April
Singles semi-finalist at the 3 Trofeo Citta' Di Cantu in Italy, where she also won the women's doubles final partnering Germany's Britta Wend, the same player who ended her singles campaign. Following the ITF Futures tournament Breakwell reached her career best women's singles and doubles rankings.
March
Singles quarter-finalist and doubles semi-finalist at the ITF Futures Megasaray Open in Turkey before reaching the women's singles second round and doubles quarter-final at the ITF 3 Kros Medical Open.
In 11 tournaments played in 2021 Breakwell reached the singles semi-finals at the Arges Open in Romania and the singles quarter-finals at the Bucharest Open, the Open Paratennis du Loiret in France and the Sirius Open in Croatia.
She finished runner-up in the girls' singles at the British Open, she also made her senior debut at the Super Series event in Nottingham where she'd first tried wheelchair tennis in 2016. She also made her debut in the women's singles at the LTA grass court tournament in Edgbaston and made her Great Britain senior women's team debut at the World Team Cup in Sardinia.
In doubles competition Breakwell partnered Germany's Britta Wend to win the Bucharest Open, ending a two-week tour of Romania in August that started with the duo reaching the semi-finals of the Arges Open. She also partnered fellow Brit Ruby Bishop to back-to-back doubles semi-final and final berths at the Sirius Open and the Zagreb Open in Croatia. She ended 2021 by reaching back-to-back doubles semi-finals in Turkey.
2022 Won BUCS Wheelchair Tennis Championships for the second year in a row
2021 Made GB senior women's debut at World Team Cup in Sardinia, Italy
2021 Completed her junior career with a career-best No.2 junior singles ranking
2021 National School Games girls' singles and doubles gold medallist
2019 Won her first senior international title when partnering fellow Brit Louise Hunt to win the women's doubles at the LTA's Abingdon ITF Futures tournament
2018 Made her Great Britain junior team debut at the World Team Cup in the Netherlands
2016 National School Games inaugural girls' singles and doubles gold medallist