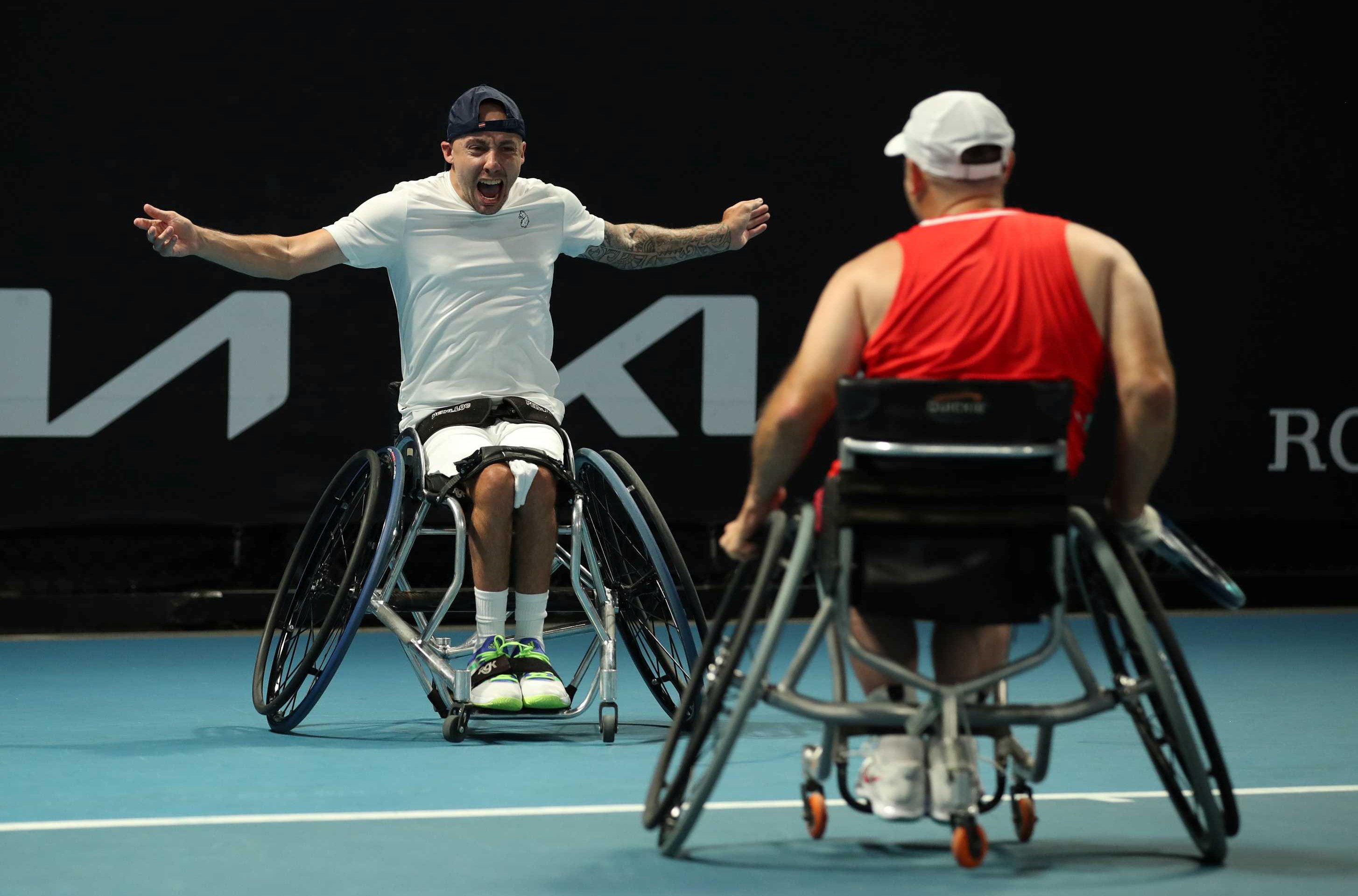 FAVOURITE
SURFACE: Hard
SHOT: Backhand drop shot
AGE31
PLAYSLeft-handed
BACKHANDOne-handed
LTA SUPPORT Wheelchair Tennis Performance Pathway
TURNED PRO2005
FAVOURITE
SURFACE:Hard
SHOT:Backhand drop shot
Get to know Andy Lapthorne
About
QUICK-FIRE FACTS
Date of birth: 11 Oct 1990
Place of birth: Hammersmith, London
Lives: Eastcote, Middlesex
Trains: National Tennis Centre
Family: One brother
Likes: General sports fan, but especially football, boxing, mixed martial arts and American sports. West Ham United and Brentford FC fan, Washington NFL, Cardinals MLB, New York Knicks NBA
Tennis Career
January
Lapthorne started the year by reaching successive quad singles semi-finals at the Melbourne Open and the Australian Open. Lapthorne and American David Wagner were also doubles finalists at the Melbourne Open, where they lost out to Dutch top seeds Sam Schroder and Niels Vink.
Lapthorne and Wagner defeated reigning Paralympic and US Open champions Schroder and Vink in a deciding match tie-break to claim their fourth Australian Open doubles title together. Lapthorne's sixth Australian Open quad doubles title in total was also his eighth Grand Slam title partnering Wagner.
February
Lapthorne and 19-year-old Greg Slade joined forces tio win the Bolton Indoor ITF 2 quad doubles title. The Brits battled back to beat the far more experienced partnership of Bryan Barten and Wagner 2-6, 7-5, 10-6.
March
Lapthorne, partnering with America's David Wagner, was crowned champion of the Cajun Classic quad doubles for a third time after a straight-set victory over Australian, Canadian duo Heath Davidson and Robert Shaw. Lapthorne's singles campaign ended in the semi-finals after losing to World No.1, Sam Schroder 6-0, 1-6, 6-3.
Started this season by reaching the quad singles semis at the Victorian Open and Australian Open. Finished runner-up in the Australian Open doubles with David Wagner after losing a close match tie-break to Dylan Alcott and Heath Davidson. After reaching his first singles final of 2021 at the Open des Hauts-de-France in Le Touquet at the end of May, in June Lapthorne won his first Roland Garros doubles title partnering Wagner, thereby completing his career Grand Slam in doubles.
In July, won his second Wimbledon doubles title with Wagner against Alcott and Sam Schroder. Lapthorne and Wagner therefore became the first ever quad doubles partnership to complete a career Grand Slam together. Lapthorne ended the month at the British Open, where he and fellow Brit Antony Cotterill put up a strong performance to finish runners up to Dutch top seeds Schroder and Niels Vink in the quad doubles, although Lapthorne made an early exit in singles.
He then contested his third Paralympics in Tokyo, reaching the quad singles quarter-finals before bowing out to eventual silver medallist Vink. Lapthorne and Cotterill also played for the quad doubles bronze medal, but narrowly lost out to Japan's Mitsuteru Moroishi and Koji Sugeno 7-5, 3-6, 7-5. Lapthorne's penultimate tournament of 2021 saw him reach the quad singles quarter-finals at the US Open, where he and Wagner lost out to eventual champions Schroder and Vink in the doubles semi-finals.
Lapthorne closed his season by bowing out to Schroder in the semi-finals of the Singles Masters, while he and Cotterill narrowly missed out on a place in the final of the Doubles Masters.
Reached back-to-back singles finals in Australia before reaching the quad singles final at the Australian Open and then the ITF Bolton Indoor. Reached world No.1 in the quad singles rankings for the first time in his career at the end of January. Reached back-to-back doubles semi-finals in Australia with fellow Brit Antony Cotterill before partnering Cotterill to win the quad doubles at Bolton Indoor. Won his fourth US Open quad doubles title and his second with Australian Dylan Alcott before finishing rubber-up to Alcott in quad singles at Roland Garros.
Reached the inaugural Wimbledon quad singles final before finishing runner-up to Australian Dylan Alcott and won the inaugural Wimbledon quad doubles title partnering Alcott. Won his second US Open quad singles title and partnered Alcott to win the quad doubles title. A week later he went on to win his second US Open USTA Championships Super Series singles title.
Won the ITF 1 Sardinia Open and ITF 2 Bolton Indoor quad singles titles. Partnered Antony Cotterill to win the Sardinia Open quad doubles title and American David Wagner to win the US Open Grand Slam and US Open USTA Championships Super Series doubles titles.
Two-time Grand Slam singles champion (US Open 2014, 2019), 13-time Grand Slam doubles champion (Australian Open 2011, 2012, 2014, 2015, 2017, 2022, Wimbledon 2019 & 2021, Roland Garros 2021, US Open 2017, 2018, 2019, 2020). Three-time Paralympic medallist (Rio 2016 singles silver, London 2012 doubles silver and Rio 2016 doubles bronze). Three-time World Team Cup champion (2009, 2014, 2017) representing Great Britain. Two-time Doubles Masters champion (2010, 2016).
Born with cerebral palsy. Started playing wheelchair tennis aged 10 after first trying the sport at a wheelchair tennis camp. Former world ranked junior No.6, Junior Masters qualifier and GB World Team Cup Junior Team Member. Classified into the sport's quad division in 2008.
French Open 2022: Daily updates and results
Get all the latest results and updates from the British stars competing at the 2022 French Open.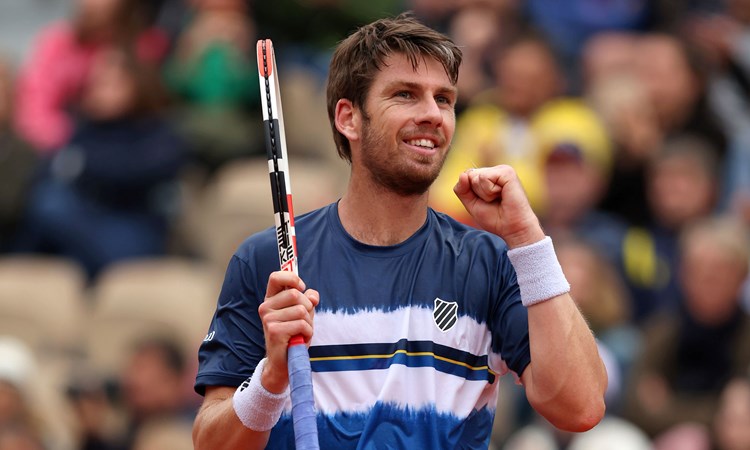 French Open 2022: Britwatch - which British players are competing?
Find out which British players are competing at this year's French Open and track their results throughout the event.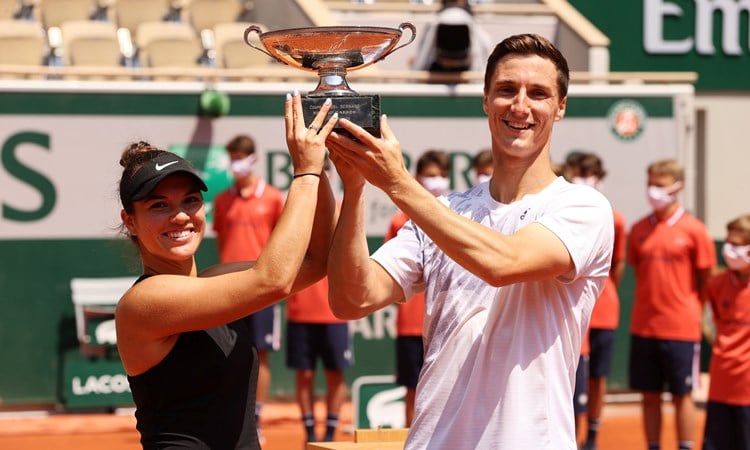 Hewett and Lapthorne seal third career titles at the Cajun Classic
Alfie Hewett and Andy Lapthorne both claimed their third career titles at the Cajun Classic ITF Super Series tournament last week, capping off an impressive week for the Brits.