CAREER HIGH
03/07/2023 14
CAREER HIGH
23/05/2023 13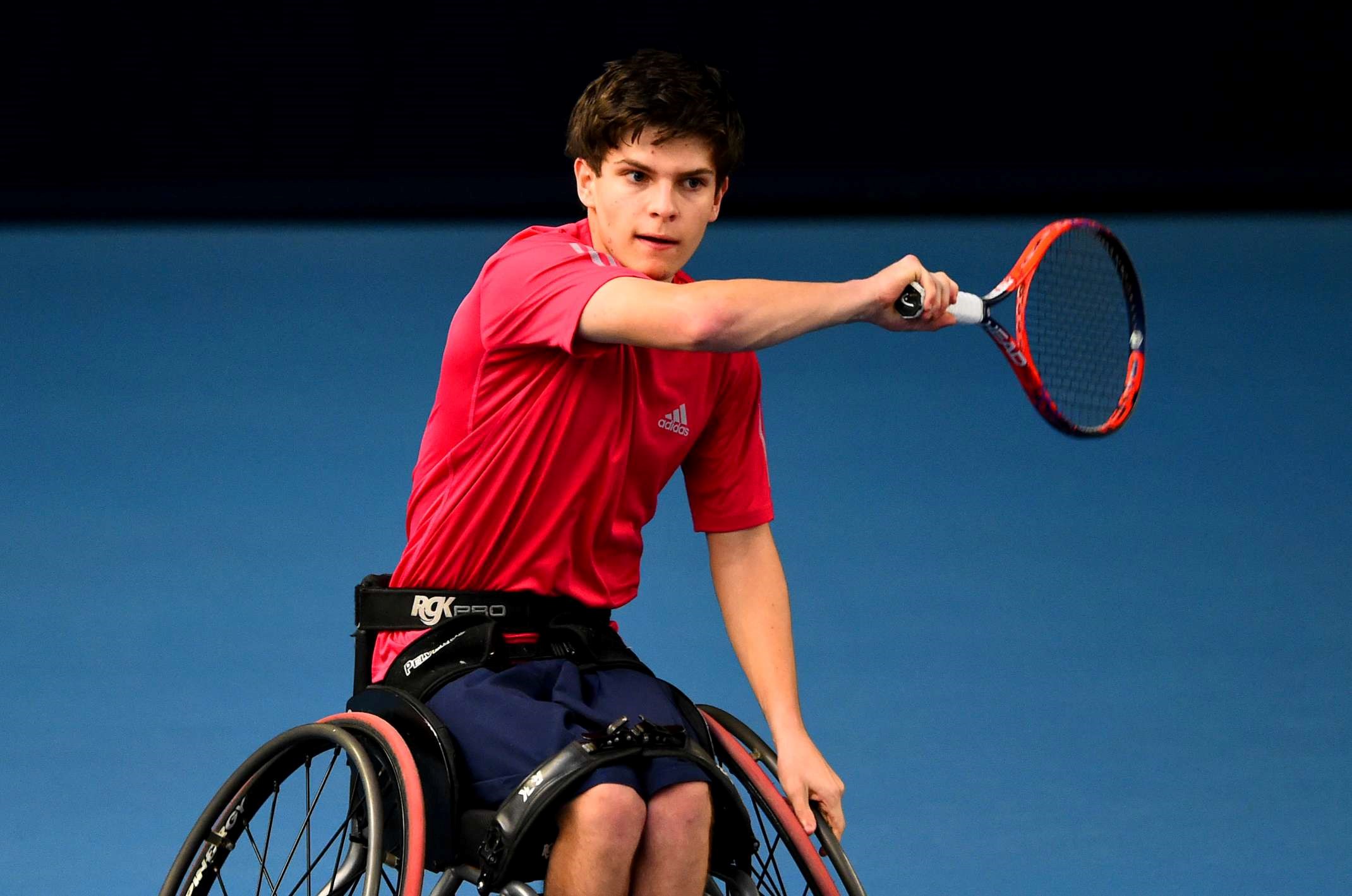 FAVOURITE
SURFACE: Hard
SHOT: Forehand up the line
AGE21
PLAYSRight-handed
BACKHANDOne-handed
LTA SUPPORT Pro Potential Programme
TURNED PRO2020
FAVOURITE
SURFACE:Hard
SHOT:Forehand up the line
About
Greg Slade is the current British No.2 quad singles player on the wheelchair tennis rankings. When he was younger he used to play tennis on his feet with his parents before discovering wheelchair tennis sessions at Sutton Tennis Academy when he was 14. In 2017, aged 15, he played his first junior tournament during the British Open Wheelchair Tennis Championships in Nottingham before going on to win his first National Championships later that year.
He made his international debut for Great Britain in 2019 when he was selected for the junior team that won the silver medal at the World Team Cup in Israel, before making his senior Great Britain debut as part of the quad team selected for the 2021 World Team Cup in Sardinia, where Slade became an LTA Colour Holder.
His career highlights also include winning the quad doubles at the Bolton Indoor ITF 2 alongside British No.1 Andy Lapthorne.
Quick fire questions
Place of birth: Redhill, Surrey
Lives: Dorking
Trains: National Tennis Centre
Family: Lives with his mother, father, older sister and his twin sister
Biggest career title: 2022 Bolton Indoor ITF2 doubles (with Andy Lapthorne)
Hobbies: Spends as much time as possible with his family, friends and two dogs. Prone to a binge-watching marathon of true crime documentaries on Netflix.
Favourite tour memory: After being told that food would be provided in our bungalows at the Windmill Cup Junior tournament, to getting there and finding 32 eggs and nothing else. There was 16 players in the bungalow!
Tennis beginnings
Tennis has been in Slade's family for multiple generations. He used to play on his feet as a hobby and wanted to play more, so first got in a wheelchair to play in 2016 at Sutton Tennis Academy and hasn't looked back since. The competitive and individual nature of the sport matches up well to his personality.
He didn't need to try any other sports before he knew tennis was for him and wanted to go professional because of his love of the sport and knew he'd regret it if he didn't go for it!
Tennis career
November
Playing in his first tournament since making his Wimbledon debut in July after recovering from a wrist injury, Slade picked up the titles in both the quad singles and quad doubles draws at the Open Paratennis du Loiret in France. The youngster defeated Turkey's Ugur Altinel 4-6, 6-1, 6-2 in the singles before teaming up with Marcus Laudan to collect their first title together after beating Altinel and Kaplan 7-5, 6-2.
July
Slade faced quad singles star Heath Davidson in the opening round of Wimbledon but unfortunately missed out on a spot in the semi-final after a 6-2, 6-4 defeat.
May
Slade joined forces with Andy Lapthorne in the Vendee Open doubles draw, but went out in the semi-finals to Daisuke Ishito and Koji Sugeno 6-4, 6-4.
Slade was crowned doubles champion at the Commit Open alongisde Turkey's Ali Ataman, after they stormed to a 7-5, 6-3 victory against top seeds Min-Hyeong Cha and Myung Je Kim.
April
Slade teamed up with Kei Usami for the UH Cougar Open quad doubles event, where the pair enjoyed a run to the final - overcoming Jose Arriga and Andrew Bogdanov 6-4, 6-1 to wrap up the title.
February
Slade kicked off his year at the Bolton ITF 3 event where he made it to the final of the doubles event alongside Germany's Marcus Laudan. The pair eased through their quarter-final and semi-final matches, before finishing runners up to Tomas Masaryk and Ymanitu Silva in a 6-3, 6-2 defeat.
In the singles event, Slade outfoxed fellow Brit Gary Cox 6-0, 6-1 in the quarter-final, before facing Masaryk in the semis where he lost out on a place in the final in a 6-3, 6-2 defeat.
Slade earned the best win of his career to beat Brazilian second seed Ymanitu Silva 7-6(3), 5-7, 6-3 and seal his place in his first ITF 2 singles final, where he was defeated by fellow Brit Lapthorne.
He then went on to compete alongisde Lapthorne in the quad doubles where they finished runners up to top seeds Tomas Masaryk and Silva, 6-0, 3-6, 10-6.
Junior silver medal at the 2019 World Team Cup
Winning his first singles and doubles titles in Toulouse, 2021
Bolton ITF2 doubles title 2022
First top 10 win in May 2022
First international senior cap, Sardinia 2021