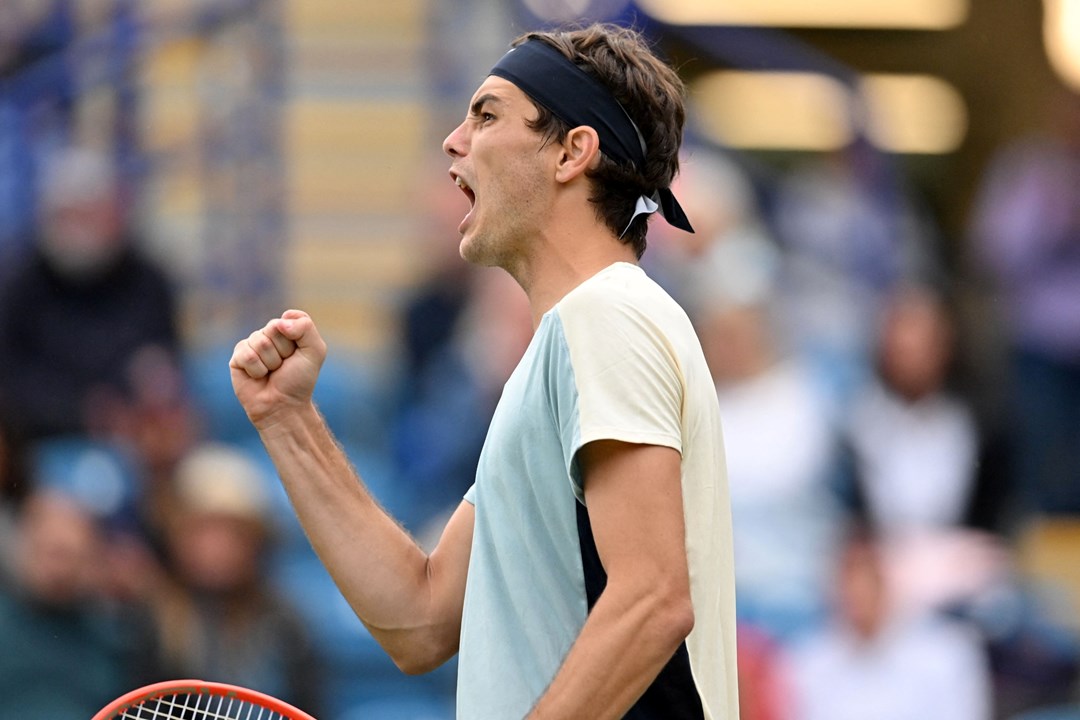 International
Rothesay International Eastbourne 2022: Daily updates & results
• 3 MINUTE READ
Your home of daily updates from Devonshire Park. You can watch the Rothesay International Eastbourne live across the BBC and Amazon Prime.
Highlights:
Petra Kvitova completes the set of most prestigious grass-court events in the UK after straight-sets win over Jelena Ostapenko
Taylor Fritz wins his second title at Devonshire Park after three-set showdown
Tatjana Maria and Oceane Dodin win doubles title by dint of walkover
World No.1 Diede de Groot beat world No.2 Yui Kamiji 6-3, 6-2 to the title in the women's wheelchair singles final
Lucy Shuker and Kgothatso Montjane thwarted 6-1, 6-1 by top seeds Kamiji and Zhenzhen Zhu in the doubles
Match centre - live scores, draws and order of play
Day eight - Fritz and Kvitova crowned King and Queen of Eastbourne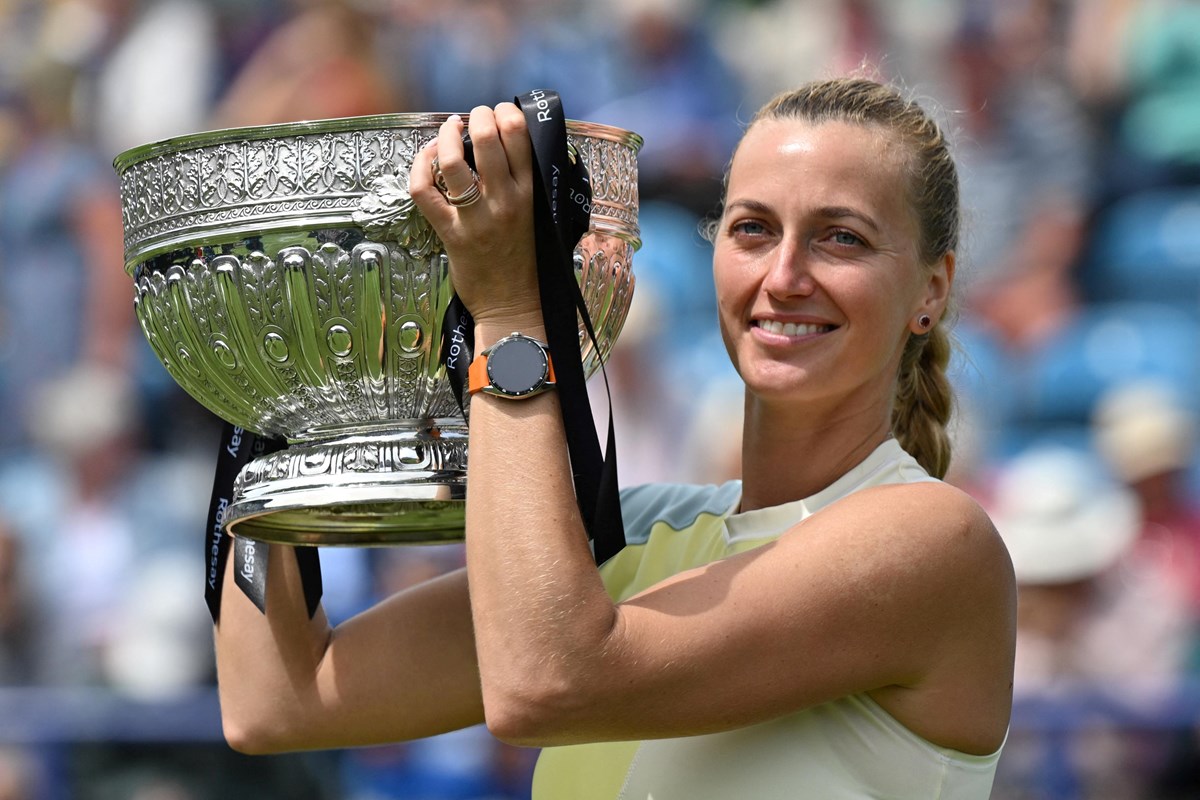 Petra Kvitova ousted reigning champion, Jelena Ostapenko, in a 6-3, 6-2 straight-sets showcase to grant her the triple.
A faultless start from Kvitova; the Czech charged ahead as she immediately broke her Latvian opponent to take the early initiative. The two-time Wimbledon champion cruised ahead as she consolidated her break with a comfortable hold to take a healthy lead.
Mirroring styles she showcased prior to snatching two Grand Slam titles, Kvitova took charge of the proceedings with her lefty swing crunching the forehand side of Ostapenko. With a double break now in question, Ostapenko responded with an important hold to keep the Czech at bay. However, as Kvitova remained rock solid behind her serve, the world No.31 found herself with the match on her racket, just inches away from closing out the opening set in timely fashion. As Kvitova's unplayable shots left the former Roland Garros champion unable to respond; a shot rocketing into the air from Ostapenko led to the end of what was a formidable opening stanza.
Plugged into the mains of this women's singles final; a whole trunk load of acute angled cross-court blasts from Kvitova saw her break the eighth seed for a third time in the match as she sprinted to the finish line. Yet, as the scoreboard pressure eased for the Czech, the thirteenth seed found herself in dangerous waters for the first time as Ostapenko began asking questions, threatening an immediate return of break. Despite the tempo intensifying, the 32-year-old answered to the Latvian knocking on the door with a monumental hold, followed by a double break to move her a step closer to completing the set of the most prestigious grass-court events in the UK.
Although her first serve percentage dwindled, her authority always remained as the ball sung out of the strings of her racket to close out the final showcase in one hour and 18 minutes.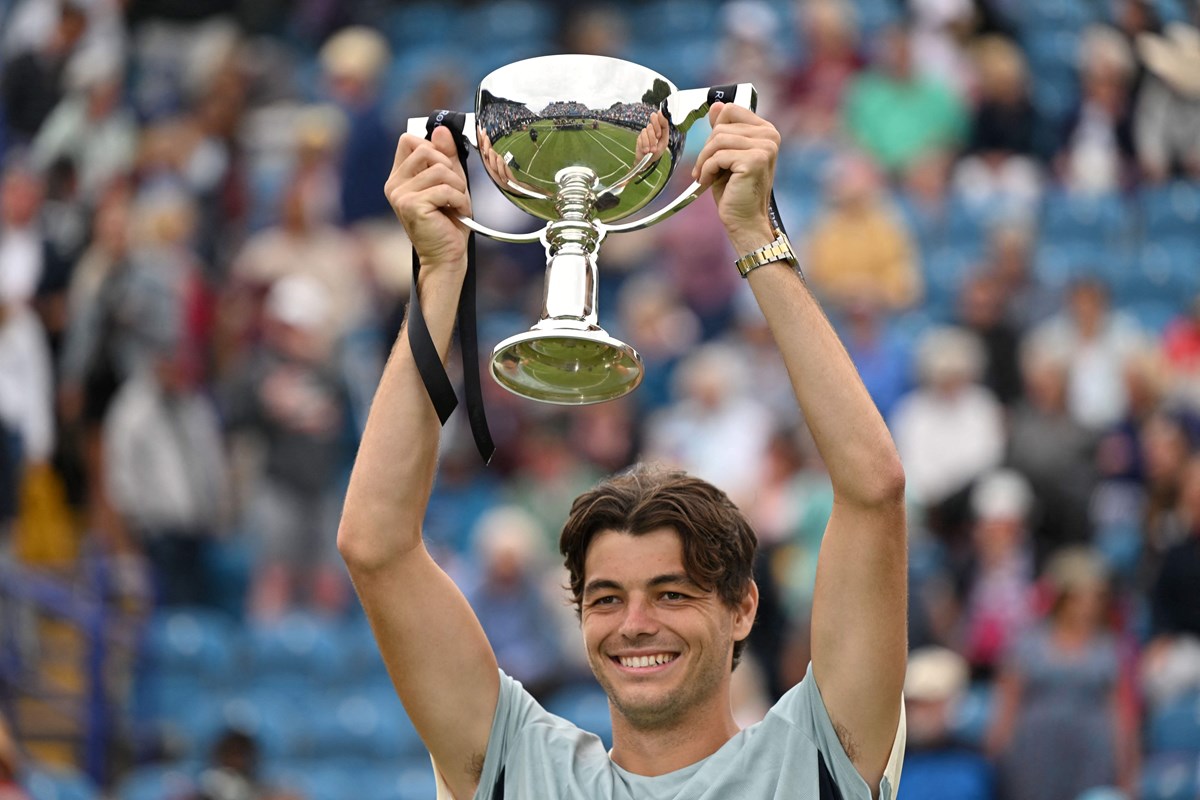 In the men's, reigning Indian Wells champion Taylor Fritz added his second title of the season to his list of accolades after defeating Maxime Cressy 6-2, 6(4)-7, 7-6(4) in an all-American battle.
The former champion took the early advantage on centre court as he chipped away at his fellow countryman's niche serve and volley service style to go up a break. Getting a good read on Cressy's unique style early doors, the American No.1 sought out a cushioning double break to apply the heat on his opponent. With the double break now in hand, and as Cressy's energy levels melted away, a linear shot from Fritz set the tone for the rest of the match as he blitzed the opening set 6-2.
A reboot required from Cressy in the second; the world No.60 succeeded where he failed in the opening set with a hold to kick things off. Fritz – having never encountered an out-and-out serving volleyer before – continued to play confidently as Cressy's serve progressively grew more clinical, with 17 of 21 of his first serves converted. As both sides stayed on course throughout the second set, Fritz experienced somewhat of a déjà vu following his semi-final clash as his fellow American called for a final shootout after leaving the third seed with no angle to work with in the deciding tiebreak.
Two costly consecutive double faults in the third gifted Fritz with a golden opportunity, but the 24-year-old was unable to poach the break as countryman Crissy hung on to another crucial hold. As Cressy dialled into his No.1 weapon and Fritz remained unbroken, a final set breaker loomed as they raced to the finish line. The former champion was the first to strike as he went up a mini break to lead the tiebreaker 4-1, and following the longest, nail-biting rally of the match, the third seed earned three championship points to firmly close the door on what was a titanic three-set tussle.
Women's wheelchair singles final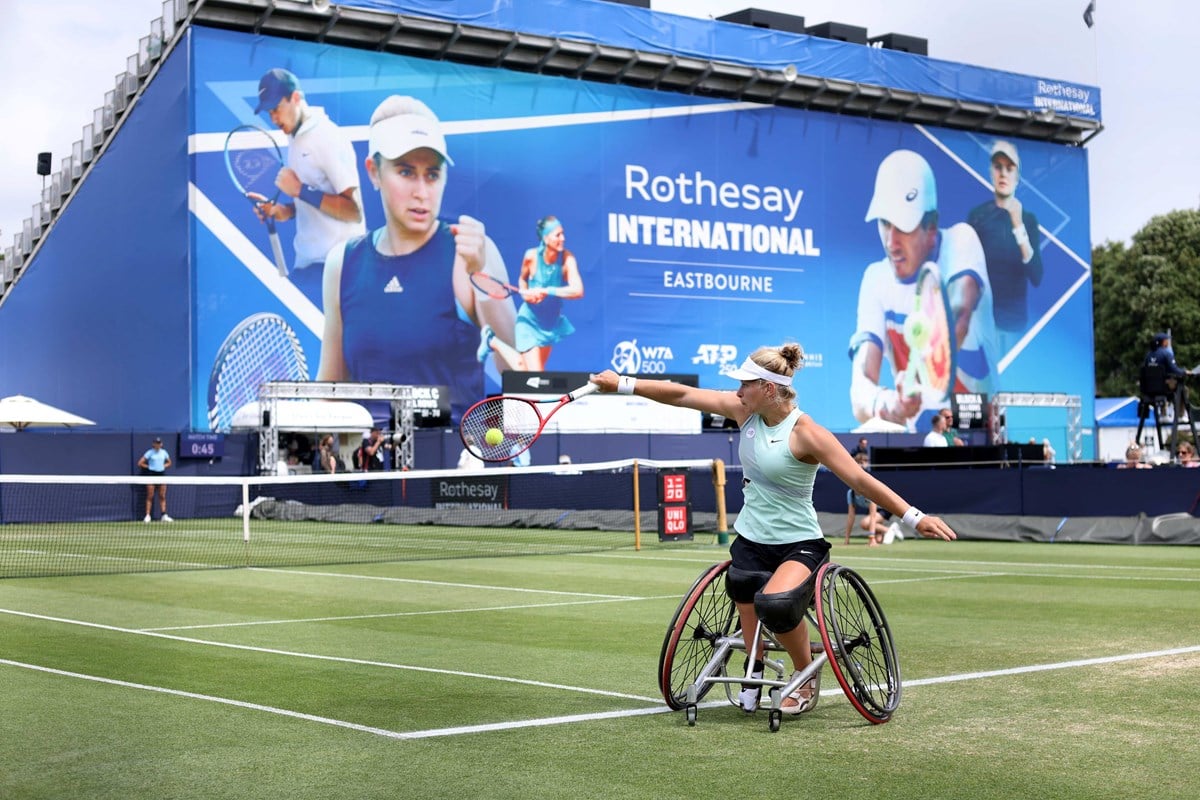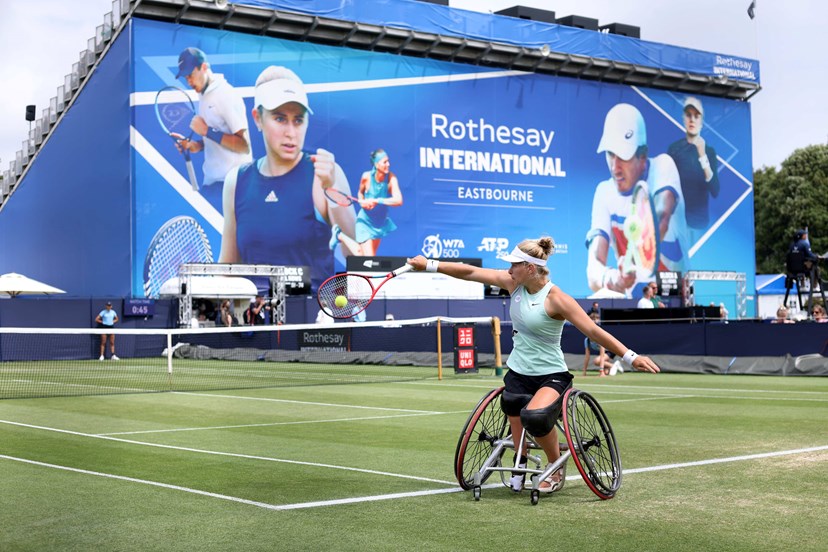 World No.1 Diede de Groot won the inaugural Rothesay International women's wheelchair singles title after beating Japan's world No.2 Yui Kamiji 6-3, 6-2 in the first ever meeting between the two players on grass.
The Dutch top seed fended off multiple break points in a marathon sixth game and then gained the first break of the match to edge 4-3 ahead before wrapping up the opening set in 44 minutes.
De Groot didn't have to wait so long for her breakthrough in the second set, the three-time Wimbledon champion building on a 3-1 lead and she will now head to the All England Club with a 12-1 record on grass.
Women's wheelchair doubles final
Lucy Shuker's hopes of ending the Rothesay International on a high were thwarted by top seeds Kamiji and Zhenzhen Zhu after the Japanese-Chinese partnership took the women's doubles title 6-1, 6-1.
Kamiji and Zhu won six games in a row to seal the opening set. Shuker and Montjane, who were contesting their eighth successive doubles final together, took their opponents to deuce on multiple occasions in a highly competitive match, but Kamiji and Zhu won all the big points to make a winning tournament debut together.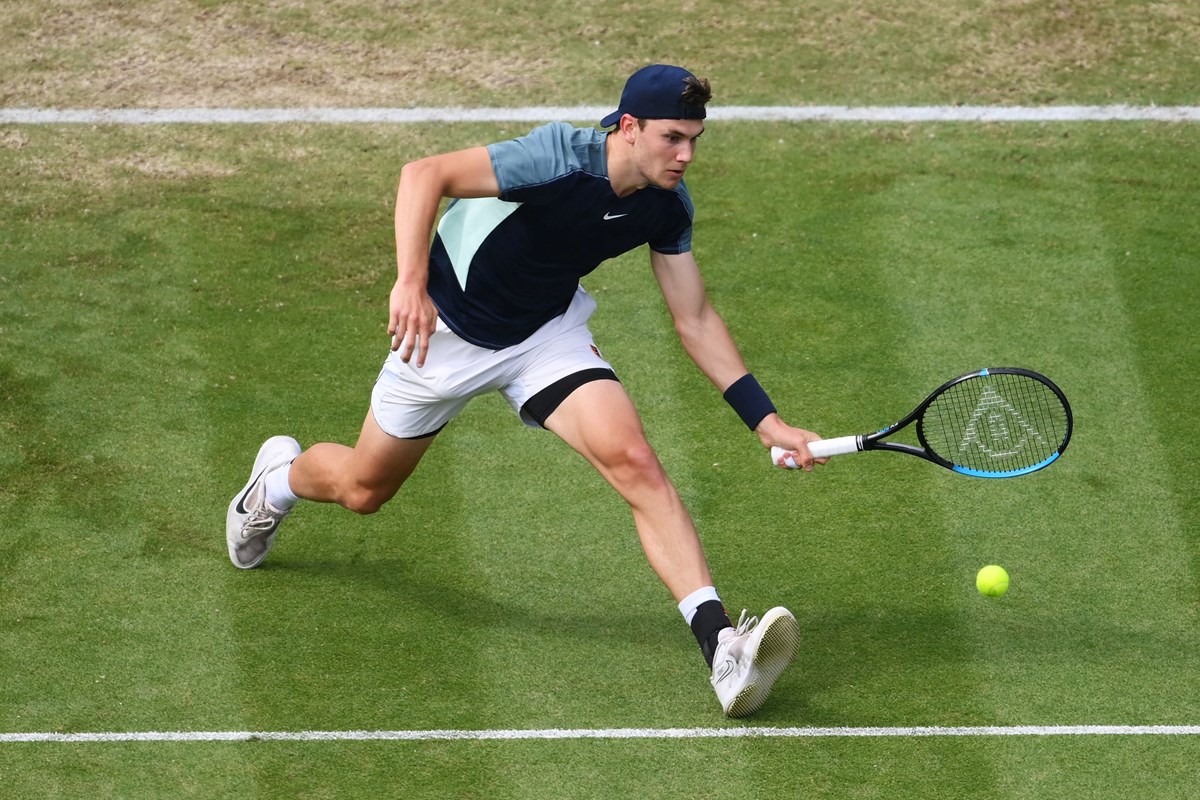 Jack Draper shyly missed out on a place in what would have been his first ever ATP final after losing 7-6(5), 6(2)-7, 6-3 in a three-set thriller against 25-year-old Maxime Cressy.
Just when we thought serve and volley has become unfashionable; Crissy stormed into this tournament with massive focus on his serve as he dialled in to his number one weapon. Testimony to his game, the American's service statistics are up there with the best, but Draper's fluid technique confirmed that he was right up there with him.
Aiming for the corners; Draper produced some impressive serving to get him out of trouble as the American racked his first break point of the opening set. With Crissy failing to capitalise on another three awarded break points, Draper was able to service his way out of a jam to stay on serve. As both sides held their own – with the Briton producing some vaporising forehands and backhands, and the American maintaining his impenetrable serve style – the pair paved their way to a nail-biting tiebreak as they battled to clinch the first set. With a serve and volley out of the top draw, it was Crissy who would come victorious in the first as he calculated his shots to geometric perfection.
Like a pressure cooker, Crissy continued to taunt the 20-year-old with an unstoppable service exhibition, but Draper remained calm as he found ways to penetrate the world No.60's nuanced game style. Showing some real grit, Draper treated the home crowds to some intelligently placed backhands up the line as he chipped away at the American's defence, continuing with high intensity as he wrestled for a set on the board. However, despite his efforts, a breakless match led to a second tiebreak as Draper battled to remain in the contest.
Two mini breaks up and delivering a lethal smash shot to finish off the job; the Brit drew level as he called for a deciding shootout to settle the fate of both sides.
A thrilling race of the aces met its end after Cressy clinched his first break point of the match two hours and 20 minutes in. A break down, frustration started to creep its way in as Draper was unable to convert two break points to keep himself in the running. With a last look at Crissy's serve, the Briton was rewarded three break points to play with, but the American wasn't going to let his lead slip as he tattooed the ball with an injection of pace, serving his way to a monumental semi-final triumph.
With Crissy in tomorrow's final, he would either find himself in an all-American battle against Taylor Fritz or a titanic tussle against reigning champion, Alex de Minaur.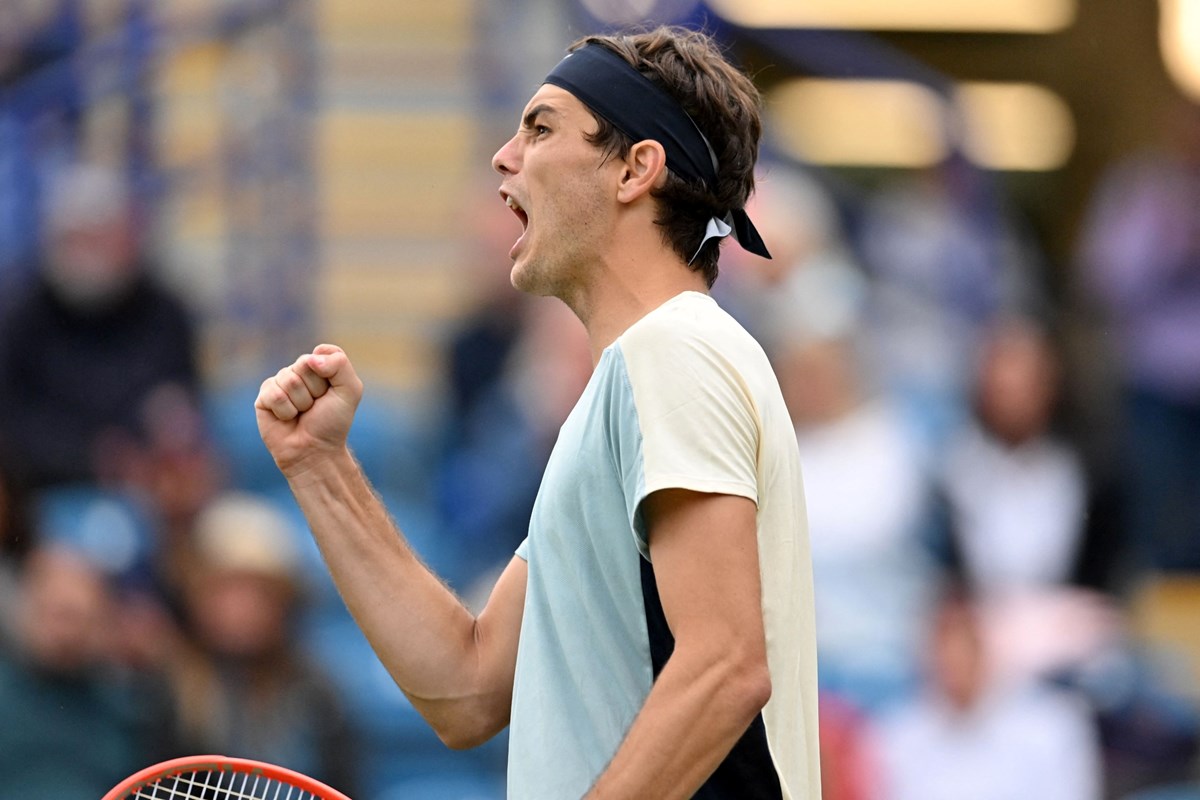 Hitting with authority; American No.1 Taylor Fritz ousted the world No.24, Alex de Minaur, in style as he closed out the match with a 6-1, 6(5)-7, 6-3 victory.
Yet another American with a ruthless serving style; Fritz left the Australian frustrated in the opening set as he claimed an immediate break to assert his dominance early doors. Dictating play with ease, the reigning Indian Wells champion punished de Minaur with 6-1 one-sided victory.
Keeping his foot firmly on the accelerator, the top 20 star wasted no time as he rushed to his first break point in the second, but de Minaur wasn't going to mirror his mistakes as he held serve with a sigh of relief. Clawing his way back in the second, the reigning champion forced a third set as he turned the match on its head.
With two sets apiece, Fritz held his self-belief as he constructed a cushioning lead in the deciding set to regain control. Bossing play and the match now on his racket, Fritz overcame de Minaur in yet another three-set mouth-watering semi-final to edge closer to his second title here in Eastbourne.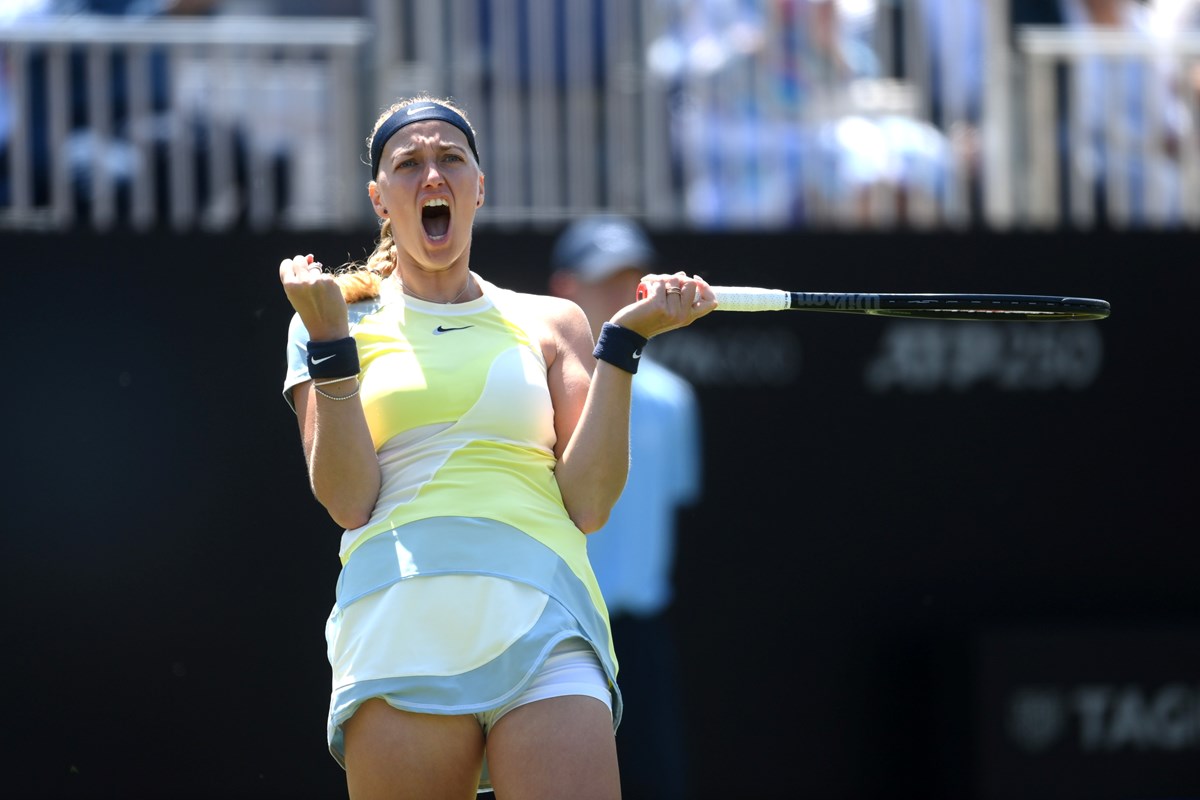 It is not often you see two lefties playing against one another, but centre court witnessed a titanic lefty tussle after Petra Kvitova defeated consecutive grass-event title holder, Beatriz Haddad Maia, 7-6(5), 6-4.
With Kvitova's first serve percentage sat above 80% early doors, her one-two punches never fail to cause some damage – even when faced with a back-to-back title winner. This semi-final battle between champions opened in style as a high octane first set laid the foundations for a fiery tiebreak. As two big hitters fought to smash their way to a first set victory, a raking forehead cross court from Kvitova concluded an epic ending to an epic first set as the Czech clinched the advantage.
Haddad Maia had only lost the first set once in 13 games prior to her encounter with the two-time Wimbledon champion, and as the opening set slipped through her grasp for a second time, the Brazilian merely substantiated how a first set can set the tone of the match.
Kvitova snapped a break of serve early in the second which was consolidated with a hold of serve to grant her a healthy lead. Now, with no room to manoeuvre, Haddad Maia resisted the prospect of a double break as she maintained serve to stay in the match. Desperately trying to find kinks in the Kvitova game, the world No.29 attempted to keep her opponent at bay, but it wasn't enough as Kvitova punched her ticket to a second Eastbourne final.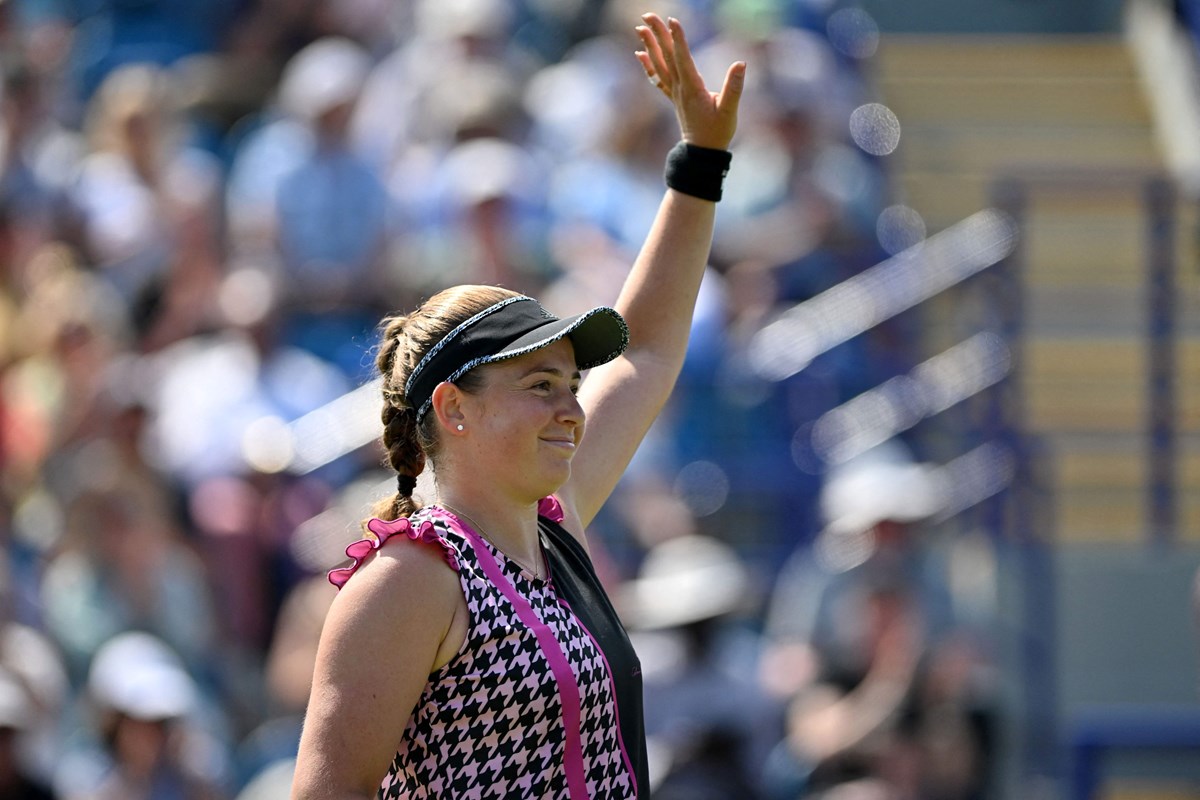 Second up on centre court was a Latvian/Italian battle as Jelena Ostapenko and Camila Giorgi went head-to-head for the remaining spot in the final.
The reigning Eastbourne champion Jelena Ostapenko will join Petra Kvitova in this year's women's singles final as she ousted three-time tour-level champion, Italy's Camila Giorgi, in a 6-2, 6-2 straight-sets triumph.
Taking advantage of anything the falls into the strike zone, Ostapenko sealed the first break point of the match, but was unable to capitalise on the opportunity as Giorgi fought her way back to deuce before acing her way to a strong hold. Ostapenko's forehand firing early doors, she soon found the set's first break as she painted the lines with pinpoint accuracy. Consolidating her break with a comfortable service game, the defending champion broke away with a robust lead, eventually breaking once more to close out the opening set in timely fashion.
A change in approach; the Italian began to diminish her racket speed, adding spin to try and slowly turn the screw. However, Ostapenko's aggressive play never ceased as a surging second wind put her on course to her second consecutive final here at Devonshire Park. Dictating the terms of engagement, the former Roland Garros champion secured her third break of the match as her relentless pace forced Giorgi corner to corner. Ostapenko - now just inches away from semi-final glory - remained dominant as she maintained her 100% record to book herself a place in tomorrow's final.
Women's wheelchair singles
Fourteen-time Grand Slam singles champion and world No.1 Diede de Groot of the Netherlands beat South Africa's Kgothatso Montjane 6-2, 6-2 In a rematch of last year's Wimbledon singles final The Dutch top seed served out both sets to love, as if as to emphasise her dominance.
World No.2 Yui Kamiji took just slightly longer to beat China's world No.8 Zhenzhen Zhu 6-2, 6-3 in the other semi-final. Kamiji will now play De Groot for the 45th time, with their last 16 meetings having come in finals, as the Japanese second seed bids to add to the women's singles title she won on the grass at the Birmingham Classic in 2021.
Women's wheelchair doubles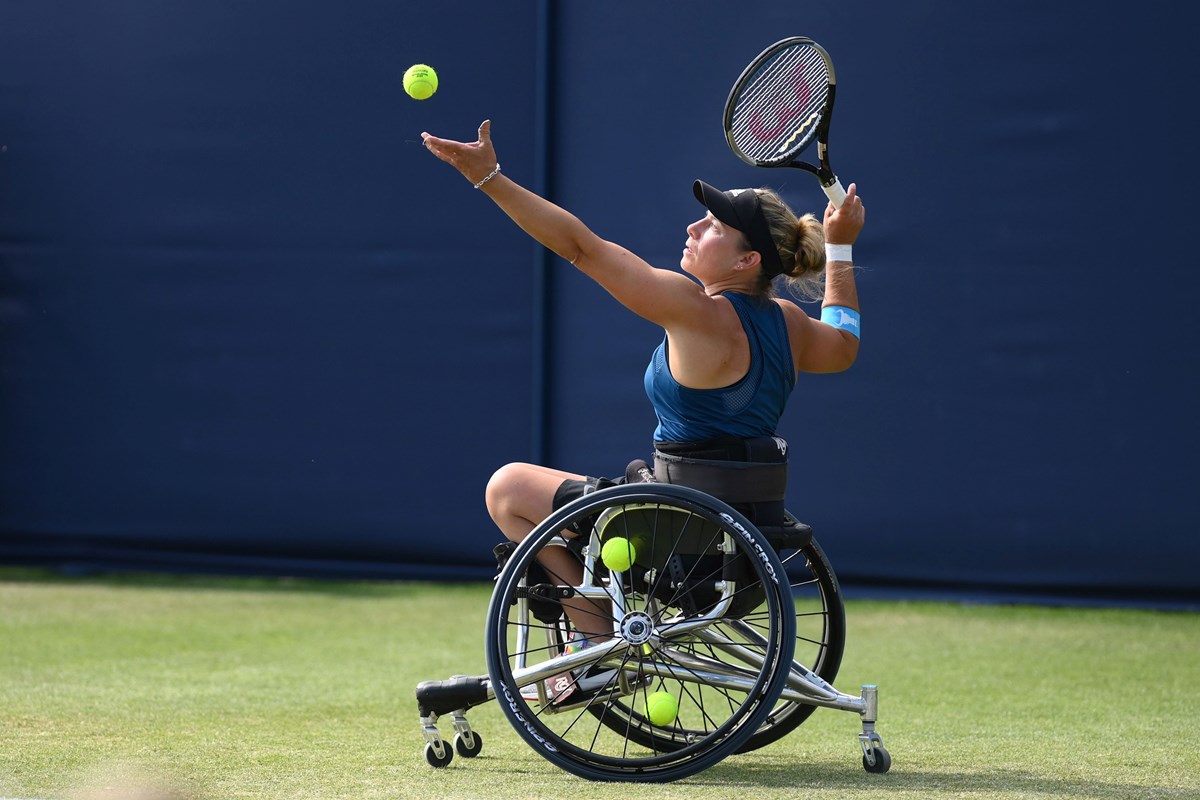 Lucy Shuker and South Africa's Kgothatso Montjane beat Ruby Bishop and Cornelia Oosthuizen 6-0, 6-1.
In their first tournament together since reaching last year's Wimbledon doubles final, Shuker and Oosthuizen now play top seeds Yui Kamiji of Japan and Zhenzhen Zhu of China in tomorrow's final.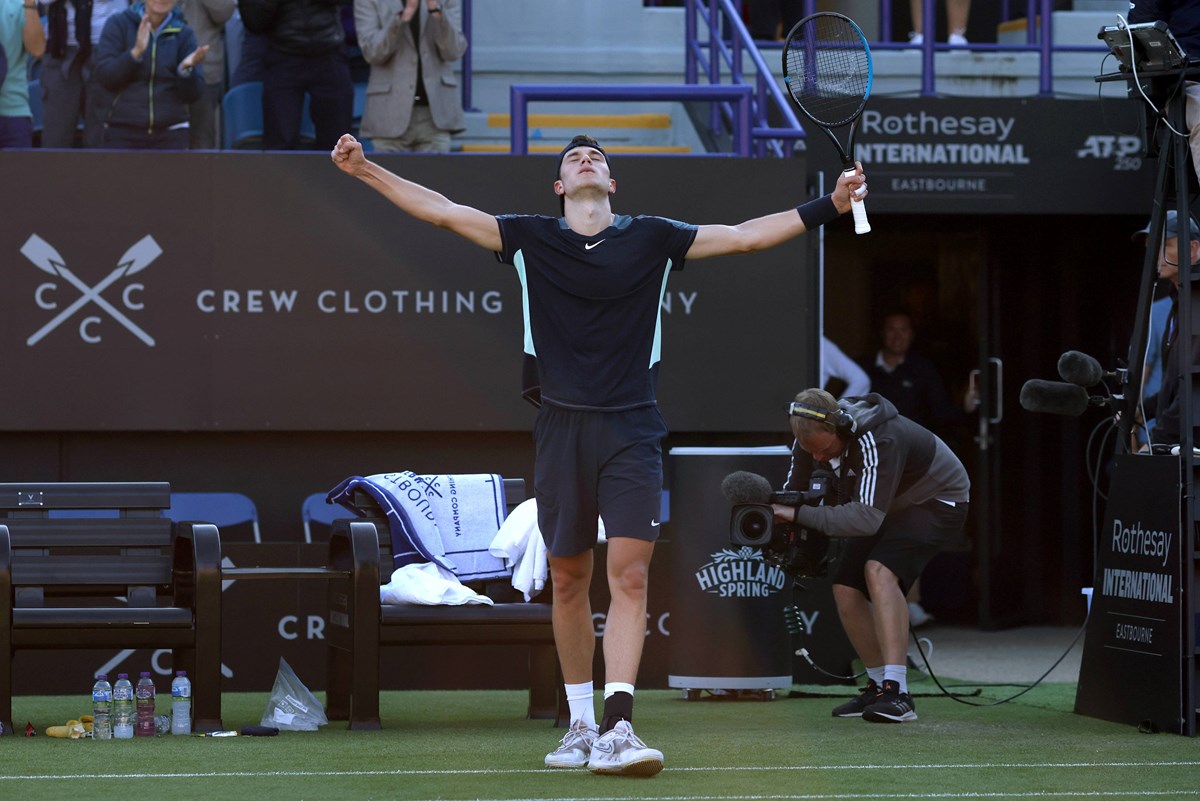 Jack Draper advances to his first ATP tour semi-final after defeating countryman Ryan Peniston in straight-sets, meanwhile Cam Norrie and Harriet Dart exit the tournament after their quarter-final clashes.
Achieving new-career high rankings 12 times after winning four Challenger titles this season, Draper just goes from strength to strength as he defeated fellow Brit Peniston 6-3, 6-3 to advance to his first ever ATP tour semi-final.
With pep in his step, Draper broke free in style in the opening set with his forehand doing some damage to Peniston's new-found form after his tour-level debut at Queen's last week.
A set down, Peniston claimed the first break in the second after a long shot from his fellow countryman gifted him the lead, but an arduous service game indicated elements of fatigue from the Essex-born star as Draper bit right back to put him in a good position to level the playing field. A strong hold from Draper saw him bring the set back to parity before slamming his foot down on the accelerator pedal to go up a double break against his opponent.
With the match on his racket - and revenge from their Surbiton Trophy clash tasting sweeter than ever – Draper came out top dog after forcing his opponent to error, making him the last Brit standing here in Eastbourne.
The 20-year-old will now face the man who seems to claim the Brits as his victims, America's Maxime Cressy, to keep his final hopes alive.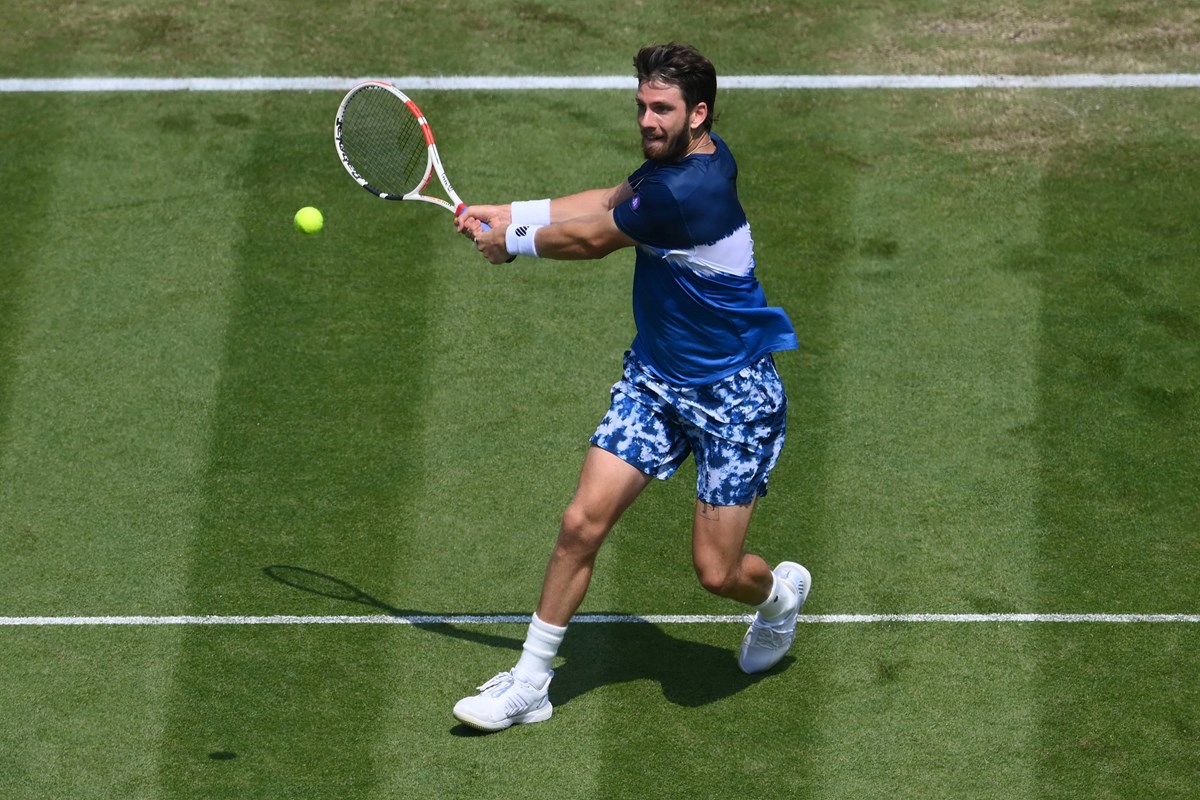 However, it was a sad day for Norrie who followed Dan Evans' footsteps after losing 7-5, 7-5 to an in-form Cressy.
Granted three break points in just the second game of the opening set, Norrie capitalised on the opportunity to take an early break. Yet, Norrie was unable to find a cushioning double break as a couple of world-class returns from Cressy led the match back to parity.
A fortuitous final rally saw out what was an intriguing first set for the American as he broke the Briton for a second time to take the advantage.
An uphill battle for Norrie in the second, and with Cressy playing some of his best tennis, Norrie showed his metal once again as he came back from three match points to make a colossal hold, but it wasn't enough. Cressy's aggressive approach led him to three more break points as he defeated his second top 20 victim in the space of three days.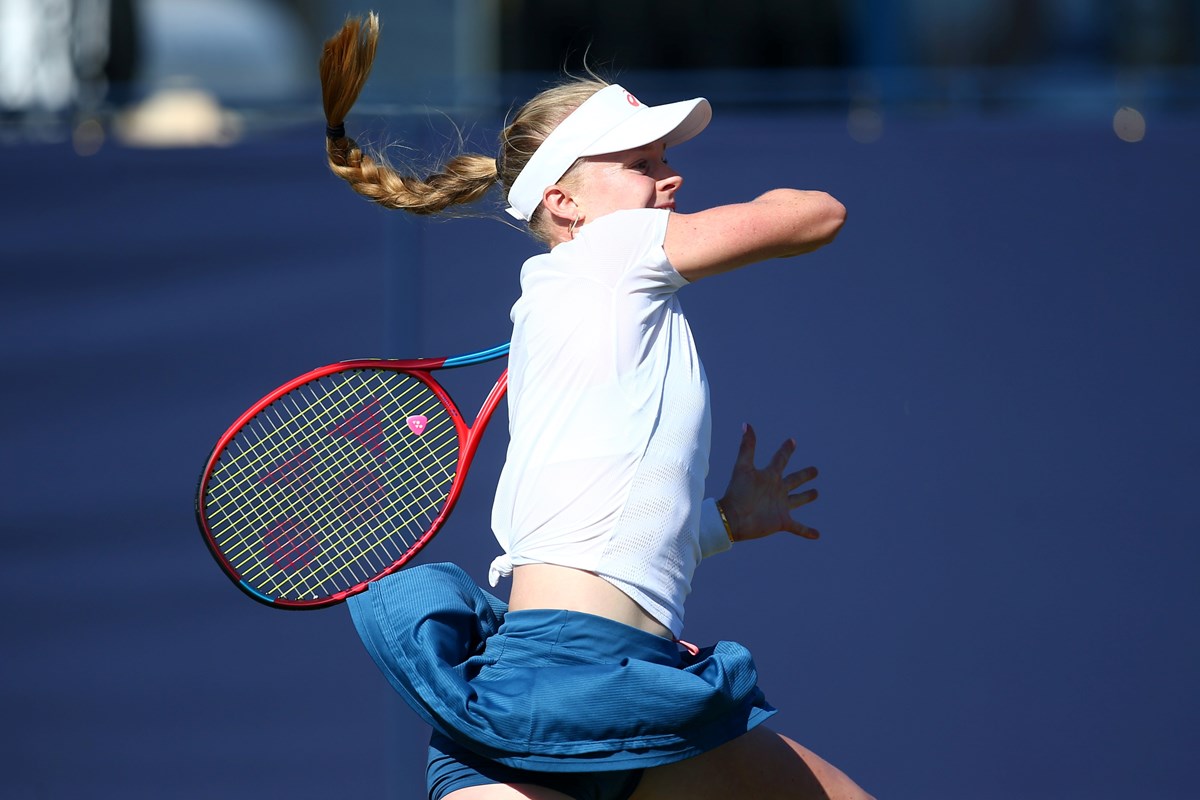 With Dart's run at Eastbourne guaranteed to lead her to a career high ranking; it was a bittersweet day for the British No.2 as she exited the tournament after losing 6-3, 6-4 to fourteenth seed, Petra Kvitova.
Faced with a former Wimbledon champion that has acquired a total of 64 quarter-final wins, Dart responded with aggression as she entered the match firing. Yet, Kvitova's silky serve and pace behind the ball left the Briton searching for a steady base to redirect that pace but was unable to find a way through as the Czech closed out the first set 6-3.
The highest ranked Czech player at present, Kvitova produced some fine textbook tennis to snap an early break in the second. Rushing Dart to error, the 28-tour level winner put on a clean performance on centre court, dragging the British No.2 from corner to corner with her punishing service style. However, Dart's fighting abilities shone bright as she lifted her game to keep the Czech's first match point at bay before Kvitova capitalised on her third match point to put the match to bed.
Doubles
Onto the doubles where Jamie Murray and Bruno Soares exit the tournament after losing 6-4, 6-4 to 12-time Tour level champions, Nikola Mektic and Mate Pevic.
Wheelchair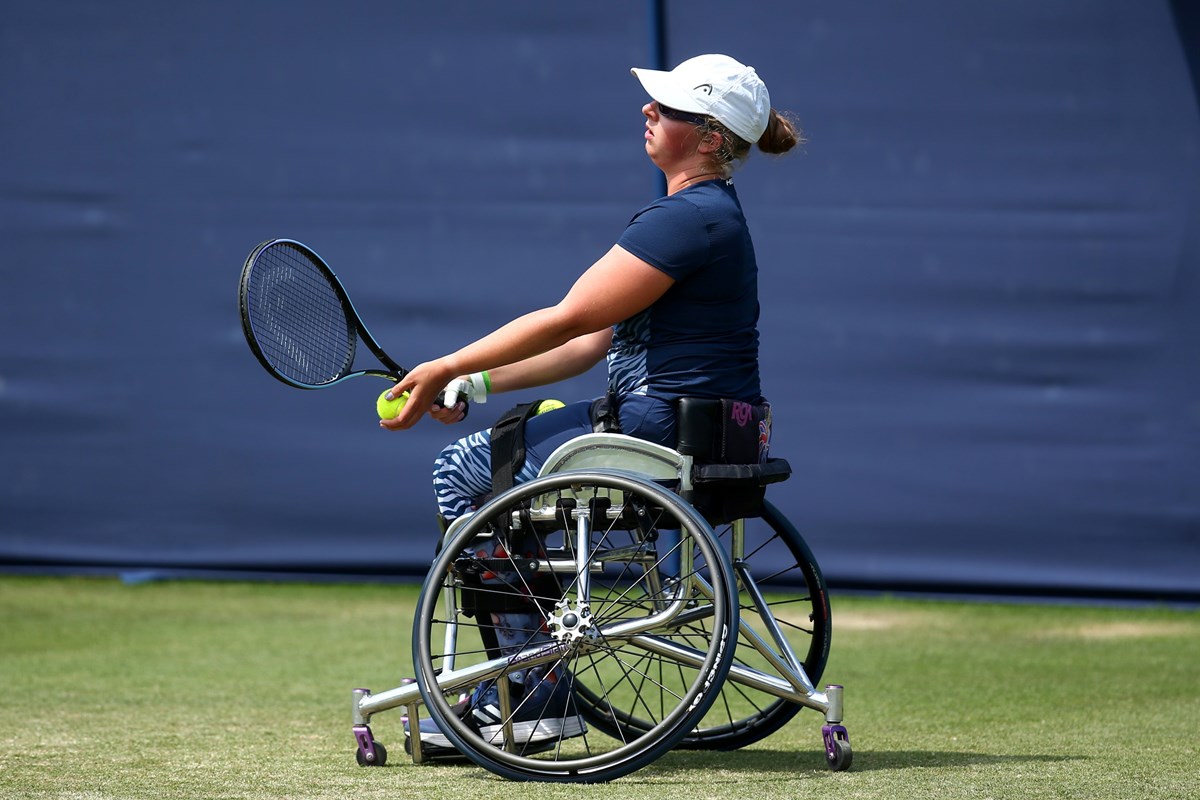 It was a tough opening day for the four Brits in the women's wheelchair singles draw at the Rothesay International as Lucy Shuker, Abbie Breakwell Ruby Bishop and Cornelia Oosthuizen all lost out to world top 10-ranked opposition.
World No.7 Shuker battled to the opening set against China's world No.8 Zhenzhen Zhu but was unable to sustain her level and Zhu advance to the semi-finals 67(3) 62 62.
Shuker will now partner South Africa's Kgothatso Montjane in Friday's women's double semi-final as the 2021 Wimbledon finalists play the all-Brit partnership of Bishop and Oosthuizen.
Bishop's first competitive match on grass ended in a 6-1 6-2 singles quarter-final loss to Montjane, who also reached the women's singles final at Wimbledon last year. Meanwhile, Breakwell and Oosthuizen had the toughest of assignments against the world's top two ranked players, Breakwell losing out to world No.2 Yui Kamiji of Japan and Oosthuizen bowing out by the same score to world No.1 Diede de Groot of the Netherlands.
De Groot will not play doubles in Eastbourne, meaning that top seeds Kamiji and Zhu have a bye through to Saturday's doubles final. The Dutch top seed will play Montjane in the singles semis, with Kamiji and Zhu meeting in the other semi-final.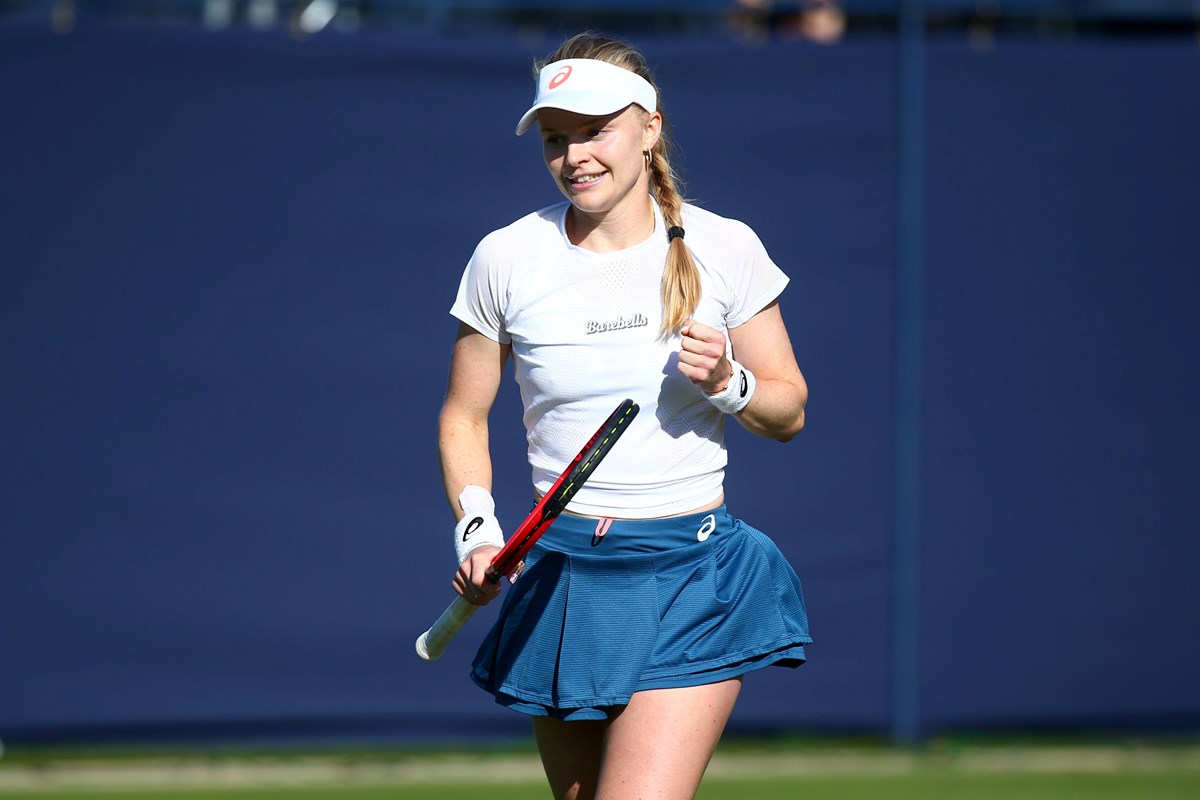 Harriet Dart and Jack Draper reached new heights on day five in Eastbourne, while Cam Norrie started the day with a comfortable win on a busy day for the Brits.
Dart is the talk of Eastbourne – having won two matches in a day to reach her first WTA 500 quarter-final where she'll play 14th seed Petra Kvitova.
The British No.2 began the day having to come back and finish her second round match against Jil Belen Teichmann. Dart came back from 3-1 down in the decider to win five consecutive games and clinch her second career top 25 win, 7-6(7), 4-6, 6-3.
Just an hour or so later and she was back out on court to take on Ukraine's Marta Kostyuk. In a match with 16 breaks of serve, the momentum took many twists and turns. In the deciding set, both players seemed to only be able to win games in sets of two, but Dart kept the lead throughout – from 2-0 to 2-2, 4-2 to 4-4 and then eventually rounding off a win to remember at 6-4, 2-6, 6-4.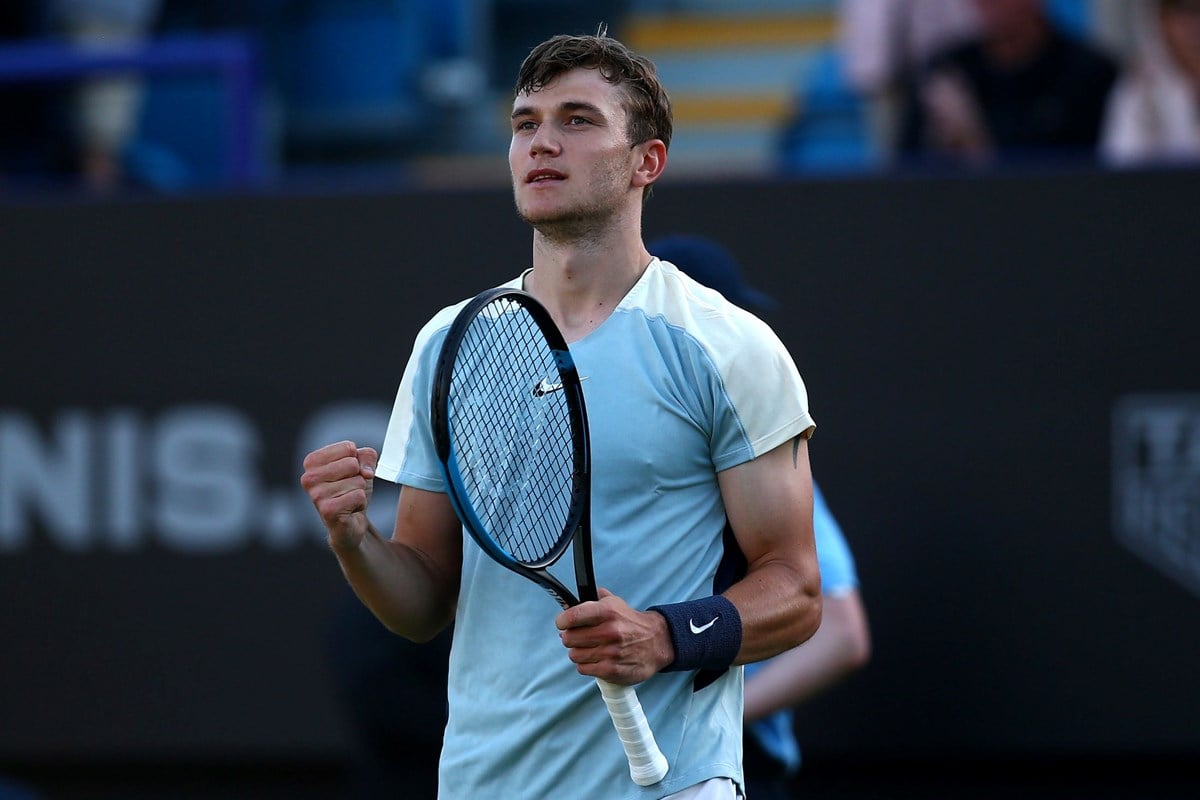 Draper claimed a second top 15 scalp of the summer in Eastbourne – beating the former world No.8 Diego Schwartzman 7-5, 7-6(3).
A close first set came down to the finest of margins, at 6-5 Draper found a crunching forehand winner to put himself a set to the good off his one and only break and set point.
From 30-15 up, at 3-4, Schwartzman found himself a break down with Draper serving for the match, with the Argentine missing the mark on a couple of easy groundstrokes. But he soon picked himself up and broke back before forcing the tie-break.
Drop shot, lob, smash, you name it, Draper through everything at the world No.15 to get his decisive mini-break in the biggest point of the match. Under pressure, the 20-year-old held his nerve and found two big first serves before grinding his opponent down to blast a forehand long on match point.
Draper could face fellow Brit Ryan Peniston in the quarter-final who will return tomorrow to finish a heated contest with Pedro Martinez which was interupted by poor light at 7-6(8), 3-6, 3-2.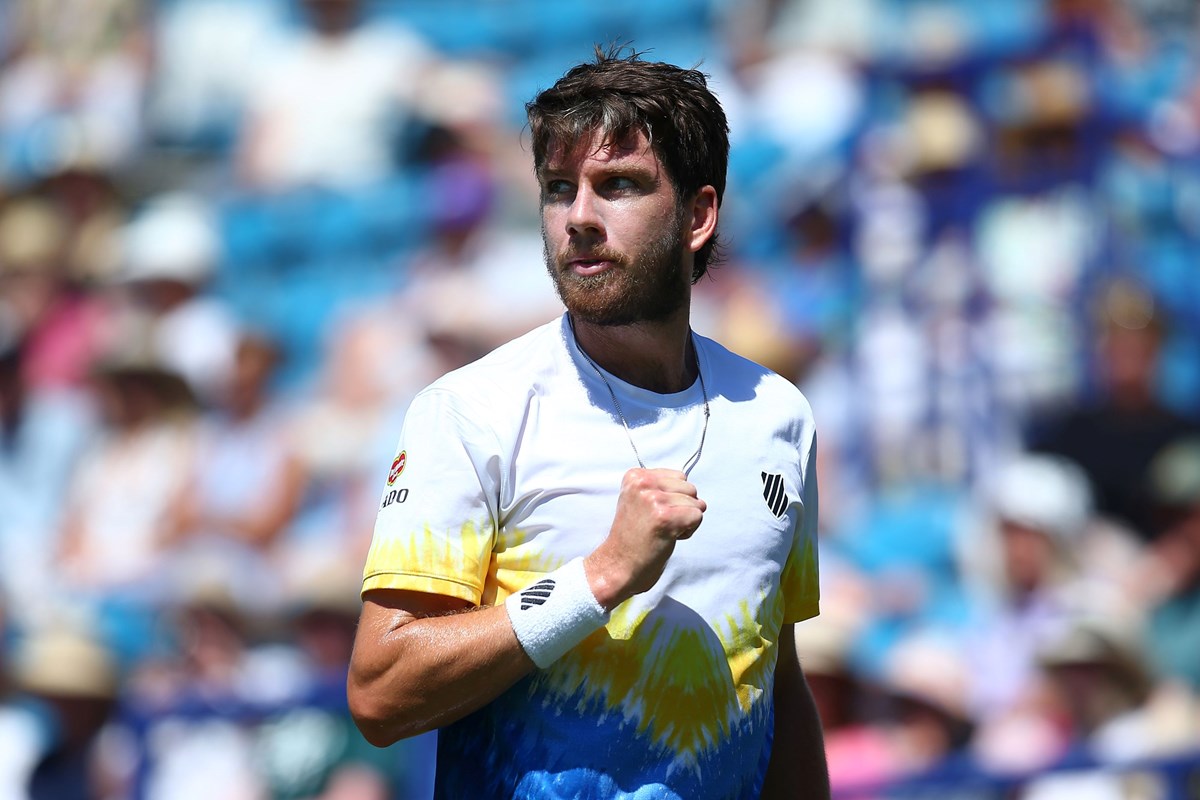 Norrie made a statement in his first match as he eased past Brandon Nakashima 6-4, 6-2 to progress to the quarter-final, where he will play Maxime Cressy
The Delray Beach and Lyon champion looked a level above his opponent from the start – breaking the American to love at 2-2 thanks to a couple of brilliant shots off his wand of a backhand. Having survived three break points to end the set, he made no mistake in seeing out the set with some aggressive points from the baseline.
On the fourth break point at the start of the second set Nakashima slipped on the baseline, opening the court for Norrie to put away an easy forehand winner. From their Norrie hit cruise control and comfortably powered through to the quarter-finals.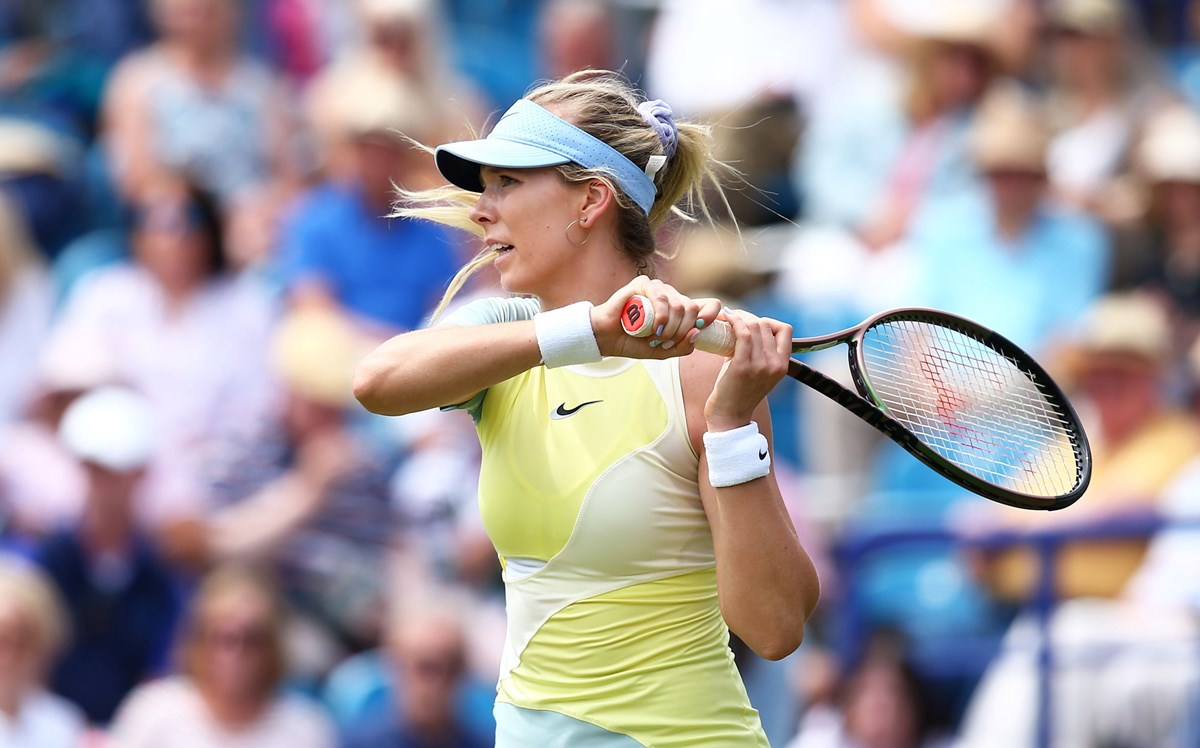 Katie Boulter was inches away from yet another upset victory in Eastbourne but eventually lost out to 14th seed Petra Kvitova 5-7, 6-0, 7-5.
Boulter had to be at her very best in the first set – facing Kvitova's serve at 5-2 down she put up a brilliant baseline defence to break back and eventually win five games back-to-back to clinch a world-class comeback.
After a disappointing second set for the Brit, both players found their range from the back of the court, hitting with intense power and placement in a high-quality decider. But eventually the Czech's pressure proved too much as Kvitova sealed the win with a pivotal break at 6-5.
Dan Evans was knocked out in the second round by Australia's Maxime Cressy 7-6(2), 6-4 after a serve and volley masterclass from the world No.60. Evans will now turn his attention to Wimbledon as he aims to better his career-best performance in round three.
Having captured back-to-back career best wins this week, including a scalp over world No.4 Paula Badosa – Jodie Burrage bows out in the third round of Eastbourne to Brazil's Beatriz Haddad Maia. The Nottingham and Birmingham champion progressed to the quarter-final with a 6-1, 6-2 victory.
Jamie Murray and Bruno Soares advance to the semi-finals of the Rothesay International Eastbourne after having defeated the cinch Championships runners-up, Lloyd Glasspool and Harri Heliovaara. Murray and Soares defeated the British, Finnish duo in emphatic style with a 6-4, 7-5 victory.
All four Brits have been drawn in separate quarters of the women's singles wheelchair tennis draw, which gets underway at the Rothesay International on Thursday.
Britain's top two ranked players, Lucy Shuker and Cornelia Oosthuizen, take to Court 5 as British No.2 Oozthuizen faces world No.1 Diede de Groot for just the second time before Shuker aims to level her career-head-to-head against China'z Zhenzhen Zhu. Abbie Breakwell and world No.2 Yui Kamiji both contested last year's inaugural wheelchair event at the Birmingham Classic, which Kamiji won. This year they meet in the quarter-finals as a wheelchair tennis ranking tournament makes its debut in Eastbourne. British No.4 Ruby Bishop makes her competitive grass court debut against South Africa's 2021 Wimbledon finalist Kgothatso Montjane.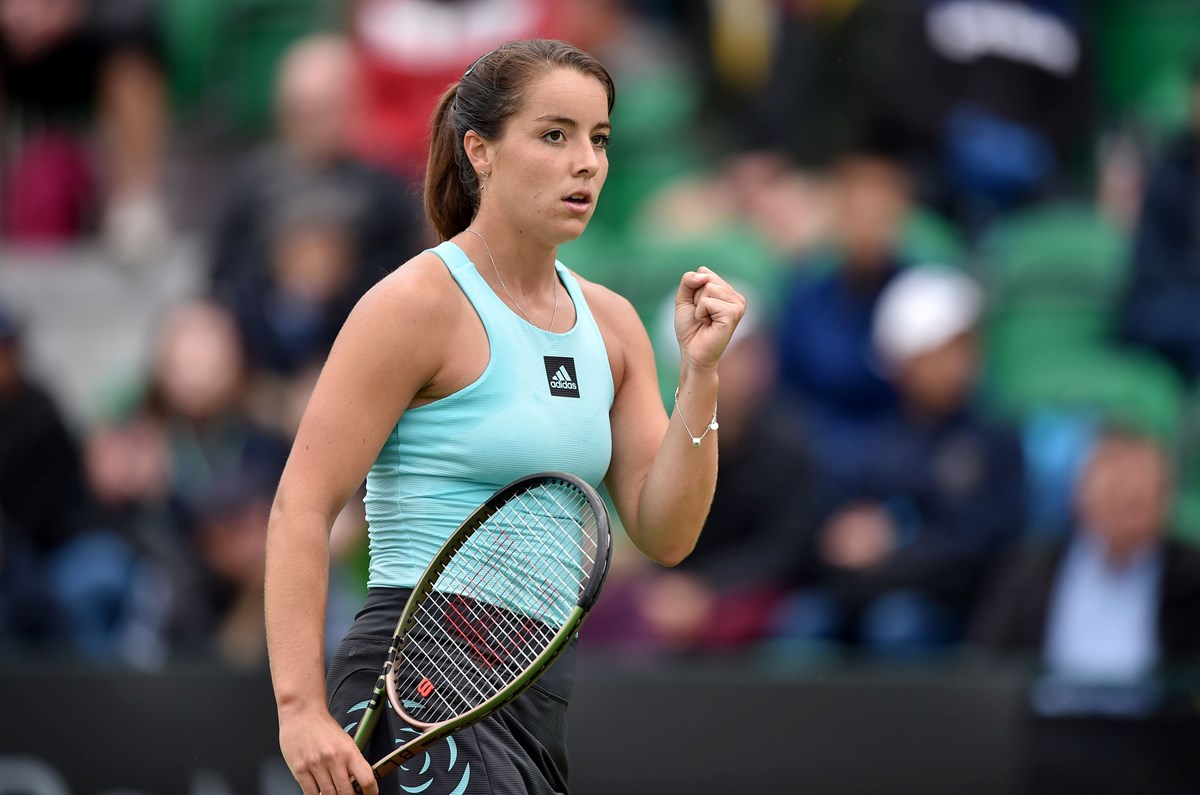 Jodie Burrage has defeated the world No.4 in Eastbourne, while Katie Boulter, Ryan Peniston and Dan Evans completed a picture perfect day for the Brits.
Burrage claimed the result of the summer so far, beating the world No.4 and top seed Paula Badosa 6-4, in a dominant display on Court No.1. After coming through her eighth match in eight days, Burrage will play Nottingham and Birmingham champion Beatriz Haddad Maia for a shot at the quarter-finals.
After easing into the match Burrage showed early signs that she could get the upper hand over the Spaniard with three break points in seventh game – but it wasn't until the penultimate game that she got her breakthrough and saw out the set to put an upset on the cards.
Burrage just had the answer for everything that Badosa threw at her and demonstrated excellent variety as she continued to frustrate her opponent. Several long rallies at the start of the second set ending with Badosa making easy errors as the Brit found herself a double break to the good. Badosa forced her way back from 4-0 down to 4-3, but once Burrage broke again it was all but over. The 23-year-old jumped for joy as she completed the win of her career in just an hour and 15 minutes.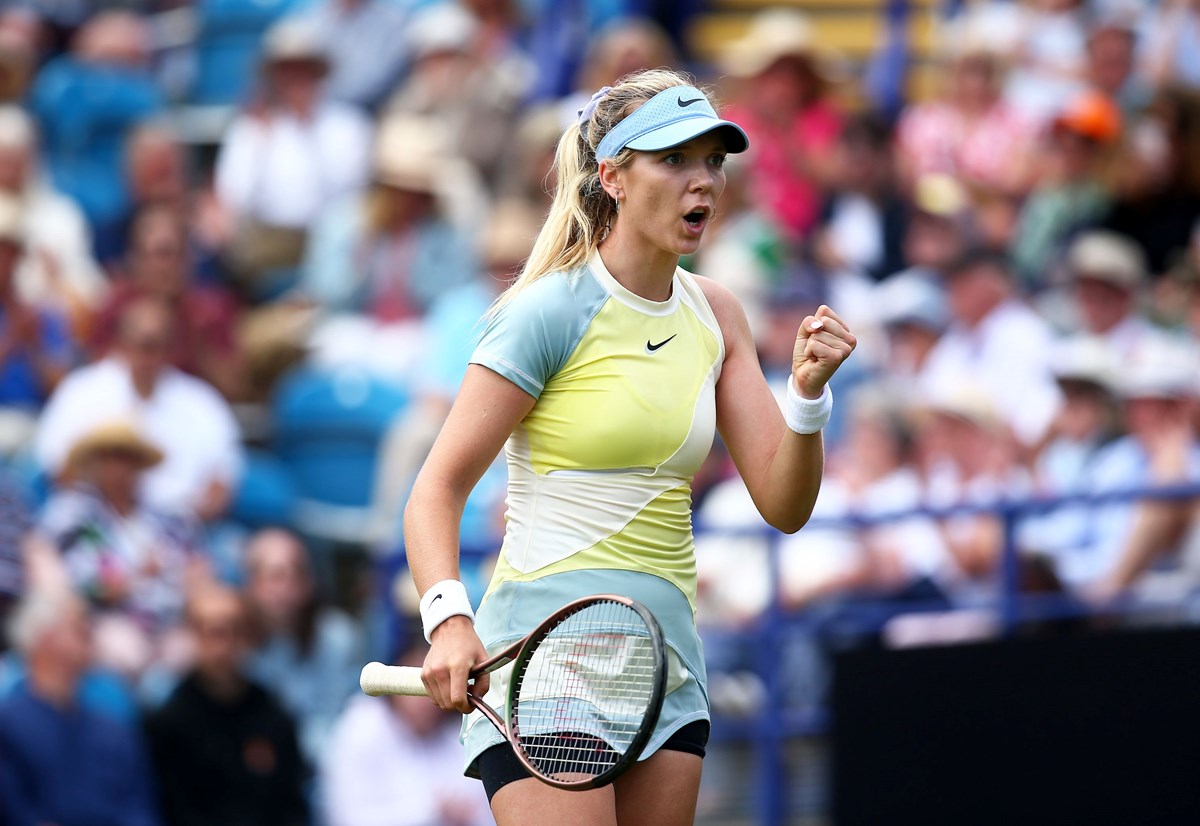 Boulter sealed a career best win over two-time Eastbourne champion Karolina Pliskova coming back to win 1-6, 6-4, 6-4. Next up, she'll play Petra Kvitova in round three.
The world No.7 raced out to a 5-0 lead in no time and saved seven break points to take the opener 6-1.
With everything to do, Boulter composed herself and raised her level in the second set and got her reward on the 14th time of asking to edge 5-3 in front. Having lost out serving for the set, Boulter came back firing and forced a flurry of errors to win the set.
Pliskova's struggles on serve continued into the decider but Boulter failed to back up her first two breaks as the fourth seed hung on. With the scores at 5-4, the Czech still couldn't find her serve and the Brit took full advantage with a one-two punch either side of the court before finishing with a roar as Pliskova's backhand sailed long on match point.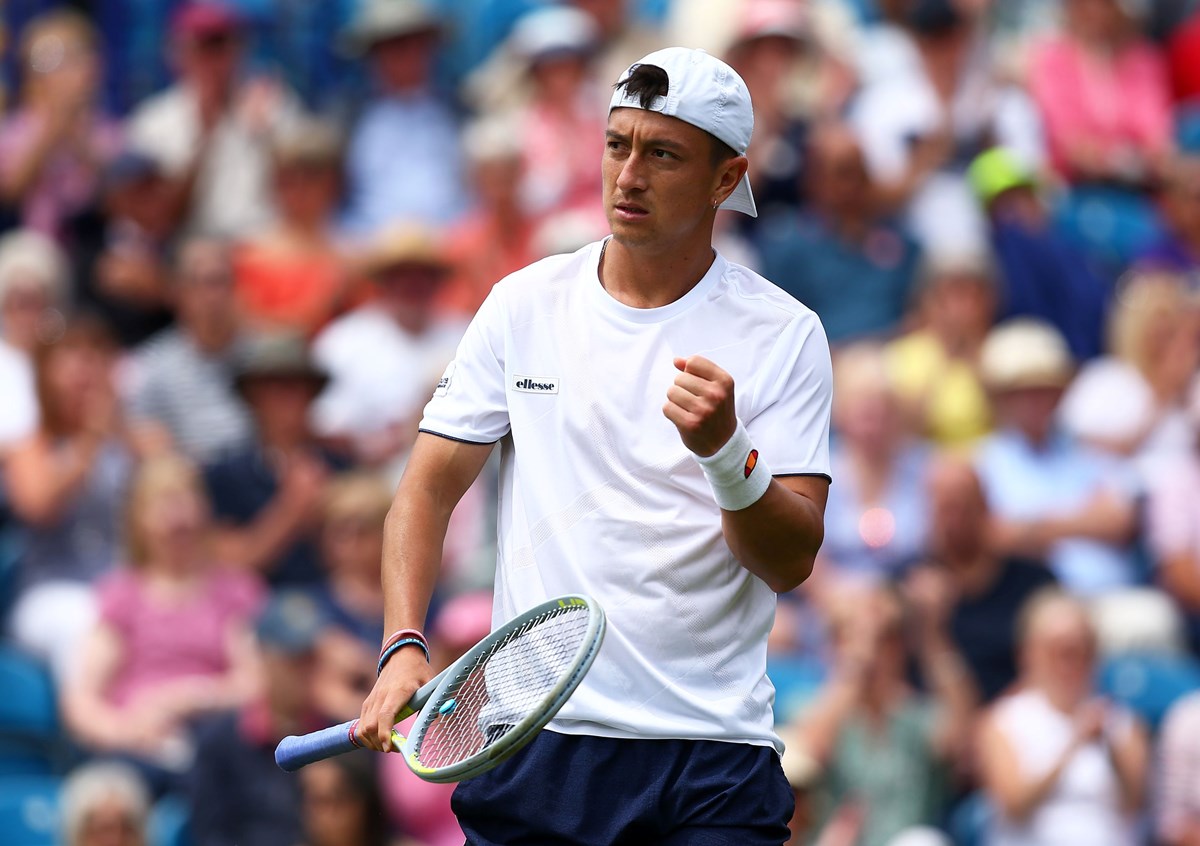 Peniston's dream grass court season continued with another top 30 win over Munich champion and eighth seed Holger Rune. The Brit came from a set behind to win 4-6, 7-6(5), 6-1. Next he'll play either Pedro Martinez or Alejandro Davidovic Fokina.
A brilliant dipping forehand at the feet of the approaching Peniston at 5-4 gave Rune his first break point and set point of the match, in which the Brit pushed the ball into the net to give up the opening set.
In the second set tie-break, Peniston showed the fighting spirit that has seen him reach the quarter-finals in Queen's and Nottingham, ripping a forehand winner out wide to get the early mini-break. Rune threatened to charge back but the Brit took the set after a big first serve on set point.
Flying high off the second set win, Peniston broke the eighth seed with an inch perfect lob, followed by a reaction winner off Rune's smash. Despite being broken back, the Brit doubled down by breaking Rune to love and appeared to have worn the Dane down to claim another huge victory.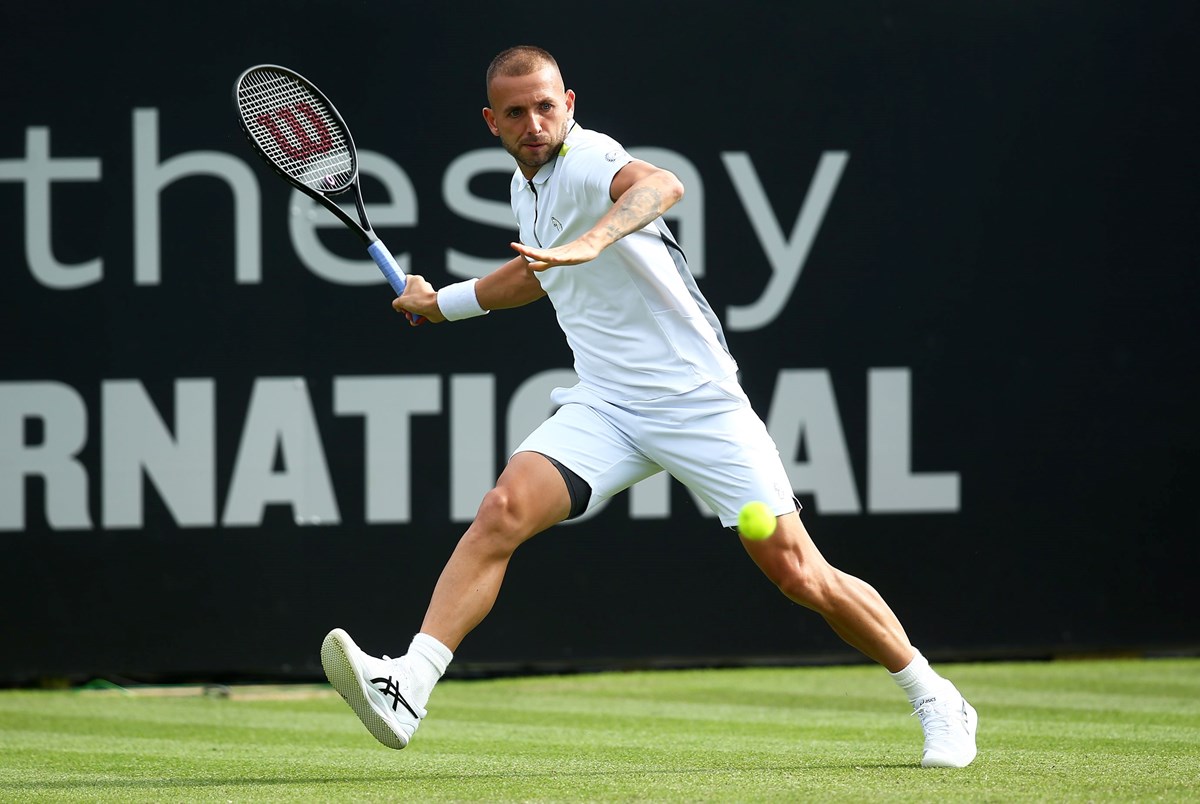 Evans booked his place in the second round with a brilliant 6-4, 6-3 win over France's Adrian Mannarino. His next opponent will be Maxime Cressy, who knocked out fifth seed Reily Opelka in the previous round.
Playing against a tricky grass court opponent in Mannarino, Evans served well – losing only four points on serve in the first set – and broke the world No.73 in the final game of the match with a couple of backhand winners.
It was a similar story in the second set as Evans battled the low bounces from the French star, but a break on the penultimate game gave the Brit the edge he needed to finish the match.
On her tour comeback, Serena Williams won her first round in the women's doubles with Ons Jabeur. The dream team beat Marie Bouzkova and Sara Sorribes Tormo 2-6, 6-3, 13-11.
Meanwhile, Harriet Dart will have to return tomorrow to finish her singles match against Jil Belen Teichmann with the scores locked at 7-6(7), 4-6.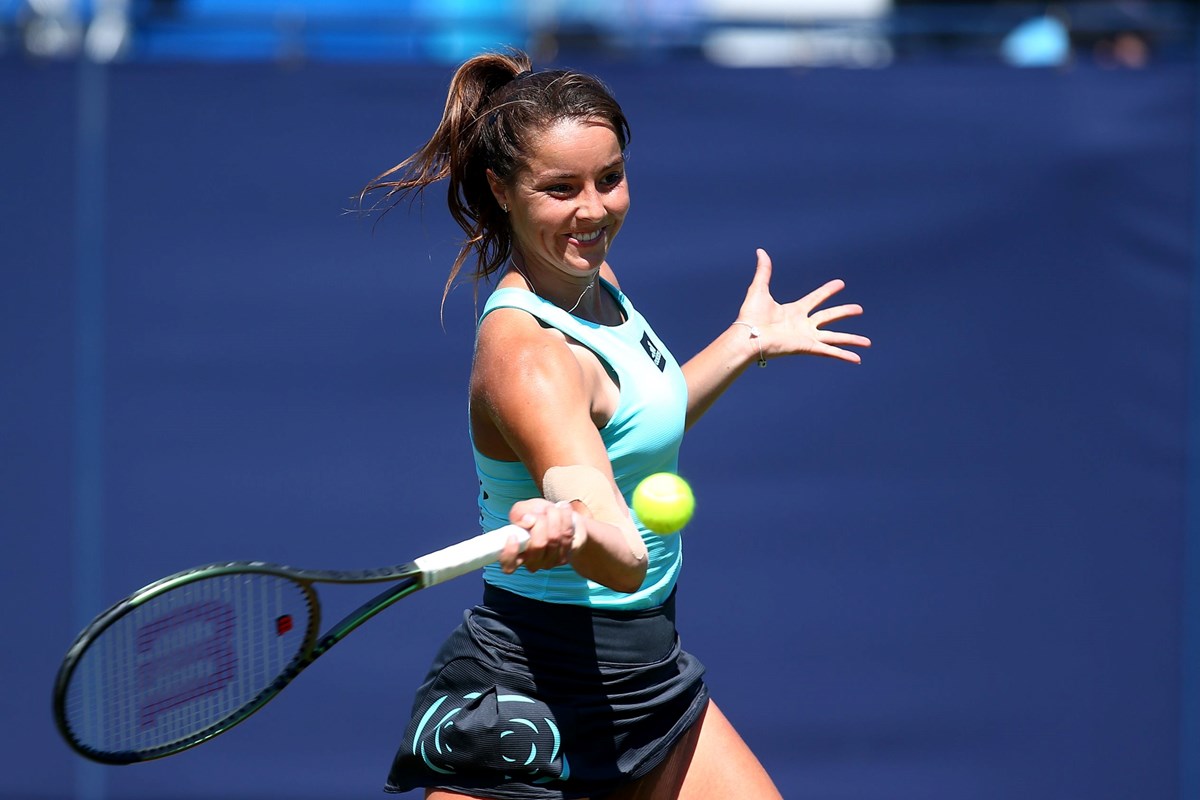 Jodie Burrage, Harriet Dart and Jack Draper completed a trio of Brits through to the second round of the Rothesay International Eastbourne on a beautiful sunny day at Devonshire Park.
Having finished runner-up at Ilkley only the day before – Burrage is into the second round for the first time, thanks to a career best win against world No.80 Petra Martic.
The Brit came from a set down to win 3-6, 7-5, 6-3 in two hours and 15 minutes - she'll now play top seed Paula Badosa.
With Martic serving for the opening set, Burrage worked hard to create two break back opportunities but failed to capitalise on either, as the Croatian secured her lead. Both players struggled to hold serve at the start of the second set with a run of three breaks in a row, but Martic remained on top. Serving to stay in the match did well to rescue the game from 0-30 and then saved set point before going on to clinch the set in emphatic style.
Burrage looked to be in a tight spot in the decider – going a break down in the first game – but the 23-year-old came back fighting. She took the next four games in a row, only losing two points along the way and saw out her career best win with an ace – which was met by a huge roar from Burrage and the crowd.
Dart joined Boulter and Burrage in the next round of the WTA draw after beating world No.57 Madison Brengle 3-6, 6-1, 6-4. She will take on 10th seed Jil Belen Tiechmann for a place in the third round.
Dart got off to an electric start, racing to a 3-0 lead but lost all momentum after Brengle broke back quickly. The American wasted no time in claiming six consecutive games to wrap up the first set.
This turned out to be the story of the match as both players tussled for control. Dart broke Brengle on each of her service games in the second set as the American was visibly struggling with her serve.
The final set ended as a cagey affair as Dart couldn't quite manage to serve out the match at 5-3 – but the Brit once again came out all guns blazing and attacked her opponent's weaker serve to win her second match in Eastbourne.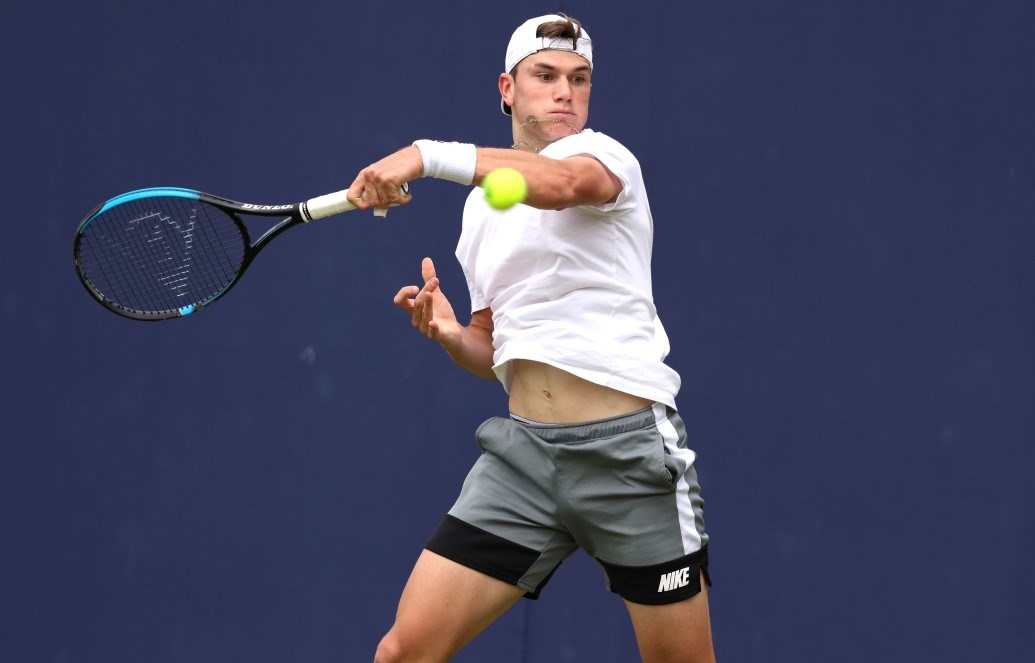 Draper eased through in the ATP draw with another top 35 scalp against Jenson Brooksby – defeating the American 6-2, 6-2 in just an hour and five minutes.
The young Brit took all four of his break point opportunities in the match and finished with 96% points won on his first serve to set up a clash with fourth seed Diego Schwartzman.
Heather Watson was knocked out in the first round of the Rothesay International Eastbourne – losing to world No.107 Rebecca Marino 7-5, 6-4.
Jay Clarke also lost in the first round of the ATP draw to the USA's Brandon Nakashima 6-1, 6-3. The world No.54 looked in impressive form as he secured a second round clash with Britain's Cam Norrie.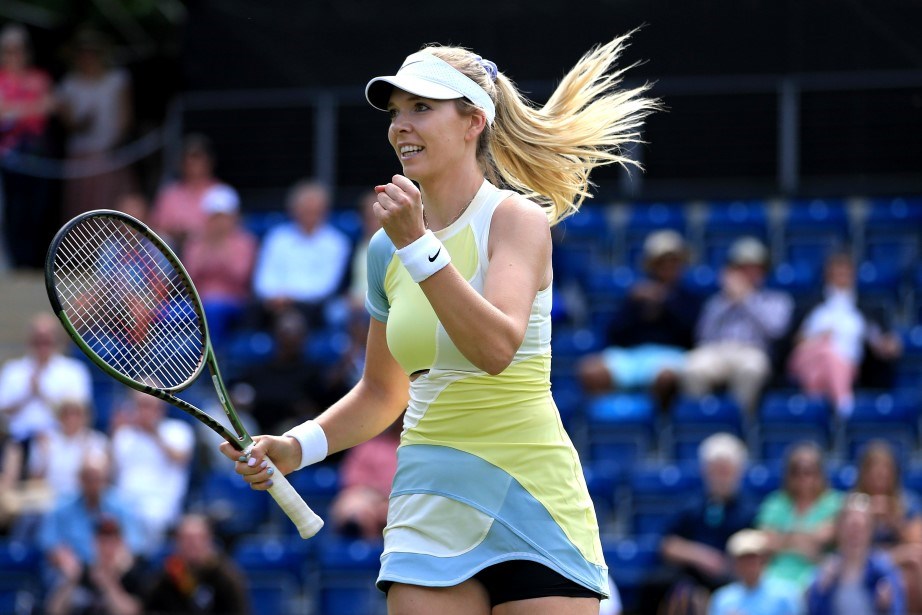 Katie Boutler continued her fine grass-court season as the day drew to a close with play finishing at 8:50 PM. She defeated world No.56 Tereza Martincova in straight sets 7-5, 7-6(5).
Boulter has now achieved three top-60 wins this season. She will face No.4 seed Karolina Pliskova in her first second round match at Devonshire Park.
Lily Miyazaki, Heather Watson and Liam Broady all lost out in the second round of qualifying on the second day of action at Devonshire Park.
Facing the former Rothesay Nottingham Open champion, Donna Vekic, Miyazaki put up a strong fight against the top qualifying seed, before losing out 6-2, 4-6, 6-3.
Watson - having come through a three-set thriller the day before - had opportunities to level her match with Ukraine's Lesia Tsurenko at 6-4 up in the second set tie-break. However, the Brit missed a pivotal smash and the world No.116 won four points in a row to round off a 6-2, 7-6(8) win. However, Watson will play in the first round of the main draw after getting through as a lucky loser - she plays Rebecca Marino first up tomorrow.
Broady lost out 6-4, 6-3 to Austalian John Millman in a tough second round qualifier in which he only claimed one of 13 break points.
Elsewhere in the main draw, Kaia Kanepi fought back from a set down to advance into the second round after she beat Nuria Parrizas Diaz 6-7(4) 6-4 6-4 on Centre Court. In her first tour-level match in Britain since 2018, the Estonian eventually wore down the Spaniard after forcing her to save 11 of 15 break points throughout the two hour and 27-minute contest.
Heather Watson and Liam Broady scored impressive wins at the Rothesay International Eastbourne on Saturday to advance to their second and final rounds of qualifying.

While Broady enjoyed relatively easy passage, overcoming world No.67 Gaston in 51 minutes, Watson took two hours, 27 mins to battle past Radwanska.

The WTA and ATP main draws took place at Devonshire Park on Saturday.

In the women's draw Leicestershire wildcard Katie Boulter will take on Tereza Martincova, wild card Harriet Dart will face Madison Brengle and Jodie Burrage will face Petra Martic.

Meanwhile in the men's draw wild card Jay Clarke will face a qualifier, Rothesay Open Nottingham champion Dan Evans will face Adrian Mannarino, Surrey wild card Jack Draper will take on Jenson Brooksby, and Essex wild card Ryan Peniston will take on Holger Rune, while tournament top seed Cam Norrie receives a bye into round two.
Women's main draw action starts in Eastbourne on Sunday with Kaia Kanepi opening proceedings on centre court against Nuria Parrizas Diaz and Boulter taking on Martincova fourth on centre court. Watson and Broady will continue their qualifying campaigns on courts 2 and 4 respectively.