Level 5 - Master Tennis Coach Qualification
6 MINUTE READ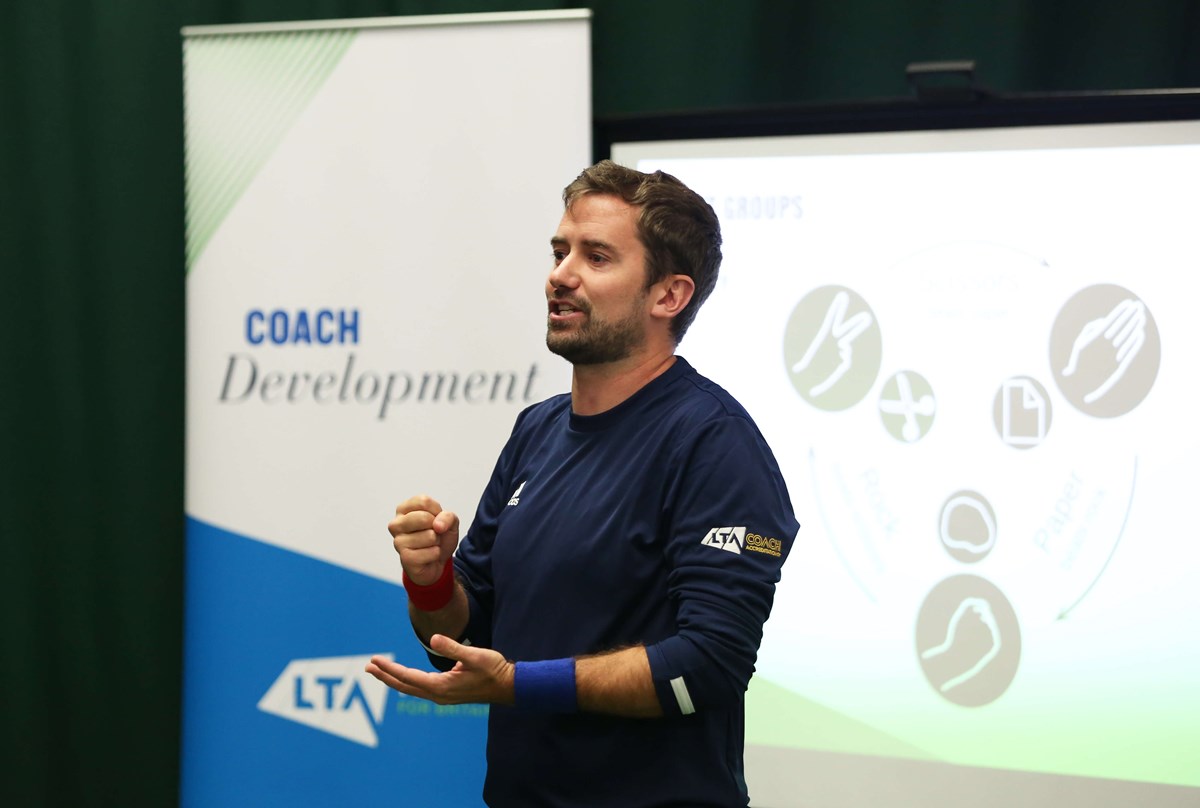 About the course
The Level 5 Master Coach (MC) qualification is the highest level of LTA coaching award run by the LTA Coach Development team and is for coaches who aspire to work at the very highest level of development coaching.  It has now been achieved by 70+ coaches across the UK.
The MC encompasses an even split between off court and on court sessions, delivered by the course tutors and a range of guest speakers, to inspire and improve your coaching and business knowledge.  Successful candidates will also gain the 1st4sport qualification in Workforce Mentoring.
 On completion of the course, you will be able to:
Deliver on court sessions of the highest quality to all venue members.

Design, implement and evaluate the process and outcome of coaching programmes.

Display leadership skills to create and manage change in dynamic environments.

Mentor a team of coaches to deliver a quality coaching programme. 
Five modules plus assessments.
Module One (days 1, 2 & 3)
Foundation Module
On court overview of coaching methodology
Introduction to coaching at Level 5
Off-court exposure to tennis leaders across the industry
Group teaching
Group training
Relevant feeding and drill progressions within a doubles context from closed practises through to open points play
Module Two (days 4, 5 & 6) 
Tactics & Technique
Observation, analysis, teaching with PAS
Technical checklist and effectiveness
Development of hand skills
Practical Interventions
Increasing awareness of singles and doubles tactics
Serve mechanics
Observation of different movement patterns and how to apply this in both singles and doubles
Module Three (days 7 & 8) 
Business Module
Vision
Leadership and Management
Negotiation
Business Planning
Business Metrics (KPIs)
Scaling the Business
Module Four (days 9, 10 & 11)
Case Study Module
Teaching and training principles
Use of CDIEW as an analysis tool
Tactical demonstrations
Creating closed practices that deliver volume, energy and intensity
Decision-making challenges
Working with adult groups
Practical interventions
Module Five (days 12 & 13) 
Mentoring Module
Mentoring principles and application
Introduction to mentoring project
On court development of group teaching and training
Module Six (days 14 & 15) 
Business Module
Customer Profiles
Customer Journeys
Customer Emotions & Loyalty
Customer Feedback
Marketing Budgets & Investment
Marketing ROI
The Different Marketing Channels
Marketing Campaigns & Marketing Calendar
Module Seven (day 16)
Pre – Assessment
Final assessment preparations
Assessment: (day 17)
August 2021: In light of the current circumstances, we have decided to put the MCC on hold until further notice. We will use this as an opportunity to review the current course in line with other qualifications on the LTA pathway to ensure they are driven by industry needs and will service tennis in Britain moving forward. 
If you are interested in taking the course in the near future, please complete the expression of interest form so that we can contact you with any relevant updates. 
Nine months of course contact time

Full course completion typically takes between 1-2 years 
Hold the LTA Senior Club Coach qualification, Senior Performance Coach qualification or equivalent

Be an 

Accredited+

 coach. 

We strongly recommend that you ensure your Accredited+ status remains active throughout the entirety of the course or that appropriate insurance cover is in place when undertaking supervised experienced hours that are a requirement of the course.

Have or have had a rating of 5.1 or higher or hold a 

play test grade 2

.

Hold or have held a position as Head Coach. 
The full cost of the next edition of the MC course will be clearly communicated to coaches once it has been finalised. 
Dates for the next Master Coach course have not yet been released.  If you wish to receive an email notification when dates have been confirmed and applications have opened, please submit your details via the expression of interest form.
The LTA is committed to ensuring that our qualifications are accessible for all, which is why it is vital that all candidates where possible outline any reasonable adjustments/or special considerations you may require prior to attending the course.  Please use this link to outline to the LTA and Course Tutor the additional support needs that you will require on this course in order to maximise your learning.
The final decision made by the LTA Reasonable Adjustment panel cannot be challenged.
To submit an expression of interest in the Level 5 Master Coach Qualifications, sign up now.