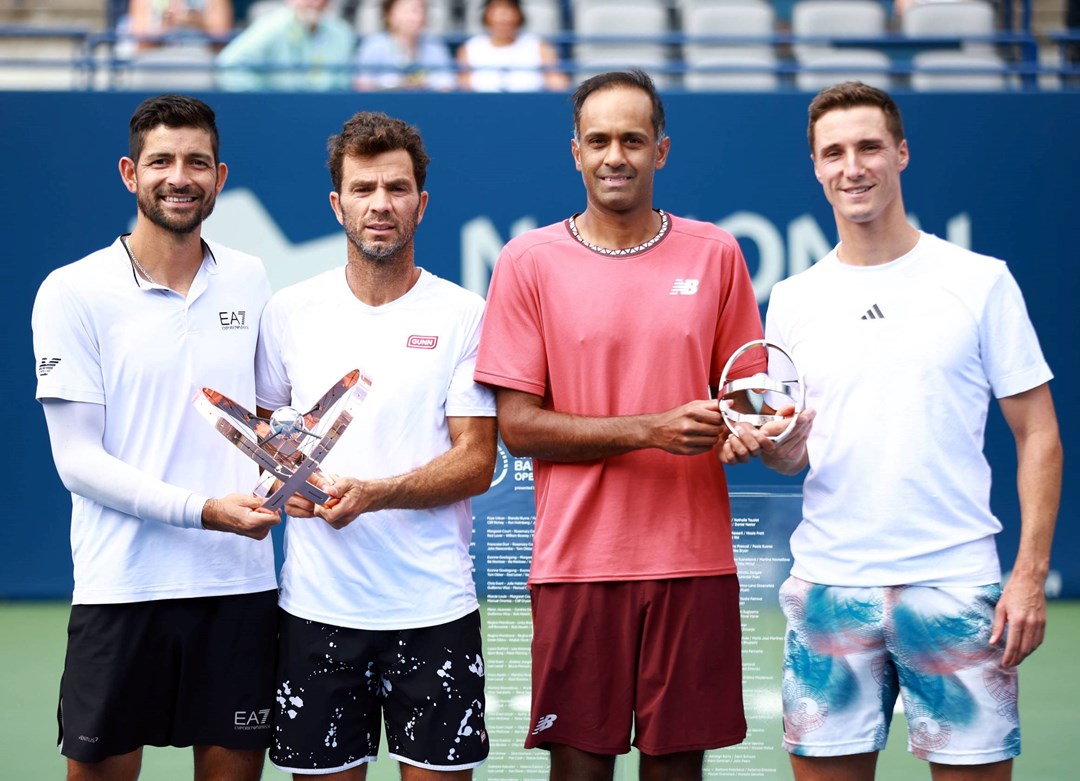 Players News
Joe Salisbury & Rajeev Ram finish runners-up in Toronto; Jan Choinski leads a host of British champions
• 3 MINUTE READ
The results just keep on coming for the British tennis stars on tour. Catch up with the latest from Canada, Germany and Great Britain as the Brits steal the headlines once again this week.
Salisbury and Ram reach fifth ATP Masters final
Joe Salisbury and Rajeev Ram returned to winning ways at the National Bank Open in Toronto as the three-time Grand Slam champions reached their fifth ATP Masters 1000 final as a duo.
Third seeds Salisbury and Ram won decisive match tie-breaks in their opening two matches, before putting in a dominant performance to knock out sixth seeds Kevin Krawietz and Tim Puetz in the semi-finals.
However, it the final they were eventually defeated by Marcelo Arevalo and Jean-Julien Rojer 6-3, 6-1 to finish runners-up. They now move on to the Western & Southern Open before they attempt to defend their US Open crown.
Andy Murray made the third round in the singles – taking him to his highest ATP ranking since April 2018 at world No.36 – while Katie Boulter's journey through qualifiers and into the second round takes her to a career high at world No.60.
Second Challenger title and career-high for Choinski
Britain's Jan Choinski won his second career ATP Challenger singles trophy last week at the Meerbusch Challenger in Germany.
Having defeated Louis Wessels in a close second round 6-2, 6-7(0), 7-6(5) and coming from a set down to beat Bugarian Dimitar Kuzmanov 2-6, 7-5, 6-3 in the quarter-finals, it was plain sailing for the Brit.
He breezed past Frenchman Titiuan Drouguet in the semis and finished with a 6-4, 6-0 final victory over Camilo Ugo Carabelli.
Building on an already successful year to date, the title sees Choinski rise to a career-high world No.129.
Brits seal three titles in Roehampton
Onto the ITF World Tennis Tour now and the Brits had plenty to shout about at the $25k events in Roehampton – Jack Pinnington Jones, Johannus Monday, Emile Hudd and Lily Miyazaki all sealing trophies.
Pinnington Jones clinched his fourth career title at the M25 Roehampton at the National Tennis Centre. The young Brit knocked out top seed Charles Broom in the second round 6-3, 0-6, 6-4 and also beat third seed Dan Cox 6-7(3), 7-6(5), 6-2 en route to the final.
Pinnington Jones wrapped up his first trophy of the season with a 6-4, 7-6(3) win over Estonia's Daniil Glinka.
There was more success in the doubles for Monday and Hudd won their second successive title in Roehampton – finishing with a 7-6(8), 7-6(4) win against fellow Brits Millen Hurrion and Daniel Little.
Miyazaki sealed her first doubles crown of the season in the W25 Roehampton alongside Mariam Bolkvadze. The British, Georgian team defeated top seeds Talia Gibson and Petra Hule in the final 7-5, 6-3. Miyazaki also reached the semi-finals in the singles draw.
Heading to Israel and British duo James Davis and Ben Jones rounded off a top week by defeating countryman Hamish Stewart and Czech star David Poljak 7-6(4), 6-4 in the final of the M25 Herzlia.
Meanwhile in Brazil, Eden Silva finished an impressive week at the W80 Brasilia as runner-up in the women's doubles draw – teaming up with Ukranian Valeriya Strakhova. Silva and Strakhova lost to South American duo Carolina Alves and Julia Riera 6-2, 6-3 in the final.
Penney and Harris lift wheelchair titles; Silver and bronze for Shuker at the European Para Championships
Moving on to wheelchair action now and it was another week to remember for Andrew Penney, who backed up his two titles at the Nottingham Futures, with another two at the Wheelchair Czech Open.
The top seed saw off Jozef Felix 6-3, 6-7(3), 7-6(7) in the quarter-finals before a 7-6(5), 7-6(3) win over fourth seed Yoann Quilliou. In the final, the 18-year-old Brit triumphed over China's Jinhui Dind 6-3, 6-3 to take the singles crown.
Teaming up with Quilliou in the doubles, the British, French duo didn't drop a set through the opening rounds and finished with a 6-3, 1-6, 10-3 win over top seeds Jakub Dominik Bukala and Piotr Jaroszewski in the final.
British star Martha Harris joined forces with Colombia's Joana Martinez to win the Kaufland-BRD Arges Open doubles having clinched victories in both their round-robin matches.
At the European Para Championships, Lucy Shuker and Cornelia Oosthuzien took the silver medal in the women's doubles, while Shuker secured bronze in the singles.
The British team lost to Dutch side Diede De Groot and Aniek Van Koot in the final match 6-1, 6-1, but Shuker found the winning formula to beat Germany's Katharina Kruger 7-6(7), 6-2 in the singles bronze medal match.
Ben Bartram narrowly missed out on the bronze medal in the men's singles and doubles – alongside Dahnon Ward.