CAREER HIGH
11/09/2023 154
CAREER HIGH
13/06/2022 223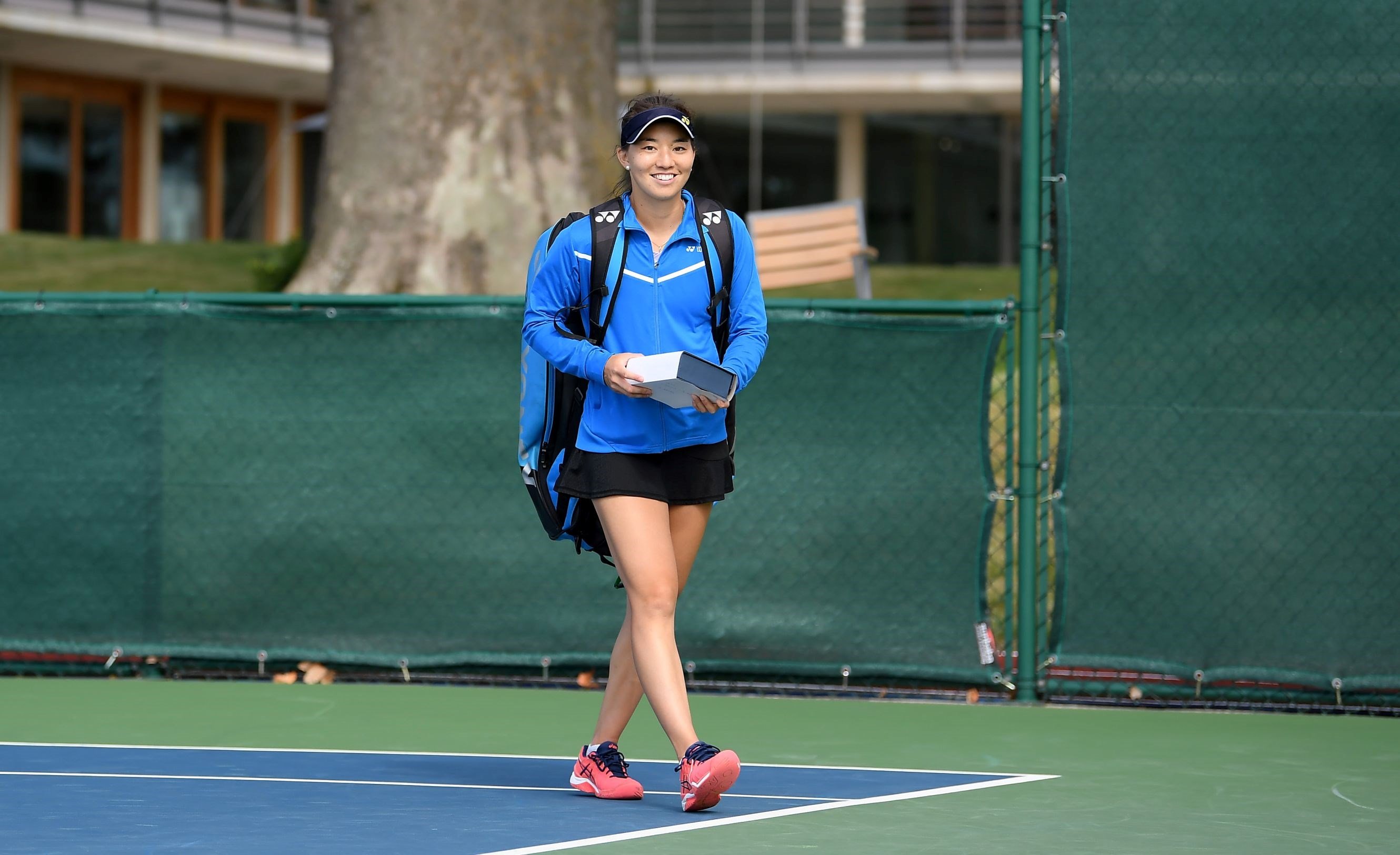 FAVOURITE
SURFACE: Hard
SHOT: Backhand
AGE28
HEIGHT167 cm
PLAYSRight-handed
BACKHANDTwo-handed
LTA SUPPORT NTC Pro Access
TURNED PRO2019
FAVOURITE
SURFACE:Hard
SHOT:Backhand
Get to know Lily Miyazaki
About
Quick-fire facts
Place of Birth: Tokyo
Lives: London
Trains: London (mainly the National Tennis Centre)
Favourite Tournament: Wimbledon
Nickname: Lil
Hobbies/Interests: Reading, Piano, Golf
Tennis Idols: Roger Federer
Best opponent faced: Bianca Andreescu - she had a big game, but good variety too
Family: Father Yoichi works in finance, while her mother, Akiko is a former pianist. Lily's brother Shintaro also works in investment banking
Closest friends on tour: Alicia Barnett, Olivia Nicholls, Emily Appleton and Freya Christie
Primary school: ICS, International School in Zurich
Secondary school: Emanuel School & Coombe Girls' School
University: University of Oklahoma
Tennis beginnings
Lily first started playing tennis at the age of five in Switzerland, where she went to primary school. She fell in love with the game right from the off and has always enjoyed competition element of the game - testing herself against other players.
Up until the age of 18, Lily trained at Sutton Tennis Academy and has been a regular competitor in British competitions since the age of 11. She has consistently represented her club and her county, Surrey, since the age of 13.
After moving to the States to compete at the University of Oklahoma, Miyazaki reached No.10 in the ITA singles rankings.
Her favourite memory of playing on tour to date was competing in Australian Open qualifying in 2022.
Off-court
While she's on tour, she likes to try and get out and do some siteseeing when she can and enjoys finding new places to eat.
Tennis Career
November
Miyazaki joined forces with fellow Brit Ali Collins to seal the W60 Nantes doubles title. The duo faced Britain's Emily Appleton and the Netherlands' Isabelle Haverlag in the final, where they eventually came through in a 7-6(4), 6-2 victory. Miyazaki also reached the quarter-final of the singles event.
From there, Miyazaki made her way to the W100 event in Takasaki where she enjoyed a strong run to the semi-final. There, Miyazaki faced China's Yue Yuan and fell just short on a spot in the final after losing out in three sets, 7-5, 3-6, 6-4.
August
Having qualified for her first main draw at the US Open, Miyazaki bagged a debut win at Flushing Meadows against Margarita Betova 6-3, 6-3 before losing out to 15th seed Belinda Bencic 6-3, 6-3 in the second round.
Miyazaki and Georgia's Mariam Bolkvadze were crowned doubles champions of the W25 Roehampton tournament after overcoming top seeds, Talia Gibson and Petra Hule, 7-5, 6-3. Miyazaki also progressed to the semi-finals in the singles before bowing out to eventual runner-up Arina Rodionova.
June
Miyazaki made her way to the Lexus Surbiton Trophy where she reached the semi-finals, having taken out three fellow Brits Jodie Burrage, Eden Silva and Isabelle Lacy to get there.
In the semi-finals she lost out to Katie Swan, 6-1, 6-0 to end her run at this year's event but will enter the rest of the grass court swing with confidence.
January
Miyazki started her year at the W60 Canberra event where she made it to the Round of 16 before losing out to compatriot Heather Watson in a 6-0, 6-3 defeat.
November
Miyazki reached the quarter-finals of W100 Shrewsbury following a walkover in the second round from Germany's Tatjana Maria before eventually losing out to tournament runner up Eva Lys.
October
Miyazki successfully reached the quarter-finals of the W25+H Chergbourg En Cotentin event in France, receiving a walkover in the second round before eventually losing out to the sixth seed, Czech star Barbora Palicova.
Miyazaki was awarded her fifth ITF title at the W60 Glasgow final after coming back from 5-7, 1-5 down to defeat compatriot, and former British No.1, Heather Watson 5-7, 7-6(5), 6-2. She also reached the semi-finals in the doubles event alongside fellow Brit Emily Appleton before losing out 7-5, 5-7, 10-4 to eventual champions, Freya Christie and Ali Collins.
July
Having received a wild card into Wimbledon, Miyazaki lost to top 50 star Caroline Garcia 4-6, 6-1, 7-6 [10-4].
June
She claimed her first WTA win at the Rothesay Open Nottingham over world No.92 Magdalena Frech 6-4, 1-6, 6-1, before going out to Beatriz Haddad Maia.
March
Miyazaki's formal request to become a British player was granted by the ITF.
Miyazaki reached the semi-finals of W60 Pretoria after defeating France's Tessah Andrianjafitrimo in straight sets, but her campaign came to a halt after losing 3-6, 6-4, 6-3 against rising Israeli star, Lina Glushko.
February
She started February by winning her first W60 doubles title alongside Prarthana Thombare in Grenoble. They defeated British dup Alicia Barnett and Olivia Nicholls 6-3, 6-3 in the final.
Miyazaki made her WTA singles main draw debut at the Lyon Open after battling through qualifiers against Julia Grabher and Lesley Pattinama Kerkhove. She lost the opening round match to Anna Bondar 6-7(5), 6-3, 7-5.
January
Competed in Australian Open qualifying for the first time in January - losing out to Jule Niemeier 7
W60 Grenoble (doubles w/ Prarthana Thombare)
W25 Florence (doubles w/ Emily Appleton)
W25 Porto (double w/ Arianne Hartono)
W15 Sharm El Sheikh
W15 Sharm El Sheikh
W15 Sharm El Sheikh (doubles w/ Alicia Barnett)
W25 Yokohama
W15 Lousada (doubles w/ Arianne Hartono)
W15 Guimaraes (doubles w/ Arianne Hartono)
Recorded her first main draw Grand Slam victory at the US Open where she beat Margarita Betova 6-3, 6-3
Came through three rounds of qualifying at the US Open to reach the main draw in 2023
Played her first Grand Slam qualifying at the Australian Open in January 2022
Won two ITF singles and three ITF doubles titles in 2021
Lifted her first ITF singles title at the W15 Monastir event in 2019