CAREER HIGH
26/06/2023 110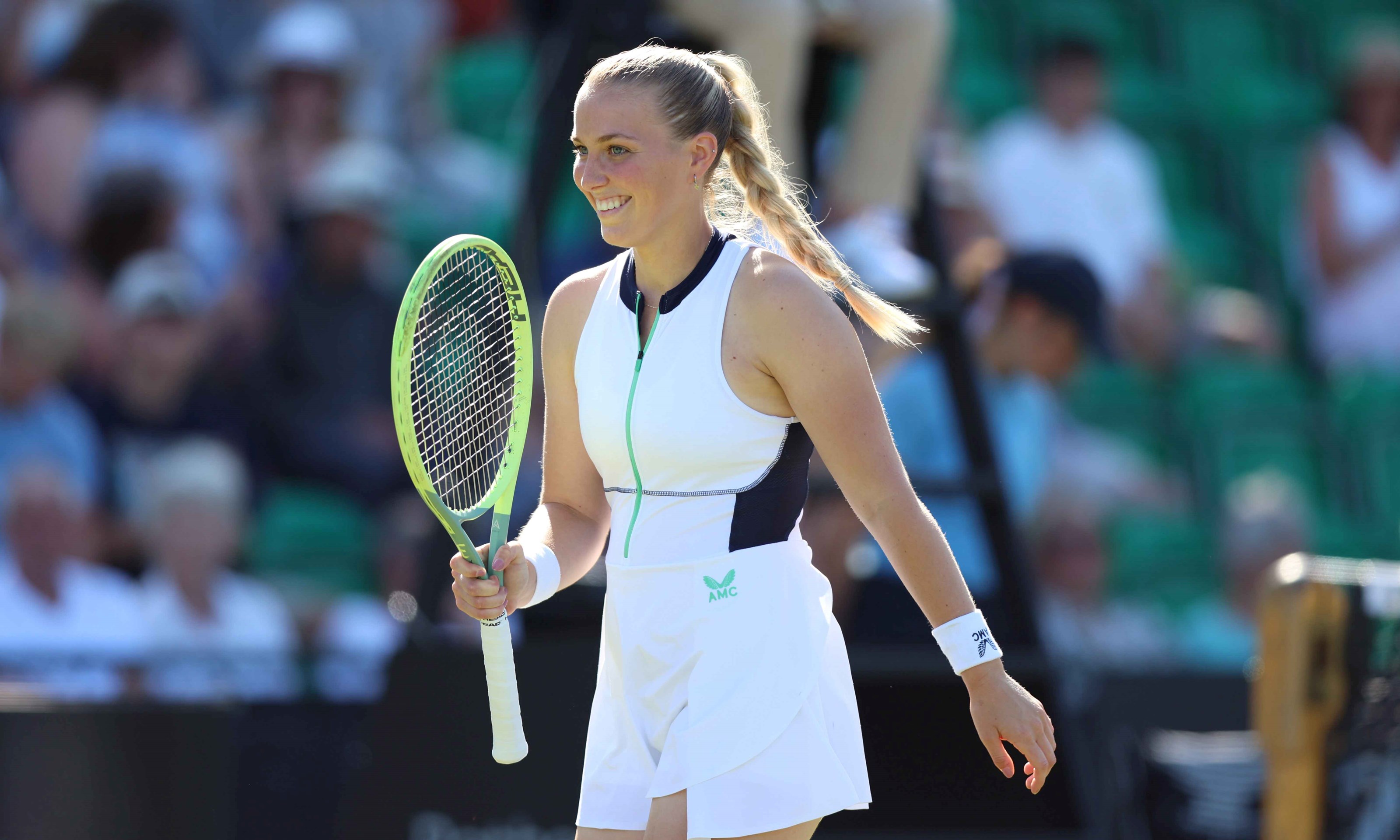 FAVOURITE
SURFACE: Grass
SHOT: Volley or back hand cross
AGE23
HEIGHT170 cm
PLAYSRight-handed
BACKHANDTwo-handed
TURNED PRO2018
FAVOURITE
SURFACE:Grass
SHOT:Volley or back hand cross
About
Place of birth: Glasgow, Scotland
Lives: Dunblane, Scotland
Trains: Stirling University
Family: Mum
Hobbies/interests: Enjoys reading and learning new things, going on walks, listening to podcasts and also has an interest in cars.
Tennis idol: The Murray family
Favourite tournament: Wimbledon
Tennis beginnings
Collins began playing tennis when she was five years old at her local tennis centre, Dunblane Tennis Club. She fell in love with the competition and the way it allowed her to express her fight and personality out on court.
She knew from a very young age that she wanted to be a sports person, so when she moved to Florida at the age of 15 to train full time at a tennis academy, she knew she wanted to be a professional tennis player.
Off-court
When she's not on court, Collins enjoys spending time with her family and tries to read a new book on every trip she goes on.
Tennis Career
November
Collins joined forces with fellow Brit Lily Miyazaki to seal the W60 Nantes doubles title. The duo faced Britain's Emily Appleton and the Netherlands' Isabelle Haverlag in the final, where they eventually came through in a 7-6(4), 6-2 victory.
October
Collins was selected as one of 10 British players to feature in our new tennis documentary series, Beyond the Baseline, presented by Lexus.
July
Collins and Christie missed out on their chance to make the second ound at Wimbledon for the first time, losing a close battle with Anastasia Detiuc and Andrea Gamiz 6-4, 2-6, 6-3.
May
Collins and Freya Christie had another great week to add to their breakout 2023 season with a semi-final finish at the W100 Trnava.
February
Collins and Christie then went on to compete in the doubles event at the W60 Grenoble in February, where they won their second title of the year.
Having only dropped one set en route to the final, Collins and Christie faced Sofya Lansere and Maria Timofeeva in a bid for the title, where they eventually clinched a 6-4, 6-3 win to lift the trophy.
The Brits then went on to compete at the W60 Altenkirchen event, where they made it to their fourth ITF final of the year. Here, the duo finished runners up to Belgian partners Greet Minnen and Yanina Wickmayer in a 6-1, 6-3 defeat.
January
Collins teamed up with Christie for the doubles event in W40 Tallin. The duo made it all the way to the final but were unfortunately defeated by top seeds Jessie Aney and Anna Siskova 6-4, 6-7(3), 10-7.
Collins and Christie then joined forces for the W60 Sunderland event where they picked up their first doubles title of the year. The British duo faced Magali Kempen and Eden Silva in the final where they powered to a 6-3, 7(5)-6 victory, to clinch the title without dropping a set.
Breaking into the WTA Top 120
Competing at Wimbledon
Winning the 80k+H last year with Freya Collins
Representing Great Britiain from U12 at the Junior Fed Cup
Representing Great Britain at the Maureen Connolly Cup, alongside captain Judy Murray
Standout match of Collins' career was when she beat Iga Swiatek aged 15