CAREER HIGH
21/08/2023 126
CAREER HIGH
07/01/2019 622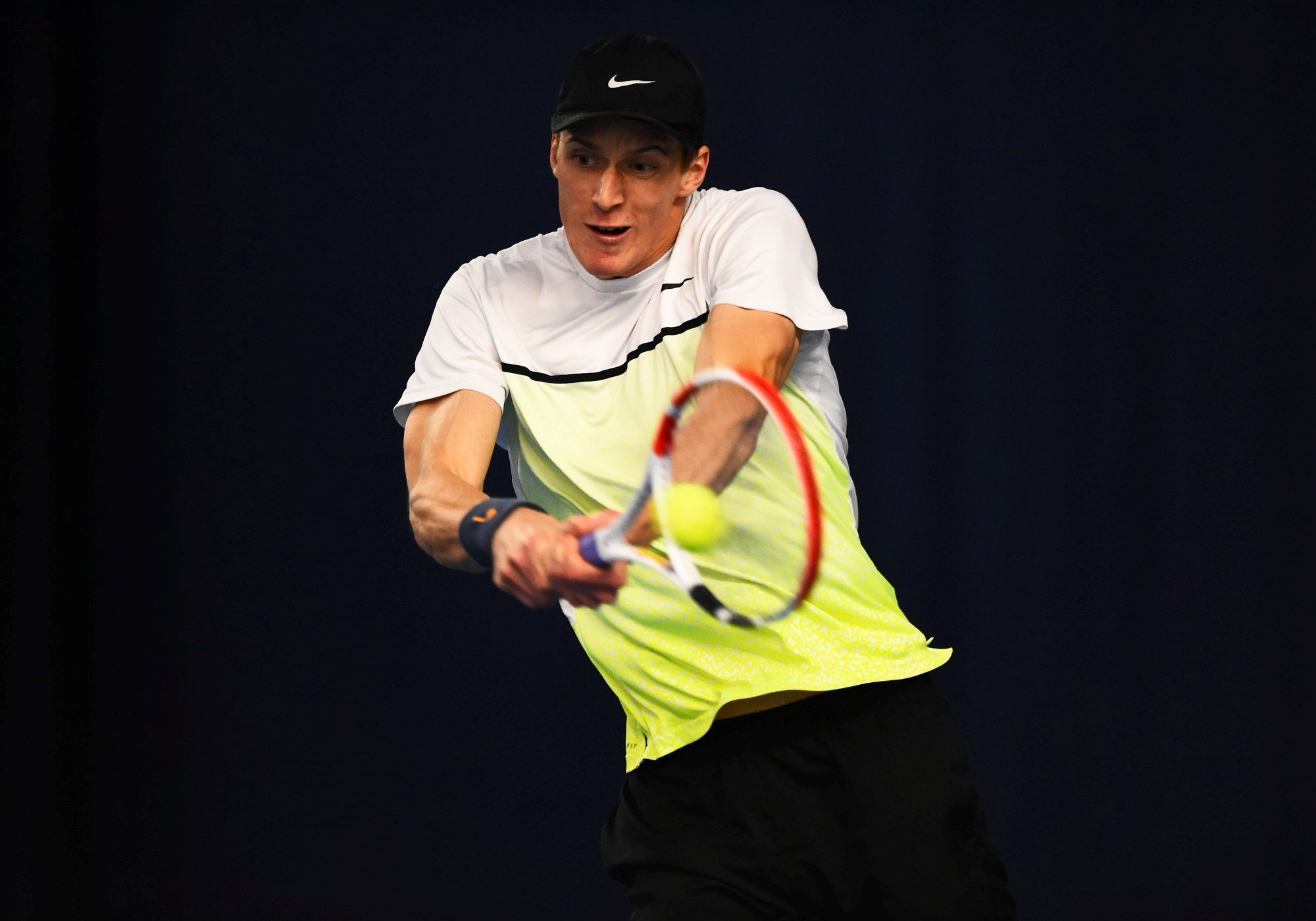 AGE27
HEIGHT196 cm
PLAYSRight-handed
BACKHANDTwo-handed
LTA SUPPORT NTC Pro Access
About
Quick-fire facts
Place of birth: Koblenz, Germany
Lives: Muenstermaifeld, Germany
Trains: National Tennis Centre
Family: Choinski's father is Polish while his mother grew up in Southampton, England. Both of his parents were professional ballet dancers, and met when they were both contracted to dance in Germany. From there they set up a ballet school in Germany, which Choinski and his two sisters attended.
Likes: Mountain biking and also does motor racing too.
Tennis beginnings
Choinski got into tennis thanks to his dad who always had a passion for the sport. One his father retired from ballet, he picked up tennis to keep active and would take Jan to the club with him from the age of two years old.
Tennis Career
September
Back on the clay, Choinski made the quarter-finals of the singles and doubles at the LYJET-Open.
August
Choinski earnt his second ATP Challenger title after a comfortable 6-4, 6-0 victory over Argentina's Camilo Ugo Carabelli at the Meerbusch Challenger 75 tournament. The Brit overcame three seeds in the lead up to his win, which has now taken him to a new career-high ranking inside the ATP top 130.
July
The 27-year-old clinched his first Grand Slam win and biggest win of his career at Wimbledon - defeating world No.56 Dusan Lajovic 5-7, 7-6(4), 6-2, 6-2.
The Briton was to face only his second top 20 opponent in the next round after drawing Poland's Hubert Hurkacz, where he'd eventually bow out 6-4, 6-4, 7-6(3).
June
Choinski kicked-off his grass court season at the Rothesay Open Nottingham event where he bowed out in the opening round to France's Hugo Grenier 6-4, 6-4. Choinski was then awarded a main draw wild card for the cinch Championships, but lost in the opening round.
The Brit fell short to countryman Liam Broady in the opening round of the Rothesay International Eastbourne, losing 6-4, 6-4.
April
Choinski then reached back-to-back ATP Challenger semi-finals for the first time in his career after his success at the San Luis Potosi Challenger. Here, Choinski knocked out fifth seed Facundo Mena, Joao Lucas Reis Da Silva and Thiago Agustin Tirante before suffering a 6-3, 6-3 defeat to Dominik Koepfer.
March
Choinski headed to Mexico for the Mexico City Challenger, where he reached the semi-finals. Here, he faced Argentina's Thiago Agustin Tirante and just missed out on a spot in the final in a 7-6(5), 4-6, 6-4 defeat.
February
Choinski went on to compete at the Cherbourg Challenger in France, where he enjoyed a run to the semi-final of the singles event. Here, he faced Italy's Giulio Zeppieri in a bid to reach the finals but unfortunately fell short in a 6-4, 3-6, 6-3 defeat.
January
Choinski was selected to represent Great Britian in the inaugural United Cup as an alternate.
Choinski then teamed up with Stuart Parker for the doubles at the ATP Challenger Nonthaburi as an alternate pairing. The duo defeated the second seeds in their opening match before progressing to the final and eventually losing out on the title 6-4, 6-4 to top seeds Ji Sung Nam and Min-Kyu Song.
December
In December, Choinski made it to the quarter-final of the Maia Challenger event in Portgual, where he failed to get past Maximilian Neuchrist. Choinski continued his momentum at the M15 Madrid event where he enjoyed a run to the semi-final, before crashing out against Remy Bertola.
November
Choinski's good form continued in November at the Guayaquill Challenger, where he enjoyed a strong quarter-final run.
Choinski was selected to represent Great Britain at the inaugural United Cup tournament in Australia.
October
Choinski was awarded his first Challenger title at the Campinas Challenger in Brazil following an exceptional run whereby the Briton maintained a 100% record to reach the final before outfoxing four-time Challenger champion, Canada's Juan Pablo Varillas, 6-4, 6-4.
August
Choinski banked his first ITF title of the season after dispatching fourth seed, Imanol Lopez Morillo, 6-3, 7-6(4) to take home the crown of the M15 Frankfurt am Main tournament.
January
Choinski's season got underway at the M25 in Bath where he progressed to the semi-finals and followed that up by also making the semi-finals in Loughborough.
Reached two semi-finals in consecutive weeks in ITF M25s in St Petersburg.
Played in the world's first behind closed doors event during the Covid-19 pandemic, in Berlin.
On grass, fell 1R of both Ilkley (to Klein) and Wimbledon qualifying (to Duckworth); Best results this year was reaching the QF of three ATP Challenger level events in three different countries – Columbus, Ohio (in Jan), Bergamo, Italy (in Feb) and Lille, France (in Mar). Won the ITF $15k in Santo Dominigo, beating Paul Jubb along the way.
In late December, decided to represent Great Britain.
Made his ATP main draw debut at 2016 Stuttgart, where he was given a wildcard. As a junior reached the SF of the 2014 US Open, peaking at No.17 in the world. Has reached on ATP Challenger level singles final (in Meerbusch, Germany) and 16 other ITF Futures singles finals (winning eight of those).
*ATP Challenger and ITF titles have been combined in the overall ITF titles on this page