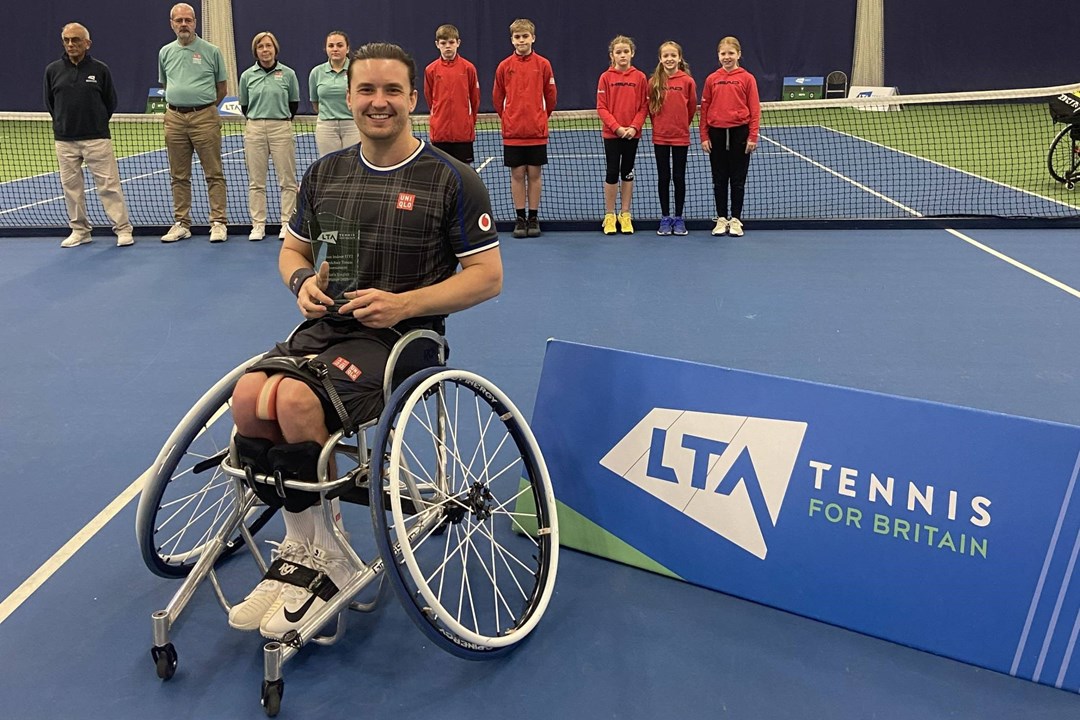 International
Gordon Reid and Andy Lapthorne earn Bolton Indoor ITF2 titles
• 3 MINUTE READ
Gordon Reid and Andy Lapthorne equalled the records for most men's singles and quad singles titles won at the Bolton Indoor ITF 2 Wheelchair Tennis Tournament on Sunday as both Brits secured their third victories apiece with straight sets wins at Bolton Arena.
The women's singles title went to American top seed Dana Mathewson, who ended British No.1 Lucy Shuker's title defence in the final.
Sixth seed Reid wrapped up a tremendous week, the British No.2 beating Dutch third seed and Tokyo Paralympic silver medallist 6-2, 6-3 for his first singles title since the 2021 cinch Championships at The Queen's Club after an injury-hit 2022 season.
Reid, who led Spanish second seed Martin de la Puente 6-2 before world No.6 De la Puente was forced to retire from Saturday's semi-final, won seven games in a row against Egberink to earn a 6-2, 3-0 lead in the title decider.
World ranked No.12 at the start of the tournament, the 2014 and 2015 Bolton champion said: "I'm really happy with the week. It was a strong line-up with a lot of top players so to come here and win quite convincingly is great. The level of performance today was high from me and it's a good confidence-booster for the rest of the year. I had a couple of good singles wins out in Australia last month but to back it up here in the semi-finals and the final is obviously a bonus.
"I didn't play too much at all last year and I know that everything I pick up until July is going to put me back up the rankings, so I just need to focus on the tennis and the performance and the ranking will take care of itself."
Reid left Bolton with two titles after teaming up with 17-year-old Brit Ben Bartram to win their first doubles title in their first tournament together as a partnership.
Twenty two-time Grand Slam champion Reid and Bartram beat Dutch second seeds Egberink and Maikel Scheffers 1-6, 6-4, 10-7 in their semi-final before being awarded a walkover in the final, with De La Puente still unable to play.
Reid added: "I've faced up against Ben a couple of times in doubles but it's the first time on the same side of the net as him and it was a lot of fun. We played a great match yesterday to win our semi-final against a really experienced pair and so to do it in out first tournament together is testament to how he's matured in the last year and when Alfie (Hewett) is not around I can see us teaming up again somewhere."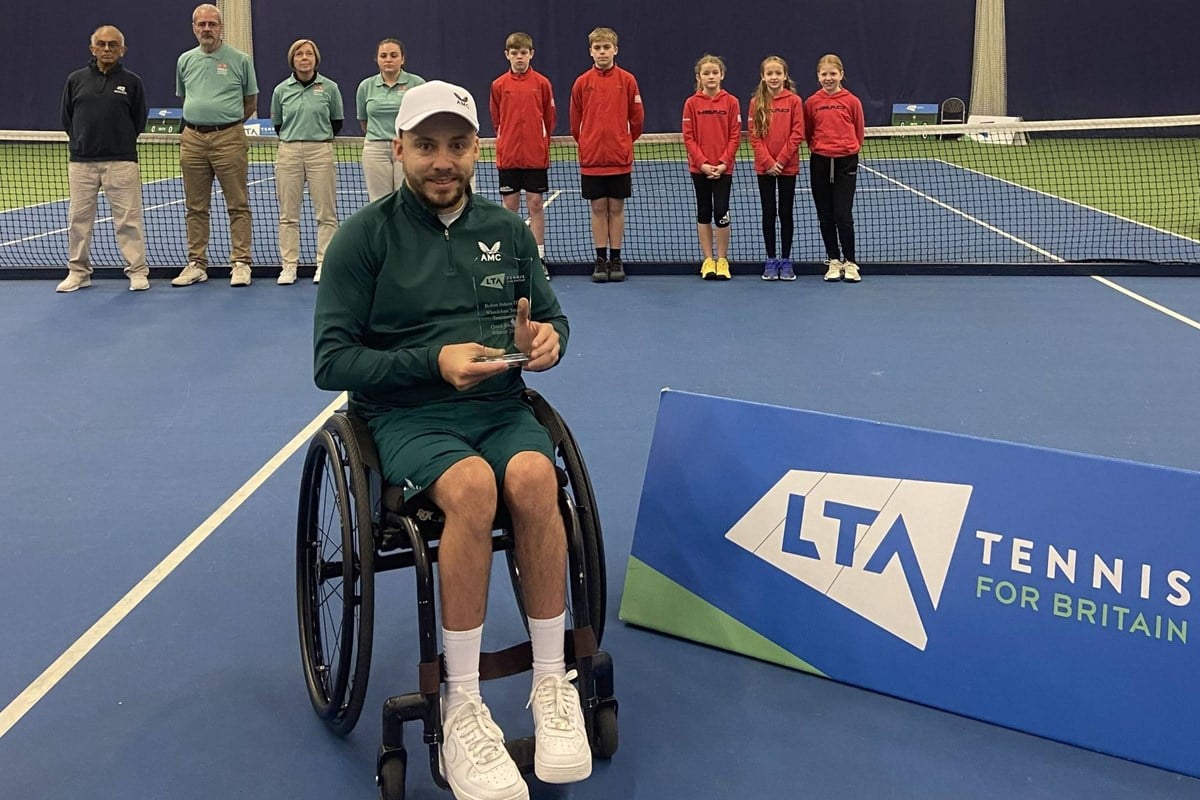 World No.7 Lapthorne, the 2016 and 2018 quad singles champion in Bolton, completed his hat-trick of tournament singles victories after a 6-2, 6-3 victory over fellow Brit and seventh seed Greg Slade. Slade earned the best win of his career to beat Brazilian second seed Ymanitu Silva 7-6(3), 5-7, 6-3 and seal his place in his first ITF 2 singles final.
Lapthorne, who is among the players supported by our Elite Wheelchair Programme along with Reid, said: "Singles-wise it's been a good week. It's always good to get some wins in early in the season and really good to be playing against another Brit. That's the first time in a while that we've had an all-British quad final and there are some good signs there for the future and I'm, just really happy to win again."
Lapthorne and Slade finished runners-up in the quad doubles after victory went to the top seeds, Slovakia's Tomas Masaryk and Silva 6-0, 3-6, 10-6. Lapthorne added: "It's always going to be difficult when you've played each other in singles to come out and play doubles and energy-wise we were probably a bit low, but did well to turn it around in the second set. It just didn't go our way in the tie-break, but we're still young as a team and will look forward to the next one."
With Bolton Arena having hosted the first two British-based world ranking events on the International Tennis Federation's UNIQLO Wheelchair Tennis Tour across 10 days, the ITF2 women's singles title went to Mathewson just five days after the world No.9 won the ITF3 title. Mathewson beating world No.10 Shuker 6-3, 6-0.
There were also runners-up honours for Shuker in the women's doubles as French second seeds Pauline Deroulede and Emmanuelle Morch claimed that title. Deroulede and Morch edged out British second seeds Shuker and Cornelia Oosthuizen 7-6(4), 2-6, 10-6 in a deciding match tie-break.