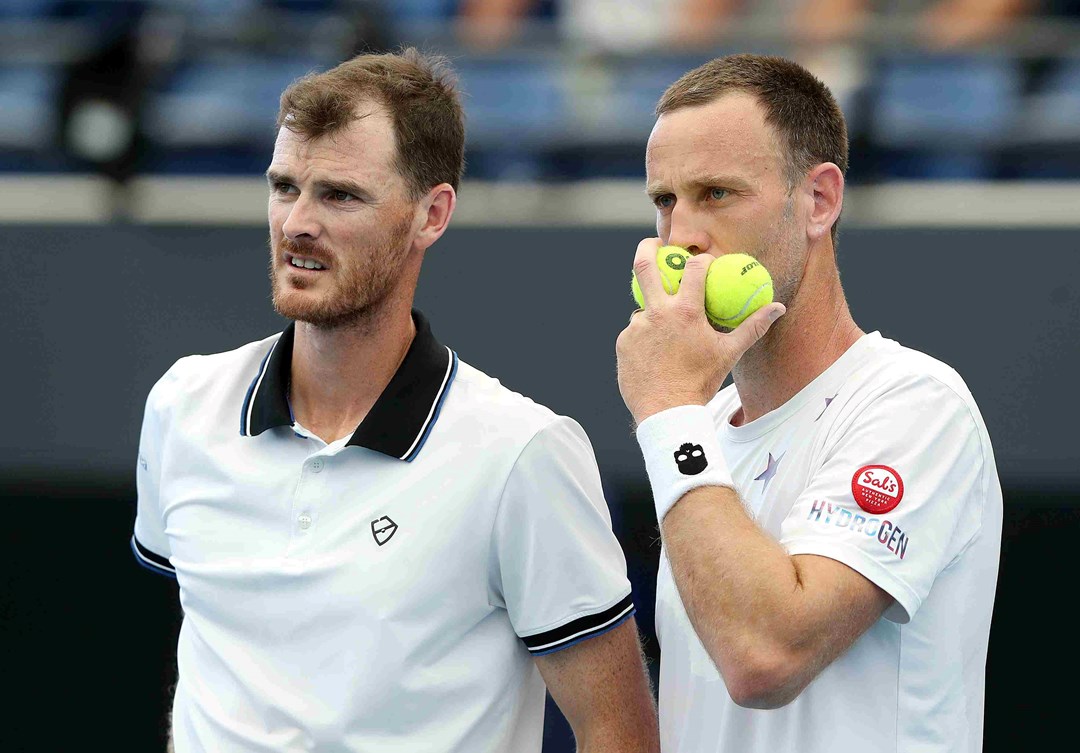 International
Joe Salisbury and Jamie Murray lead a haul of 10 British tennis titles
• 4 MINUTE READ
Catch up on the latest from the British tennis players on tour, with the Brits claiming 10 titles over the last week.
Salisbury and Murray reign supreme in Lyon and Geneva
British doubles stars Joe Salisbury and Jamie Murray both captured ATP titles last week in the final events before the start of Roland Garros.
Salisbury and American partner Rajeev Ram won their first title of the season at the Lyon Open. After a shaky start – coming from a set down in both their opening matches – the reigning US Open champions hit their stride.
In the semi-finals they took out Nicolas Barrientos and Albano Olivetti 7-6(4), 6-3, before storming to an emphatic 6-0, 6-3 final victory over third seeds Nicolas Mahut and Matwe Middelkoop.
Now with a good run of form under their belts, Salisbury and Ram will head to Roland Garros as the second seeds – aiming to capture their fourth Grand Slam title together.
Cam Norrie also put together an impressive run in Lyon – making the semi-finals in the singles before losing in straight sets to Francisco Cerundolo.
Meanwehile in Genevea, Murray and Michael Venus secured their third trophy of the season and second on clay.
One of the in-form teams this year on the ATP Tour, the fourth seeds beat Italy's Simone Bolelli and Fabrice Martin 6-1, 3-6, 10-6 in the semi-finals. They went on to face third seeds Marcel Granollers and Horacio Zeballos in the final, edging the win in two close tie-breaks 7-6(6), 7-6(3).
Murray is now back up to world No.28 – his highest ranking since October 2022.
Appleton, Parker and John-Baptiste claim ITF trophies
Another week and yet more doubles success for the Brits on the ITF World Tennis Tour. Starting in Italy where Emily Appleton added a second W60 doubles title to her tally this season.
Appleton teamed up once again with Germany's Julia Lohoff for the W60 Grado – living up to their top seed status by racing to the final without dropping a set. In the final, Appleton and Lohoff came from behind to beat Anna Siskova and Sofya Lansere 3-6, 6-4, 11-9.
The 23-year-old Brit is now up to a new career high at world No.137.
Stuart Parker and Switzerland's Jakub Paul were unstoppable at the M25 Most, taking the title without dropping a set – finishing with a 6-3, 6-2 win over Czech duo Ondrej Horak and Daniel Siniakov.
Britain's Lauryn John-Baptiste also got in on the title action last week at the W25 Monastir. Teaming up with France's Yasmine Mansouri, John-Baptiste clinched her third W25 title of the season with a 6-3, 6-1 win over Lamis Alhussein Abdel Aziz and Sharmada Balu in the final.
Great Britain dominate the titles on the UNIQLO Wheelchair Tennis Tour
The Brits won a total of five wheelchair titles this week, starting in Barcelona, where the world No.1 doubles duo Alfie Hewett and Gordon Reid continued their dominance at the top of the game.
Hewett and Reid were made to work for their fifth title of the season at the Tram Barcelona Open but came back to defeat Stephane Houdet and Martin De La Puente 4-6, 7-6(3), 10-2.
Hewett also made the semi-finals of the singles draw at the ITF 1 event, where he lost out to De La Puente 6-4, 7-6(4).
Andrew Penney lifted both the singles and doubles trophies at the 26 Tournoi Bulle Indoors last week. Penney knocked out fourth seed Ivan Kindt in straight sets in the semis, before going on to beat Banjob Suwan 6-2, 2-6, 6-0.
In the doubles, Penney and France's Yoann Quilliou dropped only seven games throughout the draw – finishing with a 6-2, 6-2 win over Gareth Greene and Kindt.
Greg Slade was crowned doubles champion at the Commit Open, thanks to a 7-5, 6-3 victory against top seeds Min-Hyeong Cha and Myung Je Kim alongside Turkey's Ali Ataman.
Ben Bartram made both the singles and doubles final at the same event. He lost to top seed Tom Egberink 6-2, 6-3 in the final and lost out to the Dutchman again in the doubles. Egberink and Frederic Cattaneo defeated Bartram and 7-6(2), 6-2.
Abbie Breakwell and Ruby Bishop also won the final of the Plock Orlen with a 6-0, 6-0 win in the final.