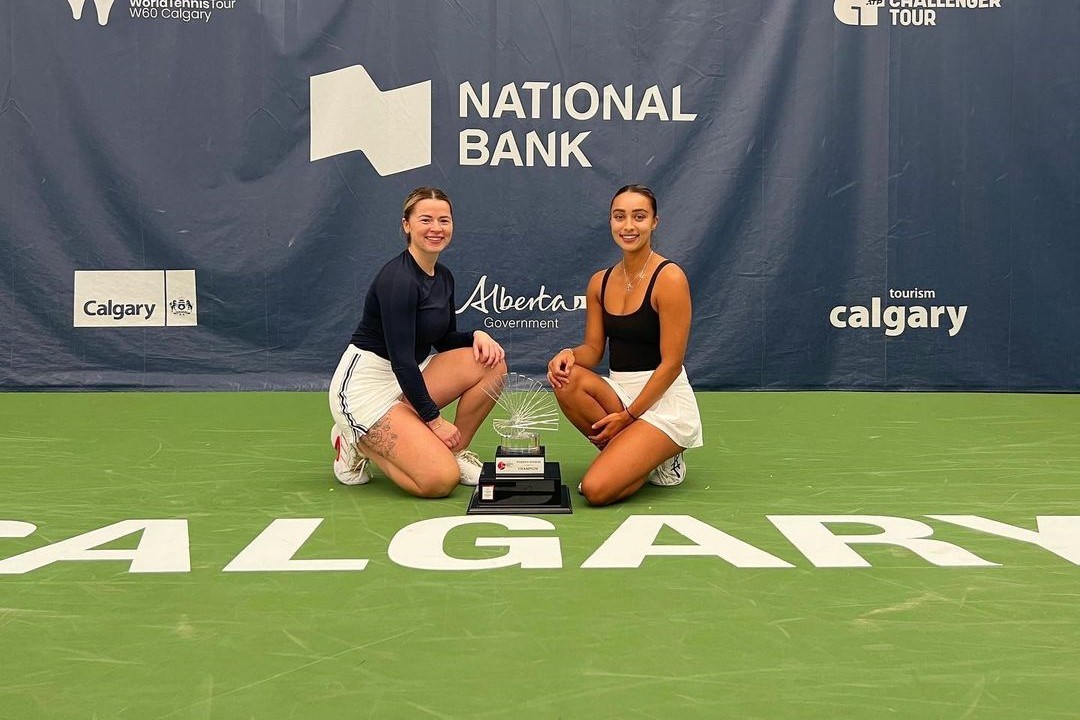 Players News
Sarah Beth Grey & Eden Silva headline British champions; Jack Draper & Julian Cash end as runners-up in Bulgaria
• 3 MINUTE READ
Get the latest updates from the British players competing on the ATP, WTA and ITF Tours across the world, including seven titles last week.
Brits narrowly miss out on new milestones
Jack Draper and Julian Cash both enjoyed strong runs at the Sofia Open in Bulgaria last week.
Coming off the back of his fifth ATP Challenger title in Bergamo last week, Draper hit another milestone in reaching his first ATP final – becoming the youngest Briton to do so since Andy Murray in 2009.
Draper defeated top seed Lorenzo Musetti and third seed Jan-Lennard Struff in straight sets as he made his way to the final, where he narrowly lost to world No.25 Adrian Mannarino 7-6(6), 2-6, 6-3.
The 21-year-old's impressive form not only stands him in good stead for the Davis Cup Finals, but has also seen his ranking rise to 21 places to world No.61.
Like Draper, Cash has also been in blistering form on the ATP Challenger Tour – reaching finals in his last five events and winning three Challenger trophies – and last week made the doubles final alongside former Wimbledon champion Nikola Mektic.
Cash and Mektic lost by the narrowest of margins in the final – bowing out to Gonzalo Escobar and Aleksandr Nedovyesov 6-3, 3-6, 13-11 in the final.
Cash's meteoric rise on the ATP doubles tour now sees him as one of five Brits currently ranked inside the top 50.
Charles Broom and Ben Jones came within touching distance of a first ATP Challenger doubles title but eventually lost at the final hurdle to Juan Carols Manuel Aguilar and Justin Boulais 6-3, 6-2.
Grey & Silva champions in Canada
Sarah Beth Grey and Eden Silva both equalled their career-best title win over the weekend as the became the new W60+H Calgary women's doubles champions.
Grey and Silva – who last won a title together in 2019 – were in near enough unstoppable form, dropping just one set en route to the title. In the final, the third seeds saw out a strong 6-4, 6-4 win over Hanna Chang and Katarina Jokic to round off a successful week in Canada.
The win see's Grey amass 21 ITF doubles titles in her career, while Silva – who features in our latest documentary series 'Beyond the baseline' – has reached 11.
Sticking with doubles success, it was a great week for Britain's Oscar Weightman who picked up the M25 Monastir title alongside Tunisia's Aziz Ouakaa.
Weightman and Ouakaa saw off top seeds Tomas Lipovsek Puches and Andrea Picchione in the final 7-5, 6-3 to complete the Brit's fourth doubles title win of the season.
Meanwhile, Emilie Lindh finished her campaign at the W25 Solarino as a runner-up in the singles draw. Unseeded Lindh fought her way to the final in impressive fashion but narrowly lost out at the final hurdle to Linda Klimovicova 6-3, 6-7(5), 6-1.
Rising star Ranah Stoiber also ended her week as runner-up at the W15 Monastir - losing a close final aginst Canada's Carson Branstine 7-5, 4-6, 6-3.
18-year-old Luca Pow just missed out on his first senior title at the M15 Winston-Salem doubles with Luciano Tacchi. The British, Argentinian duo lost to Keshav Chopra and Marcus McDaniel 6-2, 4-6, 12-10.
Breakwell & Bishop haul in wheelchair titles
Abbie Breakwell hauled in an impressive four titles last week at two ITF Futures events at Le Meridien Lav. The 20-year-old Brit claimed two singles and two doubles trophies – taking her 2023 tally up to nine.
Breakwell didn't drop a set in two singles round-robin tournaments in Croatia – winning eight matches on the bounce.
It was a similar story in the doubles, where Breakwell teamed up with Denmark's Louise Charlotte Willerslev-Olsen to secure two straight sets wins the finals over Angela Grosswiler and Christina Pesendorfer.
Ruby Bishop also tasted silverware for the second time in two weeks as the doubles champion at the Karvina Indoor Cup with France's Zoe Maras. Bishop faced Maras in the singles final as well, but narrowly lost out 1-6, 6-1, 6-4.
The 19-year-old is now up to an impressive eight doubles titles on the season.
Andrew Penney and Joshua Johns also finished runners-up in the men's doubles at the Karvina Indoor Cup. The British duo lost against top seeds Kamil Fabisiak and Martine Legner 7-5, 6-3.
British No.2 Cornelia Oosthuizen narrowly missed out on her first singles title of the season at the – BNP Paribas International Para Tennis Toulouse – Balma. The 44-year-old was defeated by second seed Ksenia Chasteau 6-3, 6-3 in the final.
The Brit also lost out to the French star in the doubles final as well. Oosthuizen and Lola Ochoa were beaten 3-6, 6-3, 10-4 by Chasteau and Sandrine Cauderon Paulin.