CAREER HIGH
01/08/2022 277
CAREER HIGH
21/10/2019 143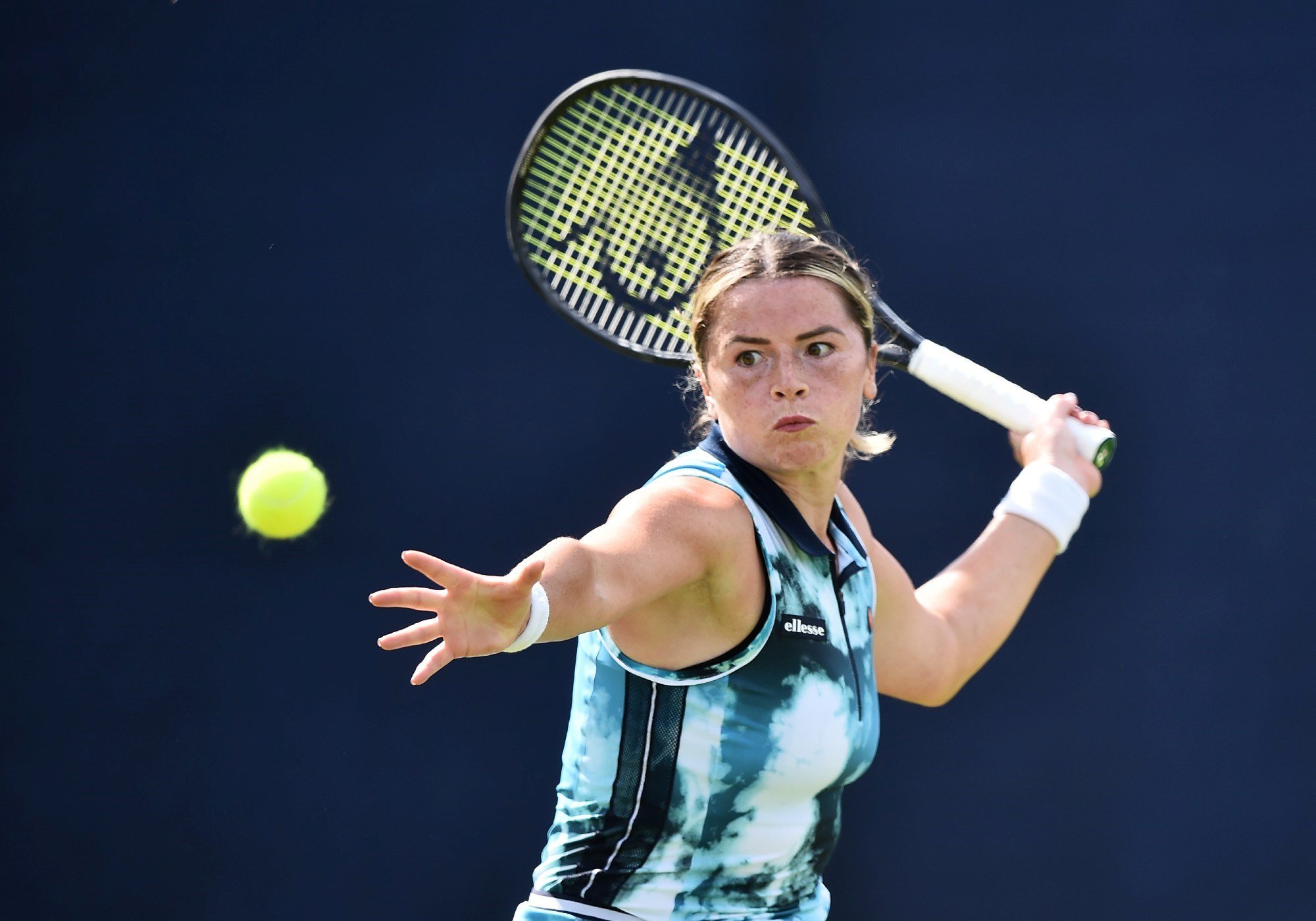 FAVOURITE
SURFACE: Grass
SHOT: Serve
AGE28
HEIGHT168 cm
PLAYSLeft-handed
BACKHANDTwo-handed
LTA SUPPORT NTC Pro Access
FAVOURITE
SURFACE:Grass
SHOT:Serve
Get to know Sarah Beth Grey
About
Liverpudlian Sarah Beth Grey enjoyed a good year in both singles and doubles in 2019, during which she came up against Venus Williams in a mixed doubles match at Wimbledon. Left-handed Grey lives and trains in Buckinghamshire.
Quick-fire facts
Place of birth: Liverpool
Lives: Wendover, Buckinghamshire
Trains: Halton Tennis Club
Interests: Reads a lot, favourite author is Haruki Murakami. Also enjoys walking, bike riding and going for brunch with friends. Spent lockdown painting and drawing sketches.
Family: Three oldere sisters and three younger brothers (Chloe - a production assistant at BBC Sport, Emily, Amy, Cliff, Tobias and Caleb), Joanne and Cliff (Mum and Dad). Emily and Amy played tennis to national standard.
Tennis beginnings: Local club down the road from house in Liverpool (Bohemians), had three astroturf courts and Dad was a member, and knocked around with older sisters since she was five. Got to like tennis when she had first lesson with Nick at the age of about 9
Tennis Career
November
In November, Grey teamed up with fellow countrywoman Eden Silva to lift the W60+H Calgary doubles title, after they eased past Katarina Jokic and Hanna Chang, 6-4, 6-4.
September
Grey made it back-to-back ITF titles after she teamed up with Alexandra Bozovic for the W25 Valladolid event. Here, the British, Australian duo cruised to a 7-5, 6-0 victory over Ava Markham and Fangran Tian to clinch the silverware - marking the Brit's fourth doubles title of the season.
Joining forces with Eden Silva, Grey made the semi-finals at the W60+H Calas da Rainha, before losing out to Francisca Jorge and Matilde Jorge 6-4, 6-4.
August
The 28-year-old Brit won a third W25 doubles title of the month in Vigo alongside Nefisa Berberovic - beating Anastasia Abbagnato and Patricija Paukstyte in the final 6-3, 4-6, 11-9.
Grey and America's Hina Inoue defeated third seeds Erina Hayashi and Saki Imamura to progress to the W25 Roehampton doubles semi-finals before bowing out 6-2, 6-2 to eventual champions Lily Miyazaki and Mariam Bolkvadze.
Grey then teamed up with Destanee Aiava for the women's doubles draw at the W25 Aldershot event where the British, Australian duo stormed to victory to take the crown.
Facing Japanese duo Erina Hayashi and Saki Imamura in the final, Grey and Aiava eased to a 6-4, 6-3 win to secure the title.
January
Grey started of 2022 by reaching the quarterfinals of the W25 Bath tournament where she lost out Freya Christie 3-6, 6-3, 7-6(2).
At the W25 Loughborough, number 7 seed Grey was the only Brit to make the quarterfinals of the women's singles. However, Grey lost to the top seed Mariam Bolkvade 6-4, 4-6, 7-6(2) in 3 hours 31 minutes.
May
Fast forward to the W25 Montemor-O-Novo in Portugal where Gray defeated Slovak Sofia Milatova 2-6, 6-1, 6-0 to reach the semi-finals before bowing out 6-4, 6-2 to the now champion, France's Alice Robbe.
July
Grey and Lily Miyazaki were knocked out in the opening round of Wimbledon doubles by Asia Muhammad and Ena Shibahara.

She then travelled to Portugal, where she reached the quarter-finals of the singles at the W25 Giumaraes. Grey also finished runner-up in the doubles alongside Jamie Loeb - losing out to Francisca Jorge and Matilde Jorge.
October
Grey progressed to her fifth ITF World Tennis Tour quarter-final at the W60 Saguenay event where she went out to eventual champion, India's Karman Kaur Thandi. Meanwhile, in the doubles, Grey partnered Canada's Katherine Sebov ahead of the event, eventually progressing to the semi-finals before suffering a 6-3, 4-6, 10-8 defeat to No.1 seeds, America's Catherine Harrison and Belgium's Yanina Wickmayer.
In April, Beth reached the semi-finals of the ITF 15K in Sharm El Sheikh. In the doubles at the same event, partnered with Jodie Burrage, the pair reached the semi-finals losing to fellow Brit Amelia Barnett. Partnered with D.Ivanova they reached the final of the ITF 15K in Tunisia.
Second round of qualifying at both Thailand Open at Hua Hin, and ITF W25 in Sunderland in January and March respectively.
Made her WTA Premier debut in February alongside Eden Silva, beating Nadiia Kichenok and Veronika Kudermetova. Made a $60k final together, made quarter final in Notthingham. Made a few semis in 25s. Reached career high doubles ranking in April, has been hampered by a shoulder injury since.
Making her WTA main draw debut in the 2019 Dubai Tennis Championships.