Legacy makers – Inspiring future generations
4 MINUTE READ
Welcome to 'She Rallies' – a public photo exhibition in partnership with the LTA and Getty Images – celebrating increased visibility of women's tennis through an inclusive lens.
Maverick - Emma Raducanu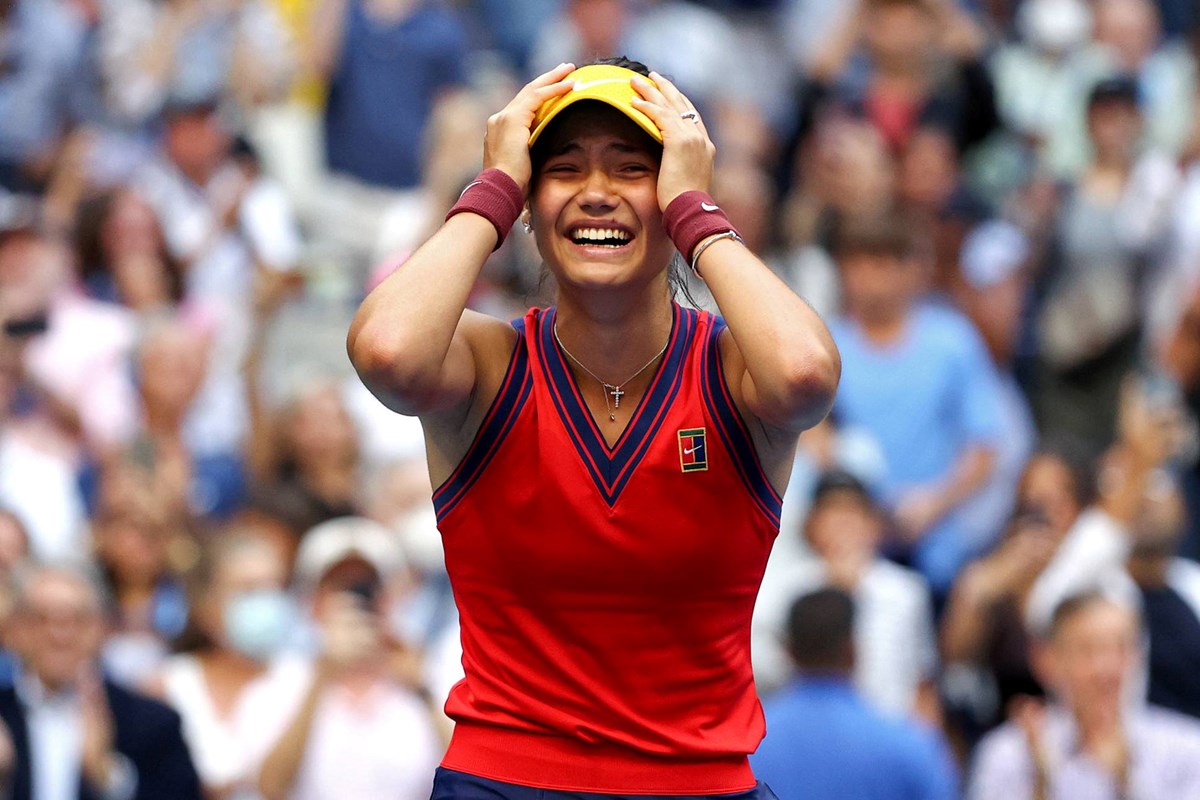 US Open, 2021
Emma Raducanu celebrates winning match point to defeat Leylah Annie Fernandez during the second set of their Women's Singles final match. Elsa/Getty Images
It was a 'Fairytale in New York' that captured the hearts and minds of the tennis world, with Emma Raducanu's 2021 US Open triumph setting a host of new records.
Becoming the first player in history to move through qualifying and win a major title, Raducanu's victory in the Final against Leylah Fernandez was the most watched women's tennis match in Britain in at least 30 years, attracting 12.5m viewers with 48% share of 16-34-year-olds and a 50:50 gender split.
Raducanu is the most followed British tennis player on Instagram and reaches out to a youthful audience who were captivated by her stunning rise.
Legacy Makers - Helen Wills & Hazel Hotchkiss Wightman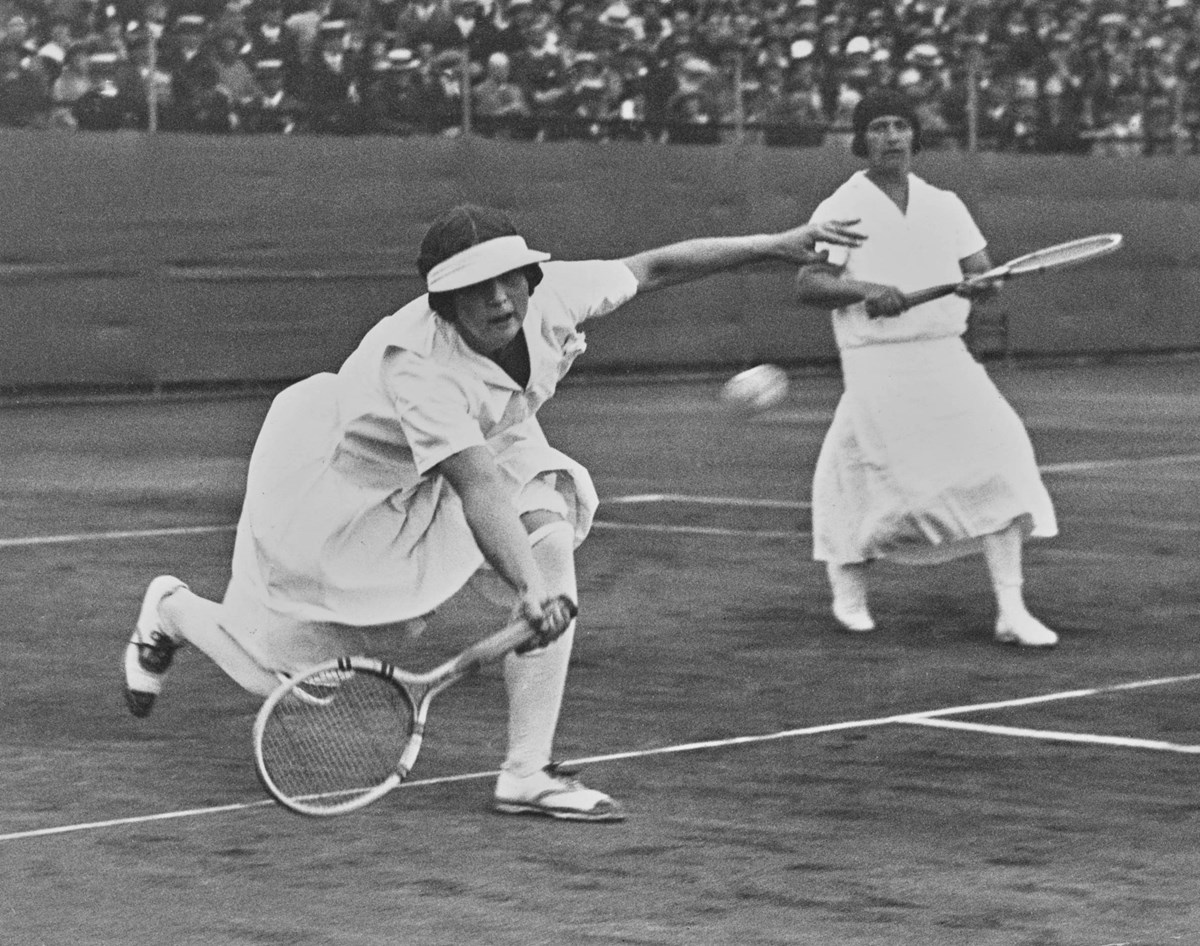 VIII Olympic Summer Games, 1924
Helen Wills reaches to play a forehand return as compatriot partner Hazel Wightman looks on during their Women's Doubles Final match against Phyllis Covell and Kathleen McKane. Central Press/Hulton Archive/Getty Images
Before women even had the right to vote in Britain, legacy makers like Helen Wills and Hazel Hotchkiss Wightman were changing perceptions and inspiring participation. To increase international visibility on women's tennis equivalent to the Davis Cup for men's tennis, Wightman played a pivotal role in setting up the women's Wightman Cup which ran from 1923 to 1989.
Almost a century later, Helen Wills remains a revered figure at Wimbledon, with her eight singles titles a record that was not surpassed until Martina Navratilova won her ninth in 1990.
In total, she won 19 major singles titles and 31 in total (despite playing just 21 major events), with her dominance highlighted by her remarkable 180-match winning streak between 1927 and 1933.
Inspiring - Next generation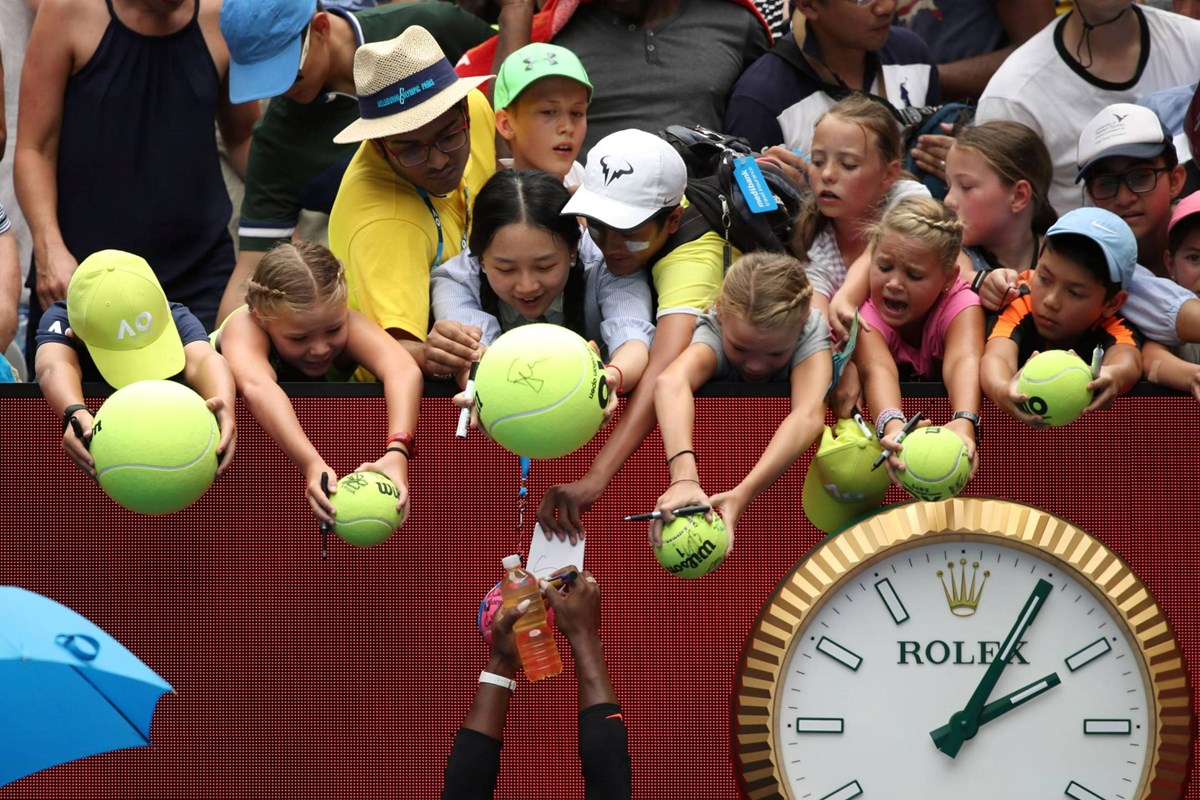 Australian Open, 2017
Serena Williams signs autographs for fans after winning her first round match against Belinda Bencic. Paul Harris/Getty Images
As of May this year, female annual participation (people playing at least once a year) had increased by 11% year on year – with the latest statistics showing that participation (weekly, twice monthly, monthly and yearly) this year, is stronger than at any time in the last five years. Tennis is one of the most gender-neutral sports with 45% of the adult annual participation figure accounting for women in Britain.
Thousands of female fans of all ages will be in attendance at the Billie Jean King Cup finals in Glasgow, and they will be inspired by the athletes taking to the court at the Emirates Arena.
Homegrown - Virginia Wade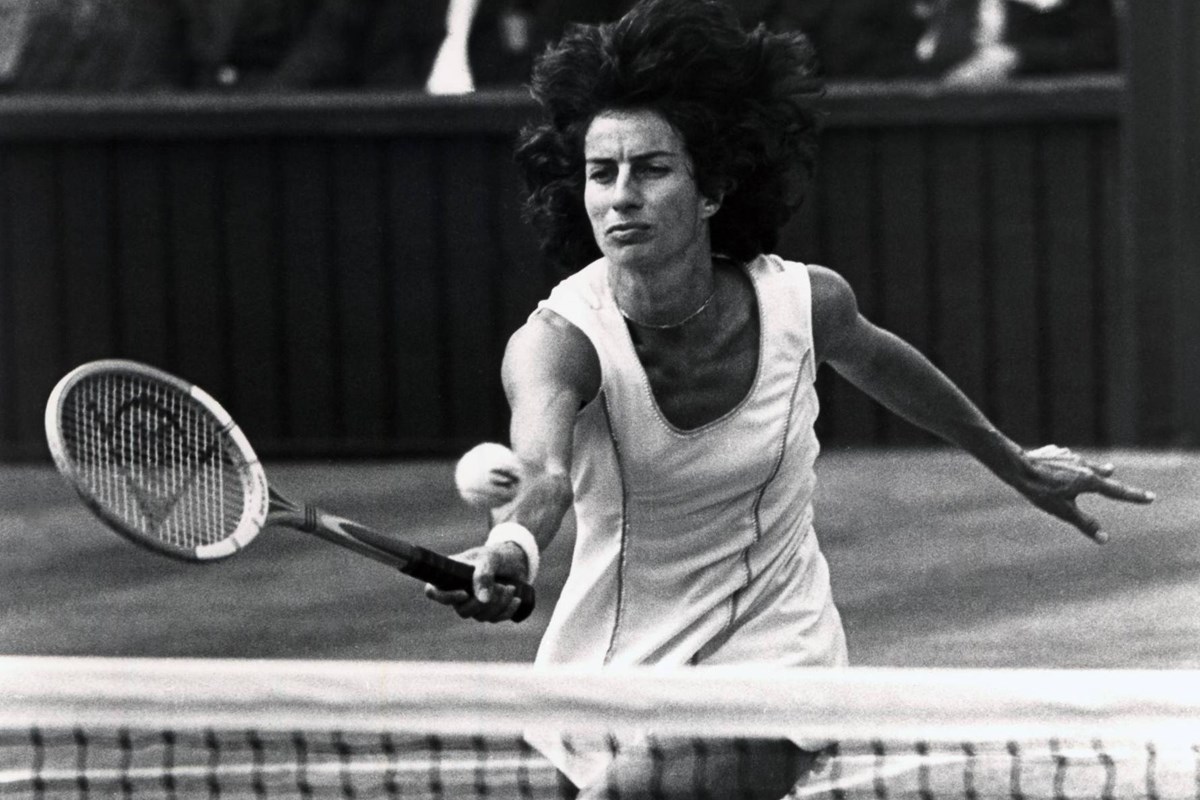 Wimbledon, 1977
Virginia Wade playing a volley during the Ladies' Singles Final at The Championships 1977. AELTC/Michael Cole
The last British winner of the Wimbledon Ladies' Singles Championship in 1977, Wade is forever assured of a place in this nation's sporting folklore.
Her win at the All England Club came in the 100th year of the Championships and Queen Elizabeth II's Silver Jubilee, with the images of her lifting the Venus Rosewater Dish etched into the memory of all who witnessed it.
Wade's glittering career also included a win in the 1968 US Open and the 1972 Australian Open, with her record in the Billie Jean King Cup so impressive, as she has won more singles and doubles matches for Britain than any other player.
Doubling up - The record-breakers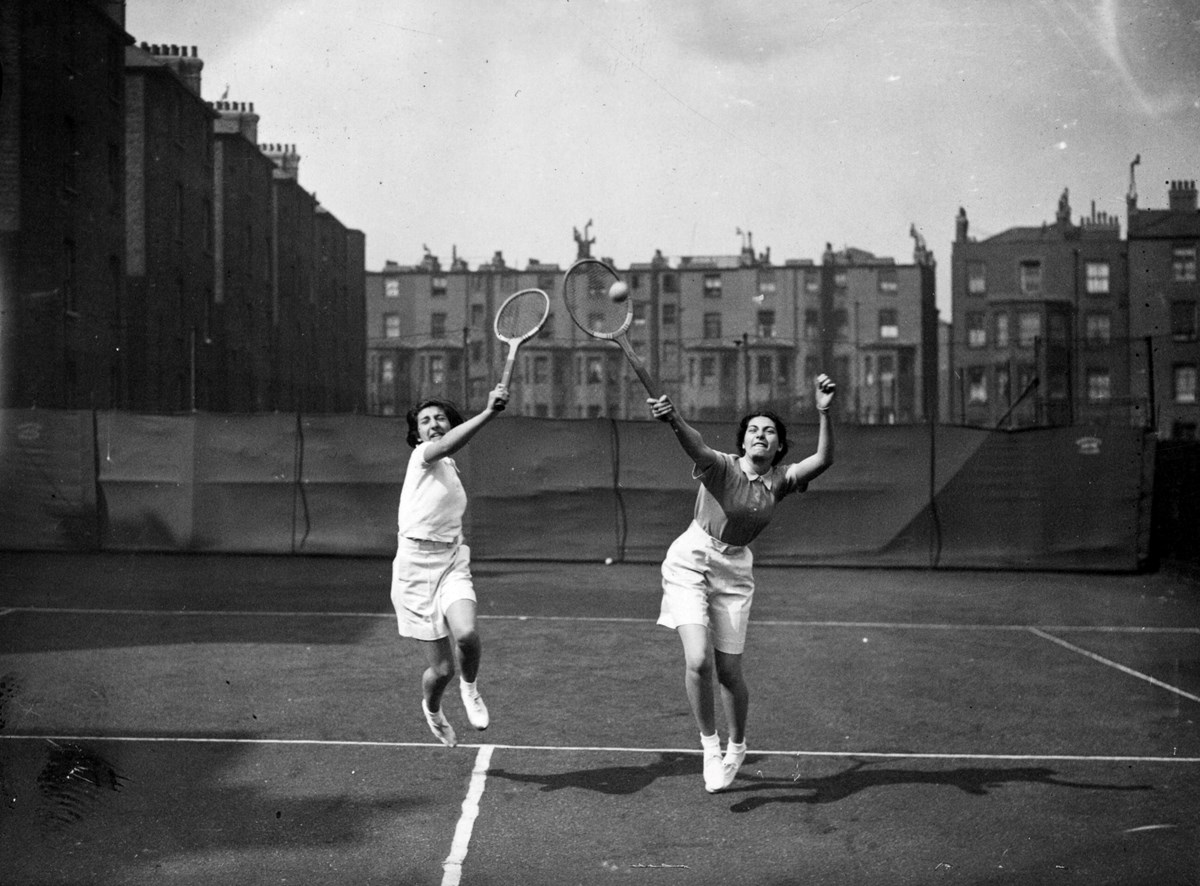 Tennis Doubles, 1934
Sisters Pat and Joy Lannon, who are playing in the Ladies Doubles tennis championships in Paddington, London. H.F.Davis/Topical Press Agency/Getty Images
Wimbledon first introduced a Ladies' Doubles event at The Championships in 1913, with all four of the major championships including women's doubles tournaments by 1925.
The great Martina Navratilova holds the record for the most major titles with a staggering total of 31 wins to go with her 18 singles titles, in addition to 10 mixed doubles wins in major tournaments.
Latvia's Larisa Savchenko holds the record for the most doubles wins in the Billie Jean King Cup, claiming 67 wins from her 89 matches.
Britain's most prolific doubles performer in the competition, that was titled the Federation Cup until 2020, is 1977 Wimbledon champion Virginia Wade, with 68 wins.
Did you know: Serena Williams finished a perfect 14-0 in major doubles finals and 3-0 in Olympic finals, all won with her sister Venus.