Grand Slam
Emma Raducanu crowned US Open Women's Singles Champion
• 4 MINUTE READ
The youngest player to compete in a women's singles final since Maria Sharapova at Wimbledon in 2004 walked onto Arthur Ashe with her trademark smile on her face.
And she's walked off as the Champion of the US Open 2021, beating Canada's 19-year old Leylah Fernandez 6-4 6-3 in an epic battle of power and style, and the first all-teenage final since Serena Williams v Martina Hingis in 1999.

This makes her the first British woman to win a Grand Slam singles title in 44 years, the last person to do so being Virginia Wade at Wimbledon in 1977.
Raducanu is the first qualifier in the Open era to reach a Grand Slam final, and the 18-year-old was the first British woman in a major singles final in 44 years. She has won the title without dropping a set after a sensational journey in New York.
It was a hugely solid start for Raducanu, as she held serve with a bullet of a backhand winner across court and then broke Fernandez in the second game, with both players throwing everything into their baseline strokes.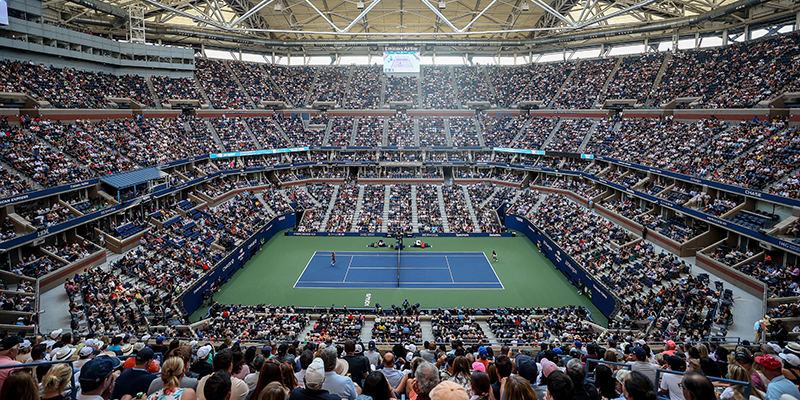 The Canadian then powered back into the game before Raducanu took the first set 6-4 – that's 19 sets un-dropped since qualifiers.
The second set got underway, and the immeasurable brilliance of the play continued. Point after point of ferocious, passionate tennis. Raducanu took it to a nail-biting score-line of match points at 5-3 before a low backhand slide saw her pick up a knee-bleed injury at breakpoint for Fernandez.

A hammered down serve on the next point was followed by a punchy groundstroke, and it was once again championship point for Raducanu.
And just like that, the fairy-tale's magical ending happened – the first qualifier in the Open era to reach a Grand Slam final had done it; she'd read the game, and delivered incredible tennis, ending Britain's 44-year wait for a women's Grand Slam singles champion.
With the Queen amongst the first to congratulate her, and the trophy presented by Billie Jean King, Emma took in the moment that will go down in sporting history:
"It shows the future of women's tennis and depth of the game is so great, every player in the draw has a shot at winning any tournament, I hope the next generation can follow in the steps of some of the legends, for example Billie Jean..."
"It means so much to have Virginia Wade here and also Tim Henman, British icons and for me to follow in their footsteps... it gave me the belief I could do it."
"As for the three weeks I have spent in New York, I would say that having such a supportive team like I have (over there) - my coach, Will, the LTA, my agent everyone in that team and everyone back home… everyone back home who isn't here but watching on TV, thank you so much for all your support over the years."
Emma Raducanu. US Open Champion 2021.