Wheelchair Tennis Initiative
2 MINUTE READ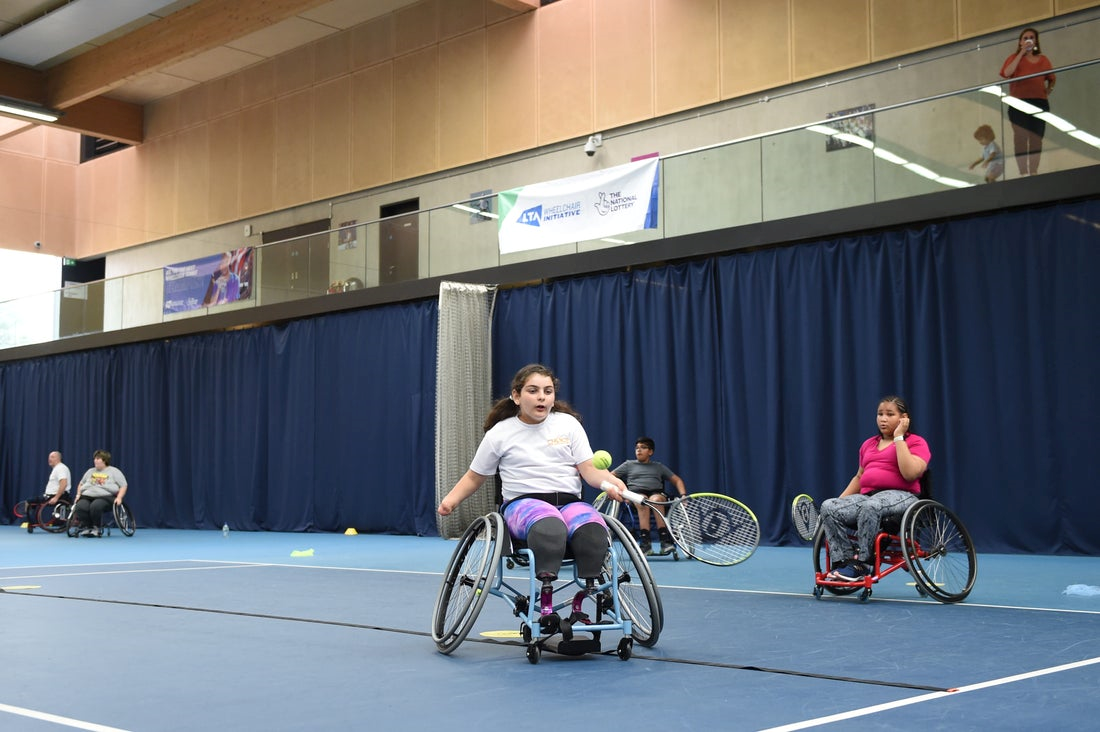 The Wheelchair Tennis Initiative is a programme of inspiring days that looks to attract, engage and inspire people with physical impairments to join the game.
The Wheelchair Tennis Initiative is the LTA's Wheelchair Performance Pathway Talent Identification Programme, delivered by our Wheelchair Performance staff. These open days offer players the first opportunity to enter our Wheelchair Performance Pathway.
It's designed to acknowledge the fundamental characteristics that are required for wheelchair tennis, including: chair skills, racket skills and competitiveness.
We think the initiative will play a pivotal role in inspiring the next generation and the early-stage development of aspiring wheelchair performance players and the success of wheelchair tennis in the long term.
After the one-day event we will provide you with details for opportunities at local venues which will help you develop as an individual and as a player, while meeting new people.
The days aim to be fun, exciting, engaging and memorable with coaching from the LTA Wheelchair Performance Pathway team (WCPP)
There will be a mixture of games and skill based activities
Each of the days will run for approximately three hours
Talks from the WCPP coaches on the pathway, competitions and guidance on how to access resources
As a wheelchair performance led initiative, it is recommended players who would like to attend these one-day events have one or more of the following:
Players aged 8 – 30 who have a love of tennis with aspirations to compete at a regional and national level in Wheelchair Tennis **
Aspire to represent Great Britain at Major Events, including Grand Slams and Paralympic Games
Eligible Impairment for International Wheelchair Tennis Competitions (physical impairment)
** Players 30 yrs. or over will need to demonstrate appropriate career potential
Please note that you do not require to own a sports wheelchair or a tennis racket to participate as these will be available to use at the event, but if you do have one or both do please bring them along.
2022 will see the LTA host 10 one-day events across Great Britain:
Saturday 16 July: Nottingham Tennis Centre, NG7 2QH
Saturday 6 August: Easton Tennis Centre, NR9 5DX
Saturday 13 August: Wrexham Tennis Centre, LL11 2BW
Sunday 14 August: Silksworth Community Pool Tennis & Wellness Centre, SR3 1PD
Sunday 27 August: Exeter Tennis Centre, EX4 4QN
Saturday 10 September: John Charles Centre for Sport, LS11 5DJ
Sunday 25 September: Edgbaston Priory Club, B15 2UZ
Sunday 2 October: Scotstoun Leisure & Tennis Centre, G14 9HD
Sunday 9 October: Hills Road Sports & Tennis Centre, CB2 8PF
Saturday 15 October: National Tennis Centre, SW15 5JQ
For all enquiries related to the Wheelchair Tennis Initiative, please email disabilitytennis@lta.org.uk.
We look forward to seeing you on court soon!