2 MINUTE READ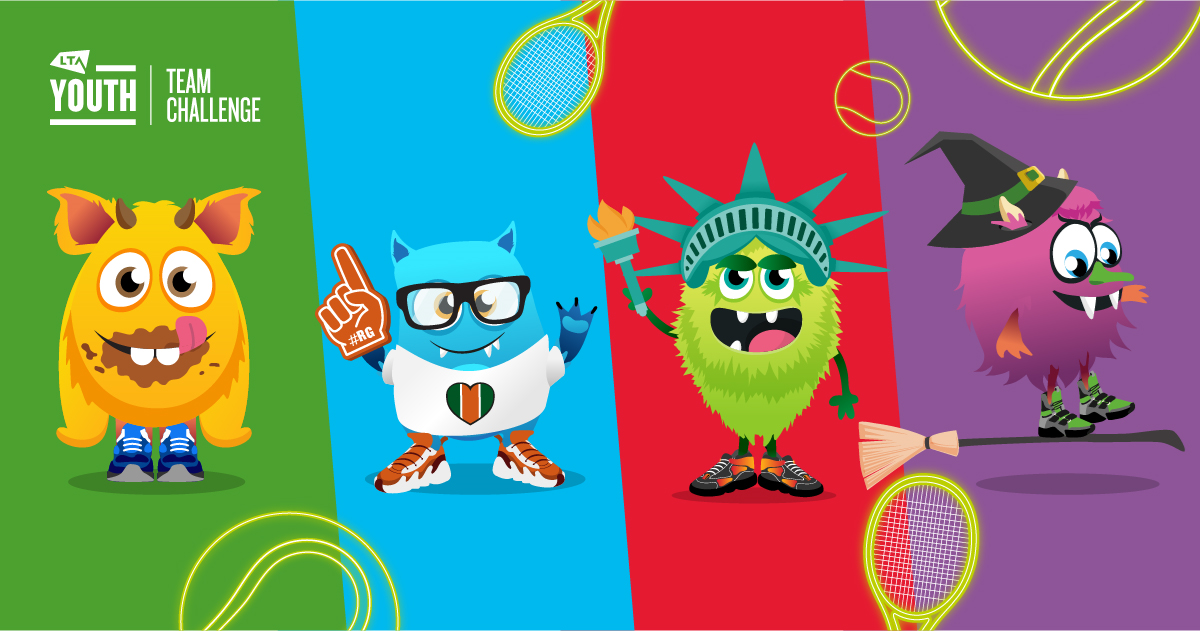 LTA Youth Team Challenge is a fun competition designed for junior tennis players. Kids compete in small teams for points over a short series of matches. Win, lose or draw, all players receive a sticker and certificate from us!
There are 2 Team Challenge formats, of which you can run one or both all-year-round, across all your age groups. These two formats are:
LTA Youth Team Challenge: Match Week
LTA Youth Team Challenge: Festivals
The middle and last week of your coaching programme becomes Match Week - e.g., before half term or the end of term

You control the

format

and we'll provide

resources

to help

An excellent way to keep players

engaged and having fun

with no additional admin
These are bigger events that take place on the last week of term or half term
Festivals can be run at your venue and you can invite others to take part too, if you like
We provide dedicated resources packs including certificates, prizes and more
Each Festival is based around a seasonal theme and we encourage organisers to introduce additional activities and games to support the event (e.g. a dress-up competition for 'Halloween Monster Smash', or creating flags or decorations for the 'French Open' and 'US Open' themes)
The sign-up for 2023 venue resource packs has now closed but you can still access all of the digital resources via the 'Organiser Resources' dropdown below. There you can download your own certificates and stickers to deliver amazing, fun team competitions throughout the whole of 2023.
The delivery periods for Team Challenge Festivals in 2023 are:
Easter – 1 April to 16 April
French Open – 28 May to 11 June
US Open – 28 August to 10 September
Monster Smash – 31 October
Girl Set Match – All year round
We encourage venues to deliver their events during these periods in order to get maximum value from the themed resources, however venues do have some flexibility around these dates.
Please note: venues are expected to deliver a minimum of 3 out of 5 festivals throughout the year in order to ensure they receive resources the following year.
Sign up for the 2024 venue resource packs is now closed.
2024 Resource Packs
The 2024 venue resource packs build on the exciting 2023 packs, with more resources than before and a brand new theme to celebrate the Paris 2024 Olympic & Paralympic games!
Jammed full with 6 (yes, SIX) festival themes with clear delivery periods throughout the year
Match Week resources in every pack
Medals, prizes, certificates, stickers and more!
Refreshed designs for every theme
Access to digital resource library including themed social media assets
Delivery
Packs will be delivered in February 2024 – more details to follow.
IMPORTANT
You will only receive 1 pack per venue
Each pack contains resources for 6 festival themes & match week
This is the only sign-up period for 2024 resources – there will not be another opportunity to obtain resources
Packs will be distributed on a 'first come, first served' basis
Venues that received a 2023 pack and did not submit player numbers will not receive a 2024 pack
You are required to submit player numbers in order to receive a 2025 pack
High-resolution certificates, draw sheets, posters, social media banners & more in every LTA Youth Team Challenge pack.