5 MINUTE READ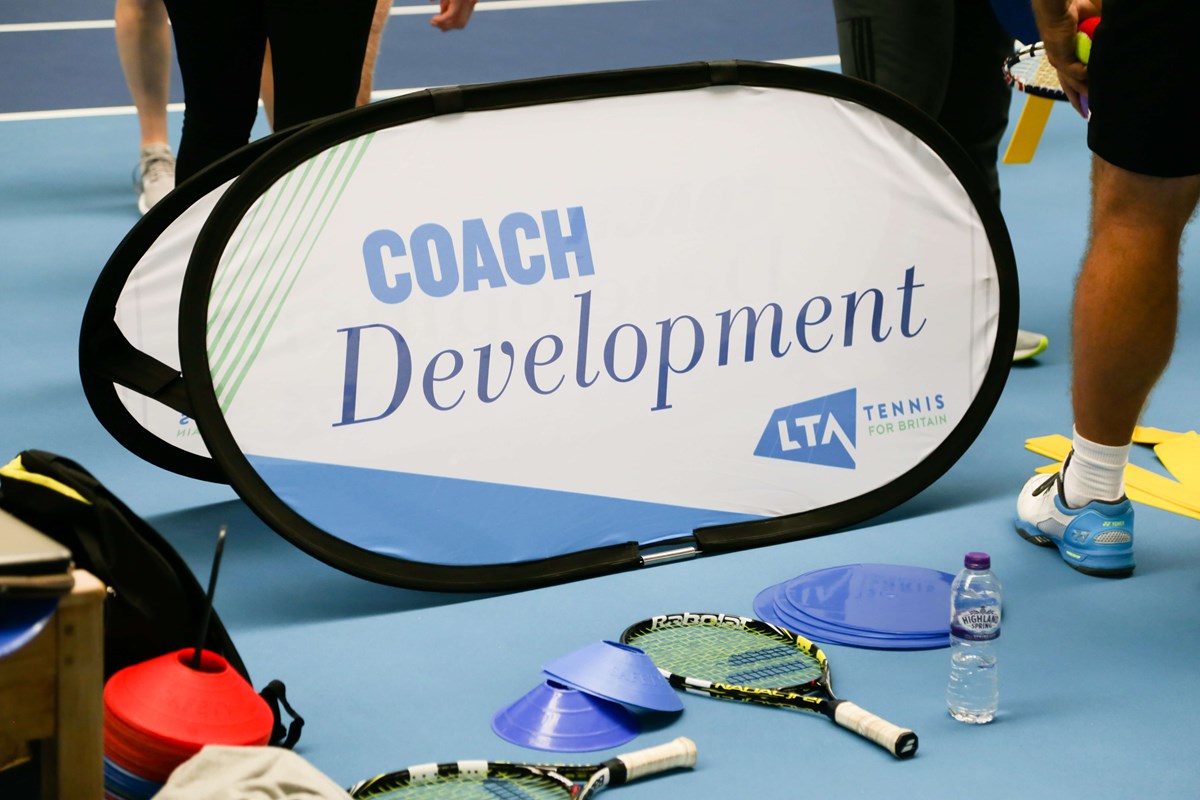 Looking for a flexible study solution that fits around you? With remote learning you can engage with top-quality teaching at your own pace, wherever you are.
We've created a series of webinars for Accredited coaches taught by both UK-based and international experts. Listen-in live and post your questions in the comments section of the Zoom call to add to the conversation - then rewatch the event as many times as you like when it's finished by checking your Coach Secure Area.
The schedule of online events will be shown below, with booking links becoming live in the week leading up to each session. We'll confirm more speakers and dates in the coming weeks, so please continue to check back often.
Date
Time
Guest
Detail
Link
Wednesday 10th August
09:00 - 10:00
Alfie Hewett and Craig Allen

Join Matt Smith chatting to current world doubles no.1 and current singles no.2, Alfie Hewett, and his coach, Craig Allen, as they discuss Alfie's career and the opportunities for coaches to work within wheelchair tennis.

This webinar

is now open to

Wednesday 6 July
09:30 - 10.30
Chris Marshall

Join Matt Smith in conversation with Chris Marshall, Level 4 Accredited+ Coach and winner of the Community and Parks LTA Award, as they discuss how to Open Tennis Up in your coaching programme and encourage diversity in participation.

Watch the

recording in

Wednesday 8 June
09:30 - 10.30
James Trotman

Join Nick Weal and James Trotman, LTA National Coach and current coach to Jack Draper, as they discuss James' coaching career, how he has built his philosophies and his thoughts on future player development.

Watch the

recording in

Wednesday 11 May
09:30 - 10:30
Dan Ellis

Join Matt Smith and LTA Performance Nutritionist Lead, Dan Ellis, as they discuss 'Nutrition: the fuelling required for players and coaches in tennis'.

Watch the

recording in

Wednesday 6 April
09:30 - 10:30
Jo Durie

Join Nick Weal as he chats to Jo about her lifelong participation in tennis - from her successful playing career, including 2 Grand Slam Mixed Doubles titles, to her current involvement in coaching and commentating.

Watch the

recording in

Wednesday 9 March
09:30 - 10:30
Jo Ward & Suzanne Williams

Join Jo Ward and Suzanne Williams as they engage in discussion with Matt Smith on The Art of Coaching Females: From Physique to Technique

Watch the

recording in

Wednesday 9 February
09:30 - 10:45
Alan Jones

Join Head of Performance Coach Education, Nick Weal, in conversation with Alan Jones, a performance coach and consultant for JET – Junior Elite Tennis.

Watch the

recording in

Wednesday 5 January
09:30 - 10:30
Matt Little

Join Matt Smith, LTA Coach Development and Learning Manager, in conversation with Matt Little, Team Murray strength and conditioning coach, mentor and author, as they discuss the importance of mobility in young players and how to look after ourselves as coaches.

Watch the

recording in

Wednesday 3 November
09:30 - 10:30
Merlin Van De Braam

Join us as Head of Coach Development and Support, Merlin Van De Braam, presents on 'Facilitating mental skills in young teenage players: 5 key tips for on- and off-court'.

Watch the

recording in

Wednesday 6 October
09:30 - 10:30
Mark Bullock

Mark Bullock is LTA National Development Coach of the Year, former ITF Wheelchair Tennis Manager & Development Officer and former National Wheelchair Tennis Coach. He is currently an Inclusive Sports Development Advisor working with a wide range of sports and partners.

Watch the

recording in

Wednesday 1 September
12:00 - 13:30
Matt James
Join Matt James (NTC Base Coach) and Nick Weal as they discuss Matt's Coaching journey and his experiences including his time at Wimbledon and the Tokyo Olympic games.

Watch the

recording in

Wednesday 7 July
09:30 - 10:30
Ian Pearson-Brown
Ian is the LTA Durham and Cleveland development coach of the year 2020 and Founder of Pride in Tennis, an LGBTQI+ inclusive support network for all coaches, players, officials and fans in Britain. As a member of the LTA's IDEA steering group and a United as One ambassador for Newcastle United FC. Ian is committed to helping people at every level of sport to break down barriers and stigmas which can prevent LGBTQI+ athletes from competing in sport as their authentic selves.

Watch the

recording in

Wednesday 5 April
09:30 - 10:30
Keith Reynolds
Join master coach Keith Reynolds on the subject of 'The tennis coaches journey'. Exploring the experience of a top level coach when developing their own beliefs and coaching philosophies. Specifically discussing the privilege of helping others develop tennis match skills and how these transfer into enhanced life skills.

Watch the

recording in

Wednesday 7 April
09:30 - 10:30
Merlin Van De Braam
This webinar will take coaches through the LTA's coach development and support strategy for grass-roots coach development.

Watch the

recording in

Wednesday 3 March
09:30 - 10:30
Ruben Neyens
Ruben will be presenting on 'The Golden Circle of Physical Development'. In this presentation Ruben will bridge the gap between science (Why & How) and the practice court (What), using U14 players as focus group.

Watch the

recording in

Wednesday 6 January
09:30 - 10:30
Julie Blackwood
Julie Blackwood is a HCPC Registered and BPS Chartered sport psychologist working extensively within tennis. She supports coaches, players and parents across a full range of levels including the LTA Wheelchair National Age Group Programme and GB University team. Outside of tennis, Julie is the Academy Psychologist at Surrey County Cricket Club.

Watch the

recording in

Wednesday 2 December
09:15 - 10:45
Esteban Carril & Julien Picot
Esteban has previously coached Roberto Bautista-Agut, Jo Konta and is currently coaching Katie Swan. Julien has worked extensively on the WTA Tour, coached Jo Konta before Esteban and is now supporting Esteban in his work with Katie Swan.

Watch the

recording in

Wednesday 4 November
09:30 - 10:30
Allistair McCaw
Allistair McCaw is an internationally recognised leader in the field of athlete development and performance. With over 25 years' experience, Allistair has trained a number of world class athletes including over 11 Grand Slam Champions and multiple professional sports teams and Fortune 500 companies.

Watch the

recording in

Wednesday 7 October
09.15 - 10.45
Toni Nadal with Joan Bosch
Toni is best known for his work coaching his nephew, Rafael Nadal and is one of the most successful coaches in tennis history. Joan is one of the head coaches at the Rafa Nadal Academy and former coach to Carlos Moya.

Watch the

recording in

Wednesday 2 September
09:30 - 10:30
Kenneth Bastiaens
International U12 tennis & cross-sport skill development specialist and the founder of Coach2Competence and creator of Multi SkillZ. Kenneth has recently been supporting the LTA to develop the new LTA Youth programme.

Watch the

recording in

Friday 19 June
09:30 - 10:30
Judy Murray
Former Fed Cup Captain, Miss Hits creator and mother to Grand-slam winning sons Jamie and Andy

Watch the

recording in

Friday 12 June
14:00 - 15:00
David Martins
Former ATP player, Level 4 senior club coach and London business consultant. Now the Director of the Tennis Business Academy, presenting on how to capture the current interest in tennis and grow your programme by 200+ NEW players

Watch the

recording in

Friday 5 June
14:00 - 15:00
Louis Cayer
LTA Senior Performance Advisor, Davis Cup Coach and Doubles Lead Coach

Watch the

recording in

Monday 1 June
14:00 - 15:30
Amanda Twigg, Shane Deacon, Justin Sherring, and David Kirby
Under 10 Performance Coaching Discussion

Watch the

recording in

Friday 29 May
14:00 - 15:00
Lucie Ahl & Kate Warne Holland

Lucie currently coaches at JTC and Kate is a LTA National Coach & Age Group Captain

Watch the

recording in

Friday 22 May
14:00 - 15:00
Jacco Eltingh

Former Doubles World No. 1 and currently the Technical Director of the Dutch Federation

Watch the

recording in

Friday 15 May
14:00 - 15:00
Leon Smith

LTA Head of Men's Tennis and GB Davis Cup Team Captain

Watch the

recording in