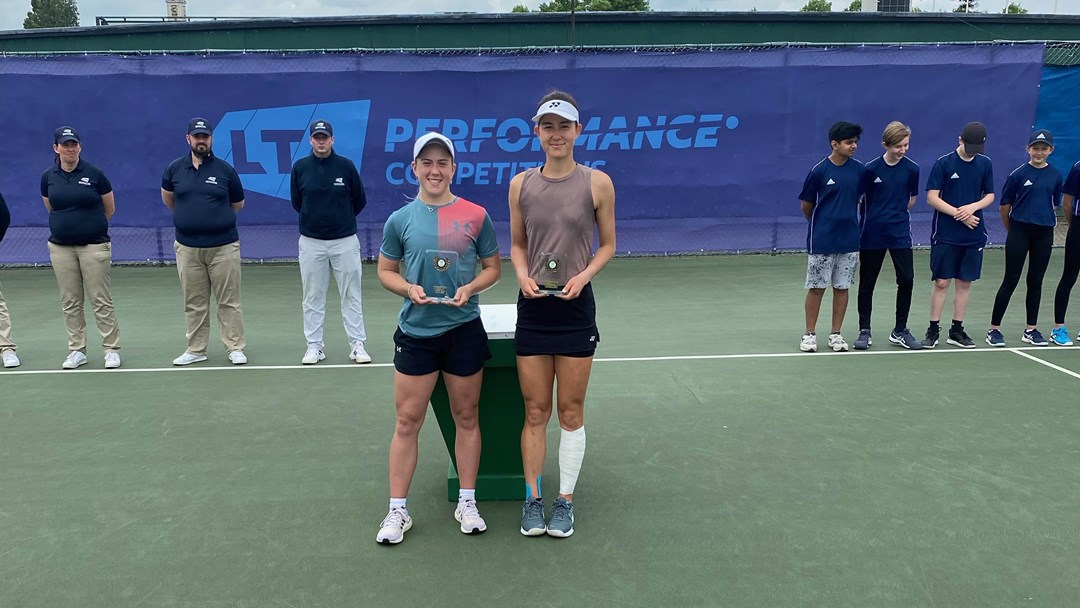 International
Brits take home all the titles at the latest ITF events in Nottingham
• 3 MINUTE READ
Catch up on a brilliant week at the M25 and W25 events in Nottingham as six Brits lift titles.
Britain's Sonay Kartal continued her impressive run of form with a 6-3 6-1 win against Joanna Garland from Chinese Taipei in the final of the ITF's World Tennis Tour W25 event in Nottingham on Sunday.
Backing up her win in the third tournament on the Nottingham circuit of the expanded LTA Performance Competitions calendar last week, the Brighton-based 20-year-old was victorious once again as she captured her fourth W25 title of 2022 with another commanding display at the Nottingham Tennis Centre that will see her break into the top 300 of the WTA rankings for the first time in her career.
This was Kartal's fourth successive ITF W25 title on home soil this year, with her 20-match winning streak on home soil this season ensuring she is guaranteed a big boost in the WTA rankings.
"It's always hard to pick yourself up for the week straight after, but I was happy with my game this week and I was very consistent. I played some of my best tennis in the final," said Kartal.
"These two wins mean I will break into the top 300. I was around 800 at the start of the year and my goal was to get into the top 500 and I achieved that. Then I wanted top 300 and I'm happy to get there so quickly.
"Hopefully I can get a full grass court season in this year and I'm looking forward to what is ahead in the next few weeks."
The British success continued in the ITF M25 event, as Billy Harris won the title in his home city with a 6-4, 6-3 win over Israel's Edan Leshem in the final.
"This is my first M25 title and it was great to do it here," said 27-year-old Harris. "I was born down the road, so I had lots of friends and family here to watch this and it was great. It is always good to have people on the sidelines giving you a bit of support."
There was also British success in the doubles event, as Sussex's Julian Cash and Essex's Henry Patten won the M25 title for a third successive tournament during this circuit of ITF events in Nottingham, while Yorkshire's Naiktha Bains and Scotland's Maia Lumsden won the W25 doubles tournament.
This tournament was the latest in an expanded LTA Performance Competitions Calendar, with the number of events rising from seven men's events and eight women's events in 2019 to 16 for both men and women in 2022. This is in addition to the grass-court season playing opportunities already in place.
The aim is to provide more opportunities for players to compete more regularly at a higher level and make progressive ranking gains at the early stages of their careers. The increased calendar means that there will be over 40 weeks of either international ranking point or prize money earning opportunities in Great Britain this year.
Across these events, we are introducing progression through wild card feed ups into higher-level competitions and retaining the LTA Tournament Bonus Scheme in addition to prize money earned.