CAREER HIGH
06/01/2020 199
CAREER HIGH
09/10/2023 87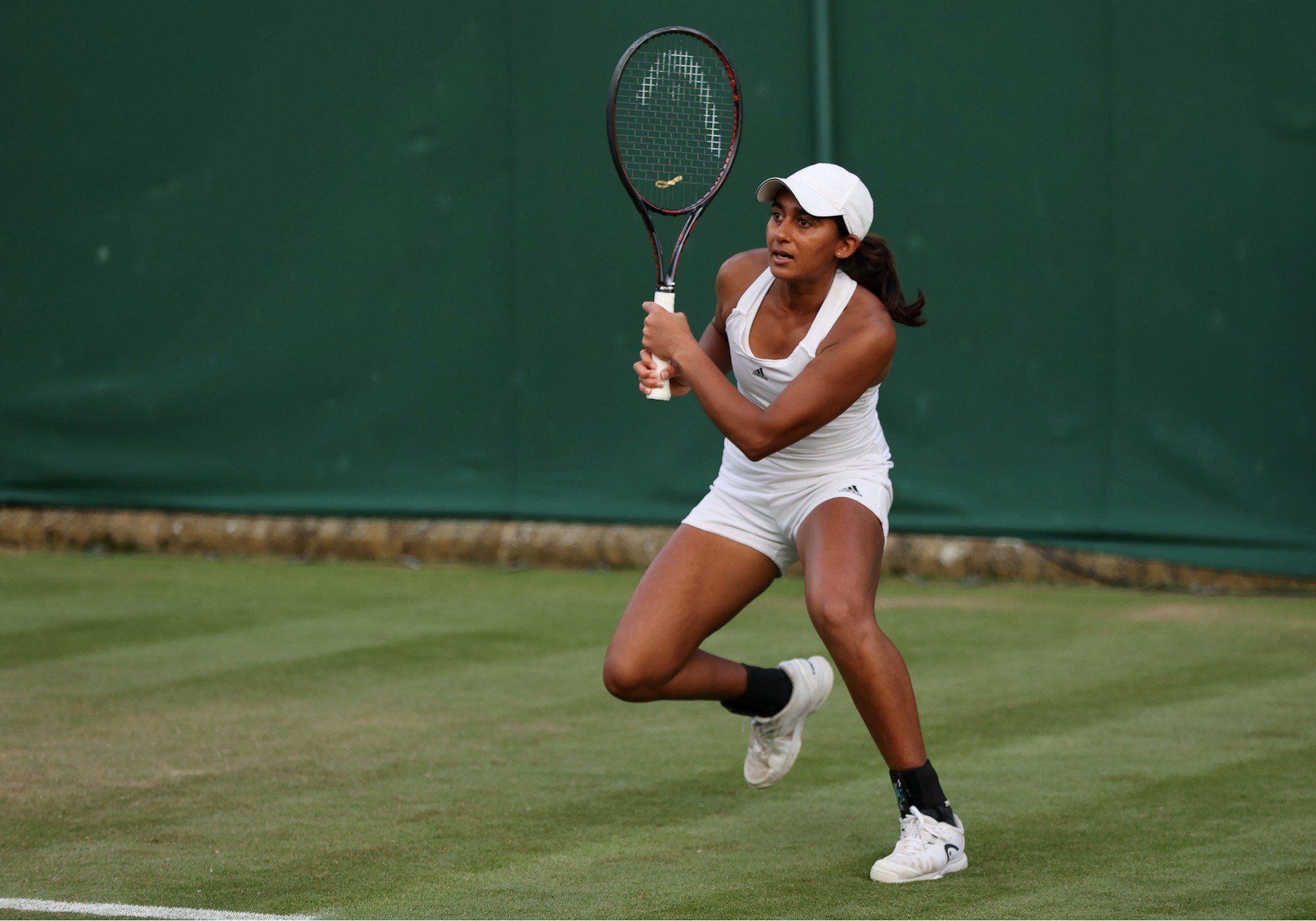 FAVOURITE
SURFACE: Hard
SHOT: Forehand
AGE25
HEIGHT174 cm
PLAYSRight-handed
BACKHANDTwo-handed
LTA SUPPORT NTC Pro Access
TURNED PRO2013
FAVOURITE
SURFACE:Hard
SHOT:Forehand
Get to know Naiktha Bains
About
Naiktha Bains is supported by the NTC Pro Access Programme and splits her time between Brisbane, Australia and Leeds, United Kingdom.
While Bains is a strong singles player, she has had plenty of recent success in the doubles game with her breakthrough coming at The Championships, Wimbledon 2023 where she reached the women's doubles quarter-final.
Quick-fire facts
Place of birth: Leeds, United Kingdom
Lives: Splits time between Brisbane and Leeds
Trains: Brisbane / National Tennis Centre
Family: Mum's name is Harjit Bains and father is Gurnake Bains. The family moved to Brisbane when Naiktha was eight-years-old for her dad's work. Also has an older brother named Gurpaal who works as a music producer.
Hobbies: Loves watching football with her dad and supports Leeds Football Club, cars, cooking with her mum, spending time with family and friends
Career highlight so far: Reaching the quarter-final in the women's doubles at 2023 Wimbledon alongside Maia Lumsden
Tennis beginnings
Started playing at David Lloyd, Leeds when her mum put her into tennis lessons at the age of six and would attend while her parents used the facilities at the leisure centre.
When she moved to Australia, she began to receive coaching from Gary Stickler and Matt Lucas who she still works with now. With her time being split between two countries, Bains has a team of coaches located in Leeds.
Tennis Career
July
Bains and Maia Lumsden became the first British women's doubles pair to reach the quarter-finals of The Championships since 1983 after dispatching Slovakia's Viktoria Hruncakova and Tereza Mihalikova 6-3, 6-7(5), 6-3.
However, their dream run came to an end following a 6-2, 6-1 defeat to Storm Hunter and Elise Mertens.
Looking to replicate their success on the WTA tour, Bains and Lumsden headed to the Warsaw Open where they reached the quarter-final before bowing out to Linda Noskova and Xiyu Wang 6-3, 6-2.
May
Bains and Maia Lumsden's doubles season continued to go from strength-to-strength with another semi-final appearance at the W60 Zagreb.
With the momentum firmly under their belts, Bains and Lumsden went on to make it three wins in three weeks at the W25 Nottingham event. Faced with second seeds Jia-Jing Lu and Elena Malygina, the British pair remained level-headed despite dropping the opening set, to eventually wrap up the title 4-6, 6-4, (10-6).
April
Bains joined forces with Lumsden for the W25 Nottingham event, where they were crowned doubles champions after overcoming Rutuja Bhosale and Ankita Raina 6-1, 6-4 in the final to wrap up the title without dropping a set.
The pair competed at the W40+H Calvi event, where they made it two titles in two weeks. The second seeds cruised to the final and put up a strong fight against top seeds Estelle Cascino and Ankita Raina - ultimately clinching the win 6-4, 3-6, 10-7 to take the crown and mark their second title of the year together.
February
In February, Bains teamed up with Australia's Destanee Aiava for the doubles event at W25 Burnie.
The second seeds dominated the doubles field, cruising through to the final where they faced Australia's Lily Fairclough and New Zealand's Olivia Gadecki. Bains and Aiava rode the momentum, eventually clinching a 6-3, 7-5 win to lift their first trophy of the season.
November
November was another successful month for Bains, as she claimed a fourth doubles title of the season at the W25 Traralgon, as well as reaching the finals of the singles. Bains teamed up with Alana Parnaby to triumph to a 7-6(4), 6-2 victory over Haruna Arakawa and Natsuho Arakawa.
October
Bains continued her success down under, joining forces with Alexandra Bozovic to win the W25 Cairns doubles title without losing a set. They finished with a 6-4, 6-4 win over Destanee Aiava and Lisa Mays in the final.
Going from strength to strength in Cairns, Bains proceeded to finish runner-up in the singles event, marking her first singles final of the season.
August
Bains and Lumsden advanced to their fourth final of the season following a comfortable straight-sets win over Alexandra Bozovic and Fang-Hsien Wu at the W25 Foxhhills tournament, but fell just short to compatriots Freya Christie and Ali Collins 6-3, 6-3.
The British duo went on to finish runners-up at the W25 Roehampton to Rutuja Bhosale and Erika Sema - losing 4-6, 6-3, 11-9 in the final.
July
Bains and Maia Lumsden progressed to the second round at Wimbledon after their 6-1, 7-5 victory over Italian side Jasmine Paolini and Martina Trevisan, but lost out on a place in the third after losing in straight-sets to Shuko Aoyama and Hao-Chang Chan.
May
In May, Naiktha won the women's doubles title with Maia Lumsden at the W25 Nottingham event.
January
Started the season by reaching the second round of qualifying at the Bendigo International before losing to Kathinka Von Deichmann 6-1, 6-3.
Played in a number of ITF events so far this year, namely reaching the quarter-finals of the ITF 25K in Argentina in March losing to fellow compatriot Fran Jones.
Selected for GB Fed Cup team for the first time, travelling to Bratislava for the Fed Cup play off against Slovakia. Would have played deciding doubles rubber with Emma Raducanu but it was pulled after the fourth singles rubber saw GB defeated 3-1. Reached semi-finals of ITF £25k in Perth with Korean partner Su Jeong Jang.
Runner up in ITF $25k in Pune, India in December, losing out to Fed Cup team mate Raducanu in the final. Also runner up in ITF $25k in Solapur, India two weeks before. Reached final round of Australia Open qualifying in January. Changed playing nationality to British after request to WTA and ITF.
Won the Ariel Tennis Ace talent search in 2005 aged 7, where her prize was a masterclass at Wimbledon with Boris Becker.