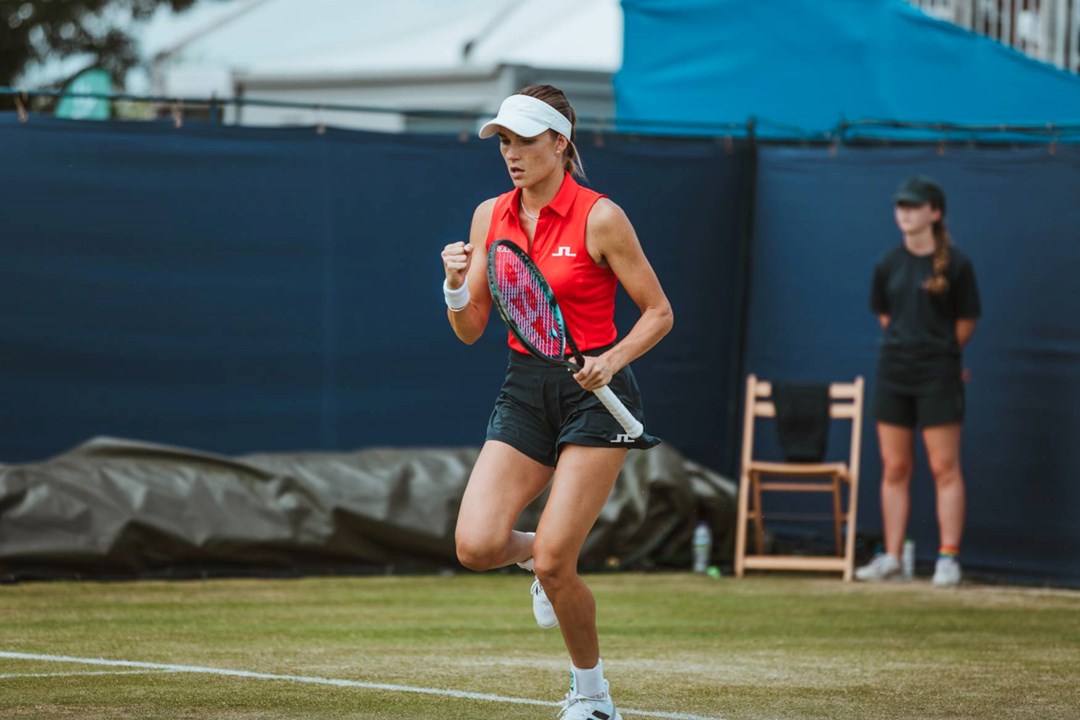 International
Lexus Ilkley Trophy 2023: Results & updates
• 3 MINUTE READ
Get all the latest results and updates from this year's Lexus Ilkley Trophy from 17-24 June.
Highlights:
Mirjam Bjorklund defeated top seed Emma Navarro in final
Jason Kubler wins the men's singles final in straight sets
Day six: Kubler and Bjoklund lift titles
Jason Kubler and Mirjam Bjorklund are the 2023 Lexus Ilkley Trophy champions.
Kubler won his first title on grass with a 6-4, 6-4 win over third seed Sebastian Ofner.
The Australian didn't face a break point as he crusied to victory in an hour and 20 minutes. The title marks just another new accolade this year, alongside his Australian Open men's doubles title in January.
Sweden's Bjorklund is the new Lexus Ilkley Trophy women's singles champion after beating top seed Emma Navarro 6-4, 7-5 in the first of Saturday's finals.
The title marks the biggest in Bjorklund's career so far and first of the 2023 season.
Bjorklund broke the American seven times throu two sets as Navarro struggled to take advantage on serve. Bjorklund lost two match points serving at 5-4 in the second, but bounced back straight away, not only breaking for a final time, but seeing out the win on her fourth time of asking.
Sonay Kartal's brilliant run at the Lexus Ilkley Trophy comes to an end in the semi-finals with as final spots are confirmed for Sebastian Ofner, Jason Kubler, Emma Navarro and Mirjam Bjorklund.
Meanwhile, champions were crowned in both doubles draws.
ATP Challenger
The men's singles final will be a battle between the third and fourth seed as Ofner and Kubler are set to go head-to-head.
Ofner became the first player into the final early in the day, with the Austrian defeating Zsombor Piros 6-3, 6-0 in just 50 minutes.
Kubler on the other hand had to come from a set down to beat Rothesay Open Nottingham runner-up Arthur Cazaux to win 4-6, 6-3, 6-1.
Ofner and Kubler have never faced each other before and will both go in search of their first grass court title.
Top seeds Gonzalo Escobar and Aleksandr Nedovyesov are the new men's doubles champions in Ilkley with a nail-biting 2-6, 7-5, 11-9 victory over Robert Galloway and John Patrick Smith in the final.
Escobar and Nedovyesov made up for their final loss in s'Hertogenbosch to Neal Skupski and Wesley Koolhor by edging the match in an hour and a half.
W100
Facing top seed and world No.68 Navarro - Kartal's Ilkley dreams ended with a 6-2, 6-1 defeat.
Wild card Kartal finishes the week having knocked out the fourth and fifth seed at the Lexus Ilkley Trophy. Her results have her rising 26 places in the live WTA rankings to world No.277.
Navarro moves on to the final where she will either face Bjorklund, who knocked out defending champion Dalma Galfi 7-6(5), 2-6, 6-3.
Nao Hibino and Natalija Stevanovic had to come through two matches today to win the women's doubles trophy.
The Japenese, Serbian duo finished with another close win over Maja Chwalinska and Jesika Maleckova 7-6(10), 7-6(5) in the final.
Day four: Kartal into singles semi-final
Sonay Kartal has reached the semi-final at the Lexus Ilkley Trophy, while Charles Broom bows out in the quarter-final.
ATP Challenger
Facing a tough challenge in world No.123 Zsombor Piros, Broom edged the opening set after coming out on top in the tie-break.
However, the Hungarian dug deep to shift the momentum and eventually went on to seal the match victory 6-7(3), 6-3, 7-6(2).
Continuing his dominant form this week, third seed Sebastian Ofner dispatched American Denis Kudle 6-2, 6-2 to reach the semi-final.
Meanwhile, Arthur Cazaux's strong performances on the grass continued as he clinched the first set 6-1 against Sho Shimabukuro, before the Japanese world No.172 was forced to retire in the second due to injury.
Fourth seed Jason Kubler put an end to Juncheng Shang's title hopes after overcoming the youngster 6-3, 6-4.
W100
Kartal's winning week continued as she clinched yet another straight-sets win over Spain's Aliona Bolsova, 6-3, 6-3 to progress to the semi-final.
The Brit has been hard to break down this week and will go on to face America's Emma Navarro in the next round.
Elsewhere, Mirjam Bjorklund has also reached the semi-final after Ukrainian opponent Daria Snigur retired at 4-0 in the opening set.
There were winning starts to day three from British stars Charles Broom and Sonay Kartal.
ATP Challenger
Having had his first round match pushed back a day after yesterday's rain, Broom pulled off one of the best wins of his career over world No.138 Raul Brancaccio.
Broom saved break points in both his opening services games before marching to a 6-1, 6-4 victory over the Italian in just an hour and six minutes. He moves on to play Zsombor Piros in the quarter-finals.
Third seed Sebastian Ofner is the higest ranked player left in the field after he defeated Otto Virtanen 6-4, 1-6, 6-4 to set up a match against Denis Kudla in the quarters.
Last week's Lexus Surbiton Trophy runner-up Arthur Cazaux set up a quarter-final match against Japan's Sho Shimabukuro.
18-year-old rising star Juncheng Shang beat former world No.7 David Goffin 6-1, 6-7(1), 6-4. He's set to take on fourth seed Jason Kubler in the next round.
W100
Kartal backed up her win over fourth seed Simona Waltert, with another straight sets win over France's Elsa Jacquemot. Kartal beat the world No.187 7-5, 6-1 and has only lost seven games in the tournament so far.
Her next opponent will be Aliona Bolsova Zadoinov from Spain, who narrowly defeated 16-year-old British star Isabelle Lacy 4-6, 7-5, 7-6(3).
Anna Brogan also bowed out in the first round to Katrina Scott 7-5, 3-6, 6-1.
Elsewhere, reigning champion Dalma Galfi got her campaign underway with a 6-3, 6-3 win over Monyuka Uchijima. Top seed Emma Navarro cruised into round two, while Daria Snigur of Ukraine continues her run of upsets on the grass, knocking out second seed Anna Schmiedlova.
More rain in Ilkley has forced many of today's matches to be played indoors, rather than on the grass - as Harry Wendelken and Lily Miyazaki both went out in three sets.
ATP Challenger
In the first match of the day - Britain's Wendelken narrowly lost out to Sho Shimabukuro 6-2, 6-7(2), 6-2. It was a tough final result for the Brit competing against a player ranked more than 330 places higher than him.
Elsewhere, former world No.7 David Goffin is through to the second round as Rothesay Open Nottingham semi-finalist Dominic Stricker was forced to retire.
There have also been wins for reigning champion Jason Kubler, Mattia Bellucci and Rinky Hijikata, who all make it through to round two. Last week's Rothesay Open Nottingham runner-up Arthur Cazaux also progressed with his second win in two weeks over Canadian Gabriel Diallo.
W100
Miyazaki led by a set against world No.110 Aliona Bolsova Zadoinov of Spain, but eventually bowed out 6-7(5), 6-4, 6-1.
Britain's Anna Brogan is still yet to play her first round match against Katrina Scott.
In a day that was interrupted by multiple rain delays, play eventually got underway at the Lexus Ilkley Trophy with Charles Broom securing a convincing 7-6(5), 6-2 victory over Gijs Brouwer.
In a tightly-fought opening set, it was Broom who went on a late charge in the tie-break to steal the set before breezing through the second to wrap up the match win.
Toby Samuel unfortunately lost out 2-6, 7-6(6), 7-5 in a close three set battle against Alex Bolt Johannus Monday unfortunately fell short against Raul Brancaccio in a 6-3, 6-3 defeat
In a dominant diplay, Sonay Kartal dispatched Switzerland's Simona Waltert 6-1, 6-0 to advance to the second round.
Kartal, who is ranked 190 places lower than her opponent, kept her foot on the gas pedal from the get-go as set as she sprinted to a 5-0 lead before making a clean sweep in the second set to close in on the match win in just 52 minutes.
Continuing where she left off at the Lexus Surbiton Trophy, 16-year-old Isabelle Lacy pulled off a significant 2-6, 6-4, 6-3 comeback win against world No.138 Golubic. Despite 14 breaks of serve across the match, Lacy stayed focused when it mattered most to wrap up the win on her first match point.
Charles Broom is through to the main draw at the Lexus Ilkely Trophy with a 7-6(1), 6-7(5), 7-6(6) win over second seed Dennis Novak.
Broom overcame the disappointment of losing his final set break for 4-4, Broom got over the line with his fourth match point in the tie-break.
He'll join Harry Wendelken, Toby Samuel and Johannus Monday as the fourth Brit into the men's main draw.
15-year-old Mingge Xu is one match away from qualifying as she defeated Antonia Ruzi 6-3, 6-3. There was also a win for Talia Neilson-Gatenby over seventh seed Alice Robbe 6-7(8), 6-3, 10-5.
However, Maia Lumsden and Armani Banks exited in straight sets.