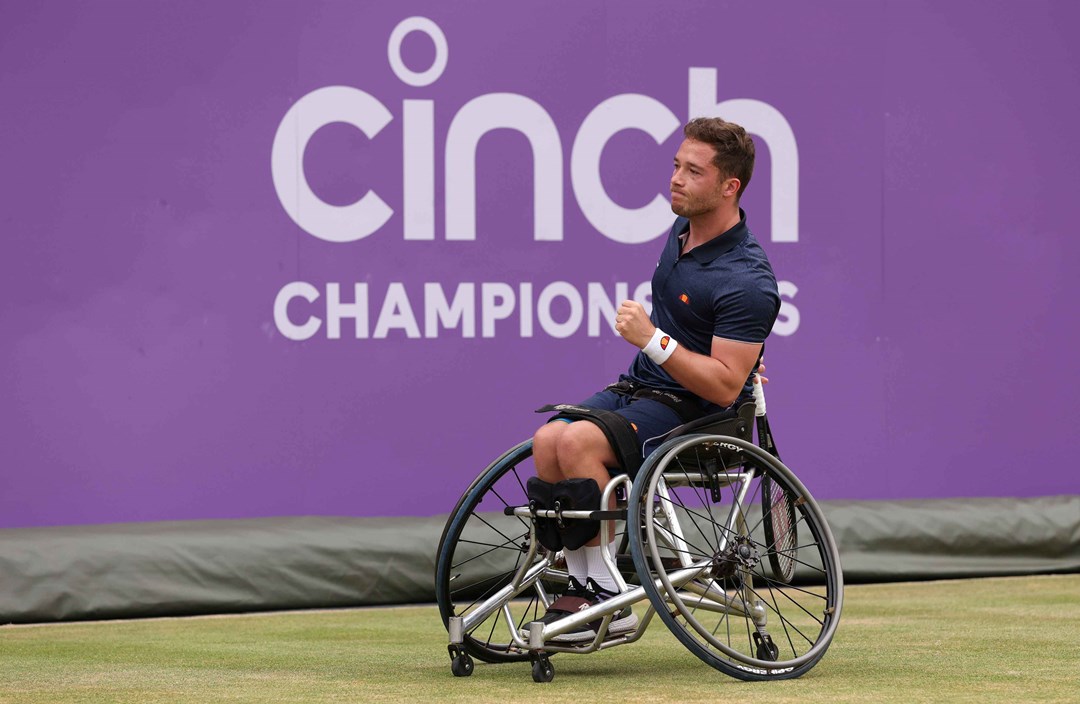 cinch Championships 2023: Alfie Hewett and Gordon Reid drawn to meet in potential semi-final
• 2 MINUTE READ
Former champions Alfie Hewett and Gordon Reid are drawn to meet in this year's wheelchair tennis semi-finals at the cinch Championships, with Friday's first of three days of competition at The Queen's Club featuring British players in all-four quarter-finals.
World No.2 and top seed Hewett and world No.8 Reid will play tournament debutantes Asif Abbasi and Manojkanth Somasundaram, respectively, in their opening matches before a potential semi-final. It would be the second time that the two players have met at The Queen's Club after Hewett won their 2019 all-British men's singles final.
Looking ahead to his 2023 challenge in the first of three wheelchair tennis draws to take place at our grass court tournaments over the next two weeks, Hewett said:
"It's perfect preparation for Wimbledon and we're very grateful to be hosted here at Queen's. We've got great facilities, unbelievable courts and can't really ask for much better. I'm just trying to take it all in at the moment.
"I'm still learning because it's only been a few days on the grass, so I'm hoping for a good week and for as many matches as possible, which means winning. I'll do what I can to get to the finals and will hopefully still be playing on Sunday."
Reid, the 2021 men's singles winner at the cinch Championships, missed last year's event as he managed a wrist injury, said:
"I'm really excited to be back at Queen's this year. Obviously I was in no fit state to be playing this time last year with my wrist problems, but this is my favourite time of the year. I've been playing on the grass at home and I really missed not being here in 2022.
"I'm looking forward to a few good days of tennis here. The sun's shining, the grass looks great and I've had a couple of good days of training and feeling comfortable on the grass. I can't wait to get going."
While Hewett and Reid both, both awarded OBEs in the King's Birthday Honours list, are drawn in the top half of the draw, the bottom half of the draw will see fellow Brit Dermot Bailey, a former semi-finalist, face second seed and defending men's singles champion Joachim Gerard of Belgium, while 18-year-old Andrew Penney begins his second successive appearance at the cinch Championships by taking on former world No.1 Stephane Houdet.
Follow all the latest from the cinch Championships and watch coverage live on Prime Video and across the BBC.