Nutrition advice: Vitamin D
4 MINUTE READ
What does Vitamin D do?
Vitamin D is best known for its essential role in the absorption of calcium to maintain strong bones and teeth. But it has many other important actions, including contributing to the normal function of the immune system in adults and children. Vitamin D also contributes to normal muscle function and is needed for growth and development of bones in children.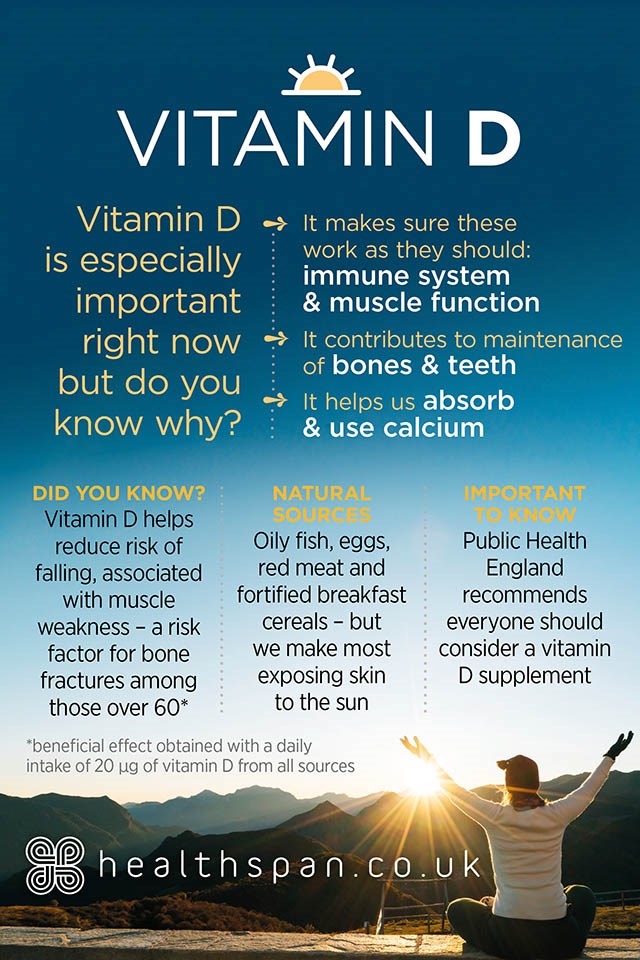 Vitamin D and the immune system
Vitamin D is crucial for activating and regulating infection-fighting T-cells. In addition, Vitamin D helps stop the body from attacking its own healthy tissues by triggering the development of regulatory T-cells – these help to recognise the difference between foreign invaders and 'self'.
The sunshine vitamin
Vitamin D is made in your skin on exposure to sunlight. However in the UK this is usually insufficient to meet your needs - in fact, you can only make vitamin D when the UV index is greater than 3. This problem is compounded during times of social distancing, as more of us stay inside for the majority of the day. In addition, your ability to make vitamin D in the skin falls as you grow older, and at least halves, or more than halves, between the ages of 20 to 80 years. It's not possible to meet your Vitamin D requirements through food alone but small amounts of Vitamin D can be found in oily fish, liver products, eggs, butter and food fortified with vitamin D.
Vitamin D and physical performance
Muscle weakness can occur due to vitamin D deficiency, manifesting itself in a feeling of heaviness in the legs, difficulty mounting stairs and raising from a chair, and tiring easily. Deficiency can lead to other health issues including increased risk of bone injury (particularly in post-menopausal women) and chronic musculoskeletal pain, which is can be a serious concern for athletes such as tennis players. However Vitamin D has been linked to improved physical and athletic performance. For example in one study in the Journal of Sport Sciences, researchers found that participants who were given 5000IU of vitamin D a day for 8 weeks saw a significant improvement in their 10m sprint time and vertical jump height.
How much vitamin D do you need per day?
Vitamin D3 (cholecalciferol) is the form most important for human health, and is the best form to take as a supplement. The EU nutrient reference value (NRV) for vitamin D is just 5 mcg (200 IU) per day. This is widely regarded as too low for the UK climate, and Public Health England recommends that everyone takes 10mcg per day during the cold months of the year. In April 2020 this guidance was updated to include Spring and Summer due to the increased time spent indoors. Excessive vitamin D intake can cause side effects such as nausea and headaches; an upper safe intake level of 100mcg per day (4000 IU) is therefore recommended by the EU.
Don't miss out
Healthspan is offering a discount on their whole range to LTA members. Sign up to our newsletter
here
to access your exclusive discount as well as further news, competitions and offers.