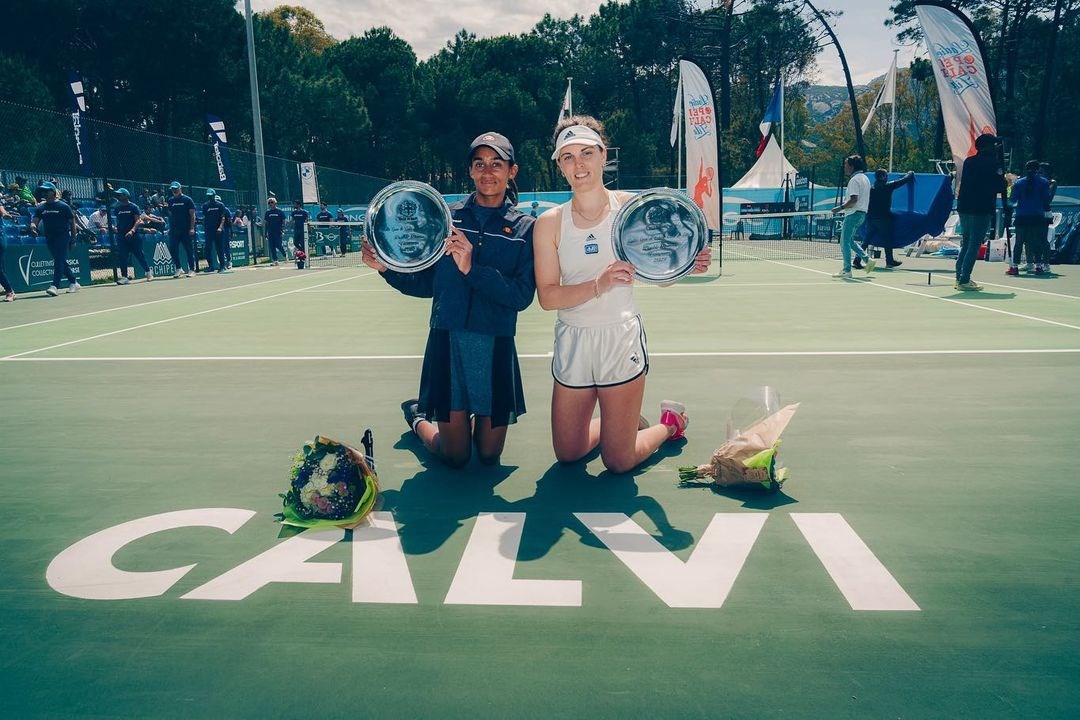 Players News
Bains & Lumsden victorious in Calvi; doubles wins in Nottingham; Bailey & Bartram triumph in Turkey
• 3 MINUTE READ
Get the latest updates from the British tennis players on tour after another week of doubles success across Europe.
Bains & Lumsden extend unbeaten run
British doubles duo Naiktha Bains and Maia Lumsden made it two titles in two weeks as they sealed their biggest trophy of the year so far at the W40+H Calvi.
The second seeds cruised to the final with a brace of straight sets victories but needed to be at the top of their game in the championship decider. Bains and Lumsden held off a come back from top seeds Estelle Cascino and Ankita Raina to see out a 6-4, 3-6, 10-7 final win.
There was also British success in the singles for Heather Watson, who defeated fellow Brit Harriet Dart and top seed Jessika Ponchet to reach the final, where she eventually lost to Italy's Lucrezia Stefanini 6-2, 3-6, 6-3.
Brits dominate in Nottingham
Over to Nottingham where the Brits continue to pick up strong results on home soil. Emily Appleton's doubles form continues to rise, with the Brit grabbing her second title in less than a month, this time alongside fellow Brit Lauryn John-Baptiste.
After a close victory over fourth seeds Jia-Jing Lu and Viktoria Morvayova in the semi-finals, they finished with an impressive 6-4, 6-3 victory against top seeds Rutuja Bhosale and Arianne Hartono in Saturday's final.
Joining them as British doubles champions in Nottingham were Dan Little and Mark Whitehouse – winning their second title together in 2023.
The duo defeated three all-British pairs before closing out a nail-biting 6-4, 3-6, 12-10 win over August Holmgren and Alfredo Perez in the final.
Armani Banks came within touching distance of the women's singles title having defeated Appleton in the semi-finals but was narrowly defeated by third seed and former world No.116 Arina Rodionova 6-4, 4-6, 6-2.
Bailey & Bartram crowned doubles champions
It was another great week in wheelchair tennis as many of the Brits prepared for the World Team Cup in Portugal as Dermot Bailey and Ben Bartram sealed the doubles title at the Kemal Sahin Open.
The Brits won their semi-final against Geoffrey Jasiak and Emirhan Toper 6-1, 6-2, before receiving a walkover in the final.
Top seed Bartram also reached the final of the singles but lost out to Iraq's Hussein Hamid Hel 6-2, 6-4.