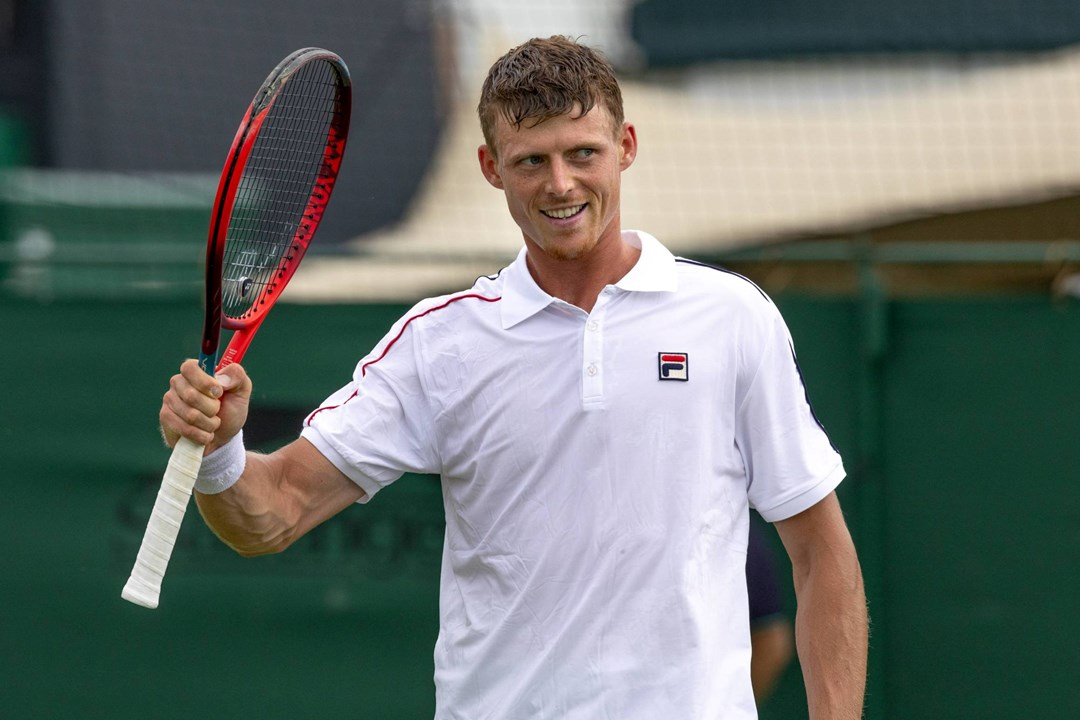 Grand Slam
Wimbledon 2023: Qualifying results & updates
• 1 MINUTE READ
Get all the latest results and updates from the British tennis stars competing in Wimbledon qualifiers from 26-29 June.
Highlights:
Billy Harris and Anna Brogan both took positives from their Wimbledon campaigns after tasting defeat in the third and final round of qualifying.
In a packed Stadium Court, Harris faced a tough test against Serbia's Hamad Medjedovic, who ultimately prevailed 6-4 7-6(6) 6-4.
Despite his loss, the Brit believed there was plenty of encouragement to take from a run that saw him defeat Alexander Ritschard and Hugo Gaston across the first two rounds.
"The first two matches I was a set down and I came back to win, so I'm happy with that" said Harris, "I'm happy with my level of tennis, it just wasn't enough this time."
"It was a very tough match with his serve. He had a big first and even his second serve, you didn't know where it was going - it was coming down like most people's first serve. I didn't have much rhythm as there weren't many long rallies.
Following on from Harris on Stadium Court was Brogan - however, a contest against China's Bai Zhuoxuan proved a step too far the Glaswegian, with Zhuoxuan claiming a 6-3 6-0 triumph to progress.
But after a week that saw her go from round one of the Wimbledon Wildcard Playoff to the final round of qualifying, she was still thrilled with her efforts.
"I enjoyed the match a lot" Brogan said, "I thought I played well, but I came up against a stronger opponent.
"I thought Bai played well, she put me under a lot of pressure into the corners, playing deep and playing fast. I feel happy with how I tried my best.
"I'm very proud, playing here at Wimbledon in the last round of qualifying. There's so many good players out there, so I feel happy."
Billy Harris and Anna Brogan battled their way into the final round of Wimbledon Qualifying in a busy day of action in Roehampton.
Manxman Harris, currently ranked 346th in the world, shocked 25th seed and former world No.58 Hugo Gaston 2-6 7-6(5) 6-4 to reach round three of the qualifying draw.
Harris, who received a wild card into the qualifying draw, had never faced an opponent quite like Gaston before, but rallied from a set down to prevail. He said: "The first set I started slowly and I got broken in the first game, and I was finding it tricky because he was awkward.
"Then I started serving better in the second set, and got used to his different angles that he uses. By the third set I was feeling a lot better.
"It definitely took me that first set, because I was struggling on the return, because he was mixing it up well, but I figured out my serve a bit more in the second set - and then the game changed."
Brogan also faced a tough task in the form of fifth seed Diana Shnaider, who has reached the second round of both the Australian Open and French Open as a qualifier this year. But it was the Brit who won an impressive opening set, and then saved a set point in a dramatic second set tie-break to claim a 6-3, 7-6(9) victory - her first against a top 100 player.
She said: "What a privilege to be through again to the next round and to be here - I'm so happy. This sport can be so difficult, so it's brilliant to win.
"I went down in the tie-break and I just kept breathing, staying calm and trying my best. I'm really satisfied to have kept working away out there.
"It's really brilliant - I'm just absolutely chuffed!"
Brogan will face Bai Zhuoxuan on Thursday, while Harris takes on Hamad Medjedovic.
Also in action was Johannus Monday, who performed well in a tough contest against former top 40 player Radu Albot. Moldovan Albot came from a set down to beat Monday 3-6, 7-6(2), 6-2, though there were plenty of positives for the Brit to take ahead of his men's doubles campaign at the All England Club.
Toby Samuel also saw his campaign come to an end in three sets, with the 20-year-old losing 5-7, 6-1, 6-4 to Japan's Sho Shimabukuro in their second round contest, while Charles Broom was beaten 6-3, 7-5 by the experienced Dennis Novak.
In women's action, Lily Miyazaki's qualifying campaign was ended by China's Yue Yuan, the 11th seed winning their encounter 6-3, 6-4.
Naiktha Bains pushed 29th seed and former Wimbledon quarter-finalist Viktorija Golubic in their second round contest, though ultimately it was the Swiss who won 3-6, 6-3, 6-2.
Lily Miyazaki spearheaded the British charge as women's singles action got underway at Wimbledon Qualifying on Tuesday afternoon.
British No.7 Miyazaki began her campaign with a confident 6-2, 6-4 victory over South Korea's Han Na-Lae, setting up a second round meeting against 11th seed Yuan Yue.
It was a commanding performance from the Surrey player, who believed she executed her gameplan to near-perfection.
She said: "I'm really happy with my performance today. I'd played her once before and I lost, so I had a clear gameplan coming in. I think I executed it pretty well.
"She's quite a tricky player because she's left-handed and then double-handed both sides, so she didn't give me too much pace. I had to go and try and be aggressive, make her move, and when I got her on the stretch I tried to finish some points at the net."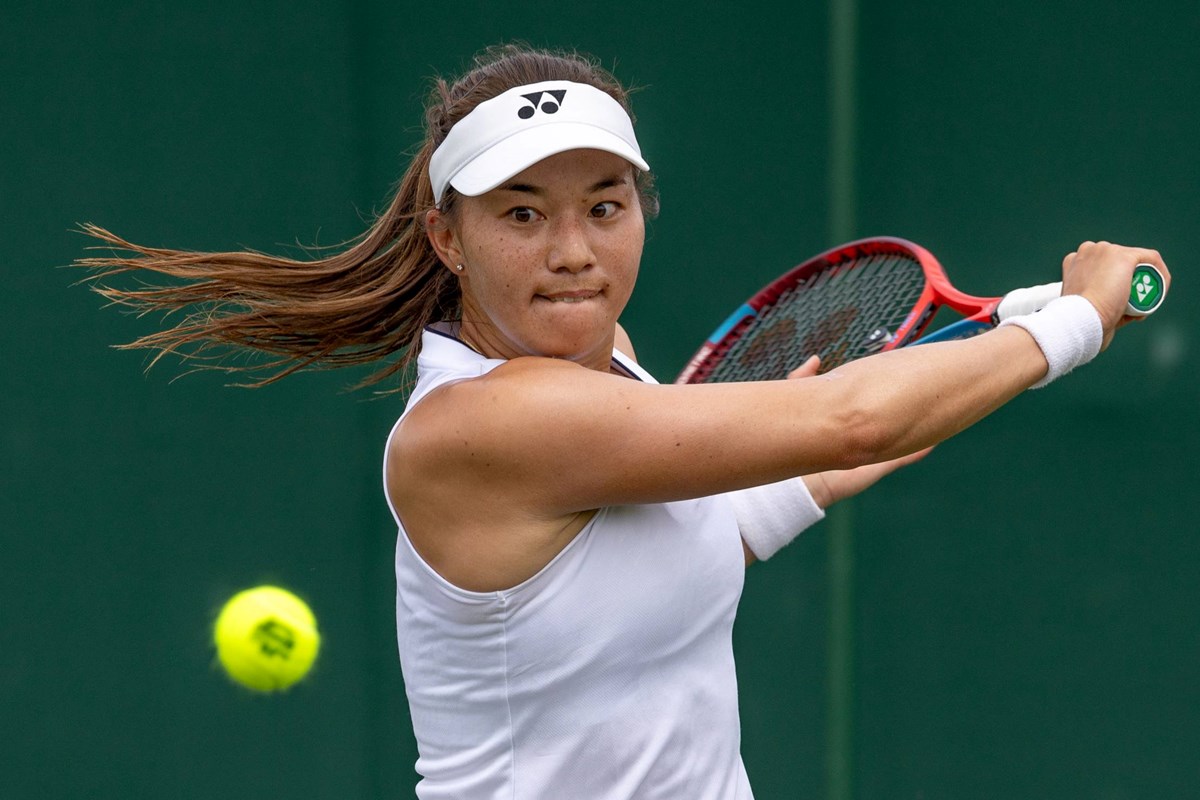 Elsewhere there were fantastic wins for Naiktha Bains over Ukraine's Katarina Zavatska, while Anna Brogan beat former junior world No.1 Victoria Jimenez Kasintseva.
Bains rallied from a set down to beat Zavatska 4-6, 6-2, 6-3 and set up a second round meeting against Viktorija Golubic.
"In the first I feel like I had a couple of chances earlier on to break. I feel like I could have, and who knows what would have happened if I had broken there," commented Bains.
"At the end of the first set I was a bit disappointed with losing my serve fairly easily, but then I did well to refocus and get a decent lead in the second set. It was all about keeping that momentum for me, so I'm glad I managed to do that."
In one of the last matches of the day, Brogan impressed as she also came from a set down to triumph 4-6, 7-5, 6-3 in her opening match, with fifth seed Diana Shnaider waiting on Wednesday.
"I'm just really delighted to have played a good match today and come through in three sets," she said.
"I just kept trying to create opportunities out there and I just kept working. It was really nice to finish well today.
"I think I was playing well, and it was a case of just continuing to create opportunities, and with time on the court it was going to swing my way if I kept a good attitude and kept positive out there."
Meanwhile, Emily Appleton's Wimbledon debut ended in defeat, being beaten 4-6, 7-6(4), 6-4 by Canada's Carol Zhao in their opening round encounter.
U18 LTA Junior National champion Isabelle Lacy was beaten 7-5, 6-2 by Elena-Gabriela Ruse on her Wimbledon qualifying debut, while 2022 champion Mimi Xu performed well in a 7-5 6-2 loss to the experienced Storm Hunter
And also in action was U16 LTA Junior National champion Hannah Klugman, who lost 6-1, 7-6(6) to Reka Luca Jani.
Charles Broom and Johannus Monday were among the Brits that starred on day one of Wimbledon Qualifying, with four Brits progressing to the second round.
Broom and Monday both came through three set battles to progress, with Billy Harris and Toby Samuel also victorious in Roehampton.
Monday battled past 2022 Junior Wimbledon champion Mili Poljicak in three sets to set up a second round meeting against fifth seed Radu Albot.
The Brit was a set down against the Croatian, but fought back brilliantly to seal a 3-6, 7-6(4), 6-3 victory on what is also his Wimbledon debut.
"It wasn't an easy match at all, but no match at this level is going to be easy. It was a good match. He took his chances in the first set while I didn't take my chances," commented Monday.
"But then I was just very tough in my last two sets I think. I just upped a gear, and I think I deserved to come away with the win."
Broom saw off Alessandro Giannessi 6-4, 6-7(4), 6-3 in a high-quality contest on the new Stadium Court to progress.
"I'm feeling really good. I've played a lot of matches on grass now and feel really comfortable out there. I love playing in front of the crowd," said Broom, who next plays Dennis Novak.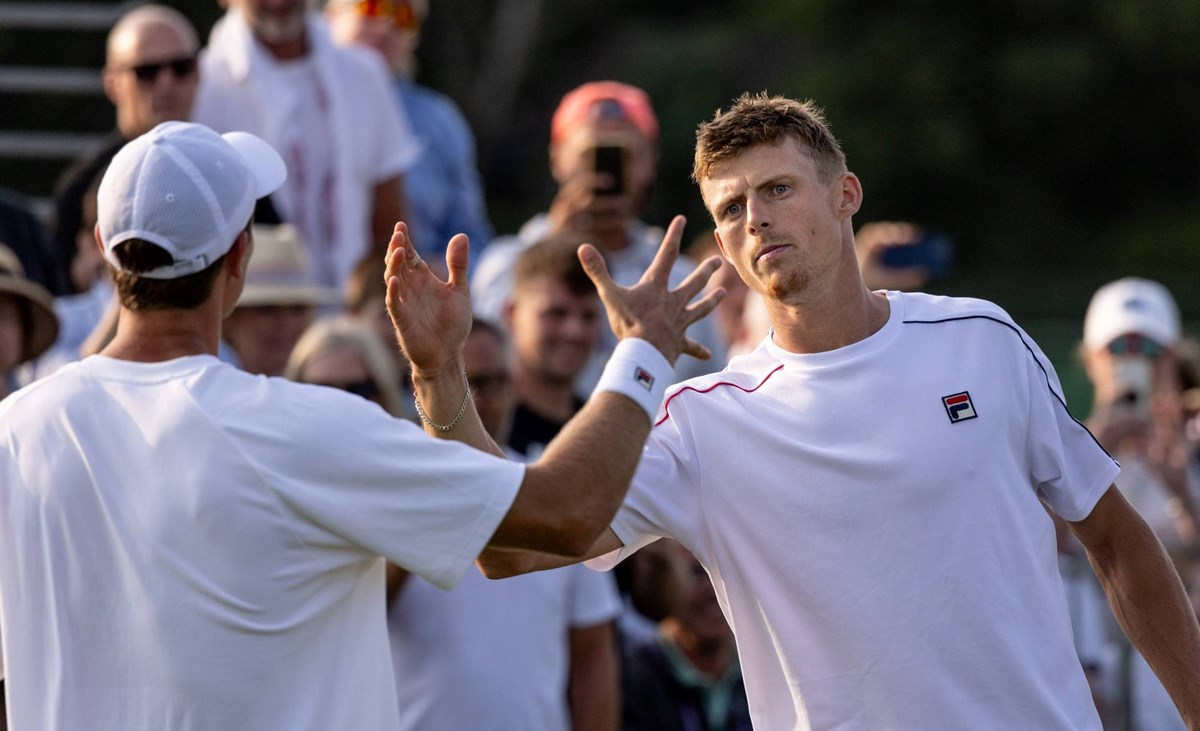 Elsewhere, Harris also prevailed in a dramatic three-set contest versus Alexander Ritschard to set up a second round meeting against 25th seed Hugo Gaston.
After losing a tight opening set, Harris lost a 5-0 lead in the second set, but bounced back in the tie-break and controlled the decider to prevail 5-7, 7-6(5), 6-2.
He commented: "At 5-0 up in the second I thought I had it but I lost a bit of concentration, almost lost the whole match, so I'm very happy to hang onto that second set and in the third set I felt like I started hitting through the ball, and was seeing the ball a lot better."
Samuel, who had received a wild card into the draw, defeated Swiss Antoine Bellier 6-4, 7-6(4) to reach the second round, where he will face Japan's Sho Shimabukuro.
"It's my first ever Wimbledon, playing against a great player. I think I went out there with no pressure, just played my game and played loose, and in the end I came out on top - which is amazing," added Samuel.
"You can't play your best if you're not enjoying it. That's why I started playing and I'm going to keep enjoying it throughout my career, as that helps me play my best."
Meanwhile, Stuart Parker impressed but was ultimately beaten 4-6, 6-3, 6-1 by seventh seed James Duckworth, also on Stadium Court.
Dan Cox was also beaten in three sets, falling 2-6, 7-6(2), 7-5 to Federico Gaio in a hard-fought contest between the two.
Harry Wendelken was also in action, being defeated 6-3, 7-6(6) by Italian Matteo Gigante in his opening round contest, while LTA U18 Junior National champion Luca Pow also saw his campaign come to a close with Dutchman Gijs Brouwer prevailing 6-3, 6-1 in their opening round encounter.