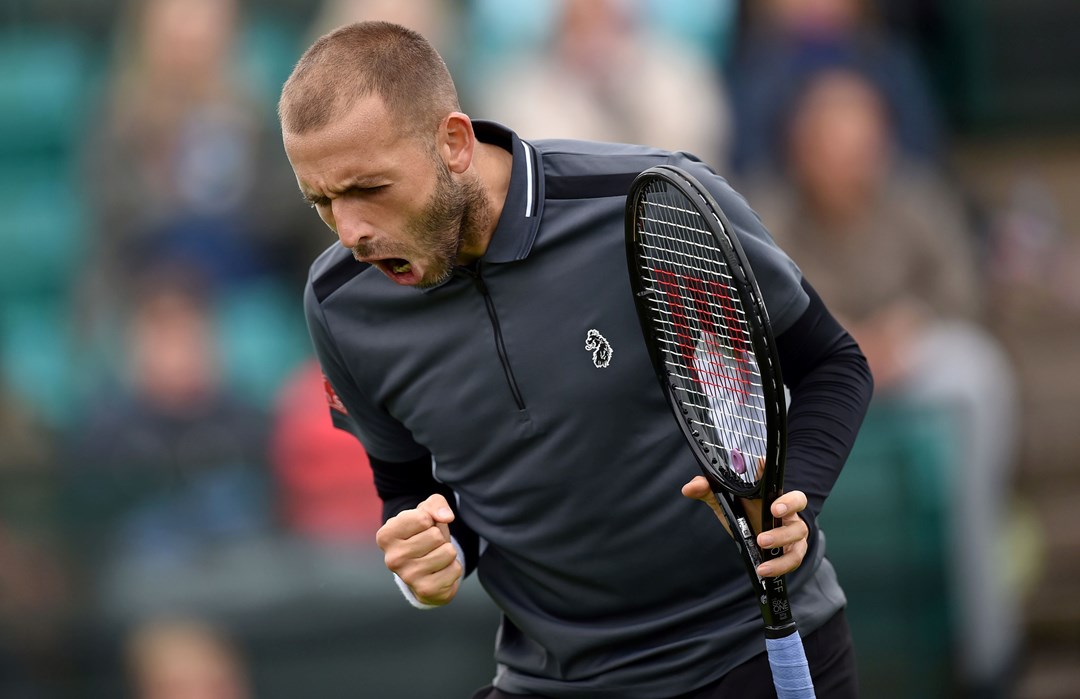 International
Rothesay Open Nottingham 2022: Daily updates & results
• 2 MINUTE READ
Your home of daily updates from the Nottingham Tennis Centre. You can watch the Rothesay Open Nottingham live across BBC digital channels and Amazon Prime (WTA only).
Highlights
Beatriz Haddad Maia defeated Alison Riske 6-4, 1-6, 6-3 in the WTA final
Dan Evans beat Jordan Thompson 6-4, 6-4
Jonny O'Mara and Ken Skupski win men's doubles title
Play will start at 1:00pm on Sunday 12 June
Match centre - live scores, draws, order of play
Day seven: Evans and Haddad Maia crowned Nottingham champions
Dan Evans is the Rothesay Open Nottingham champion for a second time in his career after beating Australia's Jordan Thompson 6-4, 6-4.
Evans etched his name in the history books as only the seventh man to win the singles title twice - joining Greg Rusedski, Ivo Karlovic, Richard Gasquet, Dudi Sela, Jonas Bjorkman and Stan Smith.
The British No.2 is also the first player to win three Challenger titles on grass since 1996 and equalled Alex Bogdanovic's for Challenger titles won by a Brit with nine.
Both sets in the final followed similar patterns, with a run of three consecutive breaks in the middle as Thompson failed to hold on both occassions when he managed to crack the Brit's serve. In the end, Evans's quality shone through and he completed his winning record for the week as the third seed sent a backhand wide of the tramlines.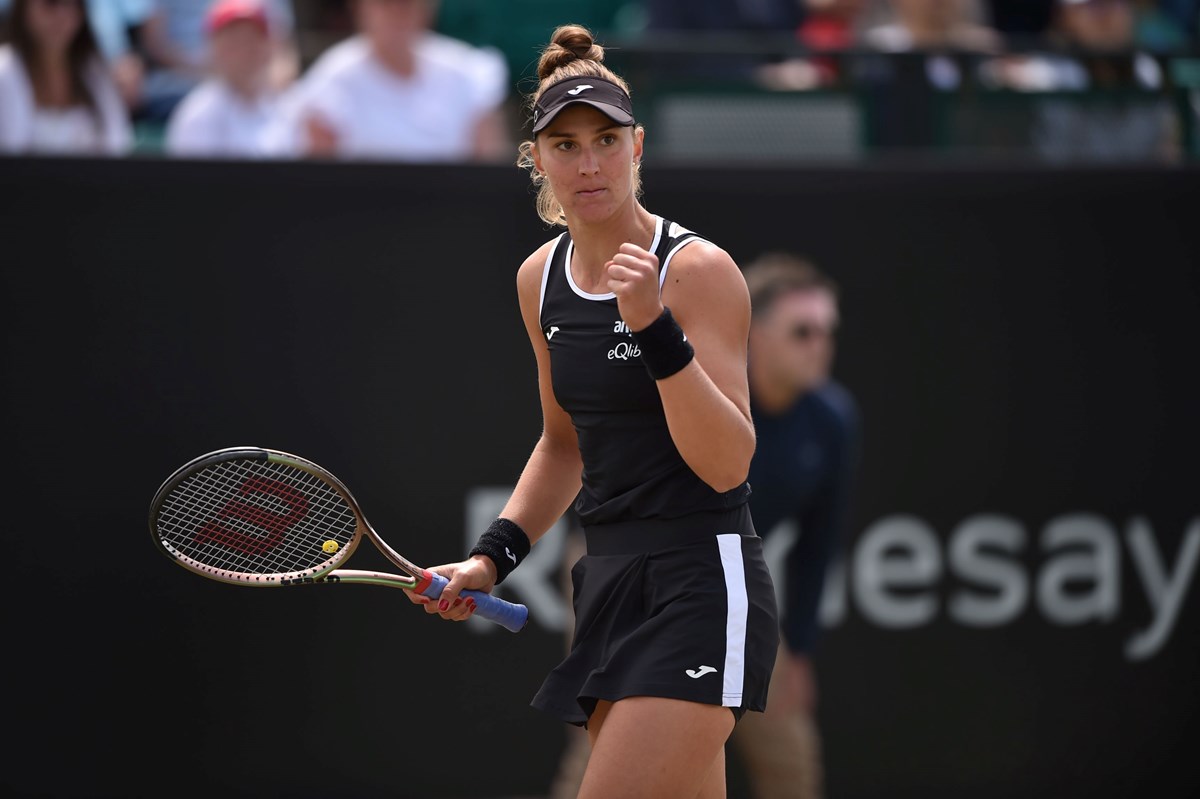 Beatriz Haddad Maia has won the women's singles title at the Rothesay Open Nottingham after defeating sixth seed Alison Riske 6-4, 1-6, 6-3 in a finals day thriller on Centre Court.
The win marks her first WTA Tour level title in only her 10th match on grass throughout her career.
After a high octane start, which saw Haddad Maia power past Riske in the opening set, the Brazilian lost eight of the next 10 games to find herself a break down in the decider. With a tense exchange in the middle of the third set, Haddad Maia appeared to get fired up from a line call that went against her and once again found her rhythm. When she found her consistency, there was little Riske could do to prevent the Brazilian taking the win in two hours and 21 minutes.
It was heartbreak for Riske, who finishes as the runner-up in Nottingham for the second time in her career.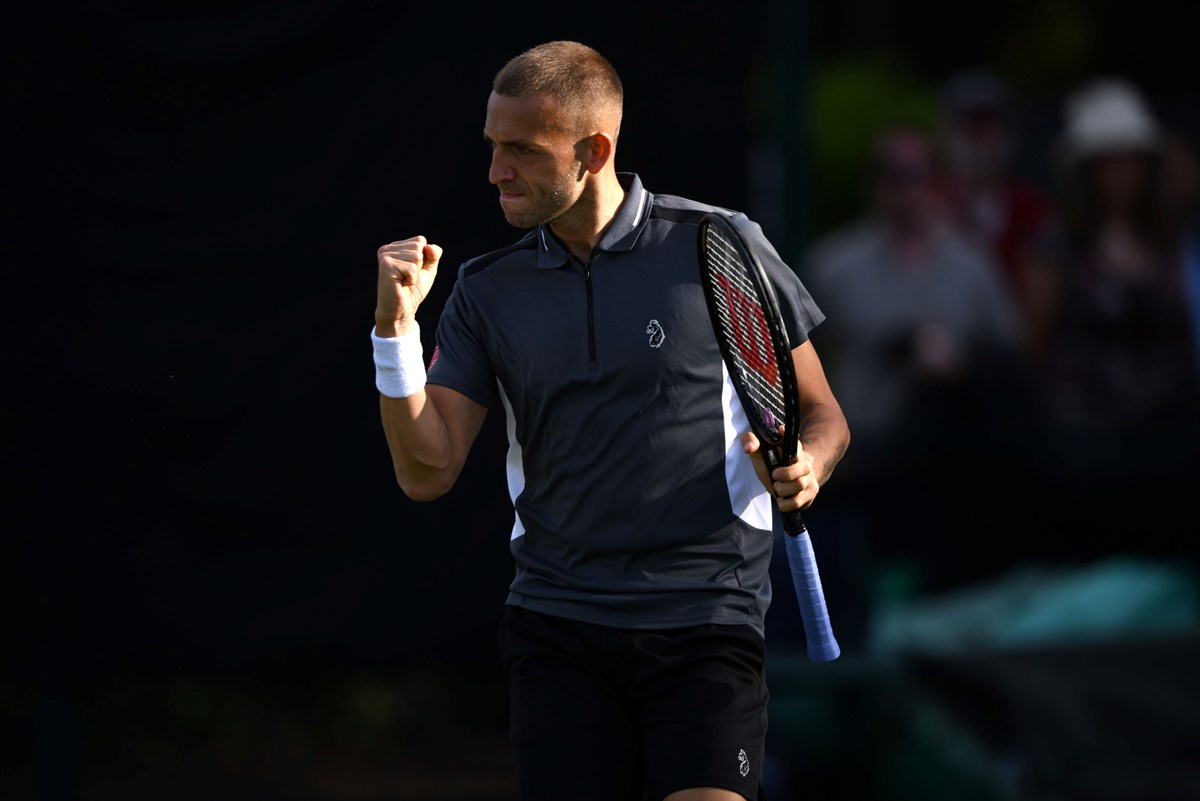 Dan Evans is through to his third Rothesay Open Nottingham final on Sunday, where he'll take on the in-form Jordan Thompson.
Evans will be the first Brit to compete in three men's singles finals in Nottingham coming through with a 7-5, 6-3 win over Jack Sock.
Evans went a break down in the first set, but got back on level terms after a minor on court slip from Sock. The Brit took control from there, breaking in the 11th game with a beautifully crafted backhand winner and serving comfortably for the lead.
Sock brought the acrobatics in the second set and levelled the match from a break down, but at 3-3 he fired a smash wide to gift Evans the breakthrough needed to see out the match.
Thompson continued his unbeaten record at ATP Challengers on grass this season – after winning last week's Surbiton Trophy – by defeating fellow Aussie Alexei Popyrin 6-4, 6-2.
The world No.74 was in electric form on Centre Court - winning 82% of points off his first serve and facing no break points throughout the match as he stormed to victory in just an hour and 11 minutes.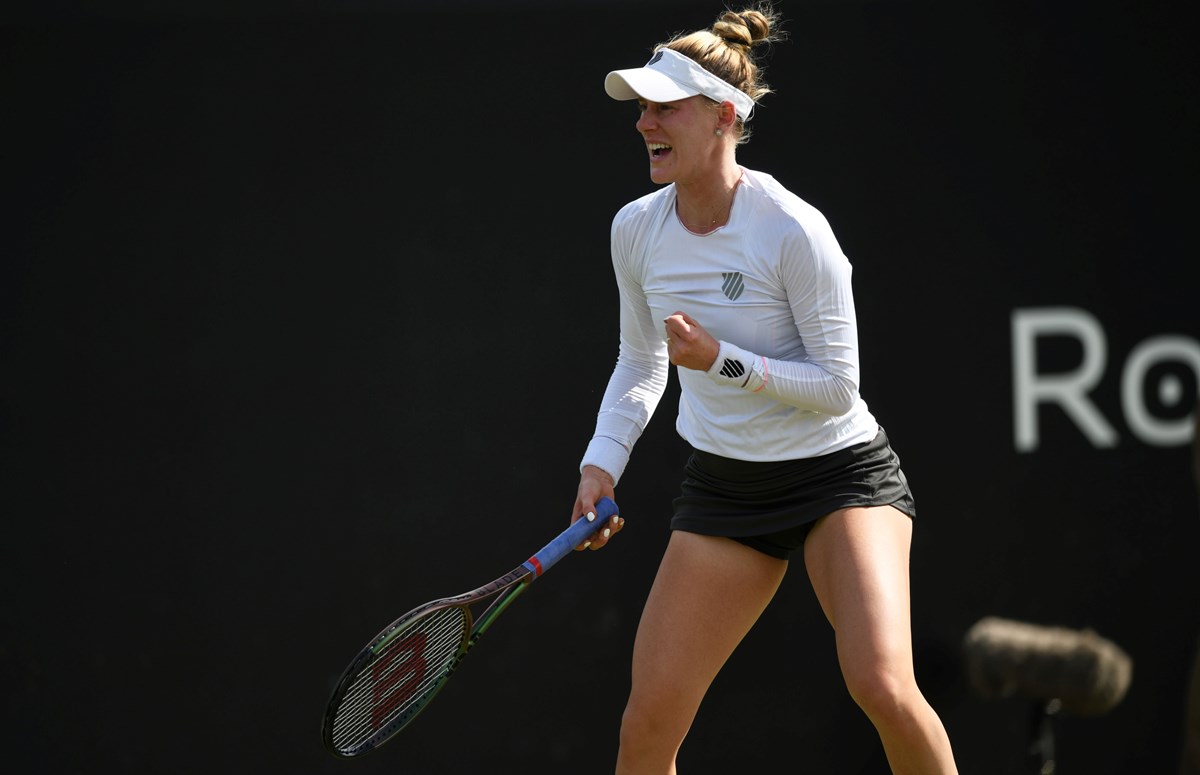 Tomorrow's women's singles final will be fought between Brazil's Beatriz Haddad Maia and the USA's Alison Riske in an exciting match up between two magicians on the grass.
Seventh seed Haddad Maia kick started the semi-final action on Centre Court with a 6-4, 4-1(RET) win over world No. 60 Tereza Martincova.
Haddad Maia reaches her first WTA 250 final when she takes on Riske – having won one WTA 125 event in Saint-Malo last month.
Former finalist in Nottingham, Riske, bagged her place in Sunday's final having come through a tough 6-3, 4-6, 6-3 victory against Viktorija Golubic.
With rain delays bringing a halt to the match at one set apiece, Riske came out the stronger of the two and broke the Swiss star three times in the final set to reach the final.
Riske is a three-time WTA title winner – having lifted trophies in Linz (2021), 's-Hertogenbosch (2019) and Tianjin (2014).
Haddad Maia and Golubic have never played each other before and currently sit only eight places apart in the WTA rankings.
Jonny O'Mara and Ken Skupski are the new Rothesay Open Nottingham men's doubles champions after defeating Julian Cash and Henry Patten 3-6, 6-2, 16-14.
The third seeds saved three match points in a tense match tie-break to seal a hard-earned victory over Cash and Patten in an hour and 18 minutes.
A familiar face in the Nottingham final, this is Skupski's fourth title at the ATP Challenger event, while O'Mara clinches his first in what he will hope will be the start of a strong grass court season.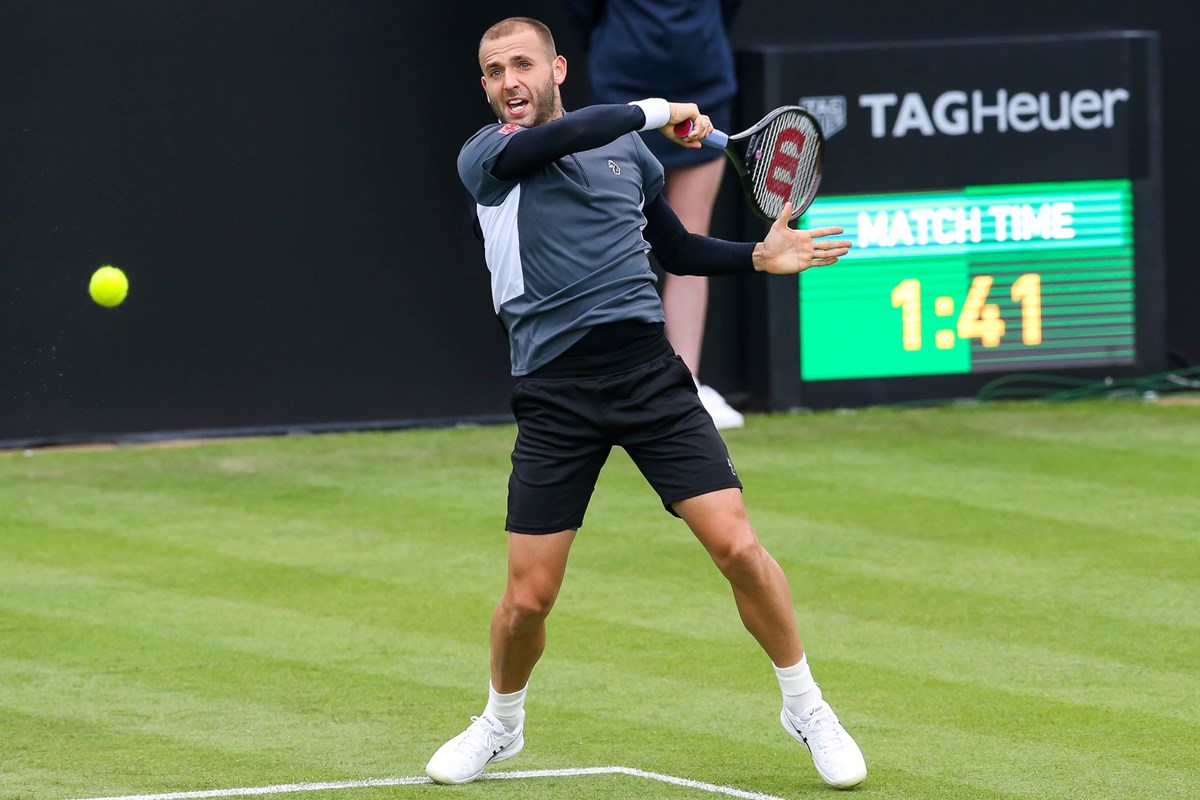 Dan Evans looks like a man on a mission this week as the 32-year-old booked his spot in Saturday's semi-finals against seventh seed Jack Sock.
Meanwhile, Harriet Dart, Liam Broadyand Ryan Peniston all bowed out in the quarter-finals of this year's tournament.
This year will see an all British men's doubles final as Jonny O'Mara and Ken Skupski take on the in-form Julian Cash and Henry Patten. Sam Murray Sharan will look to join them on the women's side - making her way through to the semi-finals.
Looking to replicate his heroics in 2019 when he lifted the Nottingham title, Evans blitzed past Switzerland's Marc-Andrea Huesler 6-4, 6-4 in an hour and 17 minutes.
Fired up by the home crowd – Evans only lost four points on serve in the opening set and was gifted a couple of points from the Swiss in the penultimate game to clinch the opener.
Frustrated by the Brit's relentless hitting, Huesler turned to shrugged at his player box early in the second set but it wasn't until the seventh game that Evans made his breakthrough. Three back-to-back passing shots beyond the stretch of Huesler gave Evans the lead, which he eventually saw out with an impeccable serving display.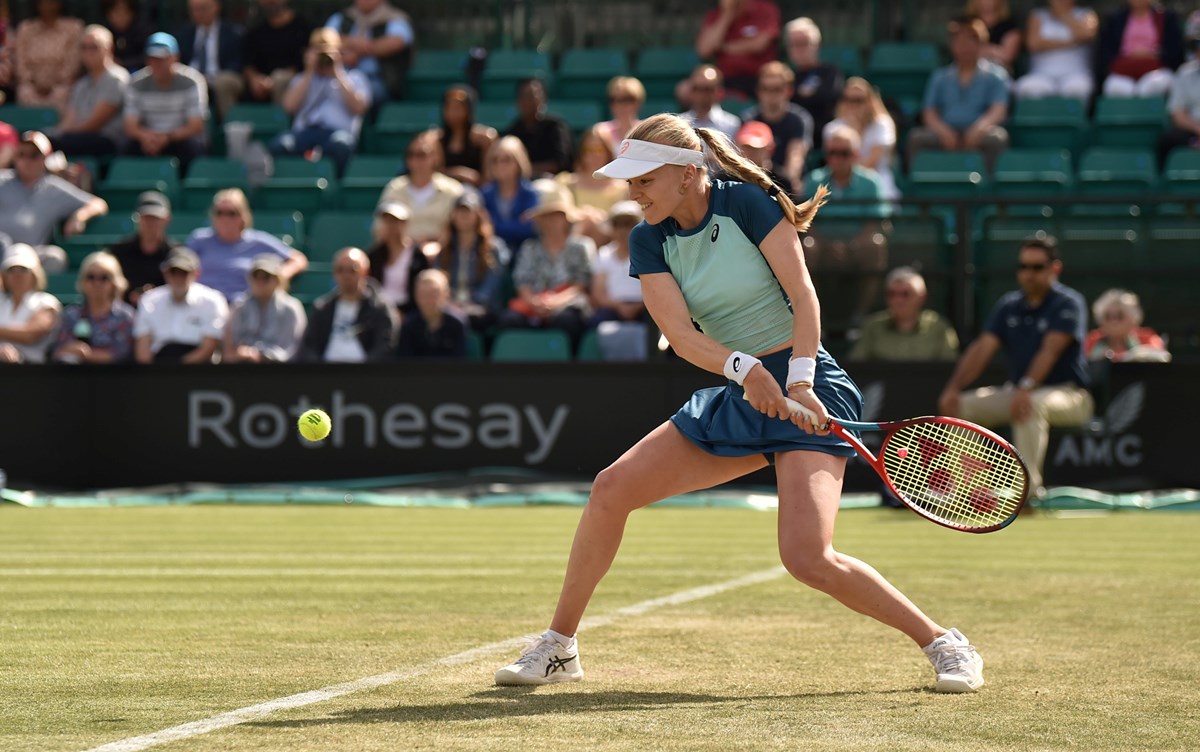 Dart fell just short of what could have been a career first WTA semi-final, but an experienced Alison Riske was a tough nut to crack as she clinched the second and third set to win the match 4-6, 6-2, 6-1.
Despite the final result, Dart flourished off the back of yesterday's win as she snapped the first set, forcing the American to release a long shot beyond the baseline and ending the opening set with a 6-4 lead. However, falling behind, Riske refused to stand down, breaking twice in the second set to equalise before eventually taking the third with ease.
Liam Broady also missed out on a place in the semi-finals after losing 7-6(3), 1-6, 6-4 to former ATP Master 1000 champion, Jack Sock.
Broady lost the first set after Sock produced a clutch performance, unleashing the power of six aces in the first match to take the upper hand. An early break in the second set saw Broady find his feet as he regained control to make it two apiece, but the American proved his quality in the deciding set breaking on his one and only opportunity, to seal a 2-1 victory.
Peniston's bid for a place in Nottingham's last four came to a close after taking a 6-3, 6-4 blow from top 100 opponent, Alexei Popyrin.
Popyrin's rocket serve lead him to victory as Peniston battled to take hold, but sadly it wasn't to be for the Essex-born star as he exits the tournament, while the Australian advances to the semi-finals.
Saturdays semi-finals will include:
WTA
Beatriz Haddad Maia (BRA) (7) vs Tereza Martincova (CZE)
Alison Riske (USA) (6) vs Viktorija Golubic (SUI)
ATP
Dan Evans (GBR) (1) vs Jack Sock (USA) (7)
Jordan Thompson (AUS) (3) vs Alexei Popyrin (AUS) (5)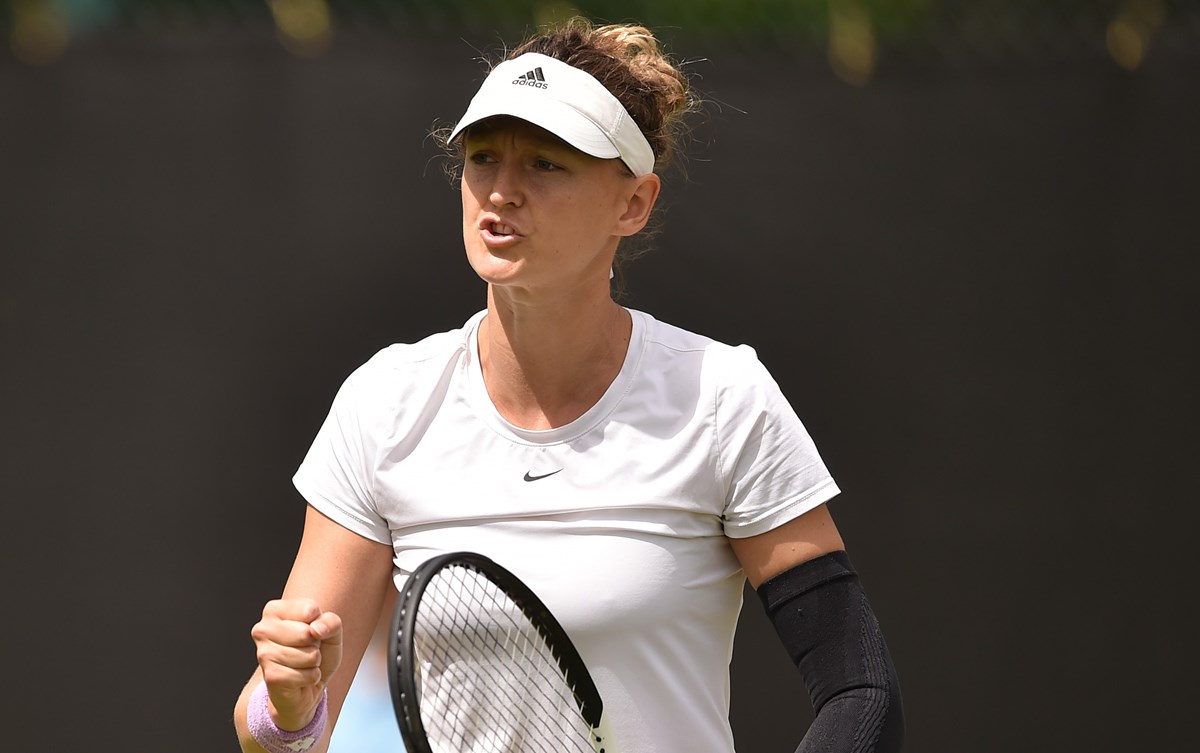 Murray Sharan continued her brilliant run as her and partner, Vivian Heisen, forced their way from a set down to equalise, before snatching the match tiebreak to close out the match 3-6, 7-6(6), (12-10).
With a spot in the semi-finals now guaranteed, Murray Sharan and Heisen's road to the final is just a step away, with only Caroline Dolehide and Monica Niculescu standing in their way.
Tomorrow will see an all-British men's doubles final in Nottingham after O'Mara and Skupski defeated countrymen Arthur Fery and Felix Gill 6-4, 6-3, while Cash and Patten extended their winning run to 19 matches in a row against William Blumberg and Treat Huey.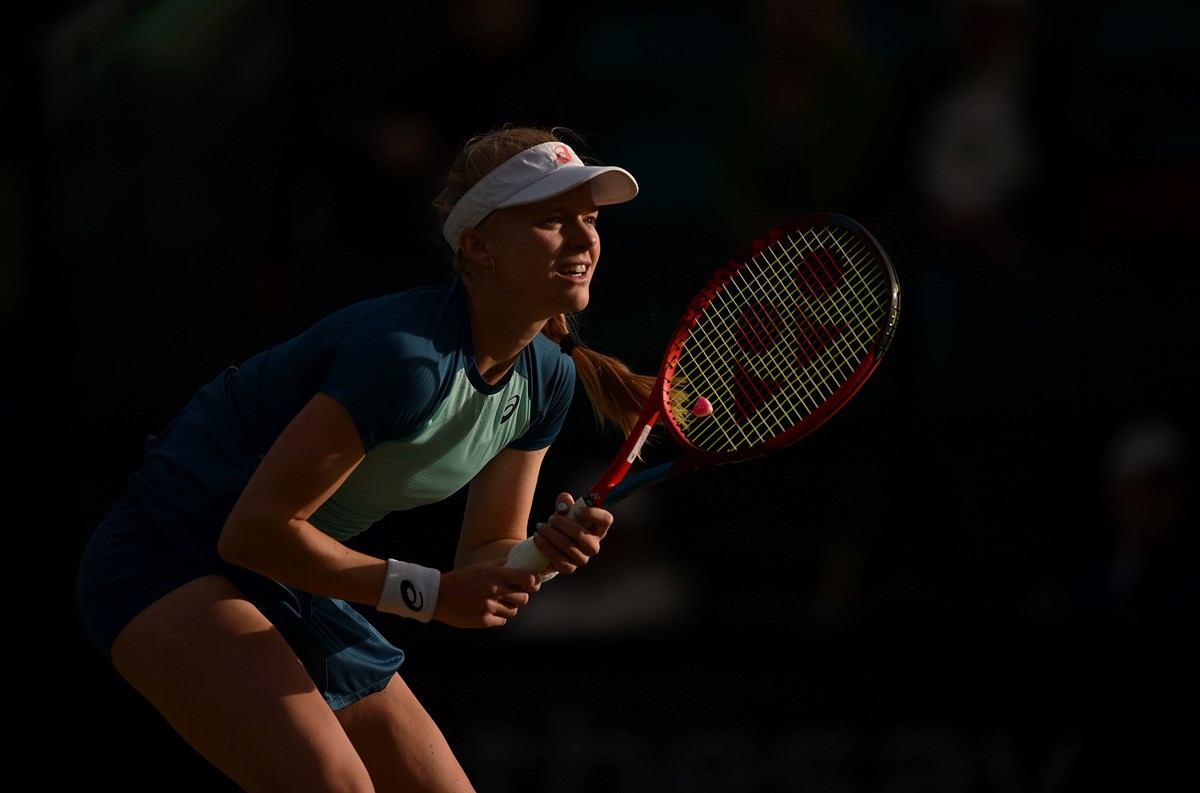 Harriet Dart and Liam Broady uncover the road to the quarter-finals, meanwhile Jay Clarke and Lily Miyazaki's journies come to a close as they bid farewell to the 2022 Rothesay Open Nottingham.
Dart's title hopes stayed alive after a long forehand from third seed Camila Giorgi signified the end of a two-day titanic battle.
In a match spread over two days, Dart remained composed as she conjured up some of her best tennis - coming from a set down to defeat Giorgi in a 5-7, 6-4, 7-6(3) victory that signifies the second best win of her career so far.
This marks the 25-year-old's first WTA quarter-finals as she heads to the next round, with just sixth seed Alison Riske standing between her and that all-important place in the semi-finals.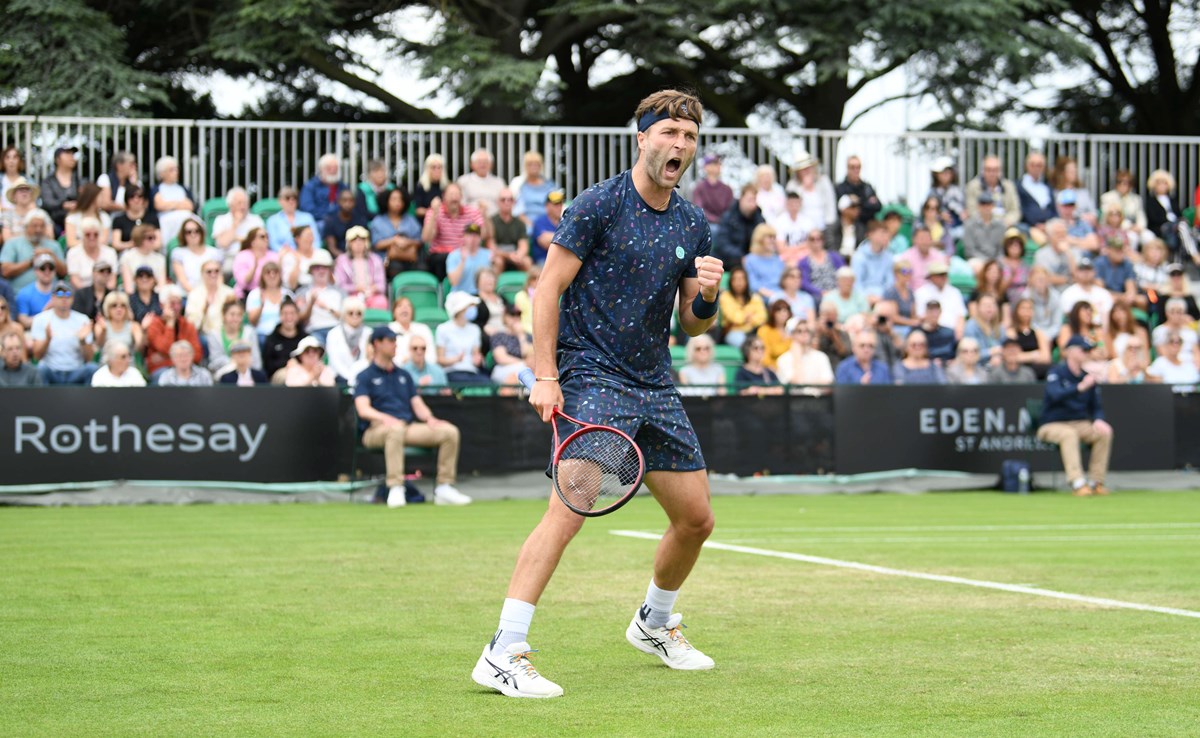 Broady also guaranteed himself a spot in the quarter-finals after defeating Finnish star, Otto Virtanen 2-6, 7-5, 6-2.
Broady kicked off the action on day four with a battle against Finnish star, Otto Virtanen. The Briton got off to a slow start after Virtanen claimed the first set 6-2, but Broady proved he is nothing if not a fighter as he remained on serve the duration of the second set, clinching his second break at the perfect moment to make it two apiece.
Into the deciding set and the reigning Biel Challenger champion took control of the match as he snapped his first break point and capitalised on a dejected Virtanen as he closed out an oh-so-sweet 2-1 victory in one hour 49 minutes.
However, it wasn't to be for 26-year-old Miyazaki as she bowed out of the second round after losing 6-2, 7-6(4) to seventh seed, Beatriz Haddad Maia.
Miyazaki had a break early in the second set in her bid to draw level, but the Brazilian dug deep and forced her to a tie break, which she won with an effortless cross court winner.
23-year-old Clarke also bowed out of the tournament after losing 6-4, 6-4 to the newly crowned Surbiton champion, Jordan Thompson, while Katie Boulter lost out to Australia's Ajla Tomljanovic 6-3, 6-4.
Elsewhere in the singles draw, top seed Maria Sakkari fought back from a 6-1 defeat in the opening set to eventually take the match in a riveting three-set thriller.
Doubles
Arthur Fery and Felix Gill are into the semi-finals after defeating Ramkumar Ramanathan and John Patrick Smith 6-4, 7-5.
After players were forced indoors due to rain delays, British duo Ryan Peniston and Alastair Gray lost 3-6, 7-6(4), 10-5 to William Blumberg and Treat Huey.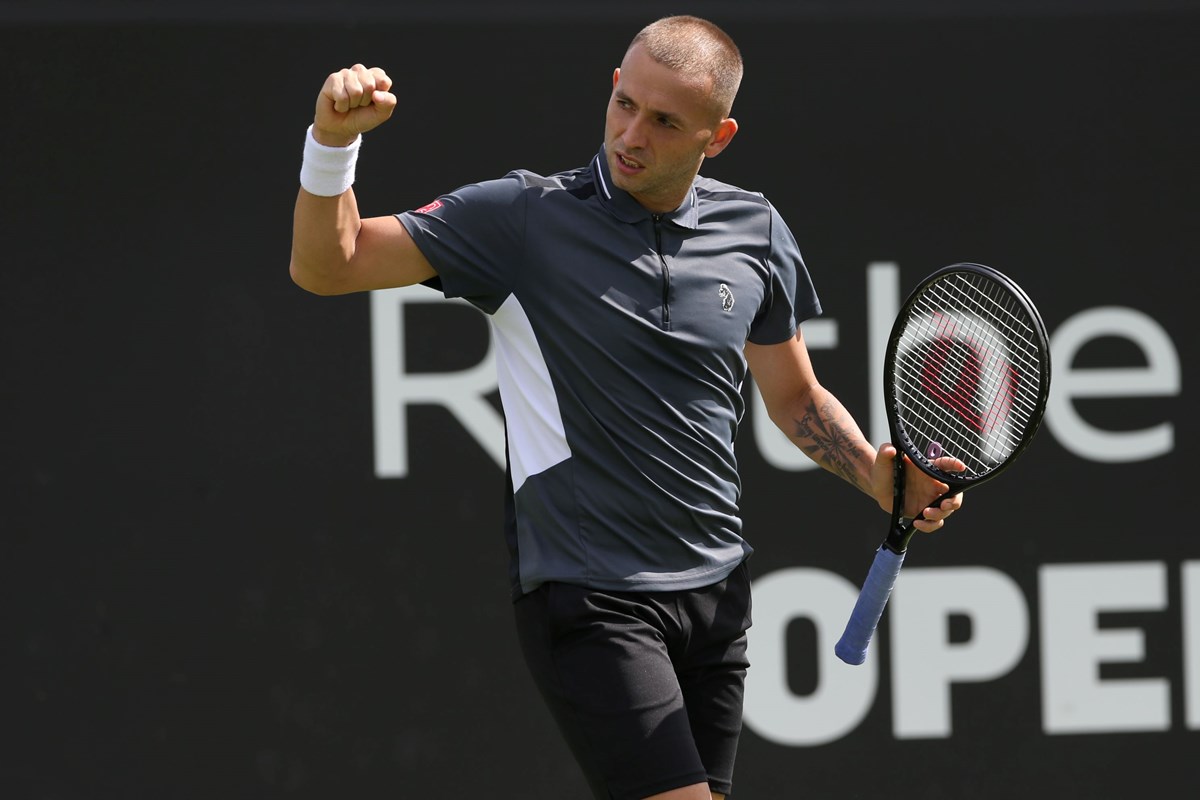 Dan Evans and Ryan Peniston's Nottingham dreams continue after both Brits booked a place in the quarter-finals, while Harriet Dart will return to finish her match tomorrow.
Evans's impressive record in Nottingham took yet another boost as he set up a fourth consecutive quarter-final with a 7-5, 6-0 win over Thomas Fabbiano. He'll play Marc-Andrea Huesler next at the Nottingham Tennis Centre.
The British No.2 saved a brace of break points before striking the killer blow on Fabbiano's serve at 6-5, with an elegant volley into the open court – 1-0 Evans.
The second set was a pure masterclass from Evans, striking the ball perfectly off both sides, including a couple of beautifully struck single-handed backhand winners in the final game.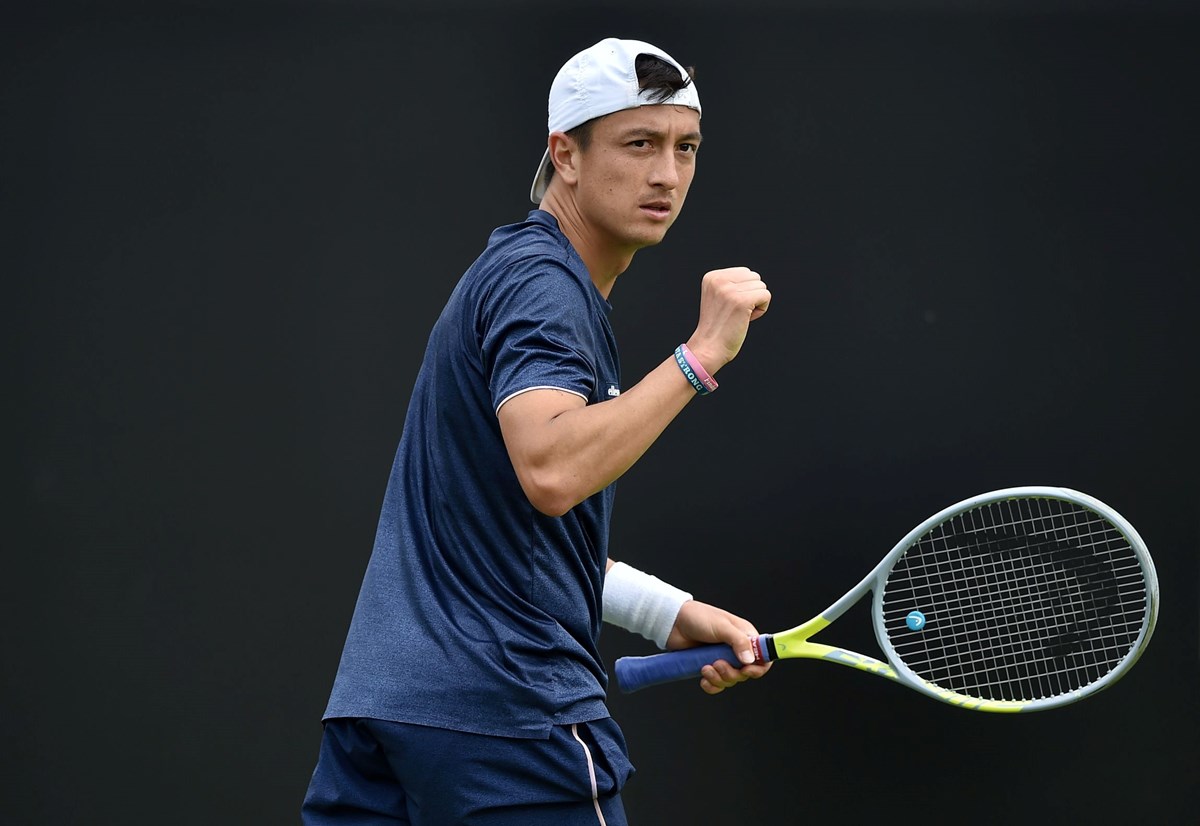 Peniston's impressive run at the Rothesay Open Nottingham continued with a straight sets win over world No.192 Borna Gojo.
After upsetting second seed Jiri Vesely yesterday, Peniston defeated the Croatian 6-4, 7-6(4) to reach his first quarter-final in Nottingham – where he'll play Alexei Popyrin.
Peniston showed no signs of weariness after an epic battle on Centre Court the day before and straight away looked to attack his opponent, especially off his forehand. A tricky short, wide angled shot from Peniston left Gojo in all sorts of trouble and the Croatian pushed his backhand wide to give the Brit the opening break at 4-3, before serving out the set.
With the second set tie-break on serve at 4-3, Gojo missed a huge opportunity on a smash to give Peniston the mini-break. In the blustery conditions Peniston made no mistake in landing a smash winner of his own and followed it up with a brilliant forehand just out of reach of Gojo standing at the net to seal the match.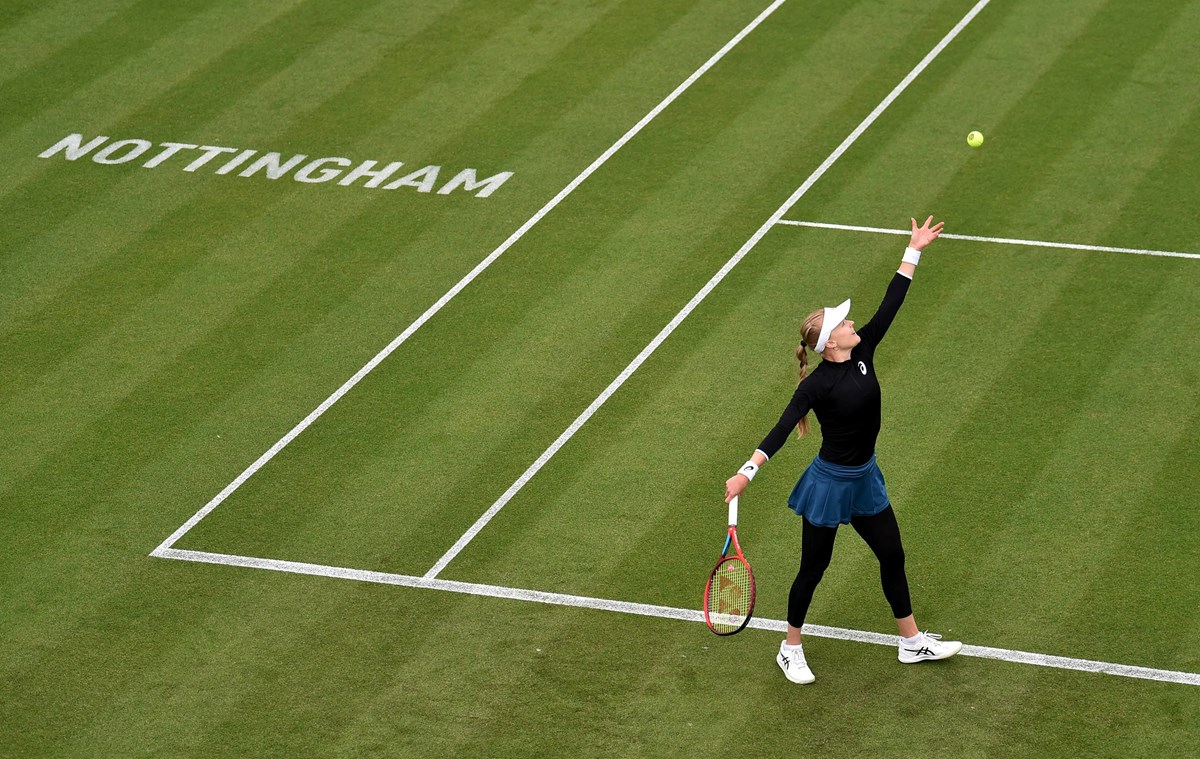 Dart will return to Centre Court tomorrow to finish her match against Camila Giorgi at 5-7, 6-4.
Dart started the brighter of the pair, racing to an early 3-1 lead, but the 2021 Eastbourne International semi-finalist had other ideas. After clinching her first break point of the match, the third seed doubled down at the end of the set to storm into the lead.
As the conditions started to take its toll late in the second, Giorgi struggled with the ball toss on her serve in the wind, which helped the British No.3 break the Italian and see out the set 6-4. With the weather turning to rain, the umpire suspended the match at one set each.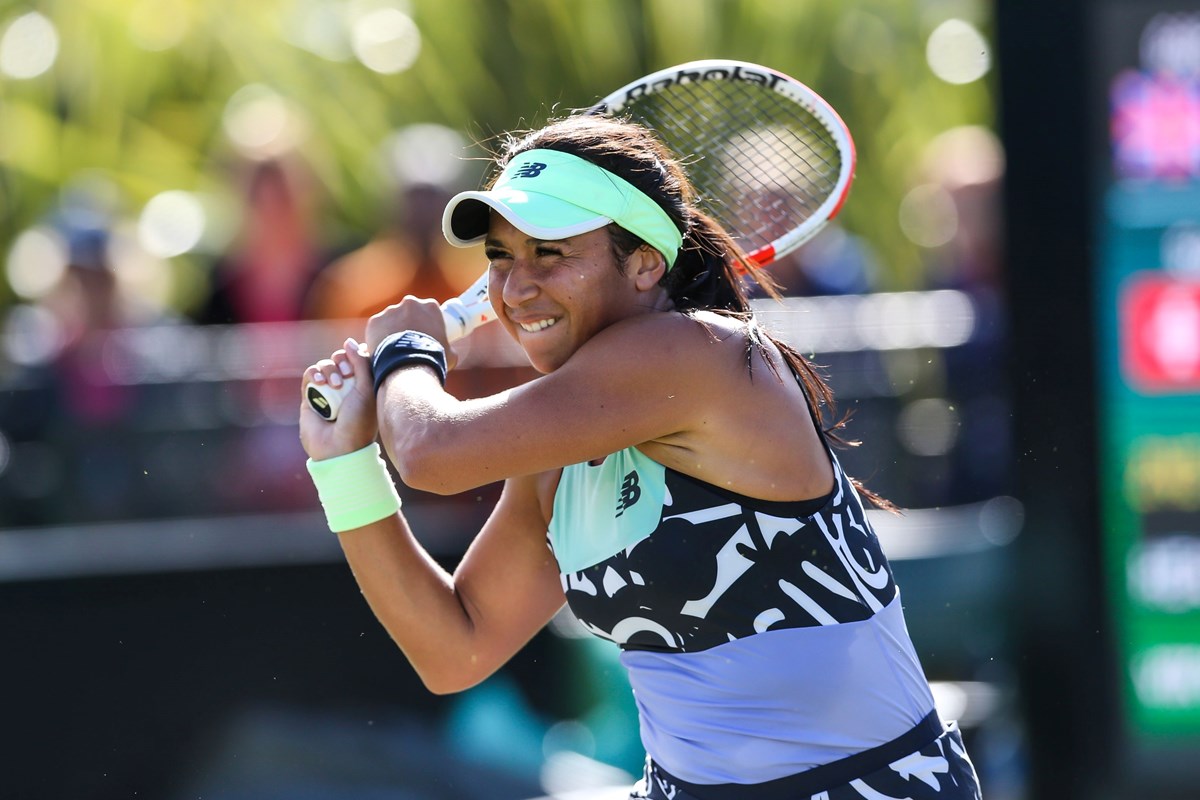 Disappointment for Heather Watson who lost out on her chance to reach the quarter-finals to Viktorija Golubic 7-5, 6-2.
Both players struggled to get any momentum in the first set, with six back-to-back breaks, but Watson held the initial advantage, with a chance to serve for the lead to 5-3. Golubic's heavy slice and single hander off both sides makes her a tough opponent, especially on the grass, and the world No.55 saved a set point to come back and win the set.
Thriving with confidence, Golubic took five consecutive games to all but wrap up the win in an hour and a half.
Jodie Burrage missed out on her chance to reach the final eight after losing to 2021 runner-up 6-2, 7-6(4).
Burrage had a break lead at 5-3 in the second set but the fourth seed capitalised on a few errors from the Brit to fight back and push on for the win.
Meanwhile, Dan Cox's incredible run came to an end at the hands of Marc-Andrea Huesler. Despite fighting back from a break down, the qualifier couldn't prevent his opponent from taking the match 6-2, 4-6, 6-2.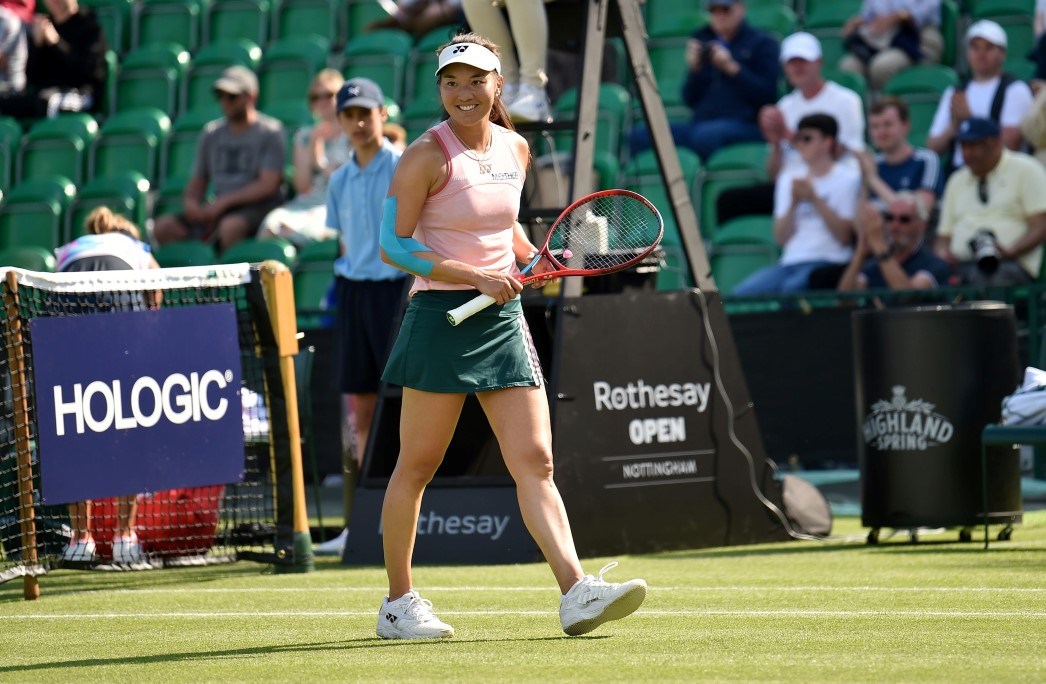 Five Brits will compete in the second round of the WTA draw after Lily Miyazaki and Katie Boulter both won three-set epics on day two.
Miyazaki claimed her first WTA Tour and biggest win of her career so far against France's Magdalena Frech. The 26-year-old defeated the world No.92 6-4, 1-6, 6-1 in a battle of momentum swings out on Court 2.
It looked like the match might slip away from Miyazaki after Frech stormed to a 5-0 lead in the second set before drawing level, but the British star ran away with the decider after saving five break points in the opening game.
Next up she'll have to defeat world No.48 Beatriz Haddad Maia for a place in the quarter-finals.
Meanwhile, Boulter's strong record at Nottingham continued with a 4-6, 6-1, 6-4 win over Tatjana Maria.
The 2021 quarter-finalist struggled with the German's relentless slicing in the first set but found her range in the second and showcased her usual attacking flair. She rescued a break in the decider to win five of the last six games and set up a battle with fifth seed Ajla Tomlijanovic.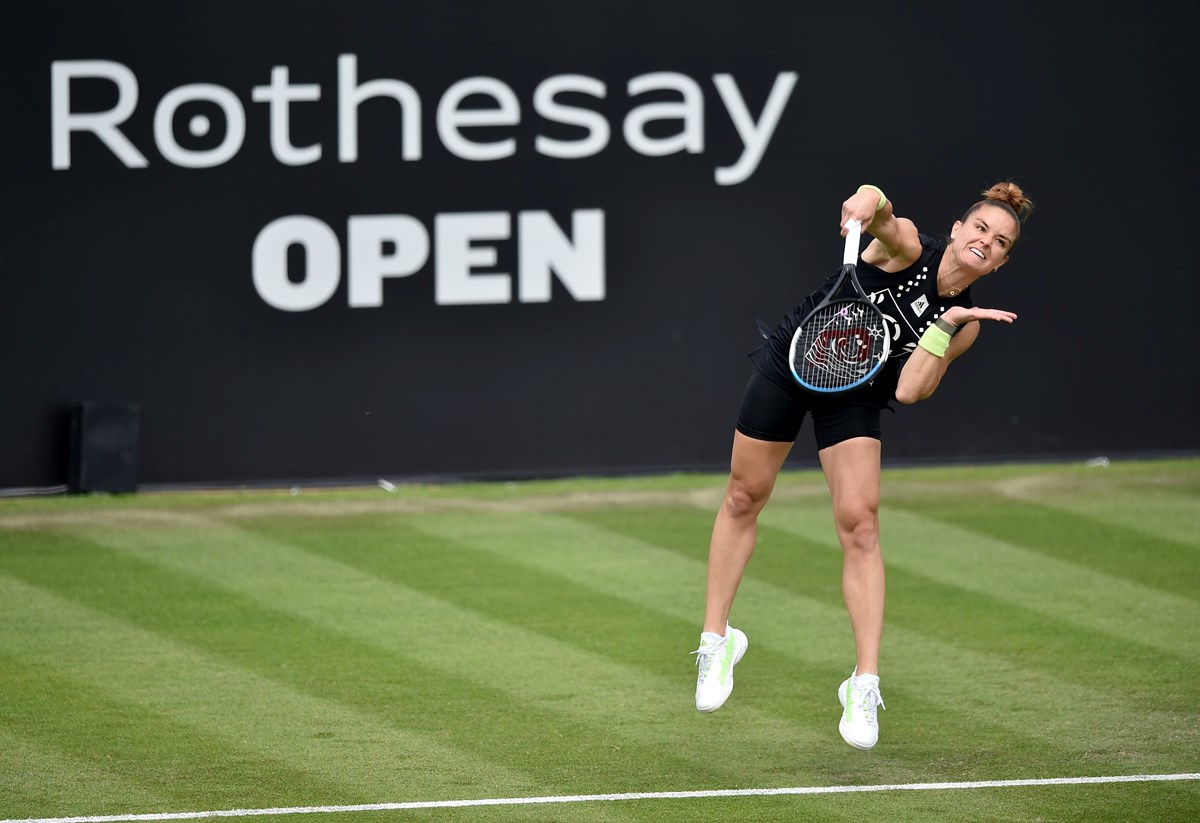 World No.5 Maria Sakkari eased into the second round with a 6-2, 6-3 win over Colombia's Camila Osorio.
A hot favourite to take the crown this year, and the first top 5 player to compete at Nottingham, the Greek star will turn her attention to Rebecca Marino, who defeated Britain's Eden Silva in round one.
Second seed and British No.1 Emma Raducanu was forced to retire at 4-3 down against Viktorija Golubic. The US Open champion appeared to be feeling an injury from the opening game and after receiving medical attention on each of the change of ends, made the decision to retire from the match.
Faced with a tough challenge against the third seed, British wild card Sonay Kartal put up a strong fight against Italy's Camila Giorgi before losing out 6-4, 6-3.
Kartal had break point opportunities to edge 5-4 ahead, but the 2021 Eastbourne International semi-finalist showed her experience to hold on and take full control of the match.
Ryan Peniston, Jay Clarke, Liam Broady and Dan Cox will all join British No.2 Dan Evans in the second round of this year's ATP Challenger event.
Peniston won the match of the day, fighting through a three hour and 9 minute contest against second seed Jiri Vesely to win 6-7(7), 7-6(5), 7-6(6).
In one of the best matches of his career, Peniston pulled out all the stops, including an outrageous behind the back winner past an approaching Vesely in the second set. With the match on the line at 5-6 in the deciding tie-break, Peniston rose to the moment and with the crowd roaring behind him, sealed three consecutive points to book a second round match against Borno Gojo.
Clarke dazzled Centre Court with a brilliant display against fellow Brit Paul Jubb to come through 6-3, 6-2 in an hour and 22 minutes.
Clarke made full use of his big first serve throughout the match, winning 91% of points when it landed, and finished the first set with a rocket straight down the tee.
In a high quality contest, Jubb did well salvage a few games from 4-0 down in the second, but Clarke proved to have that extra bit of quality on the day.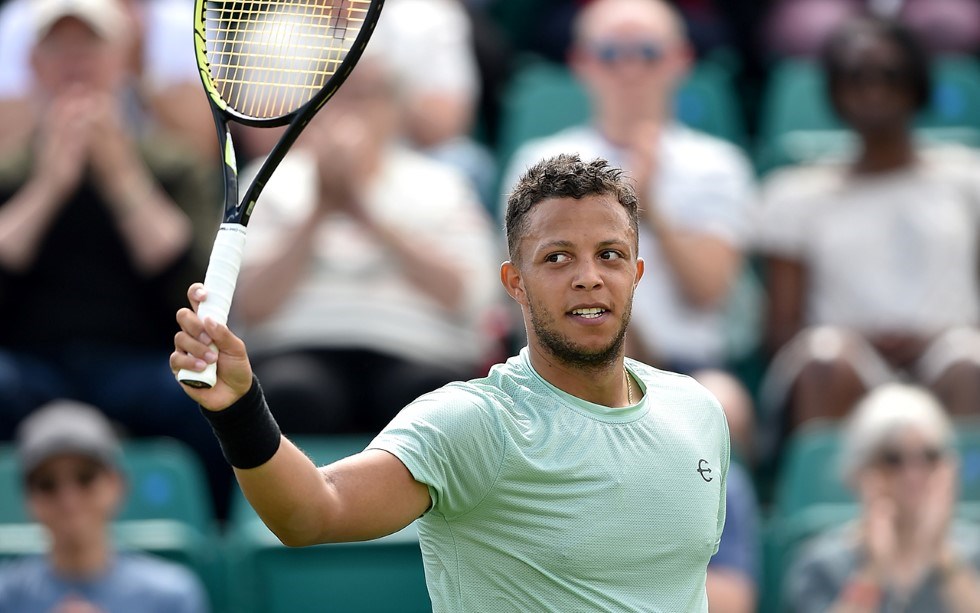 Broady's opener against Constant Lestienne went the full distance, with the Brit coming through 6-4, 4-6, 6-3 out on Court 3. The British No.5 will look to reach his best result in Nottingham in the second round against qualifier and Surbiton Trophy finalist Otto Virtanen.
British qualifier Cox got his first ATP Challenger main draw victory since 2015, coming from a set down to defeat Federico Gaio 2-6, 6-4, 6-3. Cox progresses to his first second round in Nottingham, where he'll play eighth seed Marc-Andrea Huesler.
Alastair Gray was last on Centre Court against former major semi-finalist Fernando Verdasco, going toe-to-toe with the Spaniard before losing out 7-6(3), 7-6(6).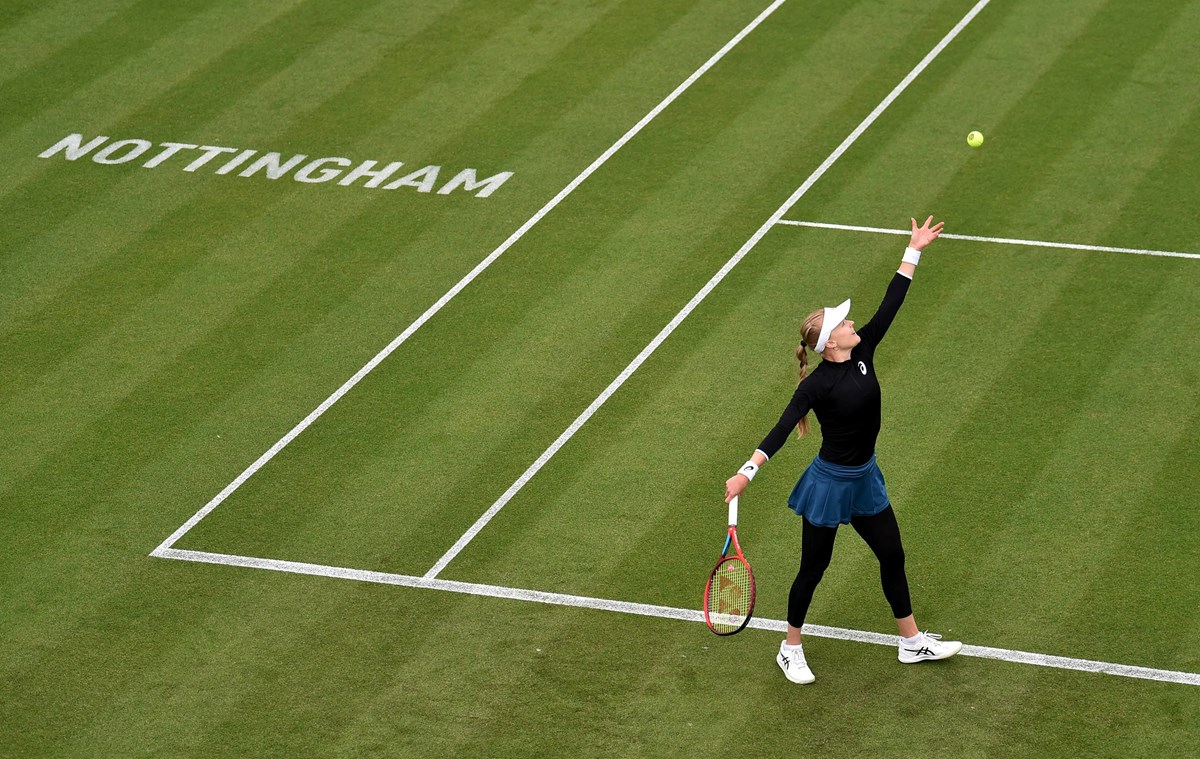 The Brits have made a brilliant start on the opening day of the Rothesay Open Nottingham, with Harriet Dart, Heather Watson, Jodie Burrage and Dan Evans scoring first round win.
Dart upset former champion Donna Vekic 6-4, 6-3 in the first round at the Nottingham Tennis Centre.
It was a difficult start for Dart in blustery conditions against the world No.90, going a break down from the opening game. But it didn't take long for her to find her feet with errors creeping into Vekic's game as she battled against the weather. In a pivotal game at 5-4, Vekic hit the net cord with an oncoming volley at deuce and followed it up with a wide forehand on set point.
The second set followed in similar style as Dart once again came from a break down thanks to a flurry of errors. After edging ahead 5-3, the Brit kept her nerve to see out her first grass court win of the season against a tough opening round opponent. She could face Sonay Kartal or Camila Giorgi in round two.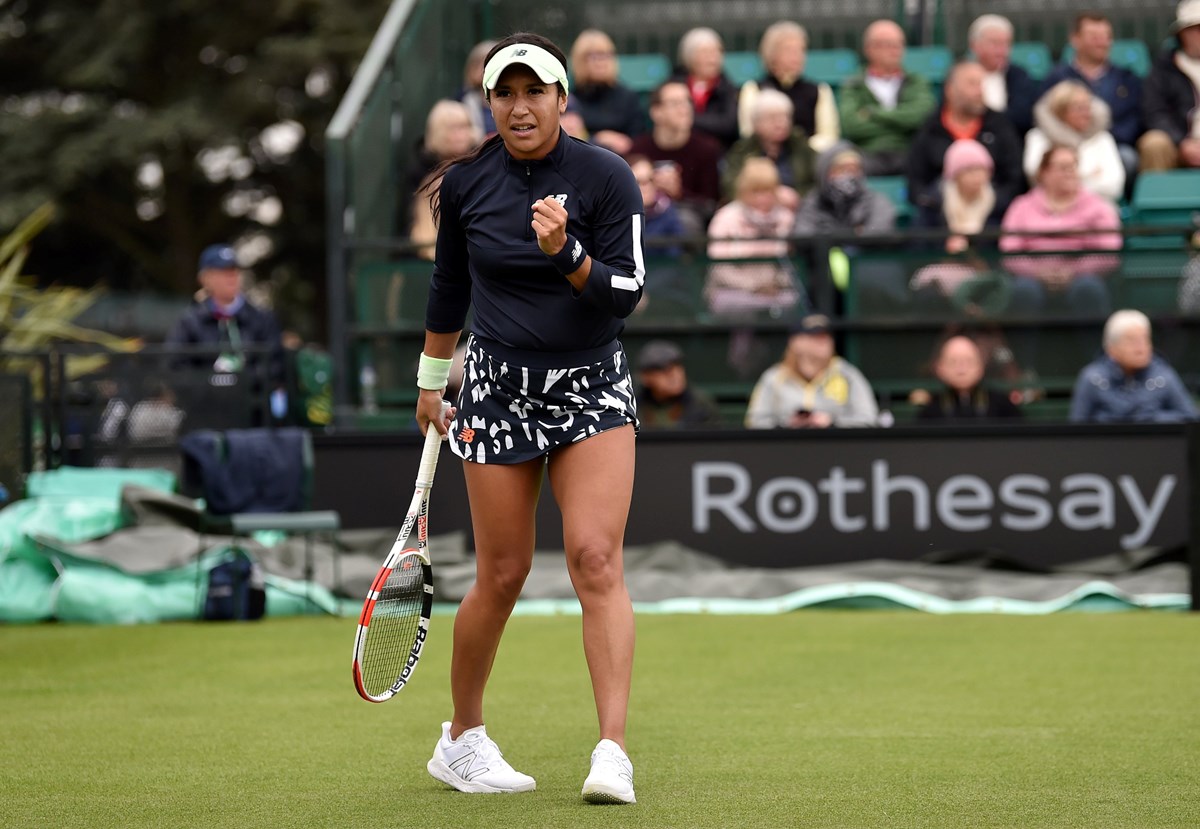 A potential match-up between the British No.1 and No.2 could be on the cards after Watson defeated Katie Volynets 6-4, 6-2 in the first round.
The opening set was a battle of the breaks with both players struggling to make the most of their serve – particularly Volynets, who won just 42% of points on her first serve.
Ultimately, Watson's hold at 3-3 proved the decisive moment in the set as both players went back and forth with seven breaks in total. Watson took a medical timeout to receive treatment on her leg, but bounced back straight away to clinch the set on the American's serve.
Watson looked more comfortable in the second set and rifled a stunning backhand return winner down the line to take a 2-0 lead. Volynets couldn't match the Brit for power and pace as Watson relentlessly worked her opponent around the court, completing a dominant set 6-2.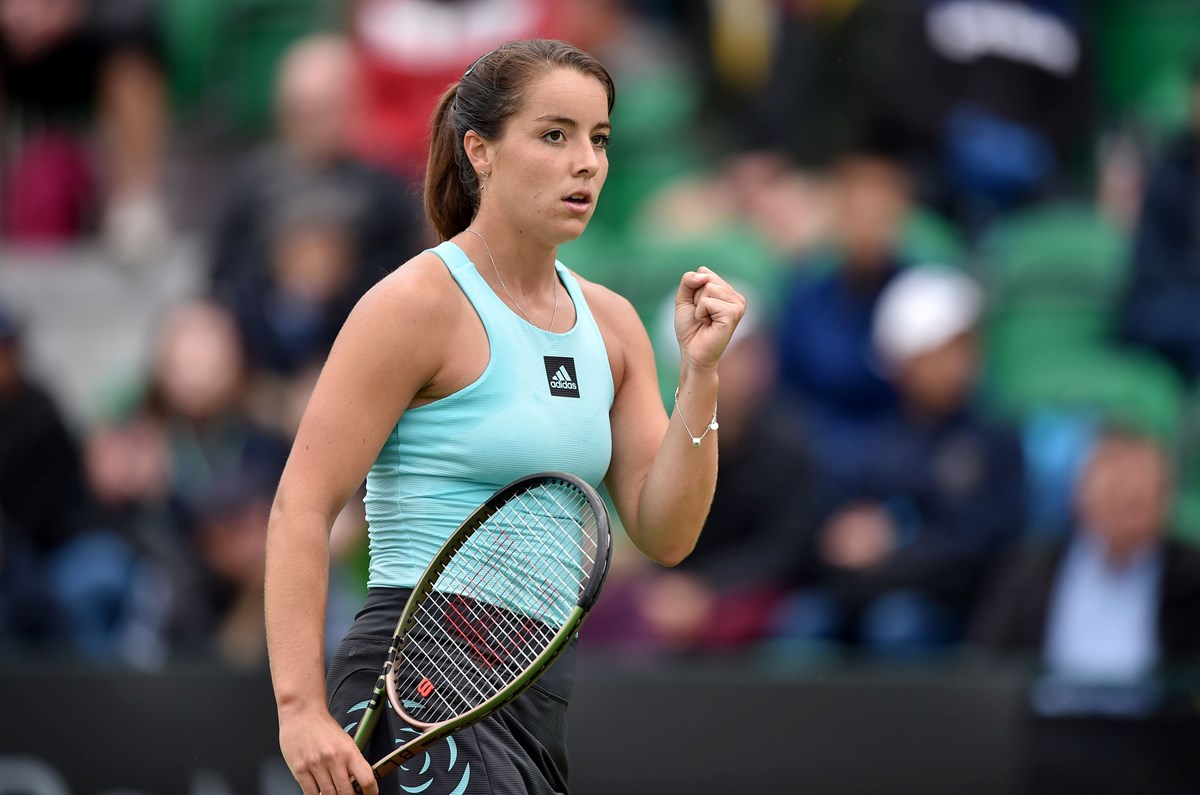 Burrage completed a trio of Brits through to the second round of the WTA draw fighting through a tough match to beat world No.96 Lin Zhu 7-6(5), 6-4.
It was the second time Burrage has beaten Zhu in two weeks, after claiming her career best victory against the Chinese star at the Surbiton Trophy.
In a close opening set, Burrage fought her way back from 5-3 down in the tie-break to win four points on the bounce and pull ahead.
She saved her best for the final games of the second set, where she pulled off an array stunning shots, including several venomous backhands, to win the last three games while only dropping three points.
Burrage could face 2021 finalist Zhang Shuai in round two.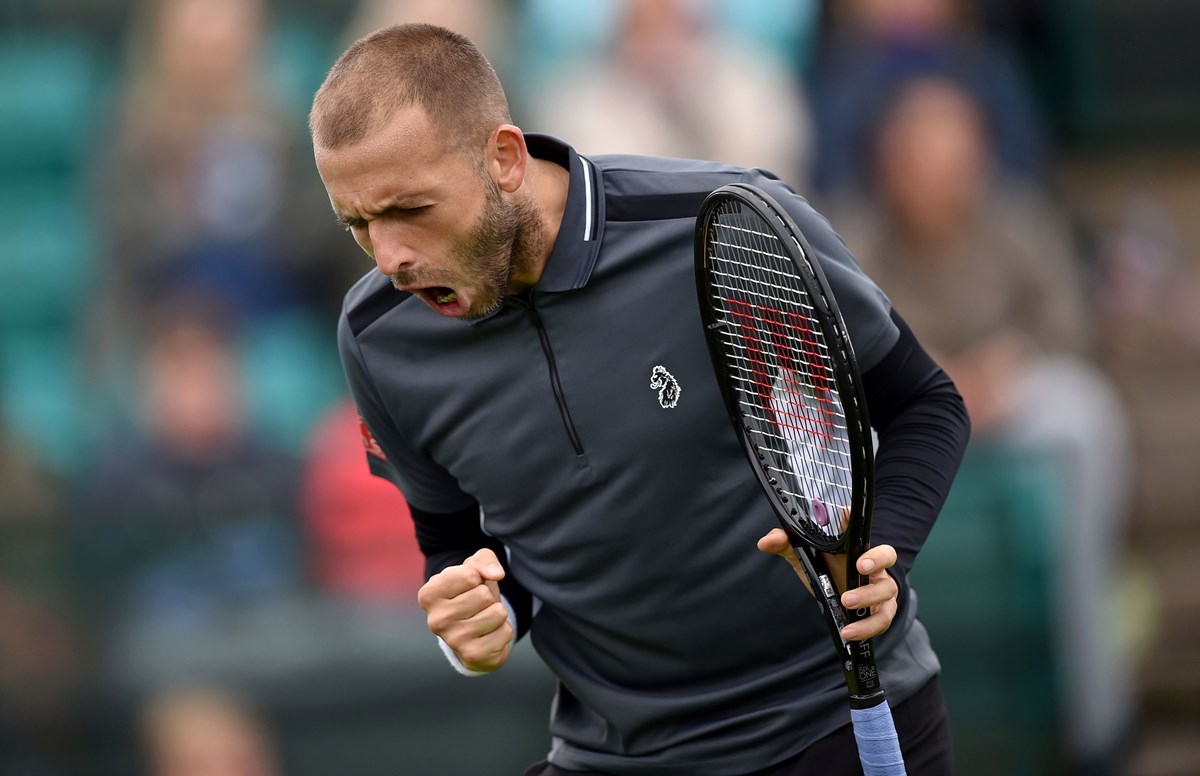 Top seed Evans's chances of repeating his 2019 heroics took a step in the right direct with a 7-5, 7-6(3) win over France's Enzo Couacaud.
Evans looked at home on his familiar Centre Court and displayed his full arsenal of grass court weapons to edge past a tricky opponent in an hour and 44 minutes to set up a clash with Duje Ajdukovic or Thomas Fabbiano.
Qualifying
Comeback victories for Katie Boulter, Eden Silva and Lily Miyazaki have seen them through to the main draw in Nottingham.
Boulter had to bring her A-game to rescue the match against Australia's Maddison Inglis - coming through 3-6, 6-2, 6-3. She'll be hoping to replicate her quarter-final appearance from 2021.
Silva defeated fellow Brit Beth Grey 5-7, 7-5, 6-2 to book a place in the first round, while Miyazki won eight games in a row to see out a 3-6, 6-2, 6-0 win over second seed Astra Sharma.
Dan Cox will also feature in the ATP Challenger main draw after coming through 7-5, 6-3 against Mats Rosenkranz.
Poor weather throughout the day meant that all the WTA qualifiers were cancelled, while the ATP Challenger matches were moved indoors - where the Brits managed to upset the top seeds.
Mark Whitehouse kick started the action by knocking out third seed Andrea Vavassori in one of the upsets of the day. The Brit beat Vavassori - ranking nearly 500 places above him - 6-3, 7-5 to set up a second round clash with seventh seed Antoine Bellier.
"It's never easy with the rain delays but I'm really happy with how I handled things," he said.
"I played a lot on grass last week, but we had one round indoors so I felt quite prepared for either scenario. I feel like I've been playing better tennis each week and I want to carry that forward."
Then it was Dan Cox's turn, with the 31-year-old coming from behind to defeat second seed Antoine Hoang 5-7, 6-4, 7-6(10). Cox saved three match points in an epic third set tie-break to clinch a well-deserved win over the world No.236. He'll play Mats Rosenkranz tomorrow for a place in the main draw.
Elsewhere Giles Hussey defeated fellow Brit and ninth seed Billy Harris 7-6(4), 7-6(1), while Felix Gill overcame countryman Oscar Weightman 6-4, 6-4.
Sunday's rain-effected second-round WTA qualifying matches were rescheduled for Monday with Beth Grey set to play fellow Brit Eden Silva, Katie Boulter battling Australian Maddison Inglis and Lily Miyazaki to play 2021 Charleston champion, Astra Sharma.
Eden Silva, Beth Grey, Katie Boulter and Lily Miyazaki kicked off the first day of action at the Rothesay Open Nottingham with victories in the opening round of qualifying.
Silva put up an incredible fight to come back from aset and 5-2 down and the 4-1 down in the deciding set to clinch an emphatic 5-7, 7-6(1), 7-5 win over Asia Muhammad. With the support of the British crowd behind her, Silva saved 12 break points in the match as she battled her way back to beat the world No.146.
After a late change in the schedule, Grey put in a strong performance to defeat Indonesia's Aldila Sutjiadi 7-6(1), 6-2.
Silva and Grey will now face off for a place in Monday's main draw.
Boulter booked her place in the second round of qualifying with a 6-2, 7-5 win over En-Shou Liang. She'll play Australia's Maddison Inglis in the next round, who beat young Brit Ella McDonald in straight sets.
Completing the British quartet with day one wins in Nottingham was Miyazki, who will play second seed Astra Sharma after coming from a set behind to defeat Gabriela Lee 6-7(5), 6-4, 6-2.