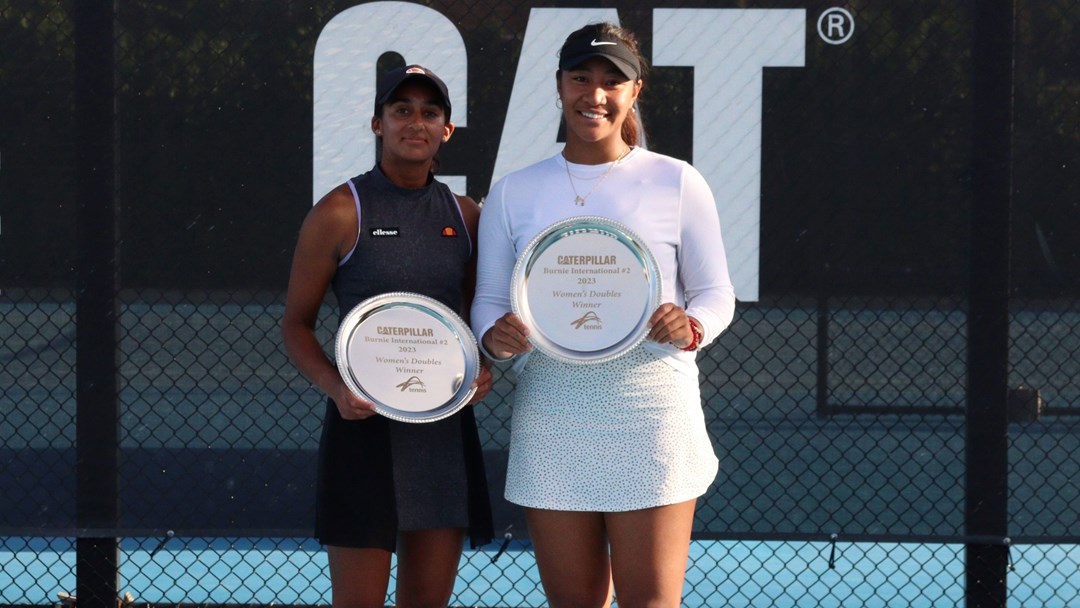 Players News
Liam Broady secures second ATP Challenger title while British doubles stars soar
• 3 MINUTE READ
It was another week of British triumph on the ATP, WTA and ITF tours with eight Brits taking home titles. From America to Australia and victories on home soil, catch up on all the latest British success from across the globe.
Murray and Venus clinch first title together in Dallas
Jamie Murray and Michael Venus only began their partnership this year but have already made their mark on the doubles tour by lifting their first ATP title in Dallas.
The top seeds faced all-American duo Nathaniel Lammons and Jackson Withrow in the final. After losing the first set, Murray and Venus were forced to hold their nerve at 3-4 in the second, when Lammons and Withrow took a 40-0 lead on their serve. But the British, Kiwi duo managed to stay strong under pressure to hold serve, before going on to win the second-set tie-break and the subsequent match tie-break in a 1-6, 7-6(4), 10-7 victory.
Despite it being early days in their partnership, this was the pair's second final of the year, after they also reached the final at the Adelaide International 1 in January. With one title under their belt, Murray and Venus will seek to maintain their momentum as they head into the Delray Beach Open.
Broady wins second ATP Challenger title of his career
It was a week to remember in Lithuania for Liam Broady who lifted his second ATP Challenger title at the hard-court Vilnius Open event.
Broady dominated the field throughout the week, sailing through to the final where he faced world No.192, Zdenek Kolar. Despite the Czech having a strong week at the Challenger event, the Brit proved to be too strong to fight off, as Broady stormed to a 6-4, 6-4 victory to seal the title without dropping a single set.
This victory marks his first title since his triumph against Marc-Andrea Huesler in Biel in 2021 and sees Broady climb back inside the ATP Top 150.
Christie and Collins secure second W60 title of the year in Grenoble
Winning is fast becoming second nature for rising British doubles pair Freya Christie and Ali Collins, who picked up their second title of the year at the W60 Grenoble event in France.
Having only dropped one set en route to the final, Christie and Collins went on to face Sofya Lansere and Maria Timofeeva in a bid for the title, where they eventually clinched a 6-4, 6-3 win to lift the trophy.
The British duo have been a dominant force on the ITF tour so far this year, with their ranking increasing week on week. Christie now has a doubles ranking of world No.129, while Collins sits just above her at world No.122.
Brits claim doubles delight in Bath
Continuing the theme of British doubles success, the W25 and M25 Bath events – part of our Performance Competition's Calendar – saw all-British duo Scott Duncan and Marcus Willis come out on top in a battle of the Brits at the M25 event, while Lauryn John-Baptiste teamed up with Slovakia's Katarina Stresnakova to clinch her first title of the year.
Having stormed through the opening rounds without dropping a set, Duncan and Willis went on to set up a meeting with fellow Brits Ben Jones and Dan Little in the final, where they wrapped up a 6-3, 6-4 win to lift their fifth ITF title together.
Meanwhile at the W25 event, John-Baptiste and Stresnakova went toe-to-toe with Britain's Emily Appleton and the Netherlands' Isabelle Haverlag in pursuit of the title. After coming out on top in the first set tie-break, it was the British, Slovakian duo who went on to seal a straight-sets victory and claim the silverware in Bath.
Bains and Aiava claim first doubles title down under
Having suffered a first-round defeat in the W25 Burnie singles event, Naiktha Bains teamed up with Australian Destanee Aiava for the doubles where the duo endured a dream week down under.
The second seeds dominated the doubles field from the get-go, cruising through their quarter-final and semi-final matches before facing Australia's Lily Fairclough and New Zealand's Olivia Gadecki in the final.
Despite putting in a strong performance, Bains and Aiava continued to ride the momentum and outfoxed Fairclough and Gadecki to clinch a 6-3, 7-5 win and lift their first trophy of the season.