CAREER HIGH
31/10/2016 286
CAREER HIGH
25/06/2023 110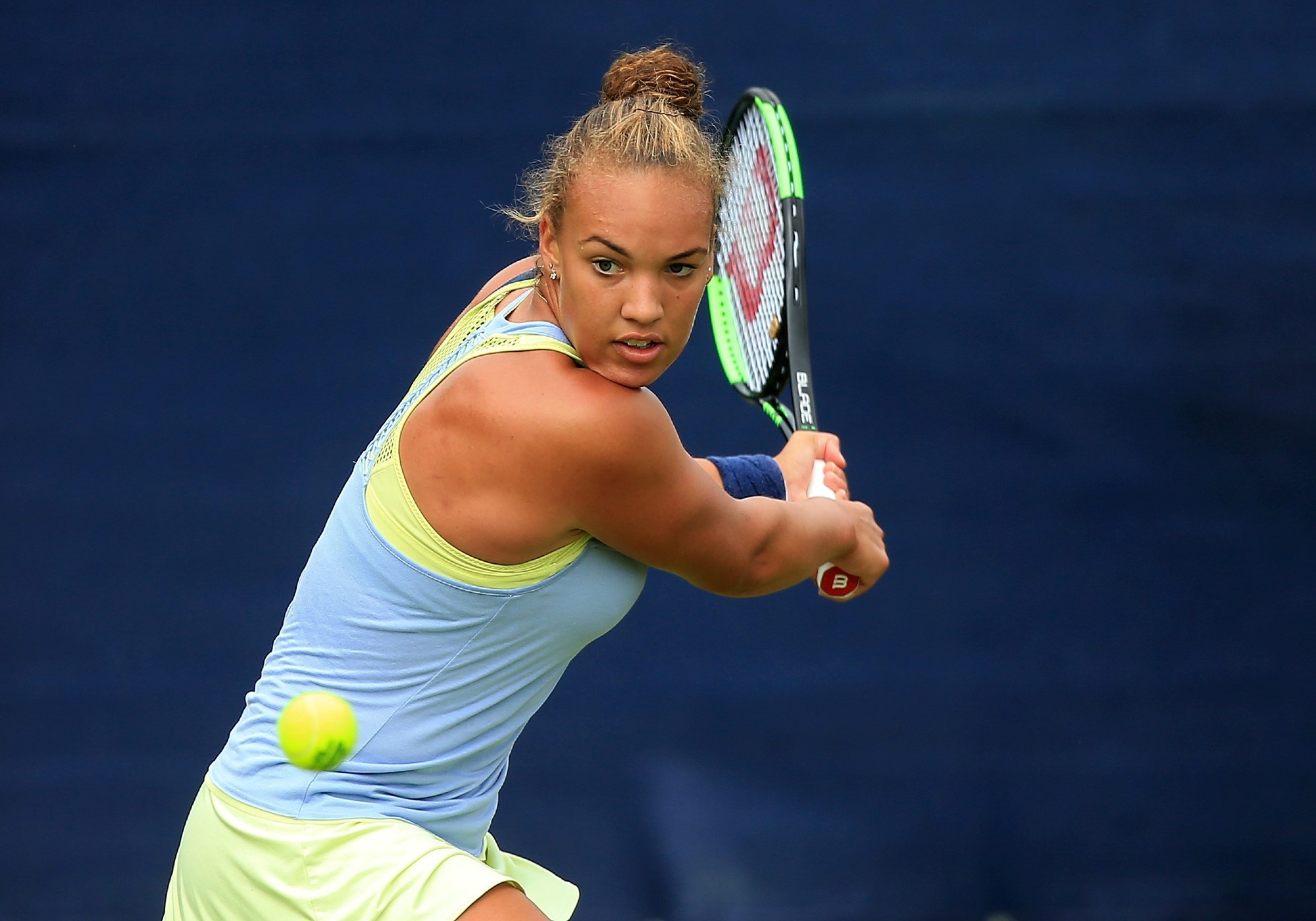 FAVOURITE
SURFACE: Hard
SHOT: Serve
AGE26
HEIGHT180 cm
PLAYSRight-handed
BACKHANDTwo-handed
FAVOURITE
SURFACE:Hard
SHOT:Serve
Get to know Freya Christie
About
Christie trains in her hometown at Nottingham Tennis Centre, where she took to the game at just five years old. With over a dozen doubles titles already under her belt and a break into the WTA Top 200 for the first time in 2019, Christie has enjoyed a rewarding last 12 months.
Quick-fire facts
Place of birth: Nottingham
Lives: Nottingham
Trains: Nottingham Tennis Centre
Favourite tournament: Wimbledon
Likes: Loves all animals has a dog called Jazz, Maltese and Bichon Friise. Loves cooking when she can – favourite type of food is Italian. Big video gamer – plays a lot of Mario Kart on Nintendo Swith with Maia Lumsden
Family: Parents are Andrew Christie and Carol Bloomer, who is a nurse
Tennis beginnings
Started playing at 5 years old. Was looking for after school activity. Happened to go to Notts Tots tennis session at Nottingham Tennis Centre
Tennis Career
November
Moving on to the W25 event in Sunderland, Christie and Estonia's Elena Malygina enjoyed a successful week as they wrapped up the women's doubles title. In the final, they edged Britain's Sam Murray Sharan and Georgia's Mariam Bolkvadze, 6-0, 4-6, 10-4 to lift the silverware.
October
Christie was selected as one of 10 British players to feature in our new tennis documentary series, Beyond the Baseline, presented by Lexus.
Christie teamed up with Australia's Olivia Gadecki for the W60 Glasgow event, where the duo finished runners-up to Maia Lumsden and Francisca Jorge, 6-3, 6-1.
July
Christie and Collins missed out on their chance to make the second ound at Wimbledon for the first time, losing a close battle with Anastasia Detiuc and Andrea Gamiz 6-4, 2-6, 6-3.
May
Christie and Ali Collins had another great week to add to their breakout 2023 season with a semi-final finish at the W100 Trnava.
April
Christie and Collins' form continued as the British doubles duo made their fourth W60 final of the season so far in Bellinzona where the Brits were just edged to the title by Conny Perrin and Anna Siskova 3-6, 7-6(9), 10-5.
March
Christie and Collins went on to compete at the W60 Cressy-Beaubourg event, where they made it to the semi-finals before bowing out to Greet Minnet (BEL) and Yanina Wickmayer (BEL) 7-5, 6-2.
February
Christie and Collins then went on to compete in the doubles event at the W60 Grenoble in February, where they won their second title of the year.
Having only dropped one set en route to the final, Christie and Collins faced Sofya Lansere and Maria Timofeeva in a bid for the title, where they eventually clinched a 6-4, 6-3 win to lift the trophy.
The Brits then went on to compete at the W60 Altenkirchen event, where they made it to their fourth ITF final of the year. Here, Christie and Collins finished runners up to Belgian duo Greet Minnen and Yanina Wickmayer in a 6-1, 6-3 defeat.
January
Christie teamed up with Collins for the doubles event in W40 Tallin. The duo made it all the way to the final but were unfortunately defeated by top seeds Jessie Aney and Anna Siskova 6-4, 6-7(3), 10-7.
Christie and Collins then joined forces for the W60 Sunderland event where they picked up their first doubles title of the year. The British duo faced Magali Kempen and Eden Silva in the final where they powered to a 6-3, 7(5)-6 victory, to clinch the title without dropping a set.
November
Christie was the first qualifier to make it through to the main draw of the W100 Shrewsbury event where she beat fellow Brit Ella McDonald 7-6(9), 6-4 in the opening round before suffering defeat to Ukraine's Anhelina Kalinina.
October
Christie partnered Indonesia's Beatrice Gumulya ahead of the W60 Trnava 2 event in Slovakia where they advanced to the semi-finals before suffering defeat to Taiwan's Pei-Chi Lee and Fang-Hsien Wu.
Christie and Collins earnt their fourth ITF doubles title of the season after defeating Spain's Irene Burillo Escorihuela and Andrea Lazaro Garcia 6-4, 6-1 in the W60 Glasgow final.
August
Christie earnt her first ITF doubles title of the season at the W25 Foxhills with Ali Collins following their 6-3, 6-3 victory of fellow Brits Maia Lumsden and Naiktha Bains.
Christie and Collins' winning streak continued off the back of their victory in Foxhills, defeating Japanese pair Eri Shimizu and Ramu Ueda 7-6(6) 6-3 in the women's double final at the W25 Aldershot.
January
Started her 2022 season reaching the semi finals of the W25 Bath tournament beating fellow Brit Sarah Beth Grey 3-6, 6-3, 7-6. At the same tournament, but in the doubles event, Christie and partner Eden Silva, reached the semi-finals, but lost to Caijsa Hennemann and Elena Malygina in straight sets.
Semi finals of ITF $25k doubles tournament in Sunderland in February alongside Julia Wachaczyk of Germany.
Won four $25k doubles titles, and made three £25k finals. Also made final of Shrewsbury $60k earlier this year alongside . Completely fit all year after wrist problems over recent years. Reached career high doubles ranking in May, breaking top 200 for the first time.