CAREER HIGH
25/09/2023 93
CAREER HIGH
06/08/2018 217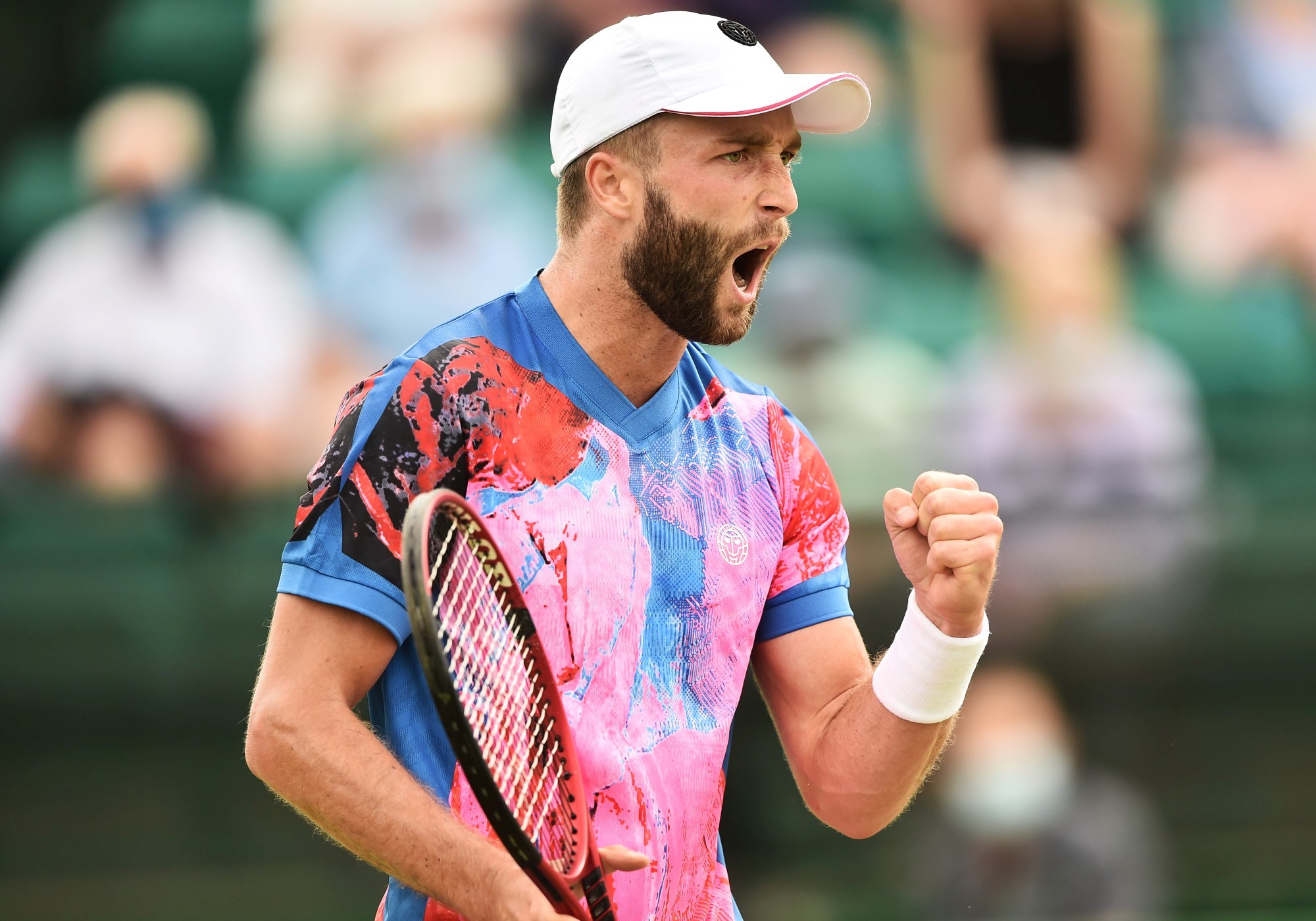 FAVOURITE
SURFACE: Hard
SHOT: Slice
AGE29
HEIGHT183 cm
PLAYSLeft-handed
BACKHANDTwo-handed
LTA SUPPORT NTC Pro Access
TURNED PRO2014
FAVOURITE
SURFACE:Hard
SHOT:Slice
About
Liam Broady is the current British No.5 and is the brother of professional tennis player Naomi Broady.
Since turning professional in 2014, Broady has achieved a career-high ranking of world No.116 and has won two ATP Challenger titles, in Biel and Vilnius.
Quick-fire facts
Place of birth: Stockport
Lives: Stockport
Trains: The Northern Lawn Tennis Club
Favourite tournament: Wimbledon
Tennis beginnings: Started playing tennis aged 4.
Tennis idols: Marcelo Rios and Andre Agassi
Likes: Reading, football (he supports Man City) and watching films. If he wasn't a tennis player he's be a zookeeper because he loves animals.
Family: Sister Naomi was also a professional tennis player.
Tennis Career
November
Broady was selected to join the Lexus Great Britain Davis Cup team at the Davis Cup Finals in Malaga, replacing the injured Andy Murray.
September
Continuing his impressive form, Broady went on to finish runner-up in the doubles event at the Cassis Challenger alongisde Antoine Hoang, where they narrowly lost out to top seeds Dan Added and Jonathan Eysseric 6-0, 4-6, 11-9.
From Cassis to Saint-Tropez, where Broady made his third Challenger final of the season - eventually losing out to Constant Lestienne 4-6, 6-3, 6-4. However, the result meant that Broady broke into the top 100 for the first time in his career.
August
Broady went on to reach the semi-final of the Winnipeg National Bank Challenger, where he missed out on a spot in the final to Leandro Riedi 6-2, 6-3.
July
The Brit achieved his second successive third round appearance at The Championships, Wimbledon, overcoming Constant Lestienne in straight sets before achieving his greatest ranking win, defeating the world No.4 Casper Ruud 6-4, 3-6, 4-6, 6-3, 6-0.
In the third round, Broady narrowly lost out in a tight battle with 26th seed and former semi-finalist Denis Shapovalov 4-6, 6-2, 7-5, 7-5.
He then moved on to the men's doubles where he and fellow Brit Jonny O'Mara suffered a first round defeat to Rafael Matos and Francisco Cabral 7-5, 6-4.
June
Broady teamed up with fellow Brit Jonny O'mara for the Lexus Surbiton Trophy men's doubles, where they became the third all-British team to claim the doubles title in the last four years at the event. In the final, the Brits overcame Australia's Alexei Popyrin and Aleksandar Vukic 6-4, 5-7, 10-8 to take the crown.
Broady then headed to the Rothesay Open Nottingham for the singles event where he reached the second round - losing to Sho Shimabukuro 7-6(4), 6-4. Broady and O'Mara made the doubles final but lost to Johannus Monday and Jacob Fearnley in a match tie-break.
The 29-year-old overcame compatriot Jan Choinski 6-3, 6-4 to advance to the second round of the Rothesay International Eastbourne before losing in straight sets to Sweden's Mikael Ymer.
The Briton reached the quarter-finals in the doubles alongside Jonny O'Mara before eventually suffering a 6-4, 6-4 defeat to top seeds Ivan Dodig and Austin Krajicek.
March
Broady kick-started March with a run to the quarter-final of the Lugano Challenger 75 where he just missed out on a spot in the semi-final to Dominic Stricker - losing 3-6, 6-3, 7-6(4).
Continuing his fine form, Broady then went on to reach the final of the Biel Challenger 100 where he faced Austria's Jurij Rodionov.
Despite a strong effort in the opening set, Broady was forced to retire due to injury - finishing the tournament as the runner-up.
February
In February, Broady lifted his second ATP Challenger title after a dominant display at the Vilinus Open in Lithuania.
Broady sailed through to the final, where he faced Zdenek Kolar in a bid for the title. Despite the Czech also having a strong week at the Challenger event, the Brit proved to be too strong to fight off, as Broady stormed to a 6-4, 6-4 victory to seal the title without dropping a single set.
January
Broady made it to the quarter-finals of the Canberra Challenger, having come through the qualifying rounds.
Broady faced Emilio Gomez in the opening round of the Australian Open qualifiers but lost out 6-3, 7(7)-6, 7(10)-6.
September
The Brit progressed to his first ATP quarter-final since 2017 in Tel Aviv - coming through qualifying to beat Hamad Medjedovic and world No.35 Botic van de Zandschlup. However, unfortunately Broady was unable to play in the quarter-final against Marin Cilic due to injury.
August
Broady lost in the second round of qualifiers at the US Open to Dimitar Kuzmanov 4-6, 6-1, 6-4.
July
Broady put on a brave display upon his debutant year at Wimbledon as he battled into the third round following a nail-biting clash against Argentine, Diego Schwartzman, in the second. Chasing from a 2-1 deficit, the Stockport-born star cleared every hurdle as he pocketed one of the best wins of his career to date, defeating the world No.14 6-2, 4-6, 0-6, 7-6(6), 6-1.
June
He defeated Constant Lestienne and Otto Virtanen at the Rothesay Open Nottingham to make the quarter-finals for the first time. He bowed out in the final eight to Jack Sock 7-6(3), 1-6, 6-4.
At the cinch Championships Broady lost a three-set tussle with two-time former champion Marin Cilic.
March
Broady successfully qualified for the BNP Paribas Open for the first time in his career but, unfortunately bowed out of the tournament after a close 6-4, 4-6, 6-4 battle with Serbia's Miomir Kecmanovic.
Broady then took to the Phoenix Country Club for its ATP Challenger Tour debut. Broady's campaign got off to a flying start, beating three top 100 players to book himself a spot in the semi-finals, but unfortunately was defeated by Germany's Daniel Altmaier 7(5)-6, 7-5.
February
He reached a new career high ranking of No.116 after qualifying for the Dallas Open and reaching the second round, before bouncing back to qualify for the Delray Beach Open the following week.
January
After captaining the Great British team at the ATP Cup, Broady qualified for the main draw of the Australian Open for the first time in his career. In the first round he faced home favouirite Nick Kyrgios and lost 6-4, 6-4, 6-3.
Starting the 2021 season out in South Africa, Broady had a great start to the year reaching a final and semi-final at ATP Challenger events in consecutive weeks.
Broady reached the final of the Biella ATP Challenger in March falling to Andreas Seppl. He made the semi-final of the Belgrade ATP Challenger in April but missed out on qualifying for both Australian Open and Roland Garros.
After reaching the second rounds at the Viking Open Nottingham, Viking International Eastbourne and Wimbledon, he was called up to the Team GB squad at the 2020 Tokyo Olympic Games where he achieved the best win of his career against Hubert Hurkacz.
Reached singles and doubles (alongside Scott Clayton) semi-finals of ATP Challenger in Calgary in January.
Reached quarter-finals at Surbiton with partner Scott Clayton, before losing out to Marel Granollers and Ben McLachlan. Runner up in Torneo Challenger in Leon, Mexico, losing out to Blaz Rola in the final. Suffered a disappointing five-set defeat to Gregoire Barrere in the third Wimbledon singles qualifying round.
Competed in Surbiton and Ilkley Trophies, losing to eventual winners (J Chardy and S Stakhovsky) in both instances. Lost to fellow Brit Alex Ward at Nature Valley Open.
Played Queen's as lucky loser, going out to J Chardy in R1. Reached second ATP Challenger final at Aptos (USA) as a qualifier, defeated by Bublik. QF at Challengers in Gimcheon (Korea) as a qualifier and Vancouver. Also reached Antalya Futures singles and doubles finals.
Broke into the ATP top 100 on 25 September 2023
Got his first top 5 victory over Casper Ruud at The Championships, Wimbledon in 2023
Wonboys' doubles at Wimbledon in 2010 with Tom Farquharson, boys' doubles at Australian Open with Joshua Ward-Hibbert, and reached boys' singles finals at Wimbledon in 2011 and US Open in 2012. He reached no.2 in junior world rankings.
Who is Liam Broady's coach?
Broady's coached by David Sammel.
What has Liam Broady won?
Broady's won eight singles titles: two ATP Challengers and seven ITF Futures tournaments. In doubles Liam has 13 ITF Futures tournament wins.
When did Liam Broady win his first title?
Broady won his first ITF Futures singles title in 2013, where in the final he beat fellow-Brit Robert Carter 6-2 6-1. In 2021 he won his first ATP Challenger event in Biel, beating Marc-Andrea Huesler (SUI) 7-5 6-3.
When did Liam Broady start playing tennis?
At age four Broady began playing tennis in Stockport.
Has Liam Broady played for Great Britain in the Davis Cup?
Broady has played one tie for Great Britain which came in 2018 against Spain. He lost to Albert Ramos-Vinolas in three sets.
*ATP Challenger and ITF titles have been combined in the overall ITF titles on this page