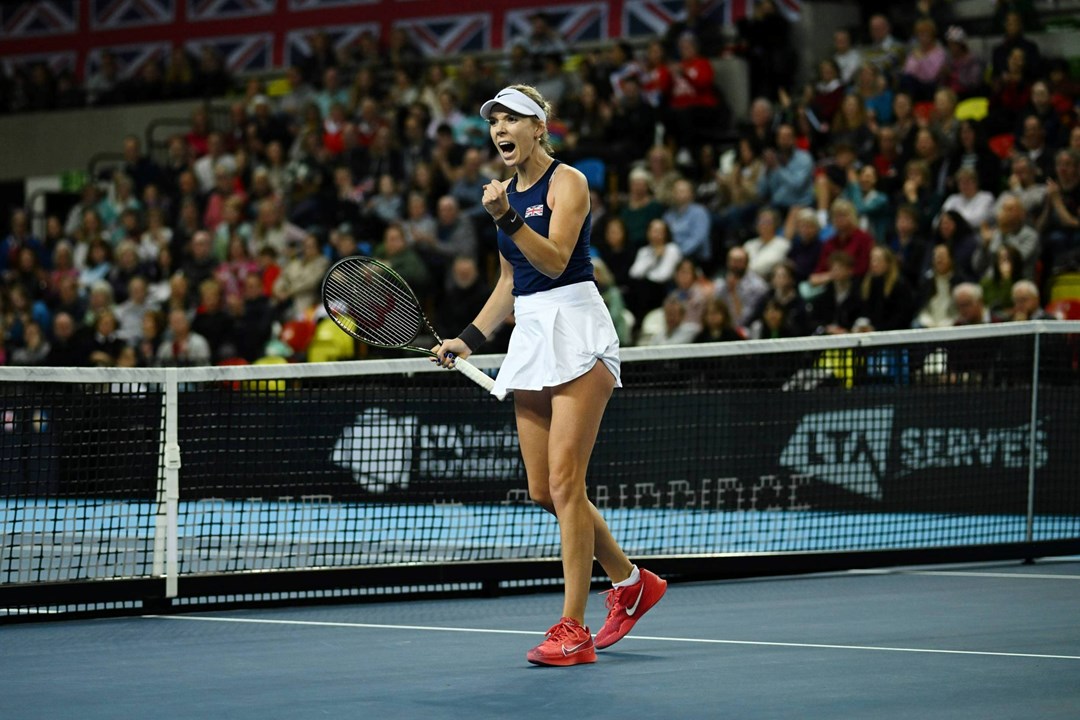 GB Teams
Billie Jean King Cup Play-Offs 2023: Reaction to day one as Katie Boulter levels the scores against resilient Swedish team
• 3 MINUTE READ
An action-packed day one of the Billie Jean King Cup Play-Offs comes to an end at London's Copper Box Arena, with Great Britain and Sweden level at one match apiece in the best of five rubber tie.
Sweden's Kajsa Rinaldo Persson opened the day with an upset win over world No.93 and British debutant Jodie Burrage, coming from 4-0 down to win 6-4, 6-1.
It was then over to Katie Boulter who clinched her 10th Billie Jean King Cup match win for the Brits (eight singles, two doubles) against Caijsa Wilda Hennemann 6-2, 6-1.
The results leave it all to play for tomorrow with a potential doubles decider on the cards, should the tie go to 2-2.
Reflecting on the tie and a tantalising second day in Stratford ahead, Great Britain Captain Anne Keothavong said: "This is a team event and it's important we all get behind each other and support each other.
"There's work to do tomorrow so we've got to pick each other up and keep the energy up and continue to go for it.
"This tie is really important for us, we want to get back to where we think we belong and like I said, there's still plenty of work to do.
Boulter showed her quality in an impressive straight sets win against 22-year-old Hennemann, racking up 20 winners to see out the victory in just an hour and 17 minutes.
"It's a little extra special for me because I played a tie here in 2019, which has been a huge part of my identity actually. This really is the best place to play in front of.
"It definitely pushes me (playing for Great Britain), I have a lot of pride for my country and for these girls here and what they do day in and day out. I always want to do my best every time I come out here and fight for every point.
"These girls (Sweden) have nothing to lose an they've come out here swinging. She made some great shots today, but I thought I raised my level and I'm proud of myself for that."
It was a difficult day for British No.2 Burrage, who became LTA Colour Holder No.324 after playing er first match for her country. Despite the pride of being able to represent Great Britain, Burrage left the court feeling disappointed not to have brought home the win for her teammates.
"It's still pretty fresh so I need a bit of time to figure out what happened," the 24-year-old admitted.
"My opponent played great today, I've been researching her the last few days and I hadn't seen her play like that before – she made so many balls. Yes, I could have played better, it wasn't my best tennis today.
"This event is nothing like I've never experienced in tennis. I'm very proud to represent my country but I'm disappointed I didn't get the win today and that's going to sting for a while. I have not felt like this – including the nerves before the match – ever before. Even stepping out on Centre Court at Wimbledon – it doesn't compare to this.
"It's so different playing for yourself compared to playing for a team and other people – that pressure I've never understood before, you really have to do it to know what that feels like.
"Credit again to my opponent who played a great match today."
Sunday schedule
Matches start tomorrow from 12:00 – starting with the reverse singles, followed by a deciding doubles if required. Full schedule below:
Katie Boulter (GBR) vs Kajsa Rinaldo Persson (SWE)
Jodie Burrage (GBR) vs Caijsa Hennemann (SWE)
Heather Watson & Harriet Dart (GBR) vs Lisa Zaar & Bella Bergkvist Larsson (SWE)