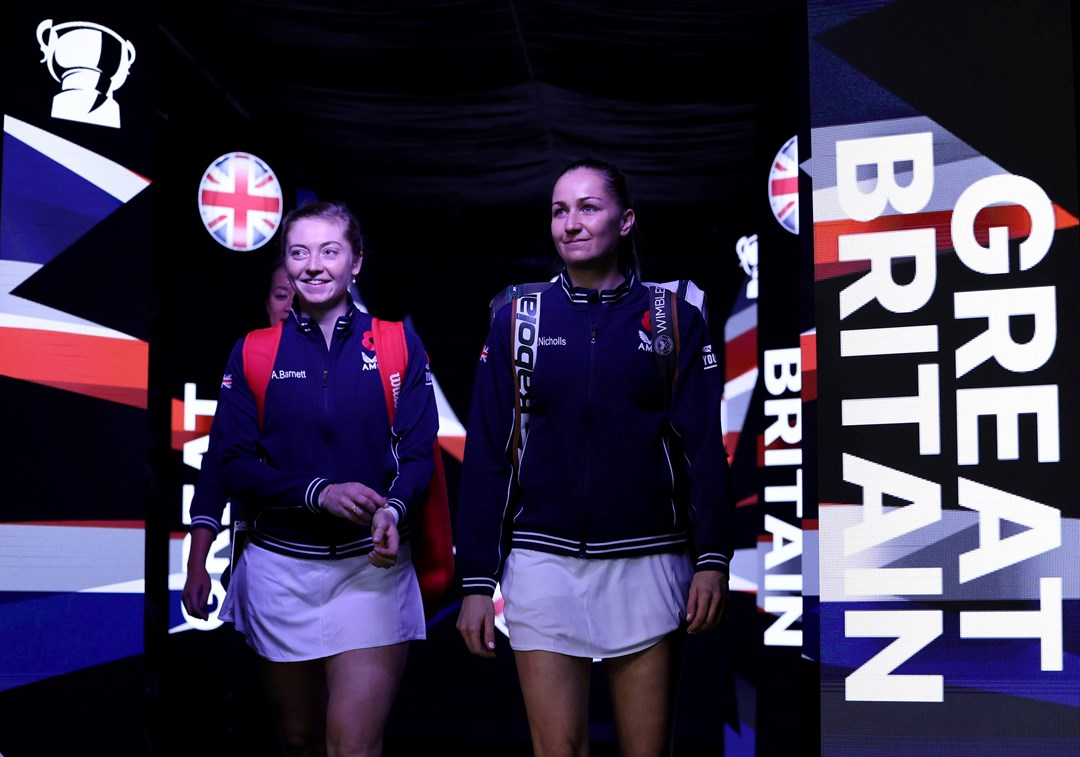 GB Teams
Alicia Barnett & Olivia Nicholls become Colour Holders No.320 & 321 after debut win
• 3 MINUTE READ
Alicia Barnett and Olivia Nicholls are the latest stars to become LTA Colour Holders having represented Great Britain at the Billie Jean King Cup in a dramatic doubles win over Kazakhstan.
Barnett, Colour Holder No.320, and Nicholls, No.321, took centre stage at the Emirates Arena on Tuesday evening to clinch a valuable point for the Brits in Group C with a 7-5, 6-3 win over Elena Rybakina and Anna Danilina.
"To be selected for this team was an absolute privilege," shared Barnett. "Today's win was just the cherry on the top. We're grateful to be here, and we went out and just controlled what we could and let out results and performances speak for themselves."
"One of our biggest strengths is knowing each other as a person inside out and each other's games inside out," added Nicholls. "When we are out there, we are almost telepathic at times."
Despite their Kazakhstani opponent's taking the early initiative and striking first, ultimately, once Barnett and Nicholls found the crucial equaliser in the first set, they began to dictate the terms of engagement, closing out a straight-sets victory over the reigning Wimbledon champion and the world No.11.
"It's definitely our best-ever win, isn't it?" said Nicholls. "Top 20 doubles player, and a Wimbledon champion." Barnett continued, "To do that for your country, as well…on home soil. Just keeps going on, the list."
Not only did the British duo overcome two names that are well-renowned on the tennis scene, but – the cherry on top – they also posted a significant win for the home nation, with the final result standing at 2-1 to Kazakhstan. The point acquired from the doubles rubber could also play a deciding role in Great Britain's fate ahead of Friday's semi-finals. However, the home side's future remains out of their hands as they await the results of surrounding ties in the upcoming days.
Barnett and Nicholls were announced in Great Britain's Billie Jean King Cup squad just a week prior to the commencement of the tournament, receiving a call-up from team captain, Anne Keothavong.
"The decision was always going to be Liss and Liv in this case," admitted the team captain. "They showed how to disrupt.
"Watching the energy that Liss and Liv brought to the court, how could you not feel joy? It was contagious. We didn't want to go back to the hotel tonight having lost all three rubbers. So, it was big to get that win in the doubles."
"It was fantastic tennis out there. I think they have justified their selection on this team more than. If they can continue to produce that kind of tennis, then there's no doubt their doubles rankings will move in the right direction next year."
The LTA's Colour Holders programme was introduced to commemorate the enormous achievement of representing Great Britain on a global stage, honouring each player who has sported the British flag with a colour.
Find out more