3 MINUTE READ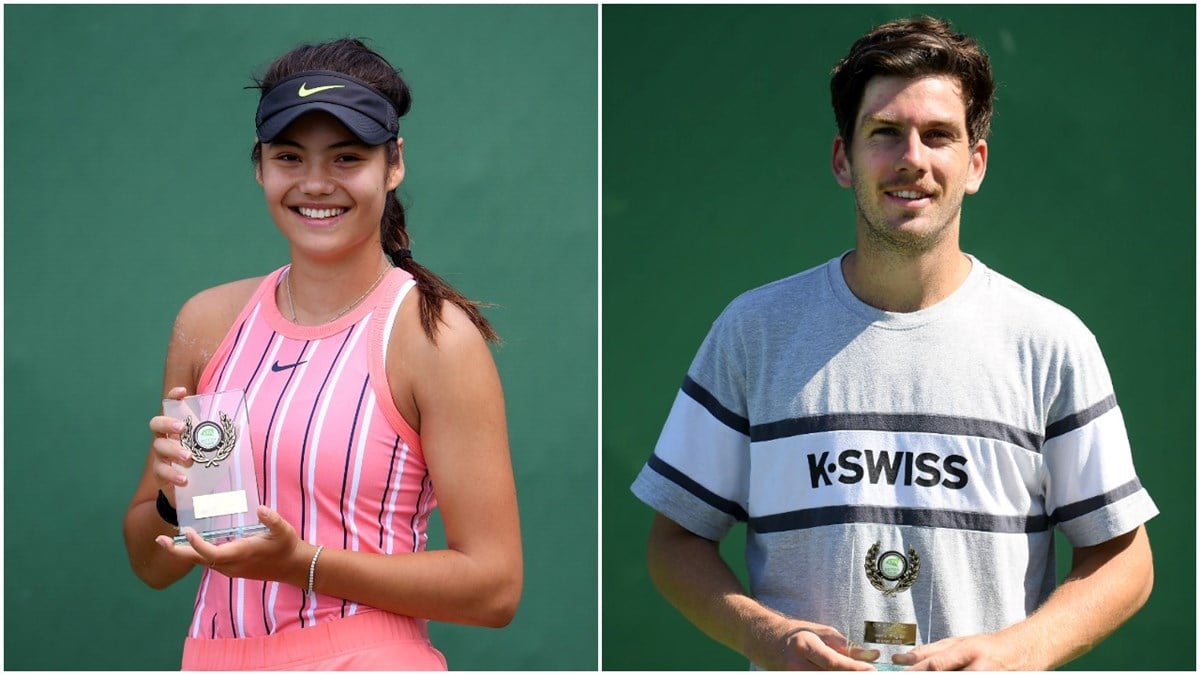 The Lexus British Tour is a tennis circuit for professional players wanting to compete on home soil, young stars with ambitions of going pro in the future, and national level players who still compete at a high level – in other words, the very best of British tennis.
With approximately 30 Lexus British Tour events each year, players climb up and down the leader board depending on their results. Whoever sits top at the end of the year is crowned the Lexus British Tour Bonus Pool Champion.
We also have our Lexus British Tour Masters event – a one off tournament in the calendar with the biggest prizes on offer. Previous champions include none other than US Open title winner, Emma Raducanu.
Find out everything you need to know about the Lexus British Tour.
The LTA's Lexus British Tour events often have a range of different players competing – from junior rising stars to national level adults or even pro players.
The tournaments are open age group category with a mixture of adults and juniors competing and are LTA Grade 1 (Premier & Tier 1) & LTA Grade 2 (Tier 2) events.
You can play more than one tournament in the same week provided you have completed the previous tournament.
If you have played in an ITF tournament, you will need to have been released by the ITF Supervisor of that tournament as you cannot compete in multiple tournaments at the same time.
Performance wild cards
Two wild cards per draw may be awarded at the discretion of our Performance Team. These are usually given to young / junior players who don't yet have an ATP or WTA ranking to help give them experience at the next level.
Tournament Director wild cards
The Tournament Director can then also give out between one and four wild cards to specific applicants. Further wild cards can also be awarded for any qualifying draws and if there are more spaces available in the main draw.
Wild cards are allocated in order of ATP / WTA singles ranking, then ITF World Tennis singles ranking of 1500 or better, followed by ITF World Tennis Number.
To request a wild card – contact the British Tour Tournament Director. Any requests must be made by Friday (midday) before the event for main draw, and by the withdrawal deadline for qualifying.
Tournament formats vary but a Lexus British Tour event will usually take place over a week. They often start with qualifying on Monday and the main draw taking place from Wednesday through to Saturday.
However, some events won't have qualifying and others will only be three-day tournaments – so please check the competition schedule and format before you enter.
Draw sizes range from 28-32 and matches are played as best of three sets with a match tie-break in the decider.
Main draw

Qualifying

Draw size

Max 32

This varies based on number of entries and number of match courts at each event

Direct Acceptances

Max 28

(unless no qualifying)

-

Qualifiers

Varies

-
Find out everything about British Tour formats here.
You can follow all the latest draws, scores and results below:
Watch the action from some of our Lexus British Tour events live over on our YouTube page.
Want to see who's top of the leaderboards? Find out below:
See below, the winners of the Lexus British Tour 2023 events so far this year.
Category
Tournament
Women's singles winner
Men's singles winner

Tier 2

Lexus LTA British Tour Glasgow

Newlands LTC

Ellie Blackford

Hamish Stewart

Tier 1

LTA Lexus British Tour Loughborough

Loughborough University

Maria Ustic

Phoenix Weir

Premier Tier

LTA Lexus British Tour Loughborough

Loughborough University

Michelle Dzjachangirova

Phoenix Weir

Tier 2

LTA Lexus British Tour Graves

Graves Health & Leisure Centre

Flora Johnson

Oscar Brown

Tier 2

LTA Lexus British Tour Bath

University of Bath

Orla Cooper

Matthew Doe

Tier 2

LTA Lexus British Tour Edgbaston

The Edgbaston Priory Club

Kate Mansfield

Ben Hudson

Tier 2

LTA Lexus British Tour Stirling

University of Stirling

Teodora Prisadnikova

Liam Hignett

Tier 2

LTA Lexus British Tour Gosling

Gosling Sports Park

Given Roach

Stefan Cooper

Tier 2

LTA Lexus British Tour Corby

Corby Tennis Centre

Abby Kelliher

Jamie Crowfoot

Tier 2

LTA Lexus British Tour Redbridge

Redbridge Sports Centre

Ciara Moore

Oscar Wai

Tier 2

LTA Lexus British Tour Newport

Newport Tennis Centre

Kate Mansfield

Oscar Wai

Tier 2

Tennis Scotland Open Tour Scottish Indoor Championships (part of British Tour)

Stirling University

Aimee Knowles

Yuri Santiago Syroholotov Netrebin

Tier 2

LTA Lexus British Tour Connaught

The Connaught Club

Kate Mansfield

Pawel Safuryn

Tier 2

LTA Lexus British Tour Altrincham

Bowdon LTC

Kate Mansfield

Cameron Fryer

Tier 2

LTA Lexus British Tour Woking

Woking LTC

Ciara Moore

Hugo Coquelin

Tier 1

LTA Lexus British Tour Penarth

Windsor Tennis Club

Ciara Moore

Thomas Loxley

Tier 2

LTA Lexus British Tour North Oxford

North Oxford LTC

Hannah Read

Stefan Cooper

Premier Tier

LTA Lexus British Tour Premier West Worthing

West Worthing Tennis & Squash Club

Ciara Moore

Giles Hussey

Tier 2

LTA Lexus British Tour Frinton

Frinton LTC

Gabia Paskauskas

Luca Pow

Tier 1

LTA Lexus British Tour Felixstowe

Felixstowe LTC

Kylie Bilchev

Phoenix Weir

Tier 1

LTA Lexus British Tour Paddington

Paddington Sports Club

Tia Bonita Jakupovic-Kljako

William Nolan

Tier 2

Lexus British Tour Giffnock sponsored by Kayfoam

Giffnock Tennis, Squash & Hockey Club

Francesca Simpson

Ewan Lumsden

Tier 2

Lexus British Tour Ilkley

Ilkley LTSC

Ellie Blackford

Patrick Foley

Tier 2

LTA Lexus British Tour Newcastle

The Northumberland County Ground

Alexandra Walker

Sean Hill

Premier Tier

Lexus British Tour Premier Sutton

Sutton Tennis & Squash Club

Danielle Hack

Marcus Walters

Tier 2

LTA Lexus British Tour Cumberland

Cumberland LTC

Francesca Simpson

Jack Curtis

Tier 2

Lexus LTA British Tour Bournemouth

The West Hants LTC

Anna Chesca

Eliot Glaysher

Tier 2

TS Open Tour-Scottish Clay Court Championships (Lexus LTA British Tour)

Craiglockhart Tennis Centre

Amelie Brooks

Nicolas Rosenzweig

Tier 2

Lexus LTA British Tour Exeter

Exeter University

Ellie Blackford

Alexander Parker

Tier 2

Lexus LTA British Tour Taunton

Taunton Tennis Centre

Amelie Brooks

Alexander Parker

Tier 2

Lexus LTA British Tour Loughborough

Loughborough University

Summer Yardley

Marcus Walters

Tier 2

Lexus LTA British Tour Stirling (Scottish National Open Championships)

Stirling University

Hannah Rylatt

Ewen Lumsden

Tier 1

Lexus British Tour Edgbaston

Edgbaston LTC

Hannah Rylatt

Marcus Walters