1 MINUTE READ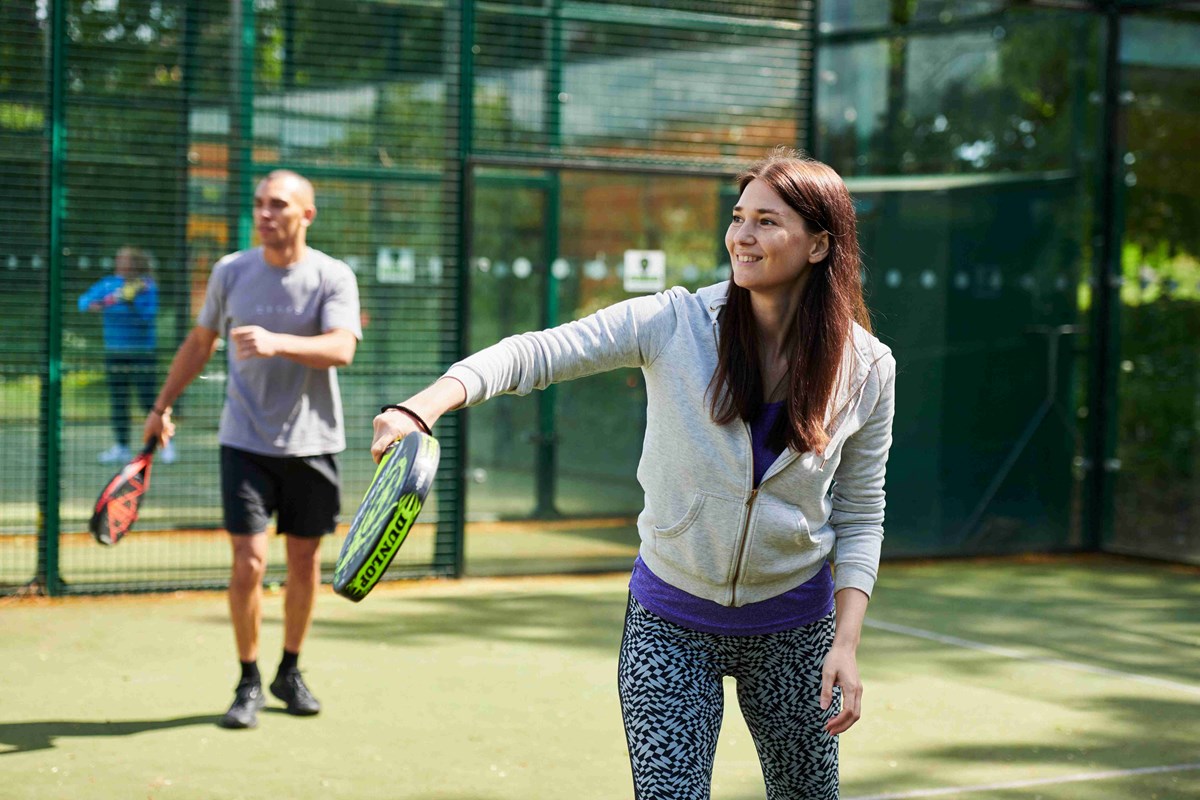 Get involved in one of the fastest growing sports in the world and book a padel court near you today.
Padel is a sport for anyone and everyone - it's easy to pick up and once you get started, you'll find it difficult to stop.
There are almost 250 padel courts in Britain ready and waiting for you, with even more on the way.
Check out our padel court map below to find your nearest courts and how you can book your next hit with friends and family, a coaching session or play matches.
Find padel courts in Britain
Use our interactive map to find your nearest padel court:
| | | | | | | | |
| --- | --- | --- | --- | --- | --- | --- | --- |
| Club Name | Town/city | County | Postcode | Region | Indoor/Covered | Outdoor | Website |
| Padel4all Bristol - Lockleaze | Lockleaze | Avon | BS7 9XF | South West | 4 | 0 | https://padel4all.com/lockleaze |
| We Are Padel - Bristol | Bristol | Avon | BS5 0HU | South West | 7 | 0 | https://wearepadel.com/uk/bristol |
| Surge Padel - Bristol | Bristol | Avon | BS16 3JB | South West | 8 | 0 | https://www.surgepadel.co.uk/bristol |
| Rocket Padel - Bristol | Bristol | Avon | BS4 4EB | South West | 14 | 0 | https://www.rocketpadel.com |
| Redland Green Club | Bristol | Avon | BS6 7HF | South West | 0 | 2 | https://redlandgreen.co.uk/padel/ |
| Fairmont Windsor Park | Windsor | Berkshire | TW20 0YL | East | 0 | 2 | https://www.fairmont.com/windsor-park/ |
| The Barnes at Wellington | Reading | Berkshire | RG7 2BT | East | 1 | 1 | https://wellingtonbarns.co.uk/padel/ |
| The Padel Hub | Slough | Berkshire | SL2 5DT | East | 5 | 0 | https://www.padelhub.uk/ |
| Stoke Park | Soke Poges | Buckinghamshire | SL2 4PG | East | 0 | 2 | https://www.stokepark.com |
| Holmer Green Padel | High Wycombe | Buckinghamshire | HP15 6UF | East | 0 | 2 | https://clubspark.lta.org.uk/Holmergreenpadel |
| Grappenhall Village LTC | Warrington | Cheshire | WA4 3HQ | North | 0 | 2 | https://clubspark.lta.org.uk/GrappenhallVillageLawnTennisClub |
| The Padel Club | Wilmslow | Cheshire | SK9 3PE | North | 0 | 2 | https://www.thepadelclub.co.uk |
| PDL Padel United - The Wirral Padel Club | Bromborough | Cheshire | CH62 3QX | North | 0 | 4 | https://padeluniteduk.com/the-wirral-padel-club/ |
| Manchester Padel Club | Manchester | Cheshire | SK8 4RZ | North | 0 | 1 | https://clubspark.lta.org.uk/ManchesterPadelClub |
| Trevose Golf & Country Club | Padstow | Cornwall | PL28 8JB | South West | 0 | 2 | https://trevose-gc.co.uk |
| The Point at Polzeath | St Minver | Cornwall | PL27 6QT | South West | 0 | 2 | https://www.thepointatpolzeath.co.uk/health-club/padel-tennis/ |
| Heron Tennis (Game4Padel) | Newquay | Cornwall | TR7 2LZ | South West | 0 | 1 | https://www.heron-tennis.co.uk/padel |
| Church Broughton Tennis Club | Derby | Derbyshire | DE65 5BA | Midlands | 0 | 1 | https://clubspark.lta.org.uk/Churchbroughtontennisclub |
| We are Padel | Derby | Derbyshire | DE24 8BW | Midlands | 11 | 0 | www.wearepadel.com |
| PDL Padel United - Plymouth | Plymouth | Devon | PL6 8BH | South West | 0 | 4 | https://padeluniteduk.com/ |
| The Manor Resort | Okehampton | Devon | EX20 4NA | South West | 2 | 0 | https://www.manorandashburyresorts.co.uk/activities-facilities/padel-tennis/ |
| The Ashbury Resort | Okehampton | Devon | EX20 4NL | South West | 2 | 0 | https://www.manorandashburyresorts.co.uk/activities-facilities/padel-tennis/ |
| The West Hants Club | Bournemouth | Dorset | BH3 7EF | South West | 0 | 1 | https://www.westhants.co.uk |
| Tennis World (Middlesbrough Padel Club) | Middlesbrough | Durham & Clev'd | TS4 3SA | North | 2 | 0 | https://clubspark.lta.org.uk/tennisworld |
| David Lloyd Chigwell | Chigwell | Essex | IG9 6BJ | East | 3 | 0 | https://www.davidlloyd.co.uk/clubs/chigwell |
| Prested Padel Tennis | Colchester | Essex | CO5 9EE | East | 2 | 2 | http://www.prestedpadeltennis.co.uk |
| Padel United UK - Maldon | Maldon | Essex | CM9 5JQ | East | 3 | 1 | www.padeluniteduk.com |
| Stratford Padel Club | London | Essex | E15 2AE | East | 5 | 0 | https://stratfordpadelclub.org |
| Brentwood Hard Court Tennis & Padel Club | Brentwood | Essex | CM13 3FD | East | 0 | 3 | https://www.padel123.co.uk/ |
| Down Hall Hotel | Spa & Estate, Hatfield Heath | Essex | CM22 7AS | East | 0 | 1 | www.padeluniteduk.com |
| Padel4all Garon Park | Southend | Essex | SS2 4FA | East | 3 | 1 | https://padel4all.com |
| Padel United - Great Baddow Chelmsford | Chelmsford | Essex | CM9 5UR | East | 0 | 2 | www.padeluniteduk.com |
| The Heron Padel Club | Brentwood | Essex | CM13 3LW | East | 2 | 0 | https://www.heroncountryclub.uk/theheronpadelclub |
| PDL Padel United - Waltham Abbey | Epping Forest | Essex | EN9 1JH | East | 0 | 6 | https://padeluniteduk.com/free-padel-offer-at-the-new-waltham-abbey-padel-club/ |
| East Gloucestershire Club | Cheltenham | Gloucestershire | GL53 7DF | South West | 0 | 3 | https://www.eastglos.co.uk |
| Padel Shift - The Club by Bamford | Moreton-in-Marsh | Gloucestershire | GL56 0YG | South West | 0 | 2 | https://www.padelshift.com/book-a-court |
| Padel Shift - Elkstone Studios | Cheltenham | Gloucestershire | GL53 9PQ | South West | 0 | 2 | https://www.padelshift.com/book-a-court |
| Manydown Tennis | Basingstoke | Hampshire | RG23 8PE | South West | 1 | 0 | https://www.manydowntennis.co.uk/tennis/individual-coaching/ |
| Somborne Padel Tennis | Winchester | Hampshire & IOW | SO20 6NL | South West | 0 | 1 | https://www.thepadelcourtcompany.co.uk |
| Winchester Racquets & Fitness | Winchester | Hampshire & IOW | SO22 6AN | South West | 0 | 2 | www.winchesterracquetsandfitness.net |
| David Lloyd Bushey | Watford | Hertfordshire | WD23 2DL | East | 3 | 0 | https://www.davidlloyd.co.uk/clubs/bushey |
| PDL Padel United - Bushey Grove | Watford | Hertfordshire | WD23 2TD | East | 0 | 3 | https://padeluniteduk.com |
| Broxbourne Padel Club (G4P) | Mill Lane Close | Hertfordshire | EN10 7BA | East | 0 | 2 | https://www.matchi.se/facilities/game4padelbroxbourne |
| Bishop's Stortford LTC | Bishop's Stortford | Hertfordshire | CM23 2TD | East | 0 | 2 | http://www.bsltc.co.uk |
| Potters Bar Padel Centre | Potters Bar | Hertfordshire | EN6 4NF | East | 0 | 2 | https://padelprojectuk.com/new-sites |
| Holiday Extras | Hythe | Kent | CT21 4JB | South East | 0 | 1 | Facebook Page |
| The Sundridge Park | Kent | Kent | BR1 3NA | South East | 0 | 2 | https://clubspark.lta.org.uk/BromleyPadelSundridgePark |
| Wye Tennis Club | Ashford | Kent | TN25 5EA | South East | 0 | 1 | https://wyetennis.org.uk/ |
| Tonbridge Golf Centre | Tonbridge | Kent | TN9 1PP | South East | 0 | 2 | https://tonbridgegolfcentre.com/padel-tennis/ |
| Crystal Palace Sports Centre (Game4Padel) | London | Kent | SE19 2BB | South East | 0 | 2 | www.game4padel.com |
| Fylde Tennis & Lowther Padel | Lytham | Lancashire | FY8 5QQ | Midlands | 0 | 2 | https://padelprojectuk.com/lowther-gardens |
| Market Harborough Cricket & Squash Club | Leicestershire | Leicestershire | LE16 9QH | Midlands | 0 | 2 | https://www.harboroughcsc.co.uk/harborough-padel-club/ |
| The Hayes Playing Fields | Kings Norton | Leicestershire | B38 8LP | Midlands | 0 | 2 | https://cortesport.co.uk/contact/ |
| Hazelwood Sports Club | London | Middlesex | N21 2AJ | South East | 0 | 2 | http://www.hazelwoodsportsclub.co.uk |
| Regents Park - Will to Win | London | Middlesex | NW1 4NU | South East | 0 | 2 | https://www.willtowin.co.uk/regents-park/ |
| Hyde Park - Will to Win | London | Middlesex | W2 2UH | South East | 0 | 2 | https://www.willtowin.co.uk/hyde-park/ |
| Rocks Lane Padel Club | Chiswick | Middlesex | W4 1RZ | South East | 0 | 6 | https://rockslane.co.uk/padel-court-chiswick/ |
| Queens Club | London | Middlesex | W14 9EQ | South East | 0 | 2 | https://www.queensclub.co.uk/ |
| Padium - Canary Wharf | London | Middlesex | E14 4JD | South East | 1 | 7 | https://www.padium.com/ |
| Bloom Heathrow (Game4Padel) | Feltham | Middlesex | TW14 8HA | South East | 0 | 2 | www.game4padel.com |
| Diss Heywood Tennis & Padel Club | Diss | Norfolk | IP22 4DB | East | 0 | 2 | https://clubspark.lta.org.uk/DissTennisPadelClub/Padel |
| Nottingham Padel Centre | Nottingham | Nottinghamshire | NG2 3HJ | Midlands | 4 | 0 | https://www.nottinghampadelcentre.com/en/bookings |
| Jet Padel Club | Thame | Oxfordshire | OX9 3SG | Midlands | 0 | 1 | Accepting bookings by email |
| David Lloyd Bicester | Bicester | Oxfordshire | OX25 2BX | East | 3 | 0 | https://www.davidlloyd.co.uk/clubs/bicester/ |
| MVP Padel at Oxford Sports LTC | North Hinskey Villlage | Oxfordshire | OX2 ONA | East | 0 | 3 | https://www.matchi.se/facilities/mvpoxford?lang=en |
| Bittescombe Lodge | Wiveliscombe | Somerset | TA4 2QL | South West | 0 | 1 | https://bittescombe.com |
| Ipswich Sports Club | Ipswich | Suffolk | IP1 4NJ | East | 0 | 1 | https://ipswichsportsclub.co.uk |
| Risbygate Sports Club | Bury St Edmunds | Suffolk | IP33 3RR | East | 0 | 2 | https://risbygatesportsclub.co.uk/padel/ |
| Harbour Club Chelsea | London | Surrey | SW6 2RR | South East | 3 | 0 | https://www.harbourclub.com/clubs/chelsea |
| Weybridge Padel Club | Surrey | Surrey | KT13 8QA | South East | 0 | 1 | http://www.weybridgepadel.co.uk |
| The Hurlingham Club | London | Surrey | SW6 3PR | South East | 0 | 3 | https://www.hurlinghamclub.org.uk |
| Beaverbrook Hotel & Spa | Leatherhead | Surrey | KT22 8QX | South East | 0 | 1 | https://beaverbrook.co.uk |
| Pavilion Club | East Molesey | Surrey | KT8 9DX | South East | 0 | 1 | https://www.pavilionclub.co.uk/ |
| Epsom Lawn Tennis Club | Epsom | Surrey | KT18 7QN | South East | 0 | 3 | http://www.epsomtennisclub.co.uk |
| National Tennis Centre | Roehampton | Surrey | SW15 | South East | 3 | 0 | https://clubspark.lta.org.uk/PadelNTC |
| The Montrose Padel Club | Richmond | Surrey | TW10 7AD | South East | 1 | 0 | N/A |
| Ashtead Squash & Tennis Club | Ashtead | Surrey | KT21 2NN | South East | 0 | 1 | https://www.ashteadsquashtennis.club |
| Bourne Club | Farnham | Surrey | GU9 8HB | South East | 0 | 1 | https://www.bourneclub.co.uk/sport/padel/ |
| The Roehampton Club | Roehampton | Surrey | SW15 5LR | South East | 1 | 1 | https://www.roehamptonclub.co.uk |
| Esher Tennis Club | Esher | Surrey | KT10 9DU | South East | 0 | 2 | https://clubspark.lta.org.uk/esherlawntennisclub |
| St George's Hill LTC | Weybridge | Surrey | KT13 0LL | South East | 0 | 1 | https://stghltc.co.uk |
| Limpsfield Lawn Tennis Club | Oxted | Surrey | RH8 0DH | South East | 0 | 2 | www.limpsfieldtennis.co.uk/ |
| Oxshott Padel Club | Oxshott | Surrey | KT22 0RF | South East | 0 | 2 | https://www.oxshottpadelclub.com |
| Surbiton Racket & Fitness Club | Surbiton | Surrey | KT5 8JT | South East | 0 | 2 | https://www.surbiton.org |
| David Lloyd - Raynes Park | Raynes Park | Surrey | SW20 8TE | South East | 3 | 0 | www.davidlloyd.co.uk/raynespark |
| Queens Club London | London | Surrey | W14 9EQ | South East | 0 | 2 | https://www.queensclub.co.uk/ |
| Imber Court - Hampton | London | Surrey | KT8 0BT | South East | 0 | 4 | https://www.imbercourt.com |
| Wentworth Tennis & Health Club | Virginia Water | Surrey | GU25 4LS | South East | 0 | 2 | https://www.wentworthclub.com/tennis-and-health-club/ |
| Padel People - Wimbledon | Wimbledon | Surrey | SW17 0BL | South East | 1 | 0 | |
| The Padel Yard (Game4Padel) | London | Surrey | SW18 1SH | South East | 0 | 3 | https://thepadelyard.com/ |
| Virgin Active Chiswick Riverside (Game4Padel) | London | Surrey | W4 2SX | South East | 0 | 2 | https://www.virginactive.co.uk/clubs/chiswick-riverside/facilities/padel |
| Rye Padel Club | Rye | Sussex | TN31 7NY | South East | 0 | 2 | www.ryepadelclub.co.uk |
| The Triangle Leisure Centre | Burgess Hill | Sussex | RH15 8WA | South East | 1 | 0 | https://www.placesleisure.org/centres/the-triangle |
| Chichester Racquets & Fitness Club | Chichester | Sussex | PO19 6AR | South East | 0 | 2 | https://www.crafc.co.uk |
| Withdean Sports Complex | Brighton | Sussex | BN1 5JD | South East | 0 | 1 | https://www.game4padel.com/withdean-sports-complex |
| The Streetly Academy | Sutton Coldfield | Warwickshire | B74 2EX | Midlands | 0 | 2 | https://www.streetly.academy |
| Sutton Coldfield | Sutton Coldfield | Warwickshire | B73 5QB | Midlands | 0 | 1 | https://www.suttontennis.com |
| Solihull Arden Club | Solihull | Warwickshire | B91 1RG | Midlands | 0 | 3 | https://www.solihullarden.co.uk |
| The Edgbaston Priory Club | Birmingham | Warwickshire | B15 2UZ | Midlands | 0 | 1 | https://www.edgbastonpriory.com |
| Kenilworth Tennis | Kenilworth | Warwickshire | CV8 2JS | Midlands | 0 | 2 | https://www.ktscc.co.uk/padel/ |
| David Lloyd Rugby | Rugby | Warwickshire | CV23 0AB | Midlands | 3 | 0 | https://www.davidlloyd.co.uk/clubs/rugby/ |
| Padel4all Basset Down | Swindon | Wiltshire | SN4 9QW | South West | 3 | 0 | https://padel4all.com |
| Huddersfield Lawn Tennis & Squash Club | Huddersfield | Yorkshire | HD1 5NF | North | 2 | 0 | https://www.hltsc.co.uk |
| Harrogate Sports & Fitness Centre | Harrogate | Yorkshire | HG2 8PN | North | 1 | 1 | https://www.harrogatesfc.co.uk |
| Rawdon Tennis & Golf Club | Rawdon | Yorkshire | LS19 6BB | North | 0 | 2 | https://www.rgltc.com |
| Surge Padel - Harrogate | Harrogate | Yorkshire | HG2 8QT | North | 6 | 0 | https://surgepadel.co.uk |
| Skipton Tennis Centre | Skipton | Yorkshire | BD23 1UP | North | 0 | 1 | https://www.skiptontennis.com/index.php/padel/ |
| Ripon Tennis Club | Ripon | Yorkshire | HG4 3HJ | North | 1 | 1 | https://www.ripontenniscentre.co.uk |
| Barons Fitness Centre | Scarborough | Yorkshire | YO13 0NL | North | 0 | 2 | https://www.baronsfitness.co.uk/ |
| Ilkley Lawn Tennis & Squash Club | Ilkley | Yorkshire | LS29 9BG | North | 0 | 1 | https://www.iltsc.co.uk |
| Harrogate Spa Tennis Club | Harrogate | Yorkshire | HG1 4BB | North | 2 | 0 | https://www.spatennis.org.uk/ |
| Chapel Allerton LT&SC | Leeds | Yorkshire | LS7 3QX | North | 2 | 0 | https://chapel-a.co.uk/ |
| | | | | | | |
| --- | --- | --- | --- | --- | --- | --- |
| Club name | Town/city | Postcode | Region | Indoor/covered courts | Outdoor courts | Website |
| Edinburgh Sports Club | Edinburgh | EH4 3DH | Scotland | 3 | 0 | https://www.edinburghsportsclub.co.uk |
| West of Scotland Padel | Ayrshire | KA20 3LR | Scotland | 3 | 0 | http://wospadel.co.uk |
| Thistle Padel Club | Edinburgh | EH14 1JF | Scotland | 2 | 0 | https://thistlepadel.com |
| Hatton Sports Club | Kirknewton | EH27 8EA | Scotland | 0 | 1 | http://hattonsportsclub.com |
| Bridge of Allan Sports Club | Stirling | FK9 4DT | Scotland | 0 | 1 | http://www.boasc.co.uk |
| Barnton LTC | Edinburgh | EH4 6JF | Scotland | 0 | 1 | https://clubspark.lta.org.uk/BarntonParkLTC/Coaching/Camps |
| Aberdeen Tennis Centre | Aberdeen | AB23 8BL | Scotland | 2 | 0 | https://www.sportaberdeen.co.uk/venues/aberdeen-tennis-centre |
| Craigmillar Park | Edinburgh | EH165PB | Scotland | 1 | 0 | https://clubspark.lta.org.uk/CraigmillarParkLTC |