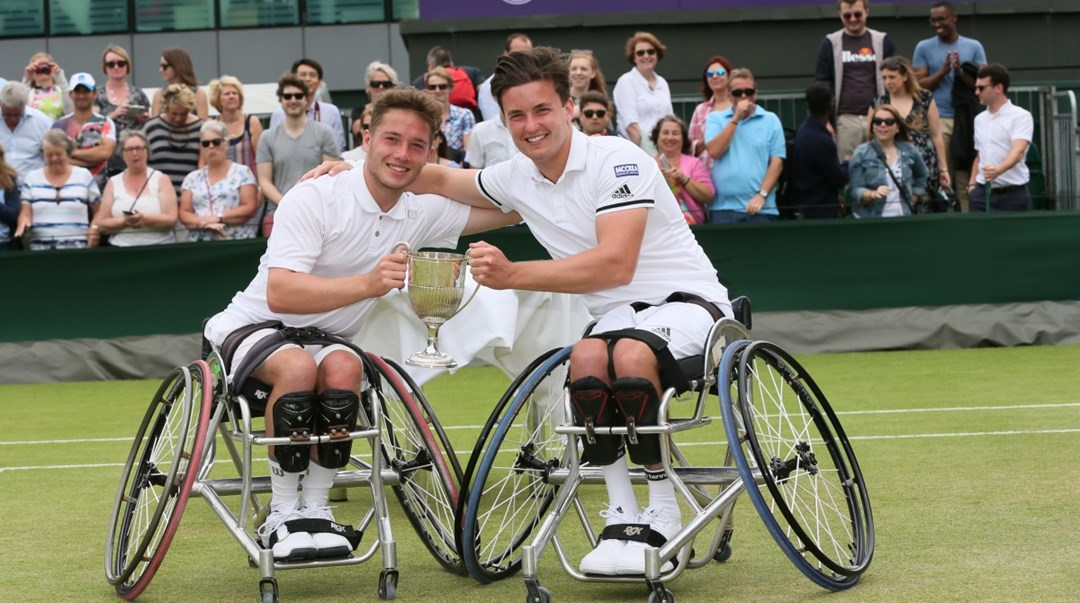 Diversity and Inclusion
Wimbledon champions support new Wheelchair Tennis Talent ID scheme
• 2 MINUTE READ
Wimbledon Champions Gordon Reid, Alfie Hewett and Jordanne Whiley have today thrown their support behind the Tennis Foundation's new talent ID programme Push2Podium.
Launching the programme today at the British Open Wheelchair Tennis Championships Reid, Hewett and Whiley said they hoped it would encourage and inspire more disabled people to play wheelchair tennis and find the next generation of Paralympians.

The programme, which builds on the former initiative Ticket2Tokyo will consist of eight free wheelchair tennis festivals across the country where anyone interested in the sport are encouraged to attend and give it a go. Tennis Foundation Talent ID coaches will be present at these festivals and those players who show potential will be chosen to go forward to selection camps.
From the selection camps players will be chosen for the Tennis Foundation's Performance Selection Squad where players will be invited to attend training camps with world class coaches as well as receiving support and guidance throughout the year and a grant towards any travel costs.
Everyone who attends a camp will be directed to their nearest wheelchair tennis session so they can continue playing the game at the level most suitable for them.
Speaking at the launch, Wimbledon singles and doubles champion Reid said: "I'm delighted to support the new Push2Podium talent ID programme. I said at Wimbledon that before the tournament one of my aims was to inspire disabled people and particularly children to get active and realise that tennis can be a sport they really enjoy.
"This programme is a great way for people to get involved in tennis and then talented individuals can receive the support they need to make it to the top of the game. I'd encourage everyone who is tempted to get along to one of the festivals and try out the sport; I've travelled the world thanks to wheelchair tennis and made some lifelong friends and memories so I would recommend it to everyone!"
18 year-old Hewett, who has risen through the ranks of the Tennis Foundation's wheelchair tennis world class performance programme, said: "The Tennis Foundation has provided invaluable support to me throughout my career from just starting out in the game through as a junior to becoming Wimbledon doubles champion and heading to Rio soon. Wheelchair tennis is a fantastic, growing sport and I would recommend everyone who wants to try it to get down to a Push2Podium camp as you never know where it could take you."
The Push2Podium festivals will take place during September over the weekend of the 18th and 24th/25th of September and there will be festivals taking place in London, Taunton, Loughborough, Preston, Ipswich, Portsmouth, Scotsotun and Newport . Click here to find out more and book your place.