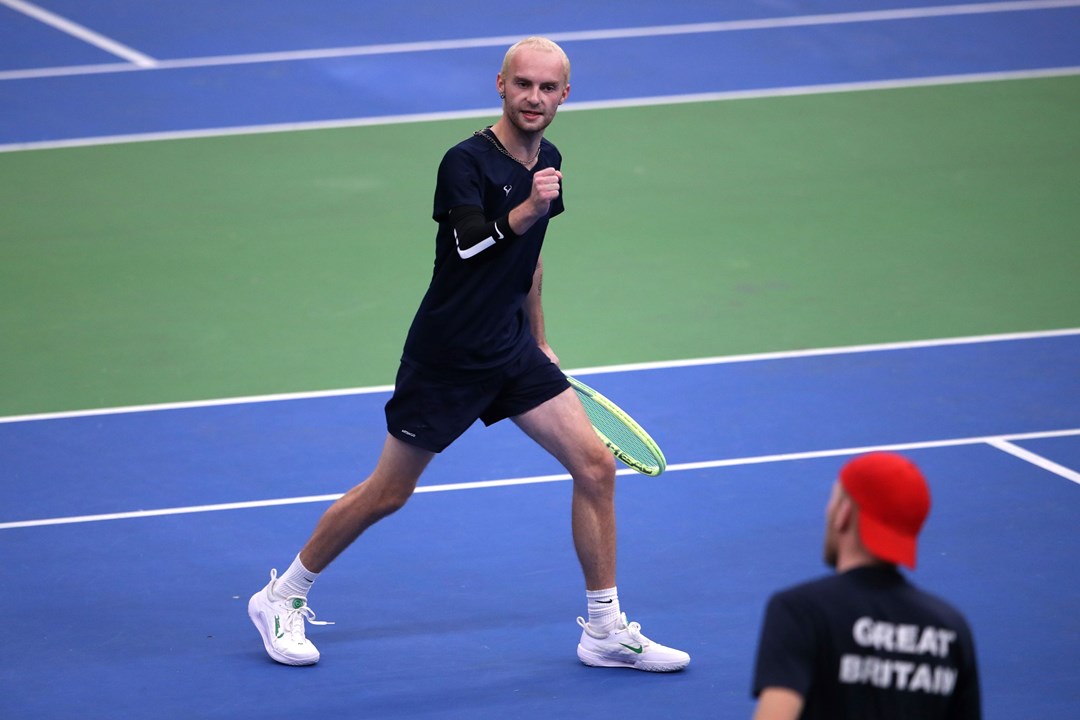 Learning Disability Tennis National Finals 2023: Aidan Moody among first-rate stars to be crowned champion in Bolton
• 2 MINUTE READ
Bolton Arena hosted the annual LTA Learning Disability Tennis National Finals for a second consecutive year, welcoming all-new champions as an impressive 20 titles were decided in singles and doubles after three days of competition.
The National Finals is the culmination of the LTA's domestic calendar of learning disability events that featured 10 regional tournaments across the country between February and October.
This year saw Aidan Moody claim gold for the first time on the national stage, eventually beating the recently crowned Pershore regional champion, Joshua Kerr, 2-4, 5-4(6), [10-5] to take the top spot in the Yellow Singles Division 1.
Meanwhile, in Division 2, Ryan Caven's success in Grantham in September seemingly whet his appetite for more silverware, winning his first-ever gold medal at the Nationals after defeating Special Olympics World Games titlist, GB star Adam Brownsword.
In the doubles, Oliver Beadle and Luke Turnball continued their illustrious reign in the Yellow Doubles Division 1 category, successively defending their title for a third successive year after their convincing 6-1 victory over Aidan Moody and Essex's very own Max Mundy.
The Learning Disability Tennis Nationals, sanctioned by Virtus and the Special Olympics, provides opportunities for all abilities with players grouped into varying ball colour divisions: yellow ball, green ball, and orange ball.
Within these three categories, players are further grouped into divisions based on prior knowledge of the athletes and previous tournament results.
Across singles and doubles events, 20 main draws were played over the course of the three days of competition, with Yellow Division 1 Singles and Doubles played as knockout compass draws and the remaining draws played in round-robin format to maximise the number of matches for each player. Positions in two round-robin groups in Yellow Division 7 Singles were used to decide play-offs for final placings.
| | | |
| --- | --- | --- |
| Division | Champion | Score (last match) |
| Yellow Singles Division 1 | Aidan Moody | Won vs Joshua Kerr 2-4, 5-4(6), [10-5] |
| Yellow Singles Division 2 | Ryan Caven | Won round-robin - three wins from three matches |
| Yellow Singles Division 3 | Craig Newton | Won round-robin - three wins from three matches |
| Yellow Singles Division 4 | Cameron Raven | Won round-robin - three wins from three matches |
| Yellow Singles Division 5 | Robbie Hampshaw | Won round-robin - two wins from two matches |
| Yellow Singles Division 6 | Aidan Bennett | Won round-robin - two wins from two matches |
| Yellow Singles Division 7 1/2 | James Lang | Won vs Emily Clarke 6-1 |
| Yellow Singles Division 7 3/4 | Peter Joseph Norton | Won vs Lucy Porteous 6-4 |
| Yellow Singles Division 7 5/6 | Mark Cooper | Won vs Lewis Lamont 7-5 |
| Yellow Singles Division 7 Group A | Emily Clarke | Won round-robin - two wins from two matches |
| Yellow Singles Division 7 Group B | James Lang | Won round-robin - two wins from two matches |
| | | |
| --- | --- | --- |
| Division | Champions | Score (last match) |
| Yellow Doubles Division 1 | Oliver Beadle & Luke Turnbull | Won vs Aidan Moody & Max Mundy 6-1 |
| Yellow Doubles Division 2 | Ryan Caven & Jack Dickinson | Won round-robin - two wins from two matches |
| Yellow Doubles Division 3 | Greg Coultas & Robbie Hampshaw | Won round-robin - three wins from three matches |
| Yellow Doubles Division 4 | James Lang & Peter Joseph Norton | Won round-robin - three wins from three matches |
| | | |
| --- | --- | --- |
| Division | Champion | Score (last match) |
| Green Singles Division 1 | Sophie Widdowson | Won round-robin - three wins from three matches |
| Green Singles Division 2 | Luke Dibenga | Won round-robin - three wins from three matches |
| Green Singles Division 3 | Jay Rednall | Won round-robin - three wins from three matches |
| Green Singles Division 4 | Shania Scott | Won round-robin - two wins from two matches |
| | | |
| --- | --- | --- |
| Division | Champion | Score (last match) |
| Green Doubles Division 1 | William Farrow & Samuel Nicholson | Won round-robin - three wins from three matches |
| Green Doubles Division 2 | Joseph Scott & Shania Scott | Won round-robin - three wins from three matches |
| | | |
| --- | --- | --- |
| Division | Champion | Score (last match) |
| Orange Singles Division 1 | Andrew Taylor | Won round-robin - three wins from three matches |
| Orange Singles Division 2 | Emma Birley | Won round-robin - three wins from three matches |
| Orange Doubles | Emma Birley & Andrew Taylor | Won round-robin - three wins from three matches |