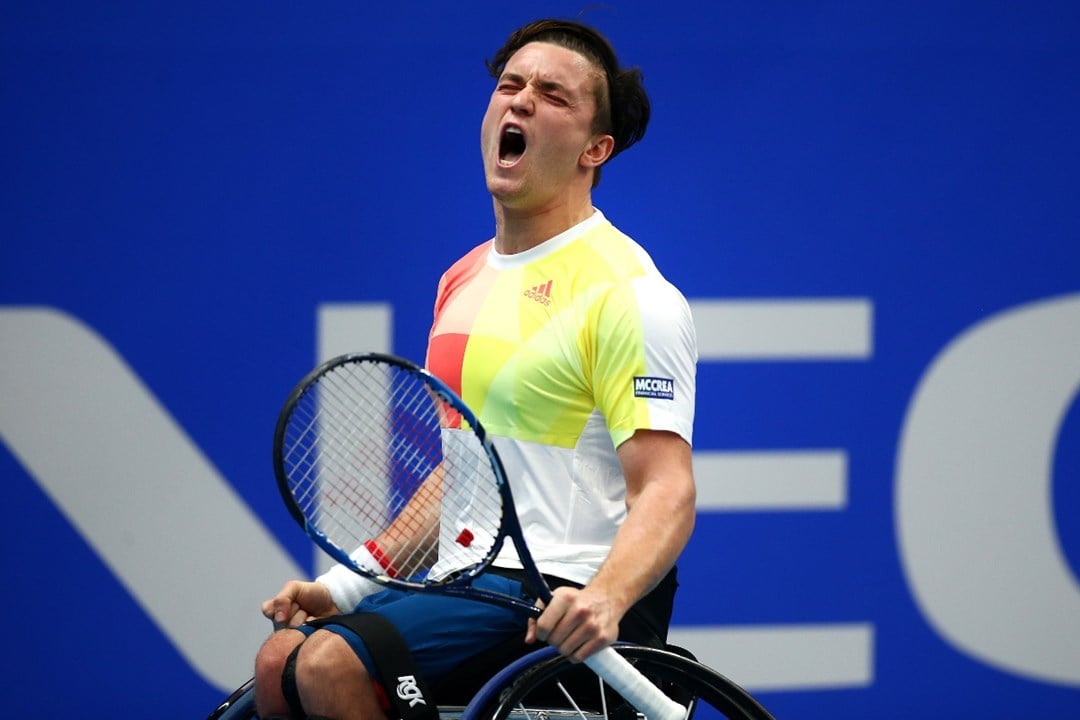 International
Gordon Reid ensures year-end world No. 1 ranking by reaching NEC Masters final
• 2 MINUTE READ
Gordon Reid ensured himself of the year-end world No.1 men's singles ranking on the penultimate day of the NEC Wheelchair Tennis Masters as he reached his first final at the season-end singles championship at Lee Valley Hockey and Tennis Centre in London.
Reid defeated top seed Stephane Houdet 6-2, 6-1 in their semi-final to gain the points he needed to move ahead of the Frenchman in the rankings.
The British No.1 arrived in London needing to go further at the NEC Masters than Houdet and he did so with another accomplished performance to earn his place in Sunday's final against defending champion Joachim Gerard of Belgium.
The Rio Paralympic champion's victory will see him regain the world No.1 ranking he held for a period of three weeks after Rio. Reid is the first Brit to ever gain the men's singles world No. 1 wheelchair tennis ranking and therefore the first Brit to ever end a season as year-end men's singles world No.1.
He seized the early advantage against Houdet, serving and returning well to take the first set within 40 minutes. Aiming for his first Masters final, he kept the initiative, consistent in his serve and return as Houdet looked for a chink to exploit. Reid went 4-0 up in the second set and never looked back, punching the air to roars from the crowd as he celebrated making history once again this season.
"I'm feeling good on court and I played some of my best tennis to win today. I'll never tell my game plan but I wanted to stay aggressive and serve and return well. I'm seeing the ball early and I'm feeling relaxed," said Reid.
"I've now achieved what I came here to do this week (to win the world No.1 ranking) and everything from here is a bonus for me. Yes, being year-end world No.1 is a brilliant feeling – it has already been the best year of my career to date in singles and I'm really happy. I enjoy the crowds and sometimes the home support gets you over the line."
Andy Lapthorne's hopes of landing a first NEC Masters quad title after previously being runner-up came to an end against Israel's Itay Erenlib. After twice beating Erenlib In three sets at last year's Masters, Lapthorne was unable to force a deciding set this time as the world No.5 prevailed 6-2, 6-4.
Lapthorne is set to play Kyu-Seung Kim of Korea for third place.