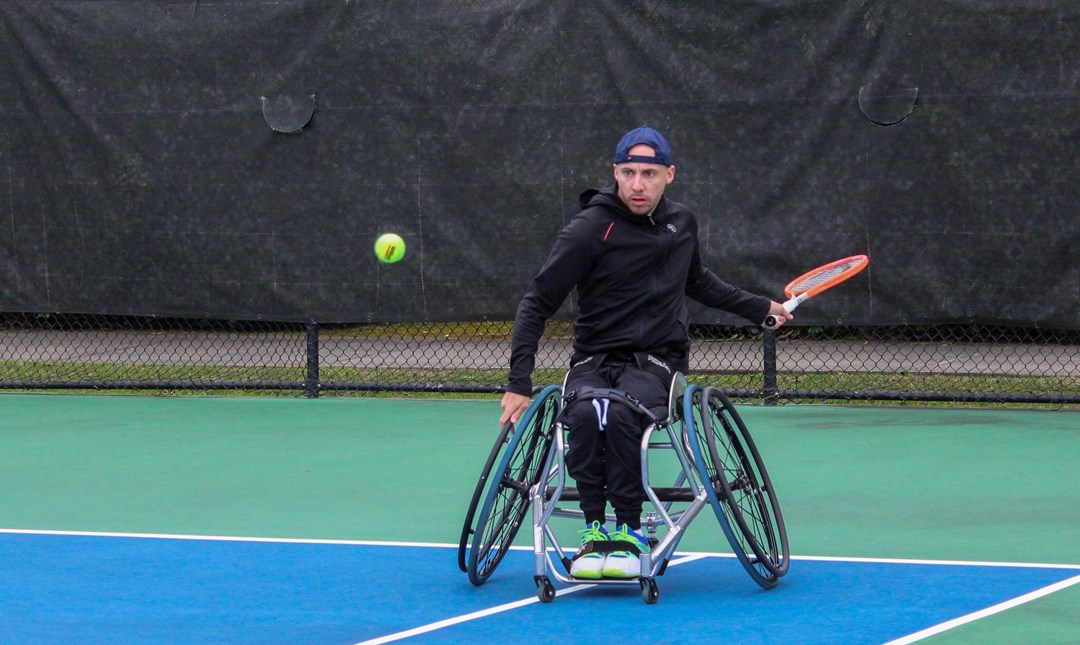 International
Cajun Classic 2022 - daily updates
• 4 MINUTE READ
Get the latest updates from the Brits at the Cajun Classic ITF Super Series event in Louisiana.
Highlights
Alfie Hewett beat Argentina's Gustavo Fernandez 6-2, 6-0 in men's singles final
Andy Lapthorne and David Wagner won the quad doubles title against Heath Davidson and Robert Shaw
Lucy Shuker and Dana Matthewson finish runners-up in women's doubles
Shuker and Lapthorne knocked out in singles semi-finals
Day six - Hewett lifts Cajun Classic singles title
Alfie Hewett was crowned the Cajun Classic men's singles champion for the third time in his career on Sunday, after he defeated Argentina's Gustavo Fernandez 6-2, 6-0 in the final.
Second seed Hewett added to his previous wins in 2017 and 2018 with a stunning week of tennis, which saw him lose only 15 games across four matches.
The British No.1 builds on his brilliant start to the 2022 season so far, which has seen him lift titles in Melbourne and Rotterdam, as well as reaching the final at the Australian Open in January.
Hewett's attention will now turn to World Team Cup qualifying, where he'll join Dermot Bailey, Dahnon Ward and Ben Bartram to represent Great Britain against Turkey from Thursday 17 March.
Andy Lapthorne lifted the Cajun Classic quad doubles title for a third time on Saturday, after he and David Wagner defeated Australian, Canadian duo Heath Davidson and Robert Shaw 6-3, 6-3.
The second seeds backed up their Australian Open title together earlier this season with an impressive campaign, which saw them lift the trophy without dropping a set throughout the competition. Lapthorne adds to his previous doubles titles in 2015 and 2017.
View this post on Instagram
In the other final of the day, Lucy Shuker and Dana Matthewson were denied a third title in 2022 by top seeds Diede de Groot and Aniek van Koot. Despite a tight battle with the Dutch pair, four-time Cajun Classic champion Shuker and Matthewson lost 7-5, 6-3 to finish runners-up.
In the singles draw, Alfie Hewett booked his place in the final with a dominant performance against France's Nicolas Peifer – winning 6-1, 6-1.
The 24-year-old Brit will now look to contest for his third title in Baton Rogue – adding to his trophies in 2017 and 2018 – against a familiar foe in Argentina's Gustavo Fernandez. Hewett and Fernandez are currently tied in their head-to-head singles record at nine wins each.
Shuker and Lapthorne however, both missed out on places in their respective singles finals. Before playing their doubles final later in the day, Shuker lost 6-4, 6-2 against the second seed van Koot.
Lapthorne was defeated by top seed Sam Schroder in a match filled with momentum swings as he bowed out 6-0, 1-6, 6-3.
Lucy Shuker and Andy Lapthorne will both contest doubles finals with their respective American partners on the penultimate day of the Cajun Classic, before joining Alfie Hewett in singles semi-finals.
Shuker and Dana Mathewson, who arrived in Baton Rouge as Georgia Open champions, made it four doubles finals together in four successive tournaments since mid-February after the second seeds beat Chile's Macarena Cabrillana and Maria Florencia Moreno of Argentina 6-1, 6-3 in their semi-final.
Shuker won her most recent women's doubles Super Series title at the Cajun Classic in 2018, partnering Diede de Groot, while also partnering Aniek van Koot to the title in Baton Rouge in 2009 and 2010. Already a four-time Cajun Classic doubles champion, Shuker will now have Dutch top seeds De Groot and Van Koot on the other side of the net when she and Mathewson go into this year's final bidding to make it three titles together in four tournaments.
Lapthorne is currently a two-time Cajun Classic quad doubles champion and will bid for his first title in Baton Rouge partnering David Wagner, after the second seeds beat the American-Japanese partnership of Greg Hasterok and Mika Ishikawa 6-2, 6-2 in the semi-finals.
Lapthorne and Wagner are four-time Australian Open and two-time US Open champions together and they also won both the French Open and Wimbledon titles in 2021. They will now face Australian Heath Davidson and Robert Shaw of Canada in their first Cajun Classic final together.
Hewett was unable to make it a hat-trick of doubles finals for the Brits after his first tournament together with Japan's Tokito Oda ended in a narrow 6-3, 2-6, 11-9 loss to second seeds Martin de la Puente and Gustavo Fernandez.
Alfie Hewett, Andy Lapthorne and Lucy Shuker earned six wins in six quarter-final matches as they secured places in the men's, women's and quad singles and doubles semis on the third day of play in Baton Rouge.
Second seed Hewett will play French fifth seed Nicolas Peifer for a place in the men's singles final after defeating Japan's Tokito Oda 6-3, 6-3 in the last. Hewett and Oda then teamed up for a 6-3, 6-2 victory over Chile's Alexander Cataldo and Jose Pablo Gil of Costa Rica that sets up a semi-final against second seeds Gustavo Fernandez and Martin Martin de le Puente.
Shuker continues to live up to her third seeding for the women's singles after her third win in three matches against China's Zhenzhen Zhu this season. Shuker's latest 7-5, 6-1 victory earns her a semi-final against Dutch seed Aniek van Koot.
Shuker and her American partner began their quest for a third doubles title together this year after beating Angelica Bernal and Shioiri Funamizu 6-1, 6-1. They play Macarena Cabrillana and Maria Florencia Moreno for a place in the final.
Lapthorne powered past Brazil's Ymanitu Silva 6-0, 6-1 to earn a quad singles semi-final against world No. 1 Sam Schroder of the Netherlands and later booked his place in the quad double semi-finals alongside David Wagner. The Anglo-American second seeds defeated David Jordan and Donald Ramphadi 6-1, 6-3 and play Greg Hasterok and Mika Ishikawa in the last four.
After their first-round byes Alfie Hewett and Andy Lapthorne both started their men's singles and quad singles challenge in style in Baton Rouge as they advanced to the quarter-finals.
Two-time champion and second seed Hewett will play his Japanese doubles partner Tokito Oda for a place in the men's singles semi-finals after beating Ruben Spaargaren of the Netherlands 6-1, 6-4.
Later on Thursday's third day of play Hewett and Oda will pair up for their doubles quarter-final as they face Chile's Alexander Cataldo and Jose Pablo Gil of Costa Rica.
Ten years on from his first Cajun Classic quad singles title, Lapthorne continues his quest for a second victory in Baton Rouge when he plays Brazilian seventh seed Ymanitu Silva, having opened his account with a 6-0, 6-1 win over American Greg Hasterok.
Multiple Grand Slam champions Lapthorne and David Wagner play David Jordan and Donald Ramphadi for a place in the last four of the quad doubles.
Lucy Shuker resumes her women's singles challenge when she plays China's Zhenzhen Zhu, while the third day's play will also see Shuker and Dana Mathewson play Angelica Bernal and Shiori Funamizu for a place in the women's doubles semi-finals. However, Cornelia Oosthuizen's doubles campaign has come to an end after she and Zhu lost out to Japan's Saki Takamuro and Manami Tanaka.
Alfie Hewett, Andy Lapthorne, Lucy Shuker and Cornelia Oosthuizen provide a four-strong British challenge at the 2022 Cajun Classic in Baton Rouge, the second Super Series event on the UNIQLO Wheelchair Tennis Tour.
Shuker and Oosthuizen enjoyed different fortunes on the opening day's play, British No.1 and third seed Shuker defeating Argentina's Maria Florencia Moreno 6-2, 7-5 to set up a quarter-final against China's Zhenzhen Zhu, but Oosthuizen making an early exit against Japan's Manami Tanaka 7-6(6), 6-1.
After first-round byes, world No.2 Hewett will open his bid for a third Cajun Classic men's singles title against Dutchman Ruben Spaargaren, while quad singles third seed Lapthorne will begin his challenge for a second Cajun Classic title with a contest against American Greg Hasterok.

Hewett and Japan's Tokito Oda form a first-time partnership for the men's doubles and have a first-round bye, while Lapthorne and the USA's David Wagner, the reigning Australian Open, French Open and Wimbledon champions, are second seeds for the quad doubles. Shuker and the USA's Dana Mathewson arrive in Baton Rouge having won two of the last three women's doubles finals they have contested since mid-February. They are second seeds this week, while Oosthuizen partners Zhu.