Domestic Competition
County Week returns for 2023 as hundreds of players get set to hit the court
• 4 MINUTE READ
One of the oldest competitions in the annual British domestic sporting calendar takes place next week as the Summer County Cup returns with hundreds of tennis players taking to the courts to represent their counties.
First played in 1895, County Week is one of the longest-running tennis tournaments. This year's nationwide competition runs from Monday 24 to Friday 28 July when 44 counties across seven groups will compete at 13 grass court venues all over the UK.
With free admission for all spectators, County Cup week provides an opportunity to watch top-level players take part in a competition that has been graced by some of the most recognised names in British tennis including US Open champion and former Kent player, Emma Raducanu.
In addition, Harriet Dart (Middlesex), Jodie Burrage (Surrey), Ryan Peniston (Essex), Jack Draper (Surrey), Joe Salisbury (Surrey) and Dan Evans (Warwickshire) were all regulars on the County Cup circuit before their careers took off. Preceding that, Andy, Jamie and Judy Murray, Sue Barker and Tim Henman also represented their counties in this prestigious competition, as well as British No.1 doubles player, Alicia Barnett, who has been nominated to play for Gloucestershire at The East Gloucestershire Club, Cheltenham.
Find out more about the County Cup
County teams are organised into seven women's groups and seven men's groups, with teams for each tie consisting of three doubles pairs. This year will once again see over 200 ties and almost 2,000 rubbers played during the week, as 44 counties across Great Britain go head-to-head to earn promotion and avoid relegation from their respective groups.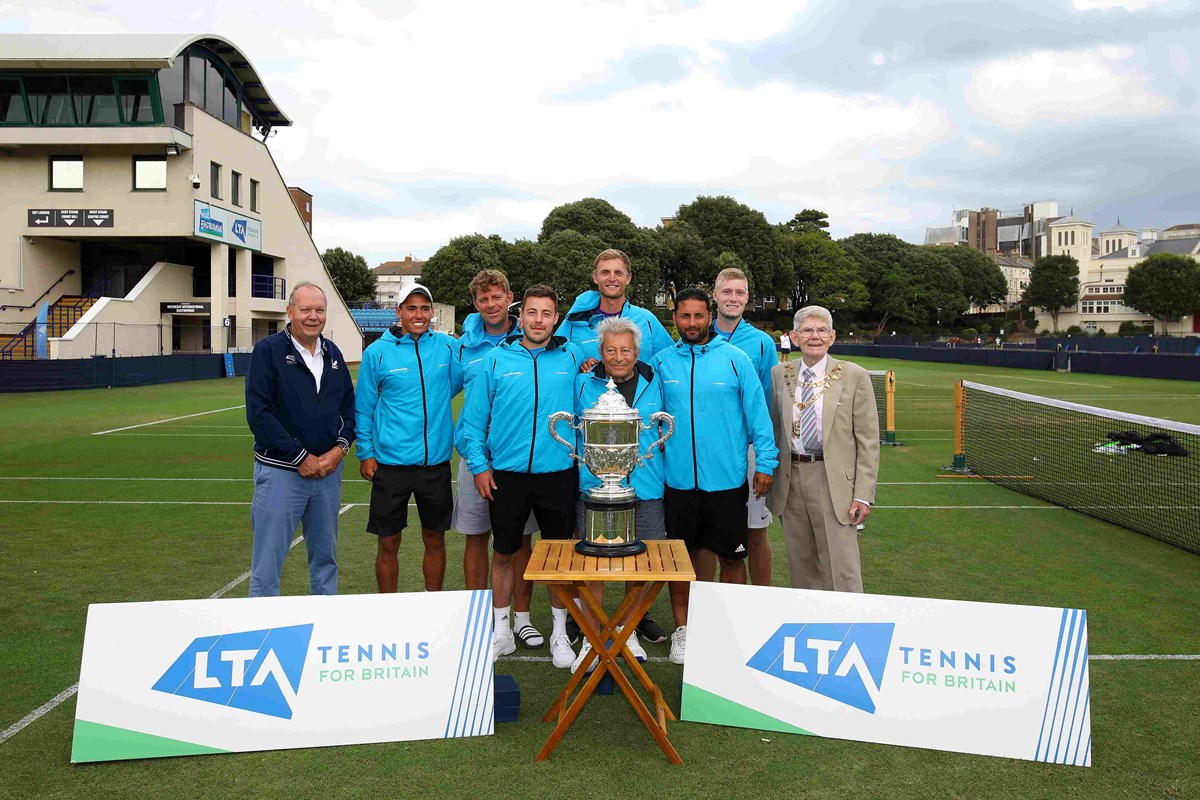 Hertfordshire are the reigning men's champions after clinching the 2022 trophy, while Hertfordshire Ladies defeated Hampshire & IOW on the final day to win the women's event and will be going in search of a hat-trick of tournament victories.
LTA Tournament Director Julie Piper said: "It is fantastic to be back for the 127th County Week. There is always a great atmosphere and real excitement amongst the players which is part of what makes this long-standing traditional event such a special part of the tennis calendar. Entry for spectators is free of charge and I would urge all those who are able to attend to do so and support the players and witness five days of hard-fought, competitive tennis."
This year's County Week also has the potential for new names to be added to the roll of honour, with Northumberland and Nottinghamshire ladies and Yorkshire men all aiming to win the overall title in the respective events for the first ever time.
The Eastbourne event at Devonshire Park is the pinnacle of the County Cup hosting Group 1, with a further 12 grass court venues around the country staging events for Groups 2 – 7 in each of the men's and women's competitions. The leading two counties in each group earn promotion to the group above them for the 2024 competition, with the bottom two counties relegated to the group below.
Summer County Cup 2023 groups & venues
Men's Group 1 – Eastbourne International Tennis Centre, Devonshire Park
Hertfordshire, Kent, East of Scotland, Yorkshire, Surrey and Suffolk
Men's Group 2 – The Avenue, Havant
Cambridgeshire, Essex, Northamptonshire, South Wales, Middlesex, and North of Scotland
Men's Group 3 – Frinton LTC, Essex
Buckinghamshire, Derbyshire, West of Scotland, Norfolk, Berkshire and Warwickshire
Men's Group 4 – Ilkley LTC, Yorkshire
Cheshire, Lincolnshire, Durham & Cleveland, Dorset, Lancashire and Hampshire & IOW
Men's Group 5 – Felixstowe LTC, Suffolk
Somerset, Nottinghamshire, Devon, North Wales, Leicestershire and Staffordshire
Men's Group 6 – Canoe Lake Leisure, Southsea
Avon, Cumbria, Oxfordshire, Herefordshire & Worcestershire, Wiltshire and Shropshire
Men's Group 7 – Recreation Ground, Hunstanton, Norfolk
Gloucestershire, Sussex, Cornwall, Northumberland, Bedfordshire, South of Scotland and Isle of Man
Ladies' Group 1 – Eastbourne International Tennis Centre, Devonshire Park
Hertfordshire, Northumberland, Hampshire & IOW, Surrey, Leicestershire and Nottinghamshire
Ladies' Group 2 – Lexus Nottingham Tennis Centre
Yorkshire, Kent, Middlesex, Avon, Cheshire and Norfolk
Ladies' Group 3 – East Gloucestershire Club, Cheltenham
Warwickshire, Gloucestershire, Somerset, Cambridgeshire, Derbyshire and Lincolnshire
Ladies' Group 4 – Cromer LTC, Norfolk
Sussex, Lancashire, Buckinghamshire, Sussex, North Wales and East of Scotland
Ladies' Group 5 – West Worthing LTC, Sussex
Berkshire, South Wales, Dorset, Herefordshire & Worcestershire, West of Scotland and North of Scotland
Ladies' Group 6 – North Oxford LTC
Durham & Cleveland, Bedfordshire, Northamptonshire, Shropshire, Cornwall and Suffolk
Ladies' Group 7 – The Northern LTC, Manchester
Staffordshire, Devon, Oxfordshire, Cumbria, Isle of Man, South of Scotland and Wiltshire