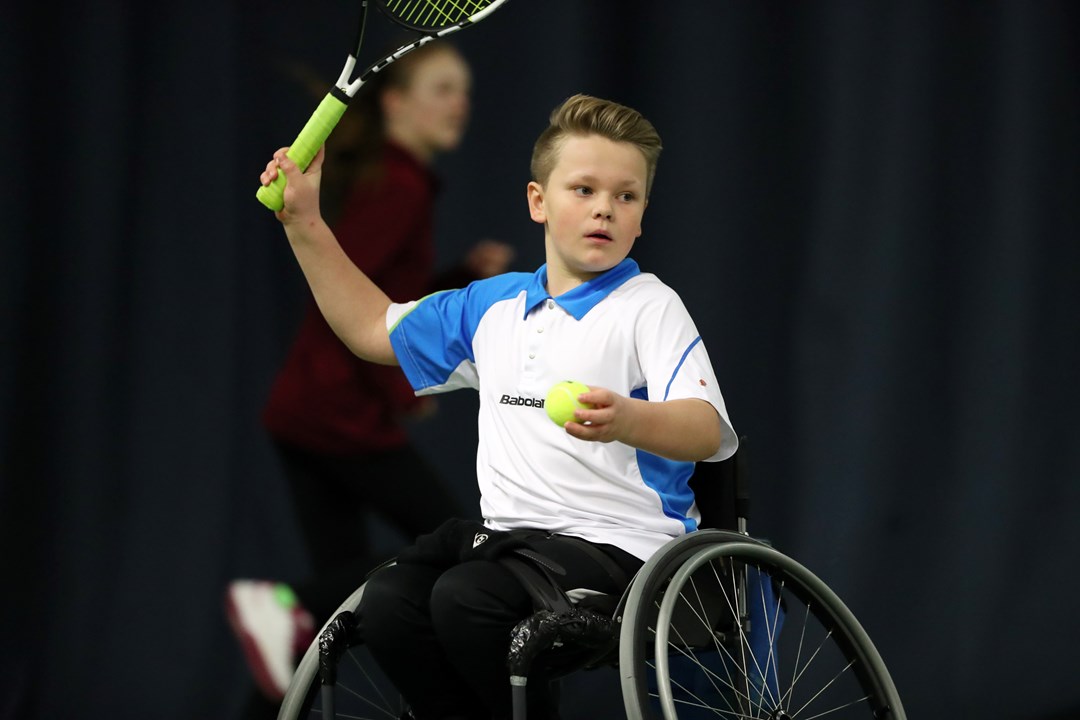 Diversity and Inclusion
Ben's Story: How he was inspired by Alfie Hewett
• 3 MINUTE READ
Meet Ben. At 12 years old he is one of the youngest players to have been selected for the Tennis Foundation's new wheelchair tennis Junior Futures Potential Programme.
The programme, launched earlier this year, was created with the aim of helping young players to progress to international level.
Seven young people were named for the inaugural programme, including Ben, a promising player from Norfolk. The new scheme provides additional support for junior players who have the potential to in future join Great Britain's World Class Wheelchair Tennis Performance Programme, which names the likes of Wimbledon men's doubles champions Gordon Reid and Alfie Hewett among its ranks.
Alfie, who at just 20 years old is currently ranked first in the world in the ITF wheelchair tennis singles standings, is a leading inspiration for young players, and particularly so for Ben given they hail from the same county.
"I got in touch with him to say I was considering starting to train as a wheelchair tennis player, and he encouraged me and said I should go for it; that it was a good choice."
Ben's mum, Samantha, added to her son's explanation, revealing she had to keep his expectations in check but was delighted that Alfie responded.
"I told Ben that he wouldn't message if he kept bugging him, but even after winning the silver medal at the Paralympics in 2016, he replied to the 'well done' text we sent him – he's a fantastic role model.
"He's a Norfolk lad as well, so that's good for us. Ben thinks he's great, he's got a big picture of him on the wall in his bedroom, so he is someone that is really looked up to."
The promising youngster first took to tennis two years ago, attending a Tennis Foundation 'Push2Podium' identification camp in Ipswich, despite none of his family having been previously involved with the sport.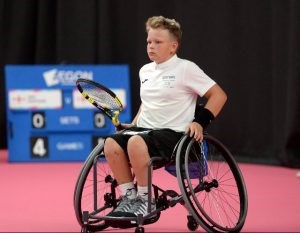 Ben's mum sought assistance and she was soon put in touch with a coach who helped improve her son's game. After his second identification camp, in Loughborough, Ben was then picked for the Tennis Foundation's development squad.
Since first picking up a racket, his love for tennis has snowballed. It was the first thing he turned to following an operation and helped improve his mood.
"I like basketball too, but tennis is on a whole new level," Ben said with an infectious smile.
"I couldn't do anything other than sit on my bed all day – I felt so bad and everything was going downhill. Then I had my operation, everything went well and tennis made it all a lot better.
Samantha went on to reveal the impact tennis has had on Ben's life, attributing the game with not only improving her son's attitude and positivity in life, but boosting the family's spirits too.
"We all really enjoy it, it's nice to meet other parents and it's proving that sport can turn life around, mentally and physically, for the whole family," she said.
The Tennis Foundation's increased focus on providing competitive opportunities for juniors of all levels is also making a difference.
"There is going to be twice as many tournaments this year which is so exciting. Ben goes to his coach once a week, but we also go to indoor courts and hit for at least two hours.
"With this opportunity, he'll be able to play all day, each day he's there. It's lovely to see his face when he's on court.
"Ben is feeling great and accepting things more, and he's now thinking about what he can do rather than what he can't."