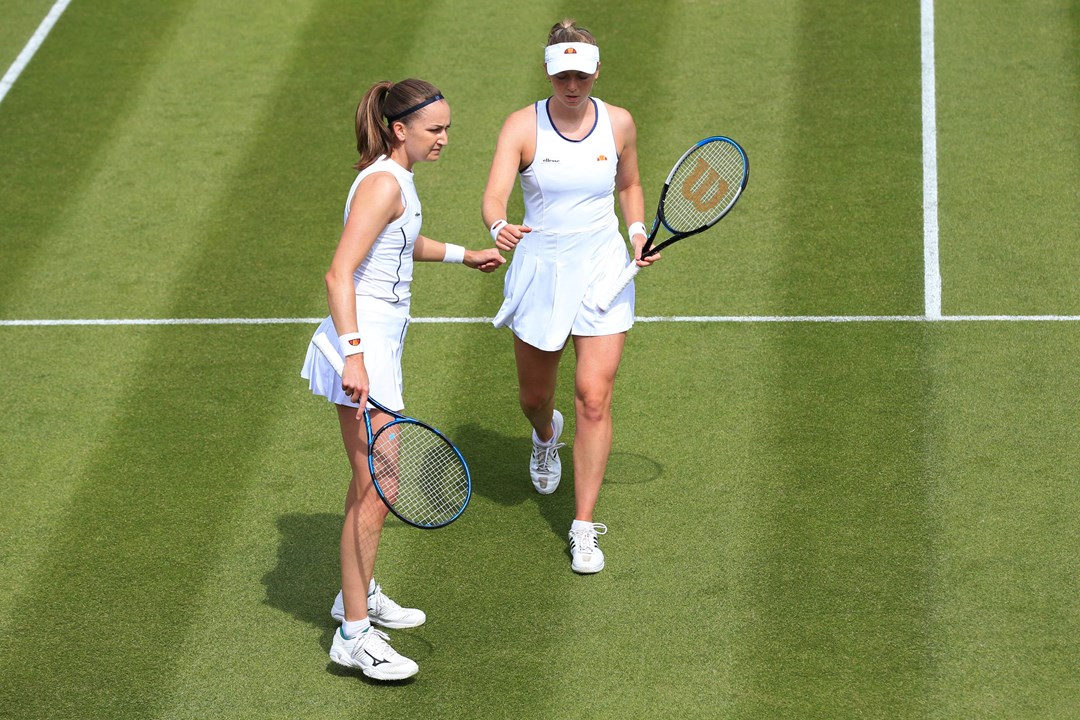 Players News
Britain's breakout women's doubles team - meet Alicia Barnett and Olivia Nicholls
• 4 MINUTE READ
It's been a breakthrough year for British doubles partners Alicia Barnett and Olivia Nicholls, but it's been made possible through years of hard work and dedication as part of an increasingly travelled route through university. Now they are aiming for build on their success.
Like a number of others among the current crop of British players such as Cameron Norrie, Joe Salisbury, Maia Lumsden and Johnny O'Mara, both Barnett and Nicholls took the university route to develop their tennis before going full time on the international tours.
Barnett graduated from Northwestern University in the States where she was women's tennis team captain. She then returned to be part of the Team Bath setup at the University of Bath, taking up the increasingly common route of players returning from the States to the British university system, training or studying for a Masters while benefiting from the comprehensive competition opportunities in Britain offered by the expanded LTA Performance Competition Calendar.
Nicholls meanwhile studied at Loughborough University, becoming BUCS National Champion in singles and doubles, before taking on the role of pro player coach at Loughborough as part of the TASS (Talented Athlete Scholarship Scheme) supported by the LTA for the top talented young athletes competing on university tennis programmes.
Both Barnett and Nicholls were members of the Great Britain University Tennis Team which won a bronze medal at the BNP Paribas Master'U tournament in 2016, with Nicholls going on to win a bronze medal in the doubles at the World University Games in Taipai the following year.
That potential the pair showed and developed while at University is now being realised on the pro circuit. Back in March, the duo reached the final of the Lyon Open in their first WTA Tour event, showcasing their immense promise as a partnership ahead of what could be a life-changing grass-court season.
Now Gloucestershire's Barnett and Norfolk's Nicholls, aged 28 and 27 respectively, are both closing in on top 100 doubles rankings after some impressive early-season results.
Their first WTA 250 final appearance was followed up by a tournament win in the W60 Bellinzona title in Switzerland and after making doubles their main focus last year, the dynamic duo now have Wimbledon – and what would be a first major appearance – firmly in their sights.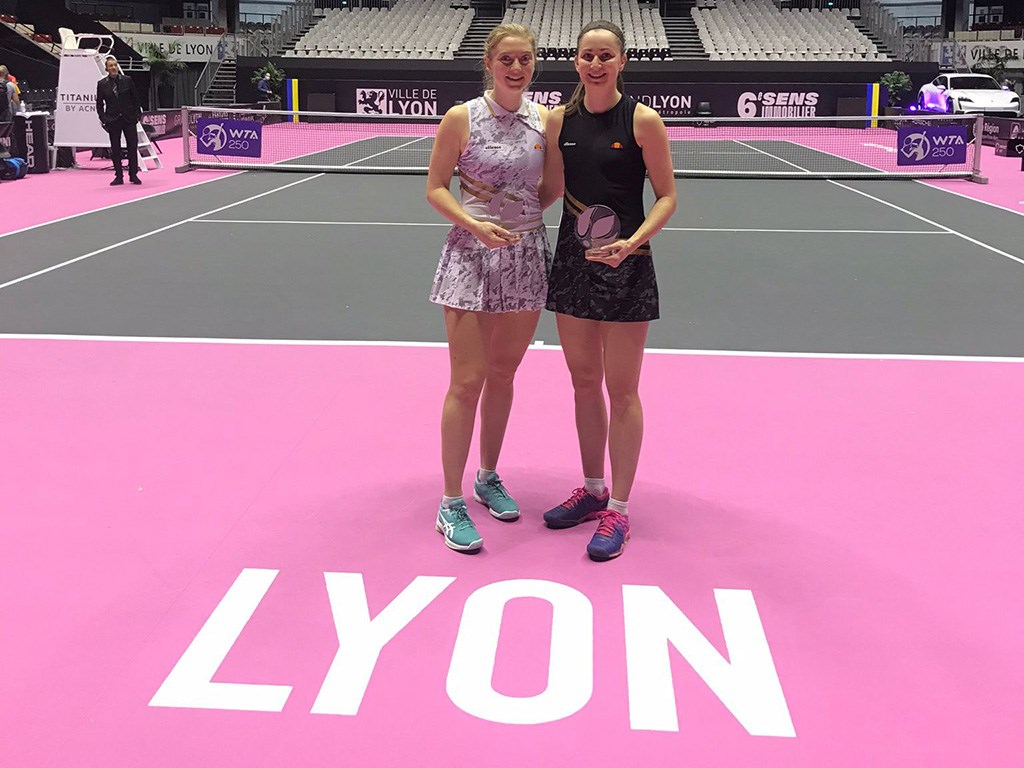 What were your ambitions for this year?
Alicia: We didn't have a big target back in January. It was just a case of taking one match at a time and focus on improving. What's really exciting is both of us have a lot we can work on and build on. Olivia and I have come a long way and worked really hard to get here. I feel like if you just look at our results, every tournament we go into we do damage, we feel confident as a team to keep pushing on to every level. In our first WTA Tour 250 event we made the final and now we want more and more. Obviously, our goal is to play major championships and WTA 1000 events, so we are aiming to get into the top 50 of the rankings.
When did you guys meet, is this friendship a long-term friendship?
Olivia: It is a long-term friendship. We both graduated from university around the same time and played a few ITF 15k tournaments together a while back. I think when our schedules started to match up more and Alicia made the decision to focus more on doubles, we were playing week in week out, competing every week together, and then we were able to get the momentum going. Since then, we've kind of committed to it, probably this time last year actually, we've made big progress since then really.
The run to the final at the Lyon Open was a key moment in your story. Tell us about that run.
Olivia: To begin with we weren't in the draw, we were an alternate team. And we planned to go to a ITF 25k tournament as a backup if we didn't get in. But we made the decision to play there, sign in and put our names in the hat. We got in and because it was our first WTA and expectations weren't too high we won a round and felt great, and just kept going really and managed to get to the final. It was a really good week.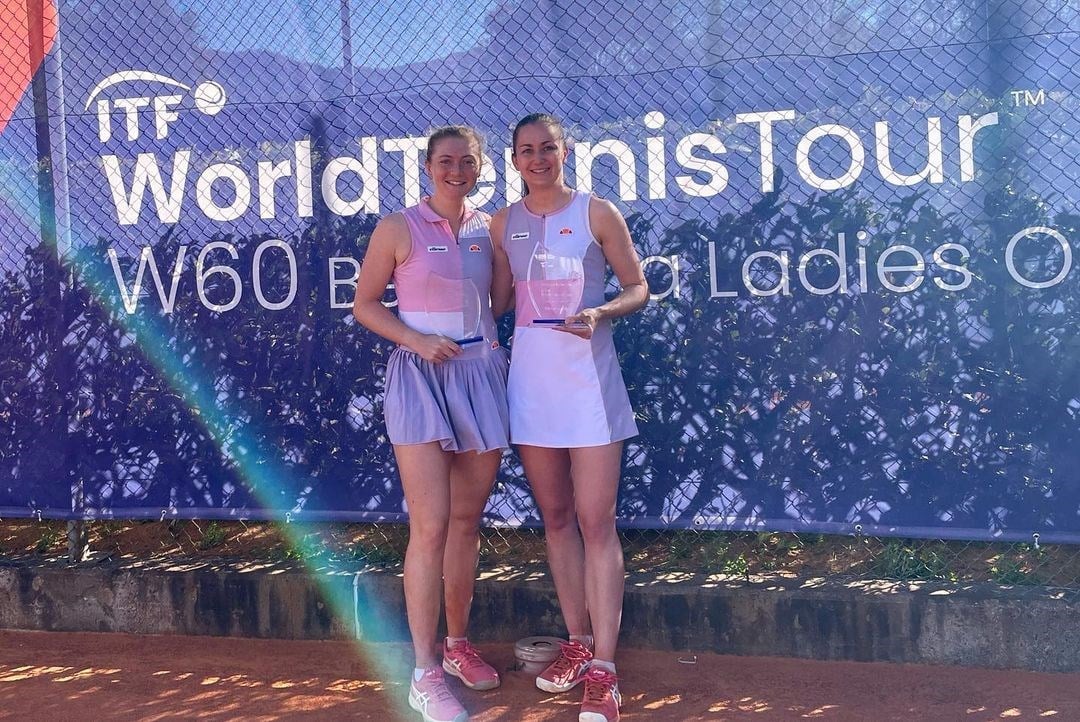 After a run like that, it has to raise the bar of expectations for both of you?
Alicia: Yeah definitely. It's funny because we were looking at our rankings and results a few days ago and it's amazing how quickly it can change. My first title in doubles was with Liv in 2017 was a ITF 15k in Madrid. And then this time last year, we found a screenshot of our rankings and we were both 360/370, and we're now both pushing to get into the top 100, so we've come a long way in that time.
How tough is it to make a living from the doubles game?
Alicia: It's really tough, especially at the ITF 15k and 25ks. For the most part, unless you're winning the tournament you're making a loss, because obviously, you're splitting the prize money between two people. Liv and I are very good at doing things on a budget because we have to manage our finances. We want to take this seriously and go a long way with doubles. Obviously, we wouldn't ever do something on the cheap if it affected our performance, but now playing in the bigger WTA's tournaments is different because they look after you really well. I guess it's kind of like rewarding us for the hustle we had last year.
How do the LTA help you with your efforts to reach the top?
Alicia: We're really lucky that the LTA has a tournament bonus scheme, and that's helped us massively because sometimes it doubles up prize money. If you get to semis you'll get a bit of help, and yeah that really helped, especially after Covid. Sometimes the money we get from the LTA bonus scheme makes the tournament financially viable, so we are grateful for that help.
Our male doubles players now have a high profile after all their success, so do you want to lead the way promoting the women's doubles game?
Alicia: Britain is renowned for really good doubles, obviously the guys had a big impact on that. Liv and I are really lucky that we've got Tom Kiesel, Ian MacDonald, Claire Curran, Craig Veal that are all in our corner. They know doubles, they've really had a massive impact on that. So I think in this country there's been a big shift towards women's doubles, and the fact that we have so many girls coming up and starting to break top 100s is really exciting, and the really nice thing is we've all got each other's backs. We want each other to do well, when one of us does well, it pushes the rest of us.