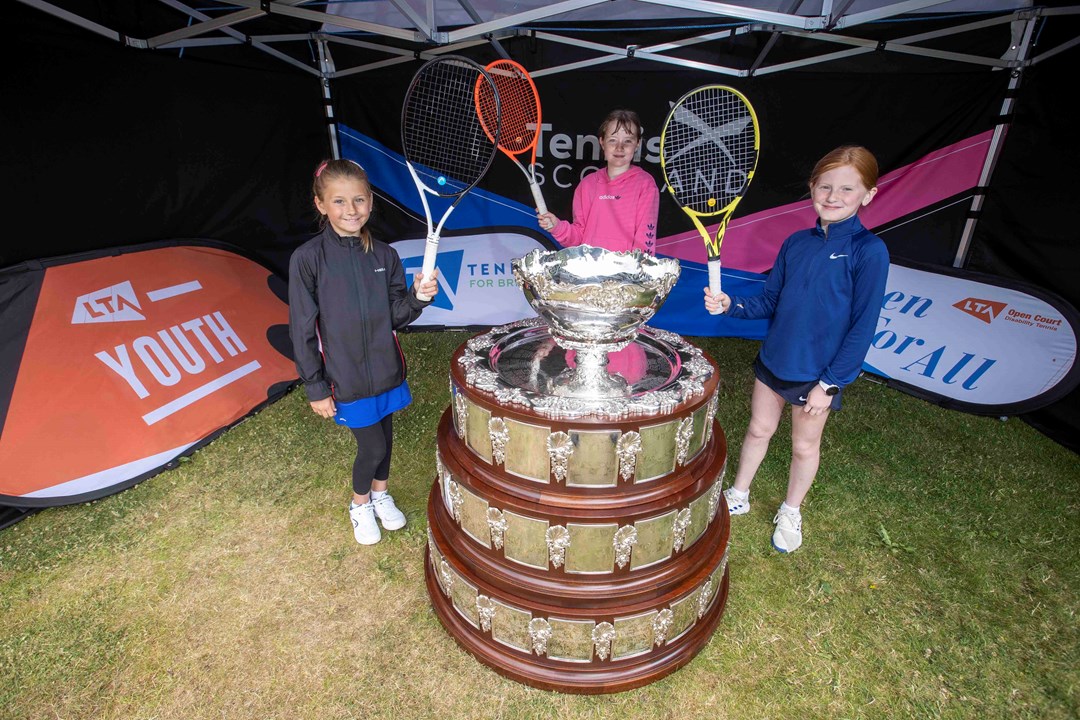 LTA
Davis Cup trophy set for tour in Scotland to inspire grassroots players
• 3 MINUTE READ
The next generation of Scottish tennis fans are being served a once in a lifetime chance to get up close to a unique piece of the sport's history as the famous Davis Cup trophy embarks on a national tour in celebration of Glasgow's role as a host city of the illustrious competition.
Selected as one of four venues to host the Group Stage of the Davis Cup Finals by Rakuten, Glasgow's Emirates Arena will stage Great Britain's blockbuster Group D ties against USA, Kazakhstan and Netherlands between 13-18 September. Tickets for the event, priced from £10, will go on sale this Thursday (30 June) at 10:00am.
Standing at 110cm tall, the Davis Cup is one of the most recognisable trophies within the sporting world. Following in the lead of past winners including Scotland's Andy Murray, Jamie Murray and current team captain Leon Smith, individuals across the nation are being handed the opportunity to witness the trophy up close before the 'men's world cup of tennis' heads for Glasgow's East End.
Buy your tickets for the Davis Cup Group Stage at 10:00am on Thursday 30 June
Across an eleven-stage tour, the trophy will 'drop-in' at several inspirational locations that are continuing to play a pivotal role in broadening the accessibility of tennis in Scotland, helping to open up the sport to more people and building on record participation figures that have been recorded in recent years, with a 12% increase in players playing once or more a year over the past 12 months.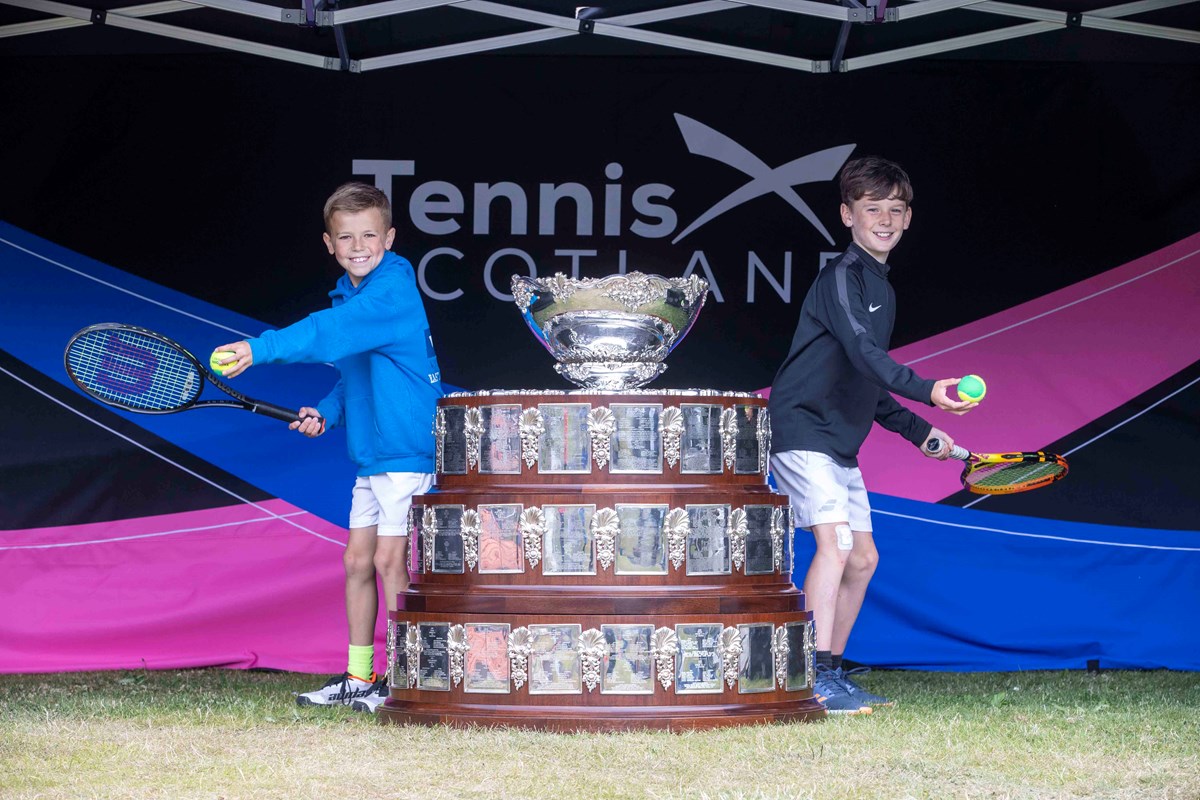 The tour aims to shine a spotlight on some of the programmes that are encouraging children to pick up a racket for the very first time, including the LTA Youth programme as well as LTA SERVES which is focussed on making tennis more accessible to children from underserved communities, and the Open Court Programme which enables disabled players to enjoy the physical and mental health benefits of tennis. Tennis Scotland and the LTA have coordinated the trophy tour to build momentum for September's group stage matches whilst interest in the sport is heightened by the Wimbledon fortnight.
The trophy tour started in the Scottish Borders on Monday (27 June) at Earlston High School, one of Britain's many educational establishments which are championing the school element of the LTA Youth programme designed to attract and retain more children aged 4-18 in tennis. The trophy will now visit several inclusive schools, clubs, and venues as it travels the length of the country to Moray Sports Centre in Elgin; the first venue to benefit from the Transforming Scottish Indoor Tennis Fund (TSIT).
Trophy tour events and locations:
27 June - Earlston High School, Borders (10am-12noon)
27 June - Hatton Sports Club, Edinburgh (3pm-6pm)
28 June - Scottish Junior Open, Craiglockhart, Edinburgh (10am-6pm)
29 June - Meadows Park, Edinburgh (10am-4pm)
1 July - Clarkston Bowling and Tennis Club, Glasgow (10am-12 noon)
3 July - Bridge of Allan Tournament, Stirling (10am-1pm)
4 July - Achieve More Scotland, Haghill Park Primary School, Glasgow (10am-12noon)
5 July - Scotstoun Community Tennis Centre, Glasgow (10am-1pm)
7 July - Elgin Tennis Club, Highlands (10am-12noon)
7 July - Moray Sports Centre, Moray (2pm-5pm)
8 July - West End Club, Dundee (12-4pm)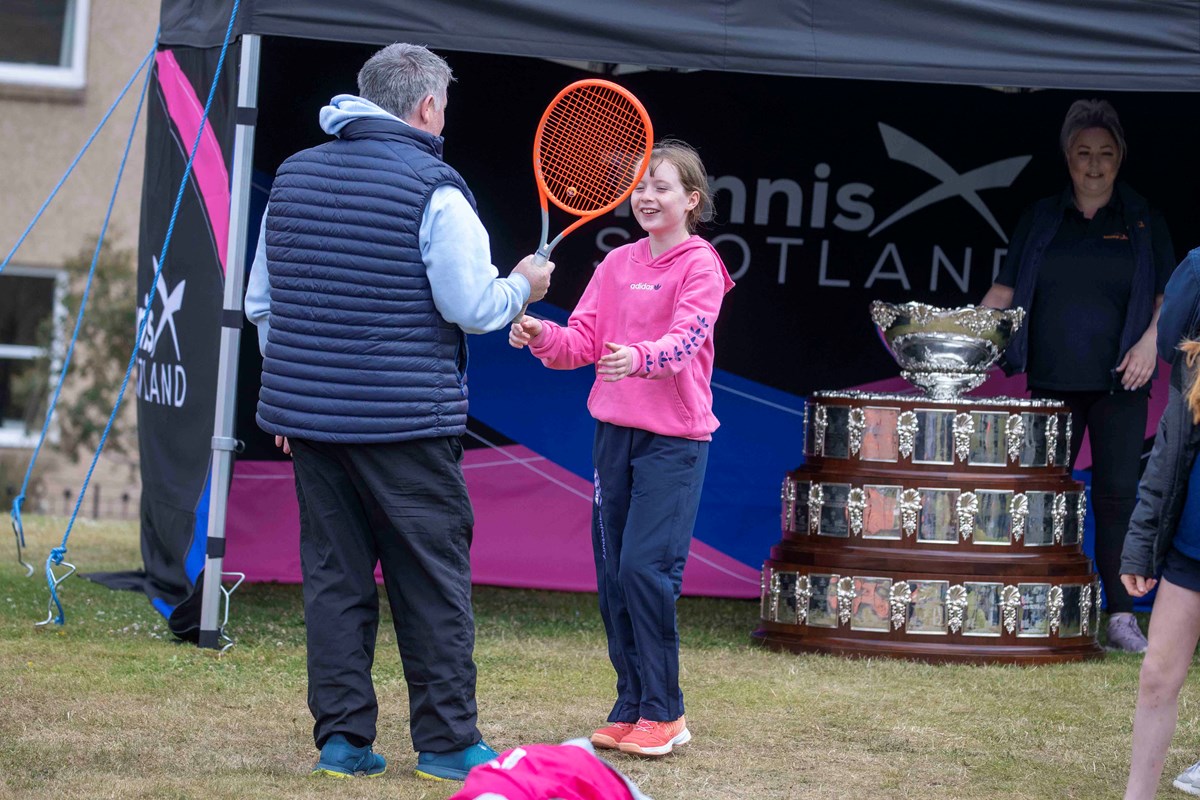 Following the Davis Cup Group Stage matches, the Emirates Arena will also host the Billie Jean King Cup Finals in November after the International Tennis Federation announced that the women's world cup of tennis will return to Great Britain for the fourth time in its six-decade history.
Blane Dodds, Tennis Scotland Chief Executive, said: "Glasgow's hosting of Davis Cup and Billie Jean King Cup matches is a massive boost for tennis in Scotland and comes at a time when interest in the sport has never been greater. We're thrilled to bring two of the most coveted competitions to Scotland with the LTA, which will provide future players and fans of the game with the chance to experience top level tennis on their doorstep.
"The Davis Cup trophy tour provides the perfect opportunity to build momentum for the tournament and showcase the passion for tennis here in Scotland, whilst inspiring the next generation to follow their dreams of representing the nation on the international stage."
Olly Scadgell, LTA Participation Director, said: "This is the perfect time for young people to pick up a racket and get on court. We want to use the fact we are hosting the Davis Cup and Billie Jean King cups to bring more children into the sport and boost participation across the country. Our LTA Youth programme is designed to be easily accessible for all children, whatever their background or level of experience. Anyone interested in playing for the first time should go online and search for LTA Youth to find a course near them."
Tickets for the Group Stage of the Davis Cup by Rakuten Finals at the Emirates Arena go on sale this Thursday (30 June) at 10am and will be available for purchase below: