International
Lexus British Open 2023: Alfie Hewett and Gordon Reid win ninth Super Series title in Nottingham
• 3 MINUTE READ
Alfie Hewett and Gordon Reid added yet another winning entry to their illustrious roll of honour list after dispatching Martin de la Puente and Gustavo Fernandez 4-6, 6-2, [11-9] to lift their third British Open doubles title.
Hewett and Reid were awarded their ninth Super Series title after overcoming the Spanish/Argentinian combination, having won their first in 2015 at the Nottingham Tennis Centre.
"[de la Puente and Fernandez] are two really fierce competitors at the end of the day," said Hewett.
"They train hard, they work hard and they're eager to beat us, so I know they'll go back and analyse the match.
"It makes it all the more challenging for us because we have to adapt during the matches and keep evolving as a partnership but the main thing, no matter what happens, is that we get over the line and get the win."
The two countrymen demonstrated grit and determination to recover from a set deficit to win their eighth of eight meetings against de la Puente and Fernandez, with their most recent meeting resulting in a straight-sets win for the Brits in the semi-finals of The Championships.
The opening set saw de la Puente and Fernandez convert four of six break points compared to the British pairing's three to stamp their authority on the match.
However, a sudden change in the tide paved the way for a Hewett and Reid masterclass as they steamrolled ahead in the penultimate set to call for a deciding shootout.
Championship point No.2 for the Brits left the crowd in raptures as de la Puente and Fernandez put them through their paces, but it was Hewett and Reid who would ultimately prevail after a nail-biting fire-fuelled rally.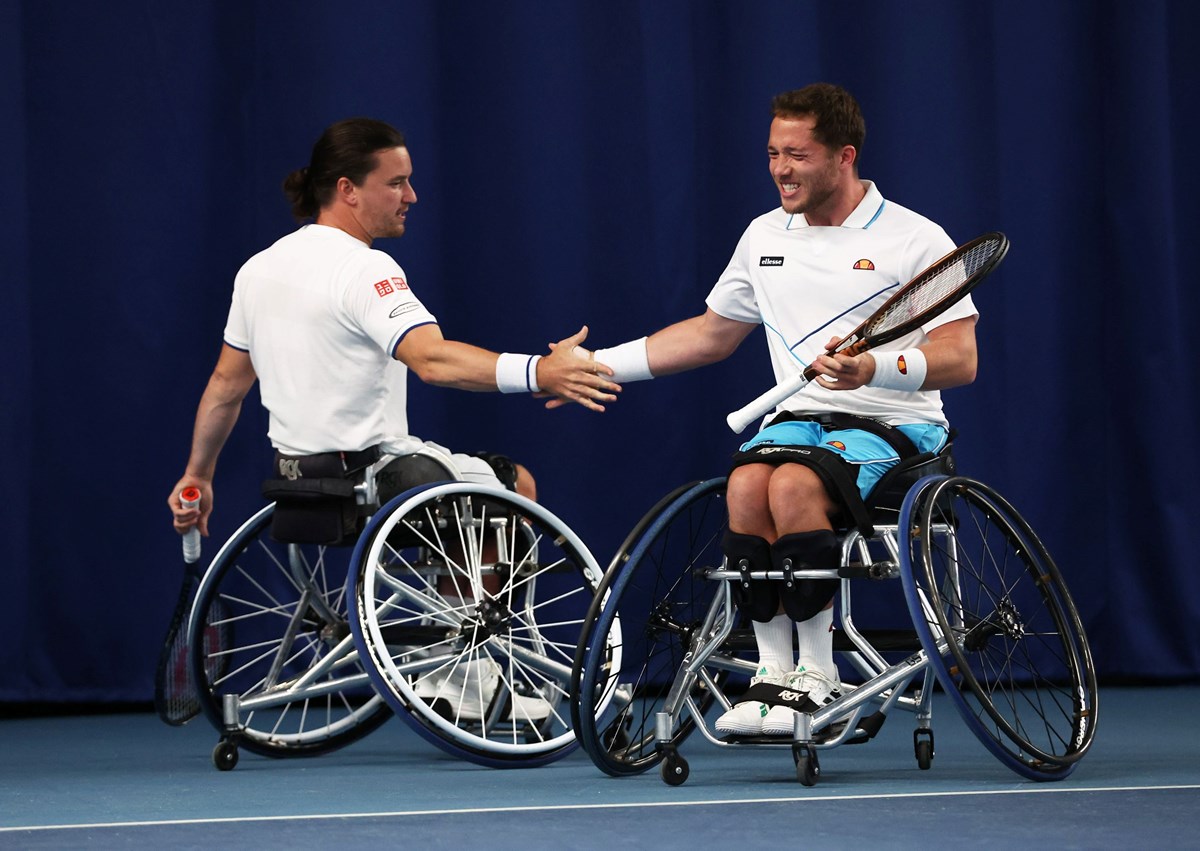 "I started a bit slowly today," said Gordon upon reflection.
"The other three guys all had a singles match before the doubles so I felt a little bit off the pace at the start of the match but managed to stay patient and stick with it and then towards the end started to find more rhythm.
"I don't think I hit a winner in that tiebreak so to do it on match point was probably the best time to do it."
The prolific duo's success goes beyond Super Series grading, however, having forged a tally of 43 titles since joining forces, including a breathtaking 18 Grand Slam doubles titles.
Their most successful year came in 2021 after they completed the calendar Grand Slam.
Speaking on the exposure wheelchair tennis has received in recent years, Hewett added, "It's great to know we've been rising to the occasion and hopefully we can take wheelchair tennis to the next level."
Hewett's success also continued over into the singles event after ousting de la Puente 6-2, 6-2 to book his fourth British Open singles final.