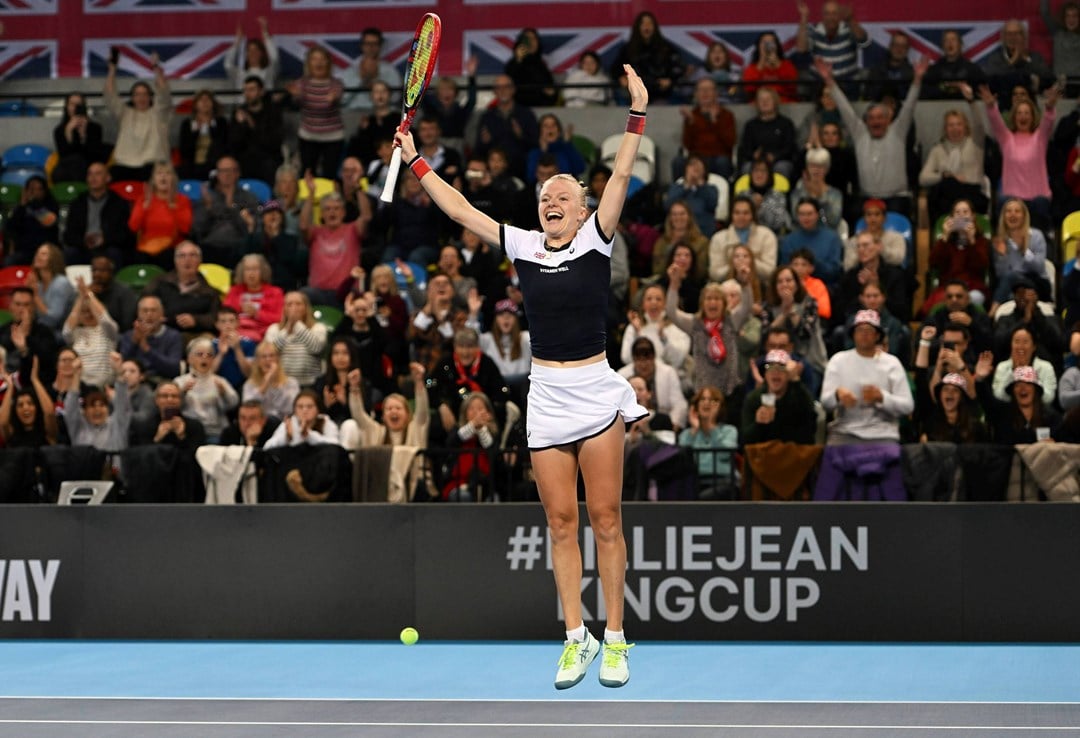 GB Teams
Billie Jean King Cup Play-Offs 2023: Key takeaways as Katie Boulter & Harriet Dart inspire Brits to victory
• 4 MINUTE READ
Great Britain are through to the 2024 Billie Jean King Cup Qualifiers – and what a way to do it in front of a sell-out home crowd at the Copper Box Arena in London.
With the scores level at 1-1 after the first day, Katie Boulter and Harriet Dart held their nerve to close out two straight sets victories and complete the win over Sweden.
As we look back and analyse an action-packed tie, here are a few of our key takeaways from the weekend.
Boulter raised the bar in the biggest moments
What a weekend for Boulter – the British No.1 extended her Billie Jean King Cup record to 11-3, with two much-needed wins for the Brits under the biggest pressure.
Sweden had shown what they were all about in picking up a gutsy win in the opening rubber of the tie and then it was over to Boulter with the added pressure of needing to pull GB back into contention.
So often, Boulter has brought her best tennis for her country – which we saw at this same arena back in 2019 – and once again she stepped up to the mark. Boulter brushed aside Caijsa Wilda Hennemann 6-2, 6-1 in her first match, using her serve and lethal forehand to overpower the Swede – racking up 20 winners along the way.
Sunday brought a different test entirely. Having cruised through the first set, Boulter found herself 5-3 down with Kajsa Rinaldo Persson serving at 40-0 with three set points. These are the moments where you want your British No.1 to put it all on the line and the 27-year-old did just that. Finding her pinpoint returns and outmuscling her opponent from the baseline, she managed to claw her way back into the set and took it to a tie-break.
From 5-4 down in the tie-break, some crisp hitting from Boulter forced Rinaldo Persson to make a couple of crucial errors as the Brit celebrated back-to-back wins for her country once again.
In her interview after the match Boulter confirmed that it would be her last of this season, and what a way to close it out. A year of many firsts, career-highs and some brilliant performances, this will be the icing on the cake.
Anne Keothavong takes advantage of strong squad
With a squad that combined Billie Jean King Cup experience and impressive form on tour – captain Anne Keothavong had an array of options that she could call upon when needed.
The Lexus GB Billie Jean King Cup Captain made good use of her selection flexibility with a late change in line-up, bringing in Harriet Dart to replace Jodie Burrage in the second singles match on the second day.
Dart has been a force in this competition for the Brits over recent years – most notably her wins over former world No.2 Paula Badosa and Australia's Ajla Tomlijanovic in last year's finals – and Keothavong edged on the side of experience in a crucial rubber.
The decision proved to be the right one. Dart came out of the blocks firing and despite Hennemann's best efforts to stop her pulling away, the 27-year-old Brit managed to close out the tie with a 7-5, 6-2 victory.
"This competition, I really feel like I thrive in," Dart said. "Being in that team atmosphere, it's so much more than just me – I'm playing for my team, my country and all of you guys (the crowd). These are the best weeks."
Serving a huge factor in British wins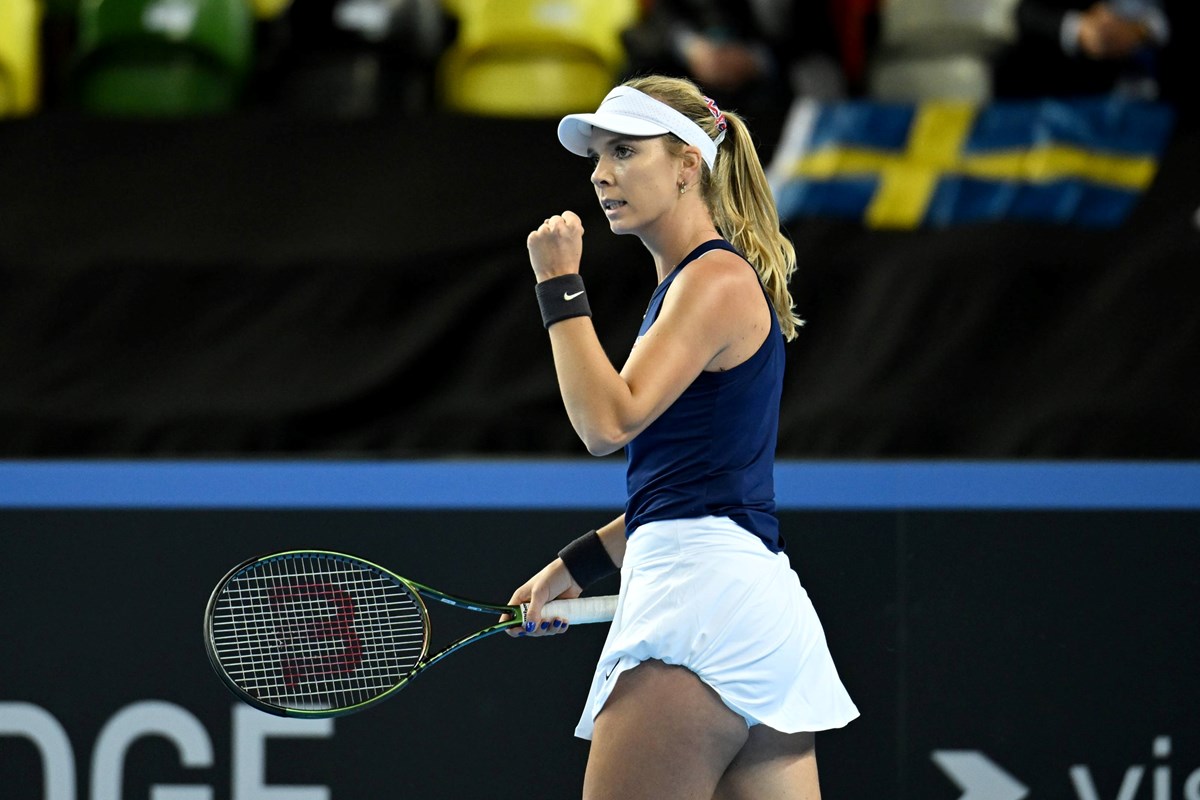 Looking back over the stats from the matches over the last couple of days the biggest standout is how the Brits were able to make the most of their opportunities on serve.
In both Boulter and Dart's matches throughout the weekend, the British stars were winning almost 20% more points off their first serve than their opponents.
For a player with a big serve like Boulter this can often be the difference between winning and losing. Being able to call upon your serve in the tight moments is crucial.
In her close second set against Rinaldo Persson, Boulter won 72% of her first serves compared to the Swede's 54%. Meanwhile, across her first match against Hennemann, she won 80% vs her opponent's 52%.
Notably, the story remains the same for Dart as well. Despite not having as big a serve as her countrywoman, Dart's accuracy put Hannemann under pressure as she came away with 72% points won on first serve, with the Swede only managing 50%.
To put these numbers in perspective – former Wimbledon champion Elena Rybakina, renowned for her dominant service game, has won 73.6% of points on her first serve throughout this season.
Consistency proved the difference for Rinaldo Persson in opener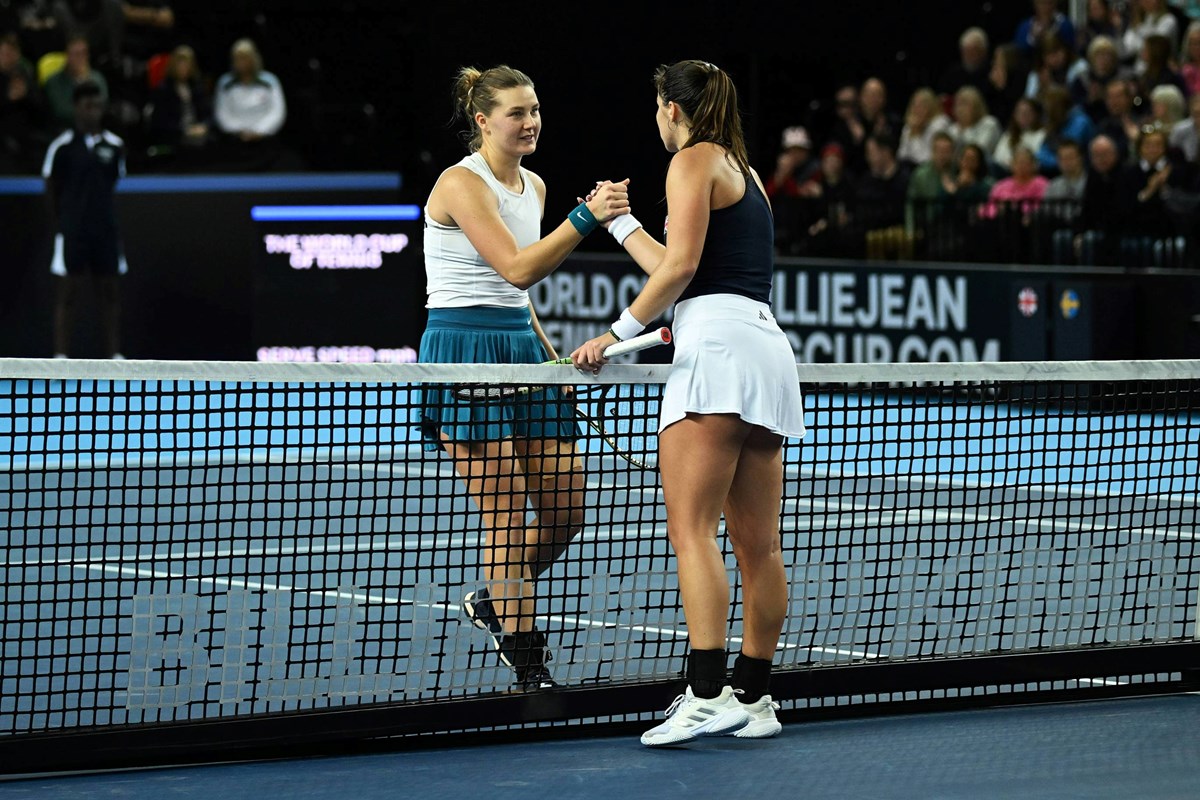 It looked all set to be a dream debut for Britain's Burrage as she took a commanding 4-0 lead in the first set, but 26-year-old Swedish star Rinaldo Persson had other ideas.
Having missed out on three break points on the Brit's opening two service games, once Rinaldo Persson got her breakthrough, the floodgates opened. The Swede won 12 of the final 13 games to wrap up one of the biggest wins of her career – but how did she do it?
Consistency ultimately proved to be Rinaldo Persson's friend as she continued to frustrate the British No.2, continuously forcing Burrage to play that elusive extra shot.
After her lightning start, the errors started to creep in for Burrage, which Rinaldo Persson cleverly picked up on and adapted her game style accordingly. The Brit made 32 unforced errors to the Swede's 17 across the two sets, which told on the scoreline as Persson put her nation into a one rubber lead.
The Swedish star showed a great ability to make in-game adjustments throughout the weekend – notably as well in her second set performance against Boulter, but the British No.1s quality was eventually enough to push her over the line.