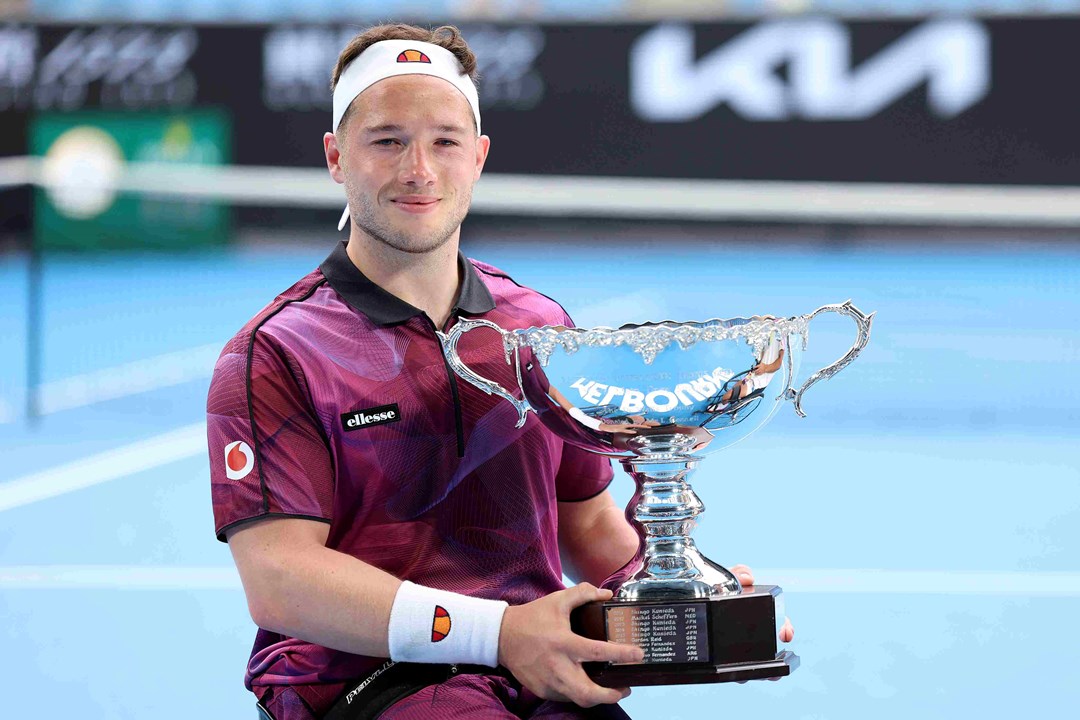 Alfie Hewett triumphs down under to claim his first Australian Open singles title
• 5 MINUTE READ
Alfie Hewett secured an emotional first Australian Open men's singles title to strengthen his hold on his world No.1 ranking, after a scintillating performance saw him clinch a 6-3, 6-1 victory over world No.4 Tokito Oda.
Just one day after winning his 16th Grand Slam doubles title alongside compatriot Gordon Reid, Hewett has added a long-awaited Australian Open singles trophy to his expanding collection.
Contesting his third successive singles final in Melbourne, Hewett managed to quell the enormous firepower served up early from 16-year-old Oda to come from 3-1 down in the opening set, before firing a backhand down the line to wrap up the first set in 41 minutes.
With Hewett increasingly able to fend off some prodigious shots from Oda, the Brit peppered the court with forehand winners to seal the fourth and fifth games of the second set. Hewett finished off what was a tremendous performance with an ace, followed closely by tears of happiness at winning his seventh major singles title.
Now a 23-time champion at the majors after winning his fourth successive Australian Open men's doubles title with Reid on Friday, Hewett said:
"For me, this was one heck of a battle, really, mentally more than anything. Those tears you saw there were like seven years in the making. I remember my first time on this court, three or four years ago and I think I cried after that, as well, because I'd just won my first (singles) match here, which took me after four years, too.
"To make two finals and lose in three sets in those, it really starts to eat up at you over some time, so to get the opportunity to come out here today and get the win and finally get my hands on that trophy is something I'm very proud of. I couldn't do it without you guys" the world No.1 said as he gestured to his box.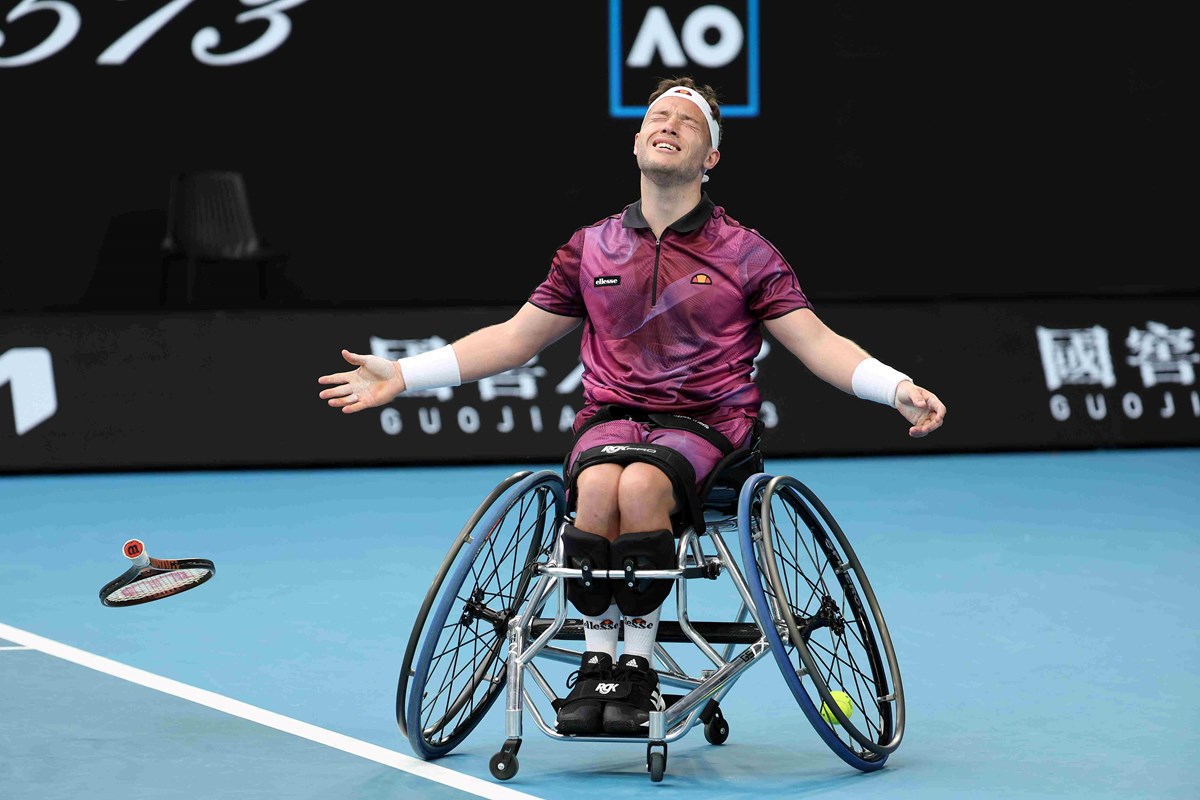 After paying tribute to his coaches Craig Allen, Ben Collingwood and his girlfriend, Hewett, who is supported by the LTA's Elite Wheelchair Programme, added in his on-court interview:
"You've given me probably one of the roughest pre-seasons I've ever had, so I won't be enjoying that this December but it was all worth it, so thank you for your time and commitment.
"Obviously the LTA, Rob (Cross) is here, but there are a lot of guys back at home, as well, who have put in a lot of effort to help me be physically, mentally and emotionally prepared for this match and this tournament. So, I'm just really happy. What a way to kick off the year."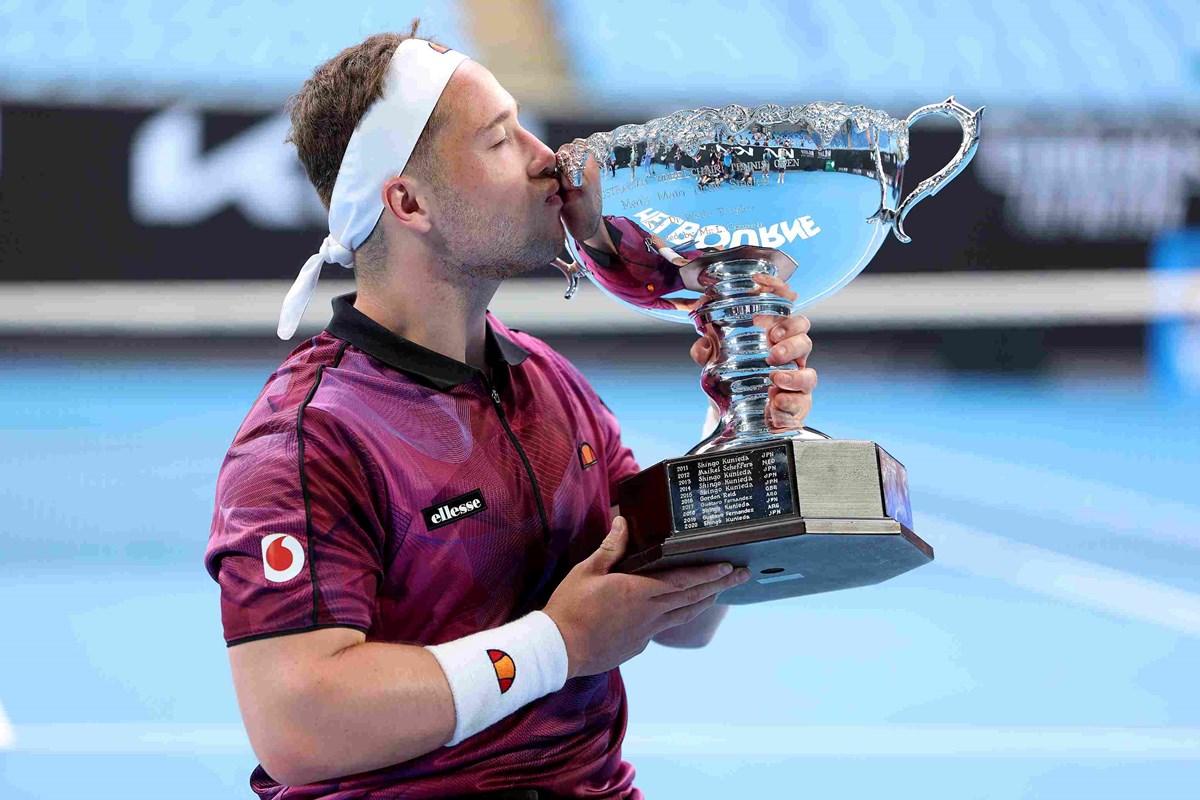 Hewett's latest Grand Slam success not only takes him to 23 Grand Slam titles in singles and doubles, one more than doubles partner Reid, it also sees him become the most successful British wheelchair player in singles competition at the majors, as he now surpasses the six titles won by Peter Norfolk in quad singles between 2007 and 2012.
With three titles already under his belt in the first month of 2023, it's safe to say the year is looking bright for Hewett - whose mind will undoubtably turn to the latter part of the season, as he'll seek to claim victory at Wimbledon to complete the career Grand Slam.