Tennis Wales
Wales Junior Wheelchair Squad Bring Home the Medals
• 2 MINUTE READ
Wales Junior Wheelchair squad enjoyed a successful School Games National Finals 2022, returning with five medals across all five events entered.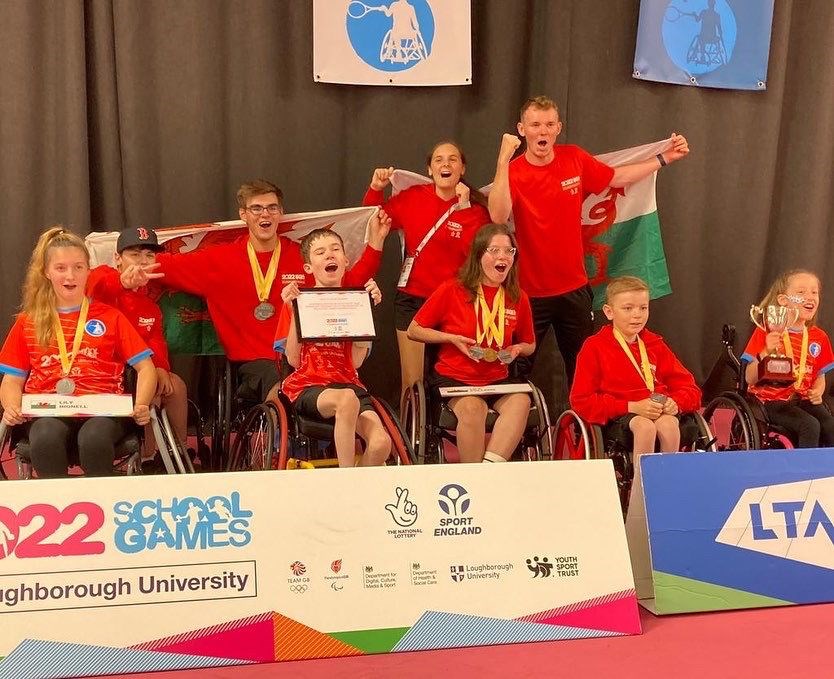 A legacy from the London 2012 Paralympic and Olympics Games and delivered by the Youth Sport Trust, the School Games National Finals welcomed 1,000 young athletes from across the UK to the weekend-long event held in Loughborough. The Welsh wheelchair tennis squad brought home one gold, three silvers, and a bronze.
The gold medal came in the Girl's Singles, where 15-year-old Lilly Folland, from Cardiff, was crowned champion – even managing to 'move up' a medal from her silver win at the 2021 event. Partnering with 18-year-old Lily Bignell from Crickhowell, a first-time competitor, the two also took home the silver medal in the Girl's Doubles.
Lilly Follard said: "It was an honour to compete, thank you to all my fellow competitors for making my experience so good - it wouldn't have been the same without you. We all became one big Welsh family at the Games."
Alex Wilson, 18, will be returning to Loughborough this Autumn to begin his studies – but for now, he returns home to Deganwy with a bronze medal in the Boy's Singles. Working together, Alex and Lilly partnered to secure silver in the mixed doubles, while Alex also claimed a third medal in the Boy's Doubles partnering with Tredegar's Cameron Hudd, 15, to win silver.
In addition to the medals, south-Wales players Adam Craven, 14, and Imogen Ashwell-Rice, 10, picked up separate awards to recognise their success as ambassadors of the School Games ethos.
Will Croft, Team Manager, said: "This was the biggest Welsh wheelchair squad to go the Games, which is an incredible achievement for the team – and for tennis in Wales.
"To win so many medals is nothing short of amazing. It is just reward for all the hard work they have put in, in training, and I am extremely proud of every single player in the squad. They were brilliant representatives for Welsh tennis both on, and off, the court.
"There is no doubt that wheelchair tennis in Wales is looking very strong now, and in the future."
The team's performance at the Games was supported by Tennis Wales, following the launch of Tennis Wales' Wheelchair National Training programme in 2020. Alongside financial support for training and equipment, including sport wheelchairs, the programme also provides coach support at competitions – such as the School Games.
Simon Johnson, CEO of Tennis Wales, said: "We're thrilled to hear the competitors enjoyed their time at the School Games, and gained invaluable competition experience.
"The wheelchair tennis programme in Wales is growing year on year, and we've recently started a Junior Performance Programme – we'd encourage any young players with an interest in sport to give tennis a go, with support from us at every step of the way."
To find out more about Disability Tennis initiatives in Wales, please click here